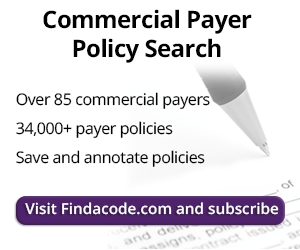 Cloned documentation on OIG radar screen in 2014
May 23rd, 2014 -
Scott Kraft
---
One of the areas where the OIG has its sights set in 2014 is on physician documentation. The OIG plans to review documentation of E/M services looking for what it describes as "documentation vulnerabilities."
Put more specifically, the OIG reports that Medicare Administrative Contractors (MACs) have seen an increase in instances of "identical documentation across services," noting that code selection for E/M encounters is based on the documentation for the services rendered.
If it sounds like they're looking for cloned notes, it's because they are looking for cloned notes. And with documentation generated by electronic health records (EHR) systems on the rise, and providers using EHR system tools that enable documentation to be carried forward to a new note, it's likely that the OIG won't have to look to far to see more cloning than they are comfortable with seeing.
There's no doubt that the bells and whistles of EHR systems have changed the way that physicians document E/M encounters.
EHR systems make it easier to provide more robust documentation for each encounter and make it easier to port forward relevant documentation from previous encounters for the provider to review.
After all, there are only so many different ways to report on the fact that a patient is being seen for the same chronic condition when the patient returns to your office on a regular schedule. There are also only so many ways to describe the elements of a review of systems or an examination.
There are two problems, however, that the functionality of EHR is creating from a claims audit perspective. First, in too many instances the documentation for a single patient looks the same from encounter to encounter – across multiple encounters – because of the way in which the provider brings forward documentation.
Second, the provider is choosing to consistently review the exact same systems in the same way for the review of systems and examination across multiple encounters, regardless of the patient's presenting problem.
Let's look at the second problem first. Coders, billers and auditors are right to tread very carefully when it comes to second guessing the clinical judgment of the provider when it comes to deciding which systems are medically necessary to review and which exam elements are pertinent to the patient's visit that day.
There could be a very good reason for what appears to a third-party review to be a review of a system seemingly unrelated to the patient's presenting problem.
However, when a provider consistently reviews the same components of the same systems in the ROS across the patient population, without regard to the patient's condition, it will appear suspicious to an auditor. It will look especially suspicious when the result is usage of high-level E/M codes that go beyond the typical practice pattern.
Practically speaking, it stands to reason that the ROS and exam elements would not always be the same across the patient population because patients will show up with different chief complaints at different levels of severity.
The same patient with multiple cloned notes raises a whole new set of problems, especially when documentation is being carried forward from note to note for a long period of time.
One problem is that it becomes harder to determine what the provider addressed during that visit because the note contains a laundry list of the patient's chronic and acute conditions. The structural integrity of the note, which is intended to represent what happened during that specific visit, becomes compromised.
The problem is exacerbated when the same documentation appears in note after note. Sloppy mistakes begin to occur, including things like the patient's age contradicting itself in the note because the HPI has been carried forward.
Providers note that patients are often seen for the same conditions over a period of time and, to our earlier point, there are only so many ways to describe that a patient has asthma or COPD or some other condition. When you do bring condition detail forward from the HPI, address that by having the provider add to the HPI details about how the patient is doing on that day. After all, it is the history of the present illness.
On contradictions, it is one of the biggest ways that cloned elements of notes are revealed. Because the information from previous notes is often brought forward by ancillary staff before the encounter, the provider will sometimes add contradictory information. An ROS that is negative for a headache is contradicted by an HPI of severe headaches.
In an era where demands for the provider's time continue to go up, without payment following closely behind, it is hard to walk away from the time-saving advantages that EHR systems can potentially provide. Just do it very carefully, and know that the auditors are going to be looking closely to make sure there is variety in your notes that reflect the documentation needs of a specific encounter.
###
Questions, comments?
If you have questions or comments about this article please contact us. Comments that provide additional related information may be added here by our Editors.
Latest articles: (any category)
Reporting Modifiers 76 and 77 with Confidence
April 18th, 2023 - Aimee Wilcox
Modifiers are used to indicate that a procedure has been altered by a specific circumstance, so you can imagine how often modifiers are reported when billing medical services. There are modifiers that should only be applied to Evaluation and Management (E/M) service codes and modifiers used only with procedure codes. Modifiers 76 and 77 are used to identify times when either the same provider or a different provider repeated the same service on the same day and misapplication of these modifiers can result in claim denials.
Five Documentation Habits Providers Can Use Implement to Improve Evaluation & Management (E/M) Scoring
April 11th, 2023 - Aimee Wilcox
Provider education on E/M coding updates is vital to the success of any organization, but how do you whittle down the massive information into bite-sized pieces the providers can learn in just a few minutes? Check out the five steps we have identified to teach providers in just a few minutes that can significantly impact and improve coding outcomes.
Second Quarter 2023 Updates are Different This Year
April 6th, 2023 - Wyn Staheli
The second quarter of 2023 is NOT business as usual so it is important to pay attention to ensure that organizational processes and training take place to avoid mistakes. Not only have ICD-10-CM coding updates been added to the usual code set updates (e.g., CPT, HCPCS, ICD-10-PCS), but the end of the COVID-19 Public Health Emergency will bring about changes that will also take place during the quarter (but not on April 1, 2023.
7 Measures Developed by the HHS Office of Inspector General (OIG) to Identify Potential Telehealth Fraud
March 28th, 2023 - Aimee Wilcox
A recent review of telehealth services reported in Medicare claims data during the pandemic where these seven measures for identifying suspected fraud, waste, and abuse were applied, revealed more than a thousand Medicare providers potentially committed fraud during this period. What are the measures the OIG applied during their review, and how will that impact future telehealth guidelines moving forward?
MUEs and Bilateral Indicators
March 23rd, 2023 - Chris Woolstenhulme
MUEs are used by Medicare to help reduce improper payments for Part B claims. This article will address the use of the National Correct Coding Initiative (NCCI) and Medically Unlikely Edits (MUEs) and how they are used by CMS.
It is True the COVID-19 PHE is Expiring
March 16th, 2023 - Raquel Shumway
The COVID-19 PHE is Expiring, according to HHS. What is changing and what is staying the same? Make sure you understand how it will affect your practice and your patients.
Billing Process Flowchart
March 2nd, 2023 -
The Billing Process Flowchart (see Figure 1.1) helps outline the decision process for maintaining an effective billing process. This is only a suggested work plan and is used for demonstration purposes to illustrate areas which may need more attention in your practice's policies and...