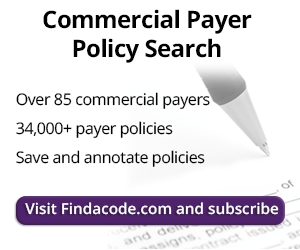 Don't expect beneficiaries to pick up the slack for PQRS, EHR cuts
December 4th, 2014 - Scott Kraft
0 Votes -

Sign in

to vote or comment.
---
2015 is a big year for payment adjustments for providers who've failed to take part in CMS incentive programs for electronic health records (EHR) meaningful use, e-prescribing and the Physician Quality Reporting System (PQRS).
It's the year that CMS goes from dangling the carrot of extra pay to using the stick of less pay for providers who've failed to take part in these programs, or to obtain a hardship exemption of any sort.
The HITECH Act decreed that, starting in 2015, those who didn't report enough quality measures in PQRS would see a 1.5 percent cut, those who failed to achieve EHR meaningful use would see a 1 percent cut.
For providers who accept assignment on Medicare claims, CMS will take the penalty directly out of the allowed amount for services billed. Because it will apply the penalty to the entire allowed charge, then pay 80 percent of that amount, the beneficiary's 20 percent coinsurance would be slightly reduced as well.
Non-participating providers who don't accept assignment can typically charge up to 115 percent of the allowed charge for a service. The difference is, the beneficiary pays directly to the provider and Medicare makes its payment directly to the beneficiary.
Even in these instances, however, the ultimate payment the provider is able to collect will be reduced for failure to take part in incentive programs.
In recent transmittal 1384 to its One Time Notification Manual, CMS spells out how it will work, using a hypothetical service with a $100 allowed charge.
Ordinarily, a non-par provider who accepted assignment would get paid 95 percent of the allowed charge, or $95, with the beneficiary paying 20 percent of that amount.
The calculation formula is the same for a provider who doesn't accept assignment, but it impacts how much the provider is allowed to charge the beneficiary. In the case of the 1 percent cut for failing to do PQRS, the result would be that the Medicare allowed charge for the $100 service would be cut to $94.05 instead of $95.
When the provider charges the patient the full limiting charge, the total would be 115% of $94.05, which is $108.16, instead of the previous $109.25.
A non-par provider who is being penalized for both PQRS and EHR would see the allowable for the $100 shaved down to $92.64, with the limiting charge dipping down to $106.54 instead of $109.25.
CMS will maintain fee schedules with the correct amounts for providers who face either or both payment adjustment in 2015. Providers are also reminded that the penalty for charging a patient an amount in excess of the limiting charge can be as high as $10,000 per violation.
One thing is for certain – the continued use of payment adjustments will make correct payment calculation a bit more complicated next year.
###
Questions, comments?
If you have questions or comments about this article please contact us. Comments that provide additional related information may be added here by our Editors.
Latest articles: (any category)
Packaging and Units for Billing Drugs
May 18th, 2020 - Christine Woolstenhulme, QCC, CMCS, CPC, CMRS
To determine the dosage, size, doses per package and how many billing units are in each package, refer to the NDC number. Take a look at the following J1071 - Injection, testosterone cypionate, 1mg For example; using NCD # 0009-0085-10 there are 10 doses of 100 mL (100 mg/mL = 1 mL and there are ...
Getting Your Practice Back on Track
May 12th, 2020 - Wyn Staheli, Director of Research
As we begin returning back to work, we will all face a new normal. The COVID-19 pandemic has changed the face of business. While it has certainly been a challenge to keep up with the ever-changing regulations (that's likely to continue for a little longer), exciting new opportunities have also been created, such as the expansion of telemedicine. There's also the maze of government funding that needs to be navigated and an increased awareness of OSHA standards to implement.
ICD-10-CM - Supplement information for E-Cigarette/Vaping Reporting
May 5th, 2020 - Christine Woolstenhulme, QCC, CMCS, CPC, CMRS
The CDC has released additional information and coding guidance for reporting encounters related to the 2019 health care encounters and deaths related to e-cigarette, or vaping, product use associated lung injury (EVALI).  The update offers coding scenarios for general guidance, poisoning and toxicity, substance abuse and signs and symptoms.  ICD-10-CM Official Coding Guidelines - ...
Additional Telehealth Changes Announced by CMS
May 4th, 2020 - Wyn Staheli, Director of Research
On April 30, 2020, CMS announced additional sweeping changes to meet the challenges of providing adequate healthcare during this pandemic. These changes expand the March 31st changes. The article covers some of the key changes. See the official announcement in the references below.
Effective Risk Adjustment Requires Accurate Calculations
April 27th, 2020 - Wyn Staheli, Director of Research
Risk adjustment is simply a way of making sure that there are sufficient funds to adequately take care of the healthcare needs of a certain population. It's a predictive modeling methodology based on the diagnoses of the individuals in that population. As payers move to value based models, they heavily rely on risk adjustment to ensure proper funding.
COVID-19 Clinical Trial Participation Helps Providers Earn MIPS Credit
April 22nd, 2020 - Wyn Staheli, Director of Research
All healthcare providers who are currently participating in the MIPS portion of Medicare's Quality Payment Program may want to participate in the new COVID-19 Clinical Trials improvement activity. Read more about it here.
Special COVID Laboratory Specimen Coding Information
April 21st, 2020 - Wyn Staheli, Director of Research
With all the new laboratory test codes that have been added due to the current public health emergency (PHE), there are a few additional guidelines CMS has released about collecting samples to perform the testing. Please keep in mind that these guidelines are by CMS and may or may not apply to other commercial payer policies.