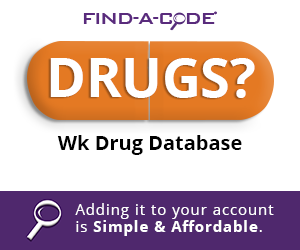 Don't expect to see payment any time soon for 'telephone consults'
October 15th, 2014 - Scott Kraft
0 Votes -

Sign in

to vote or comment.
---
Four new CPT® codes that got some attention when the 2014 CPT® changes were released late last year were a new E/M code series, 99446-99449, designed to be reported when a consulting provider offered a telephone or Internet E/M service that included a verbal and written report back to the patient's requesting physician.
The delivery of physician services may be getting close to a technology tipping point – after all, a recent
Information Week report
suggests even telemedicine will be a $27 billion business by 2016.
But these new codes are likely to be another instances where the technology – and the availability of the codes for billing and tracking – is ahead of the world of payment. So far, Medicare slapped the new codes with a payment status indicator of B – making them bundled into all other services – and there is no evidence that any other payers see them any differently.
It's unclear whether the time spent on these service could truly be "bundled" into a face-to-face encounter, given Medicare's refusal to pay for non face-to-face care. At least not yet.
The four codes are based on the amount of time spent on the service, and are intended for use by the provider being consulted. 99446 is for between 5-10 minutes of time, 99447 for 11-20 minutes, 99448 for 21-30 minutes and 99449 for more than 31 minutes.
The time counted toward the services are medical consultative discussion and review time spent by the specialist. These new codes are different from the 99441-99444 set created in 2008 for phone or Internet E/M services with the patient because they are intended to cover discussions between providers.
If a payer allows you to bill these codes, or to consider the time spent as part of a bundle into a different E/M face-to-face encounter, remember these rules that govern their use:
Discussions of less than five minutes are not reportable.
The patient may be a new or established patient to the specialist, but must not have seen the specialist face-to-face in the previous 14 days or the following 14 days.
Discussions initiated to facilitate a known transfer of care may not be counted.
If more than one phone conversation is needed, the calls are bundled into a single code for reporting purposes.
Like a consult, the request for the specialist's opinion and the ultimate report back needs to be documented in the patient's record.
These services are intended for urgent or complex cases where a face-to-face visit with the specialist may not be possible.
This service should not be reported more than one time per patient over a seven-day period.
###
Questions, comments?
If you have questions or comments about this article please contact us. Comments that provide additional related information may be added here by our Editors.
Latest articles: (any category)
How to Combat COVID-Related Risk Adjustment Losses with the Medicare Annual Wellness Exam
April 12th, 2021 - Aimee Wilcox, CPMA, CCS-P, CST, MA, MT, Director of Content
Identifying new ways to encourage Medicare beneficiaries to schedule and attend their Annual Wellness Exam (AWE) can be difficult, but the Open Enrollment period is a prime time for every payer to identify new beneficiaries and provide a reminder to both new and existing patients that this preventive service does ...
Failure to Follow Payer's Clinical Staff Rules Costs Provider $273K
April 12th, 2021 - Wyn Staheli, Director of Research
Clinical staff (e.g., LPN, RN, MA) provide essential services which allow providers to leverage their time and improve reimbursement opportunities and run their practices more efficiently. There is, however, an ongoing question of how to appropriately bill for clinical staff time. This is really a complex question which comes down to code descriptions, federal or state licensure, AND payer policies. Failure to understand licensing and payer policies led a Connecticut provider organization down a path that ended in a $273,000 settlement with both federal and state governments.
Properly Reporting Imaging Overreads (Including X-Rays)
April 8th, 2021 - Aimee Wilcox CPMA, CCS-P, CST, MA, MT and Wyn Staheli, Director of Content Research
hile many provider groups offer some imaging services in their offices, others may rely on external imaging centers. When the provider reviews images performed by an external source (e.g., independent imaging center), that is typically referred to as an overread or a re-read. Properly reporting that work depends on a variety of factors as discussed in this article.
How Social Determinants of Health (SDOH) Data Enhances Risk Adjustment
March 31st, 2021 - Aimee Wilcox, CPMA, CCS-P, CST, MA, MT, Director of Content
The role of SDOH in overall patient care and outcomes has become a more common topic of discussion among healthcare providers, payers, and policymakers alike. All are attempting to identify and collect SDOH and correlate the data to patient management which is increasingly seen as necessary to address certain health disparities and identify exactly how SDOH affects patient health outcomes. Learn how to address this important subject.
Understanding Skin Biopsy Codes
March 23rd, 2021 - Christine Woolstenhulme, QCC, QMCS, CPC, CMRS
A biopsy is a procedure to obtain only a portion of a lesion for a pathologic exam. According to the AMA, "The use of a biopsy procedure code (e.g., 11102, 11103) indicates that the procedure to obtain tissue for pathologic examination was performed independently, or was unrelated or distinct from other ...
How Reporting E/M Based on Time May Lose Money
March 18th, 2021 - Aimee Wilcox, CPMA, CCS-P, CST, MA, MT, Director of Content
Just like math teachers who require students to show their work so they can see how the student reached their answer, providers are also required to "show their work" through the documentation process in the medical record. By the time a provider has reviewed the patient's subjective complaints (i.e., patient's ...
COVID-19 Vaccines
March 10th, 2021 - Christine Woolstenhulme, QCC, QMCS, CPC, CMRS
To accommodate the new COVID-19 immunizations the CPT editorial panel has approved 11 Category I codes. Watch for new and revised guidelines and parenthetical notes with these codes. For example; which administration codes should be used with the vaccine codes and the NCD codes applicable to the dose being administered. These ...