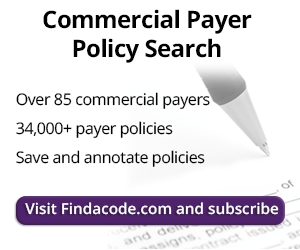 OIG Work Plan to look at excessive patient billing, place of service errors
February 9th, 2014 -
Scott Kraft
---
The 2014 OIG Work Plan has finally been released and, while it doesn't have a lot of new issues for physician practices, there are definitely some areas worth your attention to avoid future compliance hassles.
If you've been wondering where it's been, the OIG decided to change the timing of the work plan from its typical fall release to being released in January. And, as you might expect, the agency waited until the very end of the month for the release.
Here are some key areas of the work plan that physician practices should note:
Excessive E/M payments: It's not a new item, but the sheer volume of E/M services billed makes it noteworthy. The OIG plans to look at multiple E/M services billed by the same providers for the same patients to ensure each is appropriate. The key areas of concern here are cloned notes, with the OIG targeting "identical documentation across services."
Imaging services: As if practices have not suffered enough in payment cuts for imaging services, the OIG plans to see if the practice expense values for these services are appropriate when compared to actual expenses. Something to think about before expanding to add imaging services to your practice.
Lab tests: The OIG will look at billing for lab services to determine if the rapid growth is appropriate. The reminder here is that lab services are only covered when medically necessary. A stat that got OIG's attention is that lab spending went up 92 percent between 1998 and 2008.
Ophthalmology billing: The OIG plans to analyze ophthalmology billing patterns to look for potentially inappropriate billing, particularly by geographic region. The target year for the search is 2012.
Excessive patient billing: Assignment rates and compliance with assignment rules will be a focus, again for 2012 claims. OIG plans to look for evidence that patients were overbilled in violation of assignment rules, which require that the provider agree to only the Medicare allowed charge when accepting assignment.
Place of service: OIG continues to review claims for place of service errors, which subject Medicare to potentially overpaying when a facility service is billed as a non-facility service.
Physical therapy services: Therapists with a high rate of utilization will be subject to potential scrutiny to determine whether those payments were appropriate. Targeted will be outpatient physical therapy services determined to be not reasonable and necessary.
Sleep testing: OIG plans to look for excessive utilization of sleep testing services, billed with 95810 and 95811, with a specific focus on duplicate and medically unnecessary tests.
Part B drugs: The OIG plans to look at whether Part B drugs are being billed appropriately, looking specifically at off-label uses of drugs.
###
Questions, comments?
If you have questions or comments about this article please contact us. Comments that provide additional related information may be added here by our Editors.
Latest articles: (any category)
Compliance Billing: Power Mobility Devices
December 27th, 2022 - Chris Woolstenhulme
In May of 2022, the OIG conducted a nationwide audit of Power Mobility Device (PMD) repairs for Medicare beneficiaries. The findings were not favorable; the audit revealed CMS paid 20% of durable medical suppliers incorrectly during the audit period of October 01, 2018- September 30, 2019. This was a total of $8 million in device repairs out of $40 million paid by CMS. We gathered information in this article to assist providers and suppliers in keeping the payments received, protecting beneficiaries, and assisting you in ensuring compliance.
Leveraging Hierarchical Condition Category (HCC) Coding to Improve Overall Healthcare
December 27th, 2022 - Kem Tolliver
Diagnosis code usage is a major component of optimizing HCCs to improve overall healthcare. Readers will gain insight into how accurate diagnosis code usage and selection impacts reimbursement and overall healthcare.
Accurately Reporting Diabetic Medication Use in 2023
December 20th, 2022 - Aimee Wilcox
Along with the ICD-10-CM coding updates, effective as of October 1st, the guidelines were also updated to provide additional information on reporting diabetic medications in both the general diabetic population and pregnant diabetics. Accurate reporting is vital to ensure not only maximum funding for risk adjusted health plans, but also to ensure medical necessity for the services provided to this patient population.
REMINDER: CMS Discontinuing the use of CMNs and DIFs- Eff Jan 2023 Claims will be DENIED!
December 19th, 2022 - Chris Woolstenhulme
Updated Article - REMINDER! This is important news for durable medical suppliers! Effective January 1, 2023, CMS is discontinuing the use of Certificates of Medical Necessity (CMNs) and DME information forms (DIFs). We knew this was coming as the MLN sent out an article on May 23, 2022, but it is time to make sure your staff knows about these changes.
How Automation Could Impact the Future of Medical Coding
December 15th, 2022 - Find-A-Code
Automation is a fact of life in the modern world. As digital systems expand and mature, the creators of those systems are bringing more automation to more industries. Medical coding isn't the exception.
CPT Codes and Medicare's Relative Value Unit
December 13th, 2022 - Find-A-Code
A recently published study looking to explain income differences between male and female plastic surgeons suggests that billing and coding practices may be part of the equation. The study focused primarily on Medicare's relative value units (RVU) as applied to surgeon pay. But what exactly is an RVU?
Identifying the MEAT to Support Reporting Chronic Conditions in the Computer-Assisted-Coding (CAC) World
December 13th, 2022 - Aimee Wilcox
The benefits of computer-assisted-coding (CAC) are great and understanding how to engage with the engine to ensure maximum coding efficiency is vital to the program's success for your organization. But how do you know when to accept an autosuggested code and when to ignore it, especially when it has to do with historical patient data?