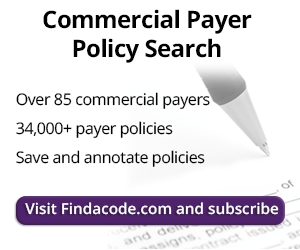 2014 Billing and Coding Primer for Therapy Services
December 10th, 2013 -
Scott Kraft
0 Votes -

Sign in

to vote or comment.
---
The release of the 2014 Physician Fee Schedule Final Rule in late November, coupled with the scheduled expiration of certain provisions of the American Taxpayer Relief Act (ATRA) threatens to add a lot of confusion to how you bill for therapy services in 2014.
We're here to help. First, the therapy caps will remain in place for 2014. The caps go up slightly. There are two, one $1,920 cap for occupational therapy services and a separate $1,920 cap for physical therapy and speech language therapy combined.
The first change is that CMS is using its regulatory powers to apply the caps to therapy services provided in critical access hospitals. ATRA had a provision that temporarily applied the cap to CAH services, but CMS will make that permanent as of Jan. 1, 2014, despite objections from providers.
You may still use modifier KX when billing therapy services over the cap amount, when you believe that these services are medically necessary. Any therapy services against either cap that go over a spending limit of $3,700 will be subject to medical review – likely delaying your payment.
To further confuse matters, ATRA had temporarily applied the therapy caps to services done in outpatient hospital settings. Outpatient hospital therapy has long been exempt from the therapy caps. This provision of ATRA will also expire on Dec. 31, 2013, but CMS says it lacks the authority to extend it.
As a result, outpatient hospital therapy services won't be covered by the cap in 2014, unless Congress acts to reinstate that provision.
Finally, the multiple procedure payment reduction for therapy services will continue to be in place in 2014. Whenever a therapist rendered services on the "always therapy" list, payment for any additional services after the first one will be reduced by 50 percent. This applies to services on the same date of service by the same provider or facility, as measured by the National Provider Identifier (NPI).
Here are the "always therapy" codes for 2014:
Code Short Descriptor
92507 Speech/hearing therapy
92508 Speech/hearing therapy
92521 Evaluation of speech fluency
92522 Evaluate speech production
92523 Speech sound lang comprehen
92524 Behavral qualit analys voice
92526 Oral function therapy
92597 Oral speech device eval
92607 "Ex for speech device rx, 1hr"
92609 Use of speech device service
96125 Cognitive test by hc pro
97001 Pt evaluation
97002 Pt re-evaluation
97003 Ot evaluation
97004 Ot re-evaluation
97012 Mechanical traction therapy
97016 Vasopneumatic device therapy
97018 Paraffin bath therapy
97022 Whirlpool therapy
97024 "Diathermy eg, microwave"
97026 Infrared therapy
97028 Ultraviolet therapy
97032 Electrical stimulation
97033 Electric current therapy
97034 Contrast bath therapy
97035 Ultrasound therapy
97036 Hydrotherapy
97110 Therapeutic exercises
97112 Neuromuscular reeducation
97113 Aquatic therapy/exercises
97116 Gait training therapy
97124 Massage therapy
97140 Manual therapy
97150 Group therapeutic procedures
97530 Therapeutic activities
97533 Sensory integration
97535 Self care mngment training
97537 Community/work reintegration
97542 Wheelchair mngment training
97750 Physical performance test
97755 Assistive technology assess
97760 Orthotic mgmt and training
97761 Prosthetic training
97762 C/o for orthotic/prosth use
G0281 Elec stim unattend for press
G0283 Elec stim other than wound
G0329 Electromagntic tx for ulcers
###
Questions, comments?
If you have questions or comments about this article please contact us. Comments that provide additional related information may be added here by our Editors.
Latest articles: (any category)
Emergency Department - APC Reimbursement Method
September 15th, 2022 - Christine Woolstenhulme, CPC, CMRS, QCC, QMCS
CMS pays emergency department visits through a payment method using Ambulatory Payment Classifications (APCs). Most payers also use the APC reimbursement system; however, there may be some differences in payer policies (always review your specific payer policy). APCs are the primary type of payment made under the OPPS, comprising groupings ...
Why Medical Coding and Billing Software Desperately Needs AI
September 7th, 2022 - Find-A-Code
It has been said that the healthcare industry is notoriously slow in terms of technology adoption. One need only look at how convoluted medical coding and billing are to know that it needs a technology injection. Specifically, medical coding and billing software desperately needs artificial intelligence (AI).
CMS says Less Paperwork for DME Suppliers after Jan 2023!
August 18th, 2022 - Christine Woolstenhulme, QCC, QMCS, CPC, CMRS
Attention providers, suppliers, billers, and vendors who bill Durable Medical Equipment (DME) to Medicare!  Currently, a supplier receives a signed Certificate of Medical Necessity (CMN) from the treating physician or creates and signs a DME Information Form (DIFs); these are required to be sent with the claim. However, this is about ...
Things to Consider Before Upgrading Medical Billing Software
August 11th, 2022 - Find-A-Code
Your practice has utilized the same medical billing software for years. The medical billing staff says it is time for a change. You don't necessarily disagree, but you also don't know where to begin your search for new software. There are so many vendors offering so many products that making sense of it all can be challenging.
Calendar Year 2023 Medicare Advantage and Part C & D Payment Policies
August 9th, 2022 - Aimee L. Wilcox, CPMA, CCS-P, CST, MA, MT
Each year CMS publishes an Advance Notice of the upcoming years Medicare Advantage (MA) Capitation Rates and Part C and Part D Payment Policies and asks for comments related to it. Each of the comments are carefully reviewed and responded to and often are impactful to changes seen between the Advance Notice and final publication referred to as the Rate Announcement. With health equity as a primary focus for 2023, CMS announced some policy changes that may impact your organization.
How CMS Determines Which Telehealth Services are Risk Adjustable
August 9th, 2022 - Aimee L. Wilcox, CPMA, CCS-P, CST, MA, MT
Medicare Advantage Organizations (MAOs) have gone back and forth on whether or not to use data collected from telehealth, virtual Care, and telephone (audio-only) encounters with Medicare beneficiaries for risk adjustment reporting, but the following published documents from CMS cleared that up once and for all by providing an answer to a question specifically related to this question.
OIG Investigates SCAN Health for Risk Adjustment Overpayments With Surprising Results
July 26th, 2022 - Aimee L. Wilcox, CPMA, CCS-P, CST, MA, MT
We've seen a number of OIG risk adjustment data validation (RADV) audits recently where the independent review contractor was simply looking for any codes the payer reported that were not supported by the documentation, in an effort to declare an overpayment was made and monies are due to be repaid. However, it was refreshing to read this RADV audit and discover that the independent review contractor actually identified HCCs the payer failed to report that, while still resulting in an overpayment, was able to reduce the overpayment by giving credit for these additional HCCs. What lessons are you learning from reading these RADV audit reports?