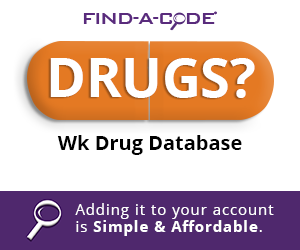 2014 Billing and Coding Primer for Therapy Services
December 10th, 2013 -
Scott Kraft
0 Votes -

Sign in

to vote or comment.
---
The release of the 2014 Physician Fee Schedule Final Rule in late November, coupled with the scheduled expiration of certain provisions of the American Taxpayer Relief Act (ATRA) threatens to add a lot of confusion to how you bill for therapy services in 2014.
We're here to help. First, the therapy caps will remain in place for 2014. The caps go up slightly. There are two, one $1,920 cap for occupational therapy services and a separate $1,920 cap for physical therapy and speech language therapy combined.
The first change is that CMS is using its regulatory powers to apply the caps to therapy services provided in critical access hospitals. ATRA had a provision that temporarily applied the cap to CAH services, but CMS will make that permanent as of Jan. 1, 2014, despite objections from providers.
You may still use modifier KX when billing therapy services over the cap amount, when you believe that these services are medically necessary. Any therapy services against either cap that go over a spending limit of $3,700 will be subject to medical review – likely delaying your payment.
To further confuse matters, ATRA had temporarily applied the therapy caps to services done in outpatient hospital settings. Outpatient hospital therapy has long been exempt from the therapy caps. This provision of ATRA will also expire on Dec. 31, 2013, but CMS says it lacks the authority to extend it.
As a result, outpatient hospital therapy services won't be covered by the cap in 2014, unless Congress acts to reinstate that provision.
Finally, the multiple procedure payment reduction for therapy services will continue to be in place in 2014. Whenever a therapist rendered services on the "always therapy" list, payment for any additional services after the first one will be reduced by 50 percent. This applies to services on the same date of service by the same provider or facility, as measured by the National Provider Identifier (NPI).
Here are the "always therapy" codes for 2014:
Code Short Descriptor
92507 Speech/hearing therapy
92508 Speech/hearing therapy
92521 Evaluation of speech fluency
92522 Evaluate speech production
92523 Speech sound lang comprehen
92524 Behavral qualit analys voice
92526 Oral function therapy
92597 Oral speech device eval
92607 "Ex for speech device rx, 1hr"
92609 Use of speech device service
96125 Cognitive test by hc pro
97001 Pt evaluation
97002 Pt re-evaluation
97003 Ot evaluation
97004 Ot re-evaluation
97012 Mechanical traction therapy
97016 Vasopneumatic device therapy
97018 Paraffin bath therapy
97022 Whirlpool therapy
97024 "Diathermy eg, microwave"
97026 Infrared therapy
97028 Ultraviolet therapy
97032 Electrical stimulation
97033 Electric current therapy
97034 Contrast bath therapy
97035 Ultrasound therapy
97036 Hydrotherapy
97110 Therapeutic exercises
97112 Neuromuscular reeducation
97113 Aquatic therapy/exercises
97116 Gait training therapy
97124 Massage therapy
97140 Manual therapy
97150 Group therapeutic procedures
97530 Therapeutic activities
97533 Sensory integration
97535 Self care mngment training
97537 Community/work reintegration
97542 Wheelchair mngment training
97750 Physical performance test
97755 Assistive technology assess
97760 Orthotic mgmt and training
97761 Prosthetic training
97762 C/o for orthotic/prosth use
G0281 Elec stim unattend for press
G0283 Elec stim other than wound
G0329 Electromagntic tx for ulcers
###
Questions, comments?
If you have questions or comments about this article please contact us. Comments that provide additional related information may be added here by our Editors.
Latest articles: (any category)
​​Polysomnography Services Under OIG Scrutiny
September 2nd, 2021 - Raquel Shumway
The OIG conducted a study dated June 2019 wherein they indicated that there were approximately $269 million in overpayments for polysomnography services for the period of 2014 through 2015. According to the OIG "These errors occurred because the CMS oversight of polysomnography services was insufficient to ensure that providers complied with Medicare requirements and to prevent payment of claims that didn't meet those requirements." So what are those requirements?
Medicare Advantage - The Fastest Growing Government-Funded Program Undergoing Multiple Fraud Investigations
August 16th, 2021 - Aimee Wilcox, CPMA, CCS-P, CST, MA, MT, Director of Content
Medicare Advantage is the fastest growing form of government-funded healthcare and the rate of fraud within this segment has come under increased scrutiny. Funding is determined by the health status of each beneficiary; therefore, accurate coding based on detailed documentation makes the medical record vital to the process because some ...
Billing Dental Implants under Medical Coverage
August 12th, 2021 - Christine Woolstenhulme, QCC, QMCS, CPC, CMRS
Implants can be costly to the patient and the provider, and it is crucial to understand how to bill a patient's medical insurance to ensure there is adequate coverage for the best treatment. Implants are commonly billed in a dental office under a patient's medical benefits.    Implants could be considered ...
New Codes for COVID Booster Vaccine & Monoclonal Antibody Products
August 10th, 2021 - Wyn Staheli, Director of Research
New codes have been announced for the COVID-19 booster vaccine, Novavax vaccine, and monoclonal antibody treatment.
Medicare's ABN Booklet Revised
July 29th, 2021 - Wyn Staheli, Director of Research
The "Medicare Advance Written Notices of Non-coverage" booklet, published by CMS's Medicare Learning Network, was updated. This article discusses the changes to this booklet regarding the use of the ABN.
Chronic Pain Coding Today & in the Future
July 19th, 2021 - Wyn Staheli, Director of Research
Properly documenting and coding chronic pain can be challenging. As is commonly the case with many conditions, over the years, there has been a shift in the identification of different types of pain, including chronic pain. Understanding where we are now and where we are going will help your organization prepare for the future by changing documentation patterns now.
How Does Global and Professional Direct Contracting (GPDC) Affect Risk Adjustment?
July 15th, 2021 - Aimee Wilcox, CPMA, CCS-P, CST, MA, MT, Director of Content
CMS recently announced the 53 Direct Contracting Entities (DCEs) that will be participating in the April 1, 2021 through December 31, 2021 Global and Professional Direct Contracting (GPDC) Model. Among those participating is Clover Health Partners, who runs an in-home primary care program that has the potential to help Medicare ...