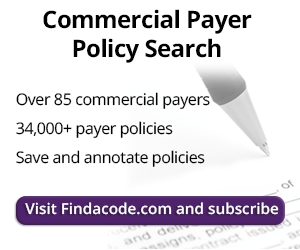 2014 Billing and Coding Primer for Therapy Services
December 10th, 2013 -
Scott Kraft
0 Votes -

Sign in

to vote or comment.
---
The release of the 2014 Physician Fee Schedule Final Rule in late November, coupled with the scheduled expiration of certain provisions of the American Taxpayer Relief Act (ATRA) threatens to add a lot of confusion to how you bill for therapy services in 2014.
We're here to help. First, the therapy caps will remain in place for 2014. The caps go up slightly. There are two, one $1,920 cap for occupational therapy services and a separate $1,920 cap for physical therapy and speech language therapy combined.
The first change is that CMS is using its regulatory powers to apply the caps to therapy services provided in critical access hospitals. ATRA had a provision that temporarily applied the cap to CAH services, but CMS will make that permanent as of Jan. 1, 2014, despite objections from providers.
You may still use modifier KX when billing therapy services over the cap amount, when you believe that these services are medically necessary. Any therapy services against either cap that go over a spending limit of $3,700 will be subject to medical review – likely delaying your payment.
To further confuse matters, ATRA had temporarily applied the therapy caps to services done in outpatient hospital settings. Outpatient hospital therapy has long been exempt from the therapy caps. This provision of ATRA will also expire on Dec. 31, 2013, but CMS says it lacks the authority to extend it.
As a result, outpatient hospital therapy services won't be covered by the cap in 2014, unless Congress acts to reinstate that provision.
Finally, the multiple procedure payment reduction for therapy services will continue to be in place in 2014. Whenever a therapist rendered services on the "always therapy" list, payment for any additional services after the first one will be reduced by 50 percent. This applies to services on the same date of service by the same provider or facility, as measured by the National Provider Identifier (NPI).
Here are the "always therapy" codes for 2014:
Code Short Descriptor
92507 Speech/hearing therapy
92508 Speech/hearing therapy
92521 Evaluation of speech fluency
92522 Evaluate speech production
92523 Speech sound lang comprehen
92524 Behavral qualit analys voice
92526 Oral function therapy
92597 Oral speech device eval
92607 "Ex for speech device rx, 1hr"
92609 Use of speech device service
96125 Cognitive test by hc pro
97001 Pt evaluation
97002 Pt re-evaluation
97003 Ot evaluation
97004 Ot re-evaluation
97012 Mechanical traction therapy
97016 Vasopneumatic device therapy
97018 Paraffin bath therapy
97022 Whirlpool therapy
97024 "Diathermy eg, microwave"
97026 Infrared therapy
97028 Ultraviolet therapy
97032 Electrical stimulation
97033 Electric current therapy
97034 Contrast bath therapy
97035 Ultrasound therapy
97036 Hydrotherapy
97110 Therapeutic exercises
97112 Neuromuscular reeducation
97113 Aquatic therapy/exercises
97116 Gait training therapy
97124 Massage therapy
97140 Manual therapy
97150 Group therapeutic procedures
97530 Therapeutic activities
97533 Sensory integration
97535 Self care mngment training
97537 Community/work reintegration
97542 Wheelchair mngment training
97750 Physical performance test
97755 Assistive technology assess
97760 Orthotic mgmt and training
97761 Prosthetic training
97762 C/o for orthotic/prosth use
G0281 Elec stim unattend for press
G0283 Elec stim other than wound
G0329 Electromagntic tx for ulcers
###
Questions, comments?
If you have questions or comments about this article please contact us. Comments that provide additional related information may be added here by our Editors.
Latest articles: (any category)
Packaging and Units for Billing Drugs
May 18th, 2020 - Christine Woolstenhulme, QCC, CMCS, CPC, CMRS
To determine the dosage, size, doses per package and how many billing units are in each package, refer to the NDC number. Take a look at the following J1071 - Injection, testosterone cypionate, 1mg For example; using NCD # 0009-0085-10 there are 10 doses of 100 mL (100 mg/mL = 1 mL and there are ...
Getting Your Practice Back on Track
May 12th, 2020 - Wyn Staheli, Director of Research
As we begin returning back to work, we will all face a new normal. The COVID-19 pandemic has changed the face of business. While it has certainly been a challenge to keep up with the ever-changing regulations (that's likely to continue for a little longer), exciting new opportunities have also been created, such as the expansion of telemedicine. There's also the maze of government funding that needs to be navigated and an increased awareness of OSHA standards to implement.
ICD-10-CM - Supplement information for E-Cigarette/Vaping Reporting
May 5th, 2020 - Christine Woolstenhulme, QCC, CMCS, CPC, CMRS
The CDC has released additional information and coding guidance for reporting encounters related to the 2019 health care encounters and deaths related to e-cigarette, or vaping, product use associated lung injury (EVALI).  The update offers coding scenarios for general guidance, poisoning and toxicity, substance abuse and signs and symptoms.  ICD-10-CM Official Coding Guidelines - ...
Additional Telehealth Changes Announced by CMS
May 4th, 2020 - Wyn Staheli, Director of Research
On April 30, 2020, CMS announced additional sweeping changes to meet the challenges of providing adequate healthcare during this pandemic. These changes expand the March 31st changes. The article covers some of the key changes. See the official announcement in the references below.
Effective Risk Adjustment Requires Accurate Calculations
April 27th, 2020 - Wyn Staheli, Director of Research
Risk adjustment is simply a way of making sure that there are sufficient funds to adequately take care of the healthcare needs of a certain population. It's a predictive modeling methodology based on the diagnoses of the individuals in that population. As payers move to value based models, they heavily rely on risk adjustment to ensure proper funding.
COVID-19 Clinical Trial Participation Helps Providers Earn MIPS Credit
April 22nd, 2020 - Wyn Staheli, Director of Research
All healthcare providers who are currently participating in the MIPS portion of Medicare's Quality Payment Program may want to participate in the new COVID-19 Clinical Trials improvement activity. Read more about it here.
Special COVID Laboratory Specimen Coding Information
April 21st, 2020 - Wyn Staheli, Director of Research
With all the new laboratory test codes that have been added due to the current public health emergency (PHE), there are a few additional guidelines CMS has released about collecting samples to perform the testing. Please keep in mind that these guidelines are by CMS and may or may not apply to other commercial payer policies.