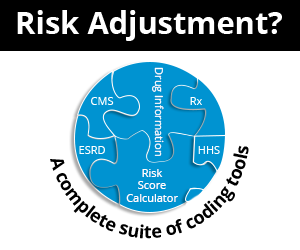 2014 Billing and Coding Primer for Therapy Services
December 10th, 2013 -
Scott Kraft
---
The release of the 2014 Physician Fee Schedule Final Rule in late November, coupled with the scheduled expiration of certain provisions of the American Taxpayer Relief Act (ATRA) threatens to add a lot of confusion to how you bill for therapy services in 2014.
We're here to help. First, the therapy caps will remain in place for 2014. The caps go up slightly. There are two, one $1,920 cap for occupational therapy services and a separate $1,920 cap for physical therapy and speech language therapy combined.
The first change is that CMS is using its regulatory powers to apply the caps to therapy services provided in critical access hospitals. ATRA had a provision that temporarily applied the cap to CAH services, but CMS will make that permanent as of Jan. 1, 2014, despite objections from providers.
You may still use modifier KX when billing therapy services over the cap amount, when you believe that these services are medically necessary. Any therapy services against either cap that go over a spending limit of $3,700 will be subject to medical review – likely delaying your payment.
To further confuse matters, ATRA had temporarily applied the therapy caps to services done in outpatient hospital settings. Outpatient hospital therapy has long been exempt from the therapy caps. This provision of ATRA will also expire on Dec. 31, 2013, but CMS says it lacks the authority to extend it.
As a result, outpatient hospital therapy services won't be covered by the cap in 2014, unless Congress acts to reinstate that provision.
Finally, the multiple procedure payment reduction for therapy services will continue to be in place in 2014. Whenever a therapist rendered services on the "always therapy" list, payment for any additional services after the first one will be reduced by 50 percent. This applies to services on the same date of service by the same provider or facility, as measured by the National Provider Identifier (NPI).
Here are the "always therapy" codes for 2014:
Code Short Descriptor
92507 Speech/hearing therapy
92508 Speech/hearing therapy
92521 Evaluation of speech fluency
92522 Evaluate speech production
92523 Speech sound lang comprehen
92524 Behavral qualit analys voice
92526 Oral function therapy
92597 Oral speech device eval
92607 "Ex for speech device rx, 1hr"
92609 Use of speech device service
96125 Cognitive test by hc pro
97001 Pt evaluation
97002 Pt re-evaluation
97003 Ot evaluation
97004 Ot re-evaluation
97012 Mechanical traction therapy
97016 Vasopneumatic device therapy
97018 Paraffin bath therapy
97022 Whirlpool therapy
97024 "Diathermy eg, microwave"
97026 Infrared therapy
97028 Ultraviolet therapy
97032 Electrical stimulation
97033 Electric current therapy
97034 Contrast bath therapy
97035 Ultrasound therapy
97036 Hydrotherapy
97110 Therapeutic exercises
97112 Neuromuscular reeducation
97113 Aquatic therapy/exercises
97116 Gait training therapy
97124 Massage therapy
97140 Manual therapy
97150 Group therapeutic procedures
97530 Therapeutic activities
97533 Sensory integration
97535 Self care mngment training
97537 Community/work reintegration
97542 Wheelchair mngment training
97750 Physical performance test
97755 Assistive technology assess
97760 Orthotic mgmt and training
97761 Prosthetic training
97762 C/o for orthotic/prosth use
G0281 Elec stim unattend for press
G0283 Elec stim other than wound
G0329 Electromagntic tx for ulcers
###
Questions, comments?
If you have questions or comments about this article please contact us. Comments that provide additional related information may be added here by our Editors.
Latest articles: (any category)
Code Sequencing Chapter 15 OB Visits
February 13th, 2023 - Chris Woolstenhulme
Sometimes payer guidelines differ from the official guidelines, this can be confusing, let's look at a sequencing priority for example in Chapter 15: Pregnancy, childbirth, and the Puerperium (o00-o9A). the guidelines tell us how to code based on the provider's documentation, in addition, it is important to know Chapter 15 codes are never to be used on newborn records, only on the maternal record. Find-A-Code will sequence codes according to the ICD-10-CM guidelines first.
Is the End Really Near?
February 7th, 2023 - Chris Woolstenhulme
What happens once the COVID-19 emergency declarations have ended?
Will 2023 Be the Year of Outsourced Medical Billing?
February 3rd, 2023 - Find-A-Code
Many healthcare providers have chosen to keep medical coding and billing in-house. From HIPAA compliance to the complexity of ICD-10 codes, it has just been easier to keep track of things by not outsourcing medical billing or coding. But things are changing. So much so that 2023 could be the year that outsourced services finally take over.
Three Things To Know When Reporting Prolonged Services in 2023
January 31st, 2023 - Aimee Wilcox
The Evaluation and Management (E/M) changes made in 2021 and again in 2023 brought about new CPT codes and guidelines for reporting prolonged services. Just as Medicare disagreed with CPT in the manner in which prolonged service times should be calculated, they did so again with the new 2023 changes. Here are three things you should know when reporting prolonged services for all E/M services.
The Curious Relationship Between CPT Codes and Actual Treatments
January 30th, 2023 - Find-A-Code
Common sense seems to dictate that medical billing codes, like CPT codes for example, are only considered after medical treatment has been provided. After all, the codes are simply a representation of diagnosed conditions and treatment services provided – for billing purposes. But there is a curious relationship between these codes and actual treatments.
Why Medical Billing Codes Are Critical To Healthcare Delivery
January 30th, 2023 - Find-A-Code
Medical coders play a critical role in determining how healthcare delivery is reported for record keeping and billing purposes. Likewise, the codes they know so well are equally critical. They have been around for decades. They were originally developed and implemented to make reporting and billing easier in a healthcare system that was becoming incredibly more complex. The system is even more complex today.
Why Knowing Medical Terminology Makes Coding Easier
January 27th, 2023 - Find-A-Code
You are excited about beginning your training as a professional medical coder. You're expecting to pass the exam and earn your certification. The future is looking bright until, as you are perusing the educational material, you suddenly realize you're going to have to learn medical terminology.