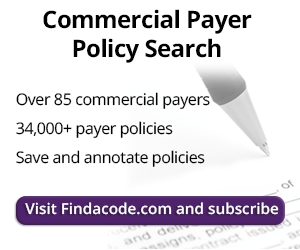 Medicare fee schedule's big pay cut probably temporary – big PQRS change likely permanent
January 3rd, 2014 - Scott Kraft
0 Votes -

Sign in

to vote or comment.
---
CMS released Medicare's 2014 Final Physician Fee Schedule rule on Thanksgiving Eve, delayed from its usual November 1 release by the government shutdown earlier this fall.
Fee schedule followers won't be surprised to see CMS finalize a 20.1% average cut to payments next year, slashing the conversion factor down to $27.2006 in 2014. Expect Congress to step in and fix that. While there have been rumblings of a permanent fix to the payment formula, the more time that passes without one makes it more likely you'll see a temporary fix.
Here are the other changes finalized by CMS for 2014:
Tougher PQRS reporting: Most PQRS reporting options will now require you to successfully report on 9 different measures, up from the current 3. Those measures will have to come from 3 different measures groups, when possible. If it's not possible to report 9, report as many as you can from 1-8. You'll only need to be successful on 50% of your eligible patients, down from the current 80%. This change applies to claims-based, registry-based and group reporting options.
New GPCIs: CMS will phase-in updated GPCIs based on new data over the next two years. The main impacts of the change is that payments in some localities will increase or decrease by 1%-2%, regardless of other fee schedule changes. Other GPCI changes of note – the 1.0 work GPCI will expire on Dec. 31, unless salvaged by Congress. Alaska will keep its minimum 1.5 work GPCI and Montana, Nevada, North Dakota, South Dakota and Wyoming will keep 1.0 minimum practice expense GPCIs.
Payment formula shift: As a result of tweaks to the data used to calculate your payments, approximately 50% of the 2014 payment will be based on the physician work RVU, an upward shift of about 3 percentage points. Practice expense will go down the same amount, and malpractice will make up just under 5% of the average payment.
Misvalued codes: Payments for about 200 services, some very commonly billed laparoscopic procedures, will change next year because CMS believes the RVUs were misvalued. These changes are interim final changes that the agency will accept comments on until January 27, 2014. See page 313 in the attached fee schedule for a complete list of codes with the new RVUs. While the payment amounts aren't listed, a lower RVU is evidence that the price will fall and a higher RVU is evidence it will increase.
Chronic care management payment: CMS will begin making payment to physicians for a chronic care management service, but these payments will not start until 2015. Payment will be made for chronic care management for 12 months or until the death of the patient, when the patient has multiple chronic conditions. The agency says it will develop more specific standards for when these services may be billed
Physician pay cap not finalized: A controversial proposal to cap physician office service payments at no more than what CMS pays for the service in an ASC or outpatient setting was not finalized.
###
Questions, comments?
If you have questions or comments about this article please contact us. Comments that provide additional related information may be added here by our Editors.
Latest articles: (any category)
CMS and HHS Tighten Enrollment Rules and Increase Penalties
October 1st, 2019 - Wyn Staheli, Director of Research
This ruling impacts what providers and suppliers are required to disclose to be considered eligible to participate in Medicare, Medicaid, and Children's Health Insurance Program (CHIP). The original proposed rule came out in 2016 and this final rule will go into effect on November 4, 2019. There have been known problems ...
Federal Workers Compensation Information
October 1st, 2019 - Wyn Staheli, Director of Research
When federal employees sustain work-related injuries, it does not go through state workers compensation insurance. You must be an enrolled provider to provide services or supplies. The following are some recommended links for additional information about this program. Division of Federal Employees' Compensation (DFEC) website Division of Federal Employees' Compensation (DFEC) provider ...
E-Health is a Big Deal in 2020
September 16th, 2019 - Chris Woolstenhulme, QCC, CMCS, CPC, CMRS
The new 2020 CPT codes are on the way! We are going to see 248 new codes, 71 deletions, and 75 revisions. Health monitoring and e-visits are getting attention; 6 new codes play a vital part in patients taking a part in their care from their own home. New patient-initiated ...
Chiropractic 2020 Codes Changes Are Here
September 9th, 2019 - Wyn Staheli, Director of Research
There are some interesting coding changes which chiropractic offices will want to know about. Are codes that you are billing changing?
Q/A: Is the Functional Rating Index by Evidence-Based Chiropractic Valid?
September 9th, 2019 - Wyn Staheli, Director of Research
Question Is the Functional Rating Index, from the Institute of Evidence-Based Chiropractic, valid and acceptable? Or do we have to use Oswestry and NDI? Answer You can use any outcome assessment questionnaire that has been normalized and vetted for the target population and can be scored so you can compare the results from ...
List of Cranial Nerves
September 3rd, 2019 - Find-A-Code
Cranial nerves are involved with some of our senses such as vision, hearing and taste, others control certain muscles in the head and neck. There are twelve pairs of cranial nerves that lead from the brain to the head, neck and trunk. Below is a list of Cranial Nerves and ...
So How Do I Get Paid for This? APC, OPPS, IPPS, DRG?
August 21st, 2019 - Chris Woolstenhulme, QCC, CMCS, CPC, CMRS
You know how to find a procedure code and you may even know how to do the procedure, but where does the reimbursement come from?  It seems to be a mystery to many of us, so let's clear up some common confusion and review some of the main reimbursement systems.  One of the ...