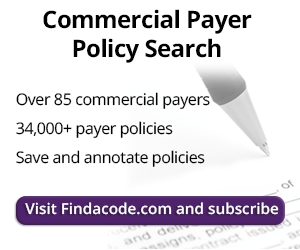 Preventive medicine service and office visit on the same day
January 30th, 2015 - Codapedia Editor
0 Votes -

Sign in

to vote or comment.
---
Modifier 25 for Preventive medicine service and office visits
The CPT® book describes modifier 25 as the modifier to be used on an E/M service when "a Significant, Separately Identifiable Evaluation and Management Service" is performed by the same physician on the same day of the procedure or other service. Take a moment to read the full description of modifier 25 in your CPT® book.
There are times when a physician provides both a comprehensive preventive medicine service on the same day as that physician provides a problem-oriented visit or service. The CPT® book tells us that we can bill for both of these on the same calendar date using modifier 25 on the evaluation and management problem-oriented visit. Of course, whether you can be paid for both depends on your insurance company and the processing.
This is what the CPT® book says, in part, at the start of the section on Preventive Medicine Services. (Read the entire description in the CPT® book.) "If an abnormality/ies is encountered, or a pre-existing problem is addressed in the process of performing this preventive medicine evaluation and management service, and if the problem/abnormality is significant enough to require additional work to perform the key components of problem-oriented E/M service, patient code 99201 to 99215 should also be reported in addition to the appropriate preventive medicine service should be reported."
The CPT® book goes on to tell us that an insignificant or trivial problem is not reported or billed separately.
How do you know if you provide a significant extra service that warrants an office visit on the same day as your preventive medicine service? What is the significant extra work? Do you need two notes?
When billing for both the preventive medicine service and a problem-oriented visit on the same day, take a look at the documentation for the service and see if you have adequately documented the problem-oriented visit.
Look at the history. Are history of the present illness elements documented? Does the history section describe the status of the patient's chronic diseases? You are more likely to be paid for an office visit, in addition to the preventive medicine service if the patient presents with a new problem for which you have documented the elements of the history of the present illness or if their existing problem deteriorated in some way. The HPI should describe the patient's symptoms. "Patient reports no complaints" does not warrant an additional E/M service, even if the physician renews prescriptions and discusses chronic illnesses. "Patient reports new onset rectal bleeding" with the appropriate details documented does show additional work.
Review the assessment and plan. You are also more likely to be paid for a separate visit if the assessment and the plan show that you are actively managing the problems that were described in the history. This could involve new treatment or significant changes to treatment for existing conditions. Do not bill for both services if you are simply reviewing the patient's existing problems and renewing their prescription.
What about the exam and review of systems? These are both components of a preventive medicine service and so do not show additional work for a problem oriented visit.
Do you need a second note? CPT® doesn't say yes or no. However, most coders and billers who submit claims and then appeal their initial denials say that a second note, which clearly outlines the problem oriented visit, increases the likelihood of being paid for both services. A second note also helps the clinician to determine what level of additional service was performed. Some insurance companies pay both services in full and some pay the second service at a reduced rate.
One note of caution. Most state Medicaid programs will pay for only one evaluation and management service in a day. If you bill them an office visit and preventive medicine service in the same day, they will chose to pay for the cheaper of the two services.
Key points: append modifier 25 to the office visit code, not the preventive medicine service. Be sure that the note supports the significant, extra work. Use diagnosis V70.0 with the preventive medicine service, and the diagnosis for the patient's illness or condition on the office visit code.
Review the entries in Codapedia for information on Medicare preventive medicine services and immunizations as well.
###
Questions, comments?
If you have questions or comments about this article please contact us. Comments that provide additional related information may be added here by our Editors.
Latest articles: (any category)
HIPAA Penalty Changes
January 11th, 2021 - Wyn Staheli, Director of Research
On January 5, 2021, H.R. 7898 was signed into law by President Trump. This new law modifies the HITECH Act such that when an organization experiences a breach, fines and/or penalties may be reduced if (for at least a year) they have instituted "recognized security practices" as defined within the law.
CDT and CPT - The Same but Different!
December 8th, 2020 - Christine Woolstenhulme, QCC, QMCS, CPC, CMRS
Reporting a CPT code for an evaluation of a patient is based on time and if the patient is a new or established patient. Evaluation and Management codes are different than other codes, it is important to understand how they are used, prior to 2021 they were based on a ...
How to Search Find-A-Code for Medicare Policies and Guidelines — LCDs, NCDs and Articles —
November 18th, 2020 - Raquel Shumway
Help for Searching Find-A-Code when searching for Medicare Policies and Guidelines — LCDs, NCDs and/or Articles.
Cross-A-Code Instructions in Find-A-Code
November 18th, 2020 - Raquel Shumway
Cross-A-Codeis a toll found in Find-A-Code which helps you to locate codes in other code sets that help you when submitting a claim.
COVID Vaccine Codes Announced
November 11th, 2020 - Wyn Staheli, Director of Research
On November 10, 2020, the American Medical Association (AMA) announced the addition of two new codes which will be used for the new COVID-19 vaccines along with 4 new administration codes to be used when reporting the administration of these vaccines.
Are You Aware of the 2021 Star Rating System Updates?
November 5th, 2020 - Aimee Wilcox, CPMA, CCS-P, CST, MA, MT, Director of Content
Each year the Centers for Medicare & Medicaid Services (CMS) publishes the Star Ratings System Updates for Medicare Advantage (Part C) and Medicare Prescription (Part D). This rating system was developed to help beneficiaries identify and select the health plans that best meet their needs, specifically addressing main issues:  Quality of ...
Special Needs Plans Help Beneficiaries and Risk Adjustment Reporting
October 22nd, 2020 - Aimee Wilcox, CPMA, CCS-P, CST, MA, MT, Director of Content
It is no secret that Medicare and Medicaid are steadily moving towards their goal of value-based health care. Medicare Part C (Medicare Advantage) identifies and rewards payers, and subsequently their providers, for increasing the efficiency and quality of care they provide to Medicare...