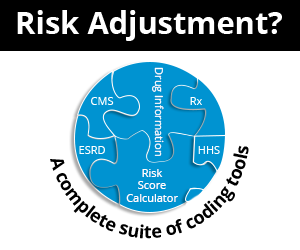 A Funny Thing Happened on the Way to an ICD-10 Gap Analysis
October 25th, 2013 - Codapedia Editor
---
You've heard the scary facts, maybe even from me. The number of diagnosis codes is increasing from about 16,000 in ICD-9 to 70,000 in ICD-10. The sky is falling. I usually add, we won't be able to memorize diagnosis codes any more.
And then I did a gap analysis for a women's health group. My mission was to audit 60 records for accuracy in CPT/ICD-9 coding with the additional task of identifying any additional documentation that would be needed in the transition to ICD-10. And the funny thing that happened: at note 42, I remembered an ICD-10 code without looking it up.
Here's the process: start with the documentation and compare the documentation with the ICD-9 code selected. In this women's health sample, the ICD-9 coding was accurate and there were few unspecified or non-specific codes. (A review of oncology claims I did last month was dominated by ICD-9 codes ending in .9, and needless to say that group has work to do. The first step in ICD-10 readiness is to clean up ICD-9 coding, and use specific codes whenever possible. If the documentation doesn't allow you to select a specific code, educate the clinician about what is missing.) But, back to this group of claims, the ICD-9 coding was accurate and specific. I used a free, internet-based crosswalk to find ICD-10 codes, keeping my paper ICD-10 book at the ready.
Many codes had one-to-one direct matches, such as V25.11, encounter for insertion of intrauterine contraceptive device.
Some unspecified codes, accurately selected in ICD-9 by their alternative terminology will need to be reviewed. 625.9 is unspecified symptom associated with female genital organs. The alternative terminology includes pain in female pelvis. There are two suggestions for this code: N94.89 other specified conditions associated with female genital organs and menstrual cycle and R10.2 Pelvic and perineal pain. N94.89 is the code to select if the source of the pain is known to be related to the GU system. R10.2 is in the signs and symptoms chapter. At the start of the section for R10.- the excludes notes states "Excludes1 symptoms referable to female genital organs." That is, if the patient in this sample had pelvic pain that was diagnosed as part of GU disease, use the more specific N94.89. If the patient presented with pelvic pain but the clinician did not assess it as part of a GU problem, but perhaps sent the patient to a general surgeon for an assessment, use the symptom diagnosis of R10.2. This example illustrates the drawback of a crosswalk program. At first glance, R10.2 seems to be the correct match for pelvic pain. But it is in the signs and symptoms chapter and the excludes notes clearly states it is not to be used for problems related to the GU system.
A commonly used code, V72.31 routine gynecological examination crossed to two codes and required the documentation to show if the results of the GYN exam were normal or abnormal. Z01.411 encounter for gynecological examination (general) (routine) with abnormal findings or Z01.419 encounter for gynecological exam (general) (routine) without abnormal findings.
In women's health, supervision of pregnancy normal or high risk explodes to multiple codes. For normal pregnancy, whether it is the first or subsequent pregnancy and the trimester need to be known to assign the correct code. Although there are about twenty possible codes to describe types of high risk pregnancies in ICD-9, in ICD-10 there are seventy or eighty codes that describe the condition and trimester. The ICD-9 codes are found under 648- other current conditions in the mother classifiable elsewhere but complicating pregnancy childbirth or the puerperium. These conditions in ICD-10 are in the O09.- heading, list conditions and require the coder to know the trimester for accuracy.
You can do this analysis in your practice. Of course, it's easier in a single specialty group than in the ED or General Surgery where a range of problems are seen. In that case, do the gap analysis repeatedly by system to facilitate learning. Use a internet based program if it shows the includes/excludes notes or buy a book. By the way, I suggest you buy a spiral bound book. I didn't and pages are falling out of my book, and honestly, I haven't used it that often.
But, it was a funny thing: on note 42 I had memorized the two ICD-10 codes for an annual GYN exam.
###
Questions, comments?
If you have questions or comments about this article please contact us. Comments that provide additional related information may be added here by our Editors.
Latest articles: (any category)
COVID Vaccine Coding Changes as of November 1, 2023
October 26th, 2023 - Wyn Staheli
COVID vaccine changes due to the end of the PHE as of November 1, 2023 are addressed in this article.
Medicare Guidance Changes for E/M Services
October 11th, 2023 - Wyn Staheli
2023 brought quite a few changes to Evaluation and management (E/M) services. The significant revisions as noted in the CPT codebook were welcome changes to bring other E/M services more in line with the changes that took place with Office or Other Outpatient Services a few years ago. As part of CMS' Medicare Learning Network, the "Evaluation and Management Services Guide" publication was finally updated as of August 2023 to include the changes that took place in 2023. If you take a look at the new publication (see references below),....
Can We Score Interpretation of an EKG Towards E/M Medical Decision Making?
October 10th, 2023 - Aimee Wilcox
When EKGs are performed in the facility setting or even in the physician's office, what are the requirements for reporting the service and who gets credit for scoring data points for Evaluation and Management (E/M) medical decision making (MDM)? Let's take a look at a few coding scenarios related to EKG services to get a better understanding of why this can be problematic.
Accurately Reporting Signs and Symptoms with ICD-10-CM Codes
October 5th, 2023 - Aimee Wilcox
Coders often find themselves unsure of when to report a sign or symptom code documented in the medical record. Some coders find their organization has an EHR that requires a working diagnosis, which is usually a sign or symptom, be entered to order a test or diagnostic study or image. Understanding the guidelines surrounding when signs and symptoms should be reported is the first step in correct coding so let's take a look at some scenarios.
The 2024 ICD-10-CM Updates Include New Codes for Reporting Metabolic Disorders and Insulin Resistance
September 19th, 2023 - Aimee Wilcox
Diabetes is a chronic disease that just seems to consistently be increasing instead of improving resulting in a constant endeavor by medical researchers to identify causal effects and possible treatments. One underlying or precipitating condition that scientists have identified as a precipitating factor in the development of diabetes is insulin resistance, which is a known metabolic disorder. As data becomes available through claims reporting, additional code options become possible with ICD-10-CM.
Documenting and Reporting Postoperative Visits
September 12th, 2023 - Aimee Wilcox
Sometimes we receive questions regarding documentation requirements for specific codes or coding requirements and we respond with information and resources to support our answers. The following question was recently submitted: Are providers required to report postoperative services on claims using 99024, especially if there is no payment for that service? What documentation is required if you are reporting an unrelated Evaluation and Management (E/M) service by the same physician during the postoperative period? 
Understanding Gastroesophageal Reflux Disease and ICD-10-CM Coding
August 22nd, 2023 - Aimee Wilcox
Gastroesophageal reflux disease or GERD for short, is a disease that impacts millions of Americans on a weekly basis. Symptoms are uncomfortable, as are some of the tests used to diagnose it, but understanding the disease, tests, and treatments helps us better understand how to code the disease using ICD-10-CM codes.