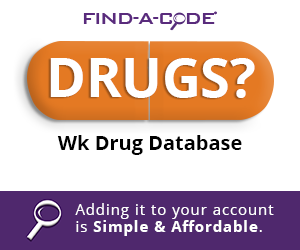 Countdown to ICD-10
September 16th, 2011 - Codapedia Editor
---
The Wall Street Journal published an amusing article about the specificity of injury code descriptions in ICD-10 (9/12/11). The article was entertaining. It avoided all mention of the serious policy reasons behind the switch from ICD-9 to ICD-10 and the cost to the health care system of implementing it. There was no mention of the potential chaos of denied claims, non-specific diagnosis codes or computer systems that might be unable to handle seven digit diagnosis codes. Not to mention possible cash flow disruptions.
Physicians, managers, billers and coders are all worried about the transition. Large health care systems are already months into planning, meetings, time lines and budget allocations. What should physician groups be doing to prepare, and when? Should training start in 2011? 2012? Or wait until the last minute?
First, here are a few facts. Claims submitted for dates of service on and after October 1, 2013 will use ICD-10 codes. Claims submitted for dates of service on and before September 30, 2013 will use ICD-9 codes. Which codes are used will depend on date of service, not the submission date of the claim. Physician practices will continue to use CPT® codes to describe the procedures performed, but will use ICD-10 codes to describe the medical necessity for the service or the condition or symptoms of the patient. The number of diagnosis codes will increase from about 14,000 to about 69,000 codes. The coding will require greater specificity to select the correct code. Some injury diagnosis code will also include whether this service was the first encounter, a subsequent encounter or a long term after effect of the injury. Laterality is described for some conditions. Stable or unstable is described for some conditions. All in all, the medical record documentation will need to be more specific, and the person selecting the ICD-10 code will need more clinical knowledge than when selecting ICD-9 codes.
Groups that are using older versions of their software program will need to upgrade to the latest version of their software. Software vendors will be busy right before the transition. It would be prudent not to wait until the last minute to upgrade your software. Stay up to date on the latest version, so that the transition before October 1, 2013 will be easy.
When should someone start training? That depends on the size of the practice. Training programs could be sold out in the spring and summer of 2013, although I expect commercial vendors will try to accommodate everyone. In general, staff members and coders should learn first, and clinicians should learn closest to the October 1 implementation date. If the group is large enough, then train someone who can train everyone else in 2012 or near the end of 2012. Coders without a strong clinical background should consider taking Anatomy and Physiology prior to learning ICD-10. And be prepared to research clinical conditons that are unfamiliar.
Buy an ICD-10 book now. Although it is still in draft form, it is important to become familiar with the resource and the specificity of it now. It is available from many coding vendors or on Amazon. Print out a list of the 30 most commonly used diagnosis codes in your group, and try to code them in ICD-10. This will uncover when more specific documentation is needed or what clinical areas the coder needs to learn about.
Watch Nancy Maguire's training on Codapedia. These are available for free to registered users, and can be watched over and over again. She does a terrific job explaining the general principles, and then the specifics of each chapter. There are 36 in all, one each month until September of 2013! The first twelve on a single CD will be available to purchase at the MGMA meeting in October of 2011, and on the Codapedia website after that. The second year will be available April 1, 2012 and the third and final year will be available October 1, 2012, a year before the implementation date.
###
Questions, comments?
If you have questions or comments about this article please contact us. Comments that provide additional related information may be added here by our Editors.
Latest articles: (any category)
COVID Vaccine Coding Changes as of November 1, 2023
October 26th, 2023 - Wyn Staheli
COVID vaccine changes due to the end of the PHE as of November 1, 2023 are addressed in this article.
Medicare Guidance Changes for E/M Services
October 11th, 2023 - Wyn Staheli
2023 brought quite a few changes to Evaluation and management (E/M) services. The significant revisions as noted in the CPT codebook were welcome changes to bring other E/M services more in line with the changes that took place with Office or Other Outpatient Services a few years ago. As part of CMS' Medicare Learning Network, the "Evaluation and Management Services Guide" publication was finally updated as of August 2023 to include the changes that took place in 2023. If you take a look at the new publication (see references below),....
Can We Score Interpretation of an EKG Towards E/M Medical Decision Making?
October 10th, 2023 - Aimee Wilcox
When EKGs are performed in the facility setting or even in the physician's office, what are the requirements for reporting the service and who gets credit for scoring data points for Evaluation and Management (E/M) medical decision making (MDM)? Let's take a look at a few coding scenarios related to EKG services to get a better understanding of why this can be problematic.
Accurately Reporting Signs and Symptoms with ICD-10-CM Codes
October 5th, 2023 - Aimee Wilcox
Coders often find themselves unsure of when to report a sign or symptom code documented in the medical record. Some coders find their organization has an EHR that requires a working diagnosis, which is usually a sign or symptom, be entered to order a test or diagnostic study or image. Understanding the guidelines surrounding when signs and symptoms should be reported is the first step in correct coding so let's take a look at some scenarios.
The 2024 ICD-10-CM Updates Include New Codes for Reporting Metabolic Disorders and Insulin Resistance
September 19th, 2023 - Aimee Wilcox
Diabetes is a chronic disease that just seems to consistently be increasing instead of improving resulting in a constant endeavor by medical researchers to identify causal effects and possible treatments. One underlying or precipitating condition that scientists have identified as a precipitating factor in the development of diabetes is insulin resistance, which is a known metabolic disorder. As data becomes available through claims reporting, additional code options become possible with ICD-10-CM.
Documenting and Reporting Postoperative Visits
September 12th, 2023 - Aimee Wilcox
Sometimes we receive questions regarding documentation requirements for specific codes or coding requirements and we respond with information and resources to support our answers. The following question was recently submitted: Are providers required to report postoperative services on claims using 99024, especially if there is no payment for that service? What documentation is required if you are reporting an unrelated Evaluation and Management (E/M) service by the same physician during the postoperative period? 
Understanding Gastroesophageal Reflux Disease and ICD-10-CM Coding
August 22nd, 2023 - Aimee Wilcox
Gastroesophageal reflux disease or GERD for short, is a disease that impacts millions of Americans on a weekly basis. Symptoms are uncomfortable, as are some of the tests used to diagnose it, but understanding the disease, tests, and treatments helps us better understand how to code the disease using ICD-10-CM codes.