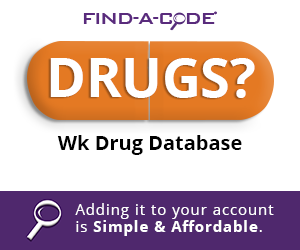 Updating Superbills for the New Year
July 7th, 2011 - Allison Singer, CPC
0 Votes -

Sign in

to vote or comment.
---
Coding Corner - Updating Superbills for the New Year
Summer is ending and fall is just around the corner. Kids are going back to school, football season has begun, and for coders, it is the time of year when the first set of major encounter form revisions takes place. Form updates and revisions are an important part in maintaining the accuracy and correct coding of claims. The more up-to-date and relevant your encounter forms are, the less risk you will have for denials and decreased reimbursement.
Those tasked with the responsibility of revising or creating new encounter forms must review any code changes to see if they affect their practice. In addition, employees must navigate major holiday and vacation schedules by physicians and staff in order to generate viable encounter forms by the October and January implementation dates.
In short, life is busy and there is much to do over the next three months to prepare for the new year.

Code Changes
This year's diagnosis changes include 122 new, 11 deleted and 10 revised codes (Continue reading below for more information on diagnosis code updates). In addition, several new immunizations became active as of July 1, 2010. The new immunizations include:
90664 – Influenza Virus Vaccine, pandemic formulation, live, intransal

90666 – Influenza Virus Vaccine, pandemic formulation, split virus, preservative free,

intramuscular

90667 – Influenza Virus Vaccine, pandemic formulation, split virus, adjuvanted,

intramuscular

90668 – Influenza Virus Vaccine, pandemic formulation, split virus, intramuscular
Note: CPT® 90654 (Influenza Virus Vaccine, split virus, preservative free, intradermal use) is also a new code, but its implementation date is not until January 1, 2011.
Flu and Pneumonia Shot Clinics
During the fall, it is very common for medical practices to hold a flu clinic for their patients. If you have many patients that schedule a visit for flu or pneumonia shots alone, it might be valuable to create an encounter form just for flu and pneumonia shots. Often, a flu shot form can be created in a relatively short amount of time and at a lower cost than standard encounter forms.
New Diagnosis Codes Related to Transfusions
Hemolytic Transfusion Reaction (999.60-999.6, 999.70-999.80, and 999.83-999.85)
This year, the diagnoses related to a hemolytic transfusion reaction (due to either ABO/non-ABO or Rh/non-Rh Incompatibility) have been expanded. Hemolytic Transfusion Reactions (HTRs) are defined based on the timing of the reaction. Patients can suffer from a(n):
Acute

Hemolytic Transfusion Reaction (AHTR) – Occurs within 24 hours of a transfusion

Delayed

Hemolytic Transfusion Reaction (DHTR) – Occurs between 24 hours and 28 days of a transfusion
These conditions were previously reported as 999.6, ABO incompatibility reaction, or as 999.7, Rh incompatibility reaction. Codes 999.6 and 999.7 will no longer be valid as of October 1, 2010.
Hemochromatosis (275.01 thru 275.09)
Hemochromatosis is an iron metabolic disorder, and the new codes establish why the iron is not metabolizing. Hemochromatosis may be hereditary, due to a repeated red blood cell transfusion, or caused by other iron metabolic disorders. These conditions were previously reported as 275.0, disorders of iron metabolism. Code 275.0 has been deleted.
Other Transfusion-Related Diagnoses (Fluid Overload and Secondary Thrombocytopenia)
Code 276.6, fluid overload, has been deleted this year. Providers must now distinguish between fluid overload caused by a transfusion of blood or blood components, and a fluid overload caused by other reasons. The new diagnosis codes are as follows:
276.61, Transfusion Associated Circulatory Disorder (TACO) - Occurs during or within 6 hours of a transfusion

276.69, Other fluid overload
Code 287.4, secondary thrombocytopenia, has been deleted this year. Posttransfusion purpura (PTP), a condition characterized by a sudden severe thrombocytopenia (platelet count < 10,000), can occur 5 to 12 days after a transfusion. For secondary thrombocytopenia that develops as a result of a transfusion, report code 287.41, posttransfusion purpura. For secondary thrombocytopenia that develops for reasons other than a transfusion, report code 287.49, other secondary thrombocytopenia.
Nonhemolytic Transfusion Reaction
Patients can develop a post transfusion fever when passively transfused cytokines react with recipient antibodies and transfused leukocytes. In this situation, there is no destruction of red blood cells, but the patient experiences fever and chills within 4 hours of the transfusion. To report this condition, use code 780.66, febrile nonhemolytic transfusion reaction (FNHTR).
New Neoplasm Diagnosis Codes
The American Medical Association (AMA) added two new diagnosis codes to document neurofibromatosis (NF), a genetic disorder that causes tumors to grow primarily on nerve tissues, as well as, on bone and skin. There are now three specific types of neurofibromatosis:
1. von Recklinghausen's Disease (237.71) – The most common type of NF
2. Acoustic (237.72) - Patients lose hearing
3. *New Schwannomatosis (237.73) - Patients have multiple Schwannoma-type tumors on the cranial, spinal and peripheral nerves, but do not lose hearing
Note: If the patient is diagnosed with NF, but it is not specific to these three types, use 237.79, Other Neurofibromatosis.
Body Mass Index
The diagnosis codes for reporting Body Mass Index (BMI) have been
expanded, and code V85.4, body mass index 40.0 and over, was deleted.
Providers now have the ability to document a BMI that is greater than 40.0. The new
BMI codes include the following:
V85.41 – Body Mass Index 40.0-44.9, adult

V85.42 – Body Mass Index 45.0-49.9, adult

V85.43 – Body Mass Index 50.0-59.9, adult

V85.44 – Body Mass Index 60.0-69.9, adult

V85.45 – Body Mass Index 70 and over, adult
Aortic Ectasia
Four new diagnosis codes were created to describe aortic ectasia (the swelling and weakening
of the wall of the aorta). Providers must select the appropriate diagnosis code based on where the swelling or weakening of the aortic wall has occurred: unspecified (447.70), thoracic (447.71), abdominal (447.72), or thoracoabdominal (447.73).
Previously, the only diagnosis providers had to document these conditions was code 441.9, aortic aneurysm, unspecified. Unfortunately, these conditions are not really aneurysms, but conditions that may lead to an aneurysm over time. As of October 1, code 441.9 should only be used for documented aneurysms, not potential aneurysms.
Digestive System
A new diagnosis code, 560.32, Fecal Impaction, was created to document patients that require manual or surgical intervention due to fecal impaction. Previously, this condition would have been reported as 560.39, other impaction of intestine.
Code 787.6, incontinent feces, was deleted for this year, and replaced with the following four diagnosis codes:
787.60 – Full incontinence of feces

787.61 – Incomplete defecation

787.62 – Fecal smearing

787.63 – Fecal urgency
OB/GYN
Several new codes have been added that are related to obstetrics and gynecological services (OB/GYN). See the 2011 ICD-9-CM manual for additional information on the following additions:
Congenital Anomalies of the Uterus (752.31 thru 752.39)

Congenital Anomalies of Genital Organs (752.43 thru 752.47)

Personal History of Vaginal or Vulvar Disease (V13.23 or V13.24)

Intrauterine Contraceptive Device Management (V25.11 thru V25.13)

Multiple Gestation Placenta Status (V91.00 thru V91.99)
Neurology
Seven new Symptoms, Signs and Ill-Defined Conditions diagnoses were added in order to describe cognitive deficits in patients who have suffered a traumatic brain injury (TBI). The new codes include the following:
799.50 – Unspecified signs and symptoms involving cognition

799.51 – Attention or concentration deficit

799.52 – Cognitive communication deficit

799.53 – Visuospatial deficit

799.54 – Psychomotor deficit

799.55 – Frontal lobe and executive function deficit

799.59 – Other signs and symptoms involving cognition
Personal History
Eight new personal history codes (V13.62 thru V13.69) were added this year to document corrected congenital conditions (See the ICD-9 manual for more detailed definitions). These codes ought to be used in addition to the diagnosis for the condition itself. For example, a child with a surgically repaired cleft would be documented as 749.00, cleft palate, and V13.64,
personal history of corrected congenital malformations of eye, ear, face and neck.
Foreign Body
Several new codes were added this year in regards to foreign bodies. Providers must distinguish between foreign bodies that have been fully removed, as opposed to foreign bodies that remain in the body. With retained foreign bodies, code selection is based on the type of foreign body present. The new codes are listed as: personal history of retained foreign body fully removed (V15.53), and retained foreign body status (V90.01 thru V90.89).
Miscellaneous
Several other diagnosis code changes were included in this year's updates, but they do not fit into any of the previously mentioned groups. A brief description of these additional codes is listed below:
278.03 – Obesity hypoventilation syndrome

724.02 – Spinal stenosis, lumbar region, without neurogenic claudication (Providers must specify with/without claudication)

724.03 – Spinal stenosis, lumbar region, with neurogenic claudication (Providers must specify with/without claudication)

780.33 – Post traumatic seizures

784.92 – Jaw pain (Previously reported as 526.9, unspecified disease of jaws)

970.81 – Poisoning by cocaine

970.89 – Poisoning by other central nervous system stimulants

E000.2 – Volunteer activity

V11.4

– Personal history of combat and operational stress reaction

V49.86 – Do not resuscitate status

V49.87 – Physical restraints status

V62.85 – Homicidal Ideation
V88.11 – Acquired total absence of pancreas (Previously reported as V45.79, other acquired absence of organ)
V88.12 – Acquired partial absence of pancreas (Previously reported as V45.79, other acquired absence of organ)
Coding Books
As responsible coders, it is always a good idea to purchase new ICD-9, CPT® and HCPCS manuals every year. Coding manuals can be purchased easily from a variety of sources, such as the AAPC or AHIMA websites. Furthermore, if you are planning to take a certification class this year, you will need updated manuals for any test that you take (Note: Make sure any books you purchase are approved by the testing organization).
Resources
AMA CPT® Category I Vaccine Codes Update June 21, 2010
http://www.ama-assn.org/ama1/pub/upload/mm/362/vaccine-codes.pdf
Medicare Annual Update of ICD-9-CM
http://www.cms.gov/transmittals/downloads/R1996CP.pdf
###
Questions, comments?
If you have questions or comments about this article please contact us. Comments that provide additional related information may be added here by our Editors.
Latest articles: (any category)
​​Polysomnography Services Under OIG Scrutiny
September 2nd, 2021 - Raquel Shumway
The OIG conducted a study dated June 2019 wherein they indicated that there were approximately $269 million in overpayments for polysomnography services for the period of 2014 through 2015. According to the OIG "These errors occurred because the CMS oversight of polysomnography services was insufficient to ensure that providers complied with Medicare requirements and to prevent payment of claims that didn't meet those requirements." So what are those requirements?
Medicare Advantage - The Fastest Growing Government-Funded Program Undergoing Multiple Fraud Investigations
August 16th, 2021 - Aimee Wilcox, CPMA, CCS-P, CST, MA, MT, Director of Content
Medicare Advantage is the fastest growing form of government-funded healthcare and the rate of fraud within this segment has come under increased scrutiny. Funding is determined by the health status of each beneficiary; therefore, accurate coding based on detailed documentation makes the medical record vital to the process because some ...
Billing Dental Implants under Medical Coverage
August 12th, 2021 - Christine Woolstenhulme, QCC, QMCS, CPC, CMRS
Implants can be costly to the patient and the provider, and it is crucial to understand how to bill a patient's medical insurance to ensure there is adequate coverage for the best treatment. Implants are commonly billed in a dental office under a patient's medical benefits.    Implants could be considered ...
New Codes for COVID Booster Vaccine & Monoclonal Antibody Products
August 10th, 2021 - Wyn Staheli, Director of Research
New codes have been announced for the COVID-19 booster vaccine, Novavax vaccine, and monoclonal antibody treatment.
Medicare's ABN Booklet Revised
July 29th, 2021 - Wyn Staheli, Director of Research
The "Medicare Advance Written Notices of Non-coverage" booklet, published by CMS's Medicare Learning Network, was updated. This article discusses the changes to this booklet regarding the use of the ABN.
Chronic Pain Coding Today & in the Future
July 19th, 2021 - Wyn Staheli, Director of Research
Properly documenting and coding chronic pain can be challenging. As is commonly the case with many conditions, over the years, there has been a shift in the identification of different types of pain, including chronic pain. Understanding where we are now and where we are going will help your organization prepare for the future by changing documentation patterns now.
How Does Global and Professional Direct Contracting (GPDC) Affect Risk Adjustment?
July 15th, 2021 - Aimee Wilcox, CPMA, CCS-P, CST, MA, MT, Director of Content
CMS recently announced the 53 Direct Contracting Entities (DCEs) that will be participating in the April 1, 2021 through December 31, 2021 Global and Professional Direct Contracting (GPDC) Model. Among those participating is Clover Health Partners, who runs an in-home primary care program that has the potential to help Medicare ...