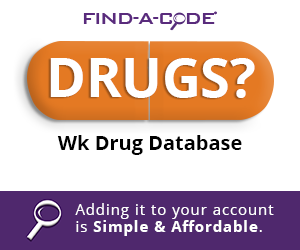 CMS Publishes Over 1,000 New ICD-10-CM Codes Effective on October 1, 2022
August 30th, 2022 - Aimee Wilcox
---
The ICD-10-CM coding updates become effective on October 1, 2022 and include 1,176 added, or new codes, 24 revised and 287 deleted codes. Often, a single code is deleted or changed so the category itself can be expanded, providing greater details about a disease, condition, or injury. This year some of the biggest ICD-10-CM chapters undergoing code additions and expansions include:
Chapter 5: Mental, Behavioral, and Neurodevelopmental Disorders

Changes related to vascular dementia and other forms the disease;
Chapter 9: Diseases of the Circulatory System

Changes related to aneurysms, refractory angina pectoris, and aortic dissections;
Chapter 13: Diseases of the Musculoskeletal System

New codes for reporting a non-traumatic, slipped upper femoral epiphysis, intervertebral annulus fibrosus defects, and fractures of the sternum and ribs from CPR or chest compressions;
Chapter 14: Diseases of the Genitourinary System

Many new codes were added to provide detail in reporting endometriosis;
Chapter 15: Pregnancy, Childbirth, and the Puerperium

Over 150 codes were added related to maternal care for central nervous system malformations and fetal abnormalities/damage;
Chapter 19: Injury, Poisoning, and Certain Other Consequences of External Causes

Approximately 100 new codes to expand traumatic brain injuries and intracranial injuries;
Chapter 20: External Causes of Morbidity

Over 700 new codes were added to expand on the injuries and accidents associated with motorized vehicles like the electric bicycle and motorcycles;
Chapter 21: Factors Influencing Health Status and Contact with Health Services

Addition of new codes related to social determinants of health (SDoH), counseling, long-term (current) use of a number of medications, personal history of corrected congenital disorders, as well as a new set of patient and caregiver noncompliance with treatment codes.
Other chapters are also undergoing changes, but these are the chapters with the largest number of added, revised, and deleted codes. Changes become effective on October 1, 2022 and will need to be addressed in many facets of health care including:
Determining how to update healthcare providers on the new documentation requirements to meet the highest code specificities.
Setting up new internal compliance policies related to code assignments as well as identifying any changes or updates to payer policies, especially Medicare guidelines.
Updating computer systems, forms, and preauthorization documents.
It should be noted, that along the lines of health equity (a major goal of the current Administration), new Z-codes have been added to expand the section related to social determinants of health (SDoH). If your organization deals with any federal health programs like Medicare Advantage or Medicaid, you will need to stay up on any changes to these codes since there will be a concerted effort to ensure these are reported correctly throughout the year. Additionally, codes newly added to this section may need to be incorporated into your organization's patient questionnaires and patient intake routines.
Free Webinar: To learn more about these code updates, join us for a free webinar (sign up below) in which a review of the code changes will be done specific to each chapter, including documentation details required for high-specificity code assignment, as well as tips and information related to these diseases, conditions, and injuries themselves.
The webinar " 2023 ICD-10-CM Code Updates" is scheduled for Thursday, Sept. 1, 2022 @ 10:15 AM PT, 11:15 AM MT, 12:15 PM CT, 1:15 PM ET. Click HERE to register for this FREE webinar.
---
Disclaimer:
The above article is the opinion of the author(s) and should not be interpreted by providers/payers as official guidance. For any questions about the content of this article, please contact the author(s).
About the Author: Aimee Wilcox is a medical coding, billing, and auditing consultant, author, and educator with more than 30 years of clinical and administrative experience in healthcare, coding, billing, and auditing. Medicine, including coding and billing, is a constantly changing field full of challenges and learning and she loves both. She believes there are talented medical professionals who, with proper training and excellent information, can continue to practice the art of healing while feeling secure in their billing and reimbursement for such care.
###
Questions, comments?
If you have questions or comments about this article please contact us. Comments that provide additional related information may be added here by our Editors.
Latest articles: (any category)
COVID Vaccine Coding Changes as of November 1, 2023
October 26th, 2023 - Wyn Staheli
COVID vaccine changes due to the end of the PHE as of November 1, 2023 are addressed in this article.
Medicare Guidance Changes for E/M Services
October 11th, 2023 - Wyn Staheli
2023 brought quite a few changes to Evaluation and management (E/M) services. The significant revisions as noted in the CPT codebook were welcome changes to bring other E/M services more in line with the changes that took place with Office or Other Outpatient Services a few years ago. As part of CMS' Medicare Learning Network, the "Evaluation and Management Services Guide" publication was finally updated as of August 2023 to include the changes that took place in 2023. If you take a look at the new publication (see references below),....
Can We Score Interpretation of an EKG Towards E/M Medical Decision Making?
October 10th, 2023 - Aimee Wilcox
When EKGs are performed in the facility setting or even in the physician's office, what are the requirements for reporting the service and who gets credit for scoring data points for Evaluation and Management (E/M) medical decision making (MDM)? Let's take a look at a few coding scenarios related to EKG services to get a better understanding of why this can be problematic.
Accurately Reporting Signs and Symptoms with ICD-10-CM Codes
October 5th, 2023 - Aimee Wilcox
Coders often find themselves unsure of when to report a sign or symptom code documented in the medical record. Some coders find their organization has an EHR that requires a working diagnosis, which is usually a sign or symptom, be entered to order a test or diagnostic study or image. Understanding the guidelines surrounding when signs and symptoms should be reported is the first step in correct coding so let's take a look at some scenarios.
The 2024 ICD-10-CM Updates Include New Codes for Reporting Metabolic Disorders and Insulin Resistance
September 19th, 2023 - Aimee Wilcox
Diabetes is a chronic disease that just seems to consistently be increasing instead of improving resulting in a constant endeavor by medical researchers to identify causal effects and possible treatments. One underlying or precipitating condition that scientists have identified as a precipitating factor in the development of diabetes is insulin resistance, which is a known metabolic disorder. As data becomes available through claims reporting, additional code options become possible with ICD-10-CM.
Documenting and Reporting Postoperative Visits
September 12th, 2023 - Aimee Wilcox
Sometimes we receive questions regarding documentation requirements for specific codes or coding requirements and we respond with information and resources to support our answers. The following question was recently submitted: Are providers required to report postoperative services on claims using 99024, especially if there is no payment for that service? What documentation is required if you are reporting an unrelated Evaluation and Management (E/M) service by the same physician during the postoperative period? 
Understanding Gastroesophageal Reflux Disease and ICD-10-CM Coding
August 22nd, 2023 - Aimee Wilcox
Gastroesophageal reflux disease or GERD for short, is a disease that impacts millions of Americans on a weekly basis. Symptoms are uncomfortable, as are some of the tests used to diagnose it, but understanding the disease, tests, and treatments helps us better understand how to code the disease using ICD-10-CM codes.