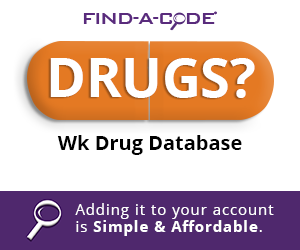 Minor Procedures Get a Major Sting in the 2021 CERT Report
May 3rd, 2022 - Aimee L. Wilcox, CPMA, CCS-P, CST, MA, MT
---
According to the 2021 Comprehensive Error Rate Testing (CERT) report, the improper payment rate was noted to be only 6.26%, with a proper payment rate of 93.74%. While this is looking better than many other years, it still warrants researching to identify how the numbers can be improved. Of the 6.26% of improper payments, the majority were caused by insufficient documentation (64.1%), medical necessity (13.6%), incorrect coding (10.6%), Other miscellaneous causes (6.9%), and finally no documentation at all (4.8%). At the top of the list of services ranking highest for improper payments are laboratory services with an improper payment rate of 24.8% and minor procedures (other than musculoskeletal) at 15.0%. The report identifies insufficient documentation as the main culprit for classifying these services as improperly paid.
How Do CERT Reviewers Define Insufficient Documentation?
Reviewers may deem a claim improperly paid based on insufficient documentation when:
The documentation fails to meet the requirements of the code description
An element, required as a condition of payment, is actually missing from the record such as

An incomplete encounter note

Unsigned
Undated
Contains insufficient details

Unauthenticated records

Missing provider or supervising physician signature
Illegible signature without a signature log or attestation to identify the signer
Electronic signature without the electronic record protocol or policy that documents the electronic signature process

Incomplete or missing order for services or procedures including,

A missing physician's order
An encounter note that does not describe the physician's intent to order the service

Failure to include ancillary information stored in the medical record but not the specific encounter note. This may include, but is not limited to, such things as:

Patient questionnaires referred to in the encounter note but not included with the medical record delivery to the payer/auditor
Photographs
Consents
Graphs
Test results
Insufficient documentation is not the same as no documentation. It is not uncommon to review provider records requested by a payer as part of an audit only to find the provider has not included all of the records requested by the payer. When no records are submitted for review, the finding is no documentation and another check mark in the improperly paid column.
Use Templates with Formatting to Capture Documentation Details
With the advent of the EHR and the never ending demands for increased detail within the encounter note, provider organizations have come to rely on properly organized templates with section headers that identify the segmented portions of the service. For example, an Evaluation and Management (E/M) template may include the following section headers:
Date:
Patient Name:
History of Present Illness:
Review of Systems:
Past Medical History:
Family History:
Social History:
Exam:
Data:
Assessment:
Plan:
Electronic Signature/Date:
The provider simply fills in the specific patient information under the appropriate section header, signs, and dates it and hopefully, the note is completed with all the required details.
Documenting Minor Procedures
Regardless of where a minor procedure is performed, they are usually documented as part of a greater service, such as an E/M encounter. These encounters can occur in the provider's office, the emergency department (ED) of a hospital, or elsewhere. Formatting patient notes to include an area to document any procedures performed during the evaluation is a critical step in capturing and reporting services. For example, if a patient had an E/M encounter that includes the above template details and also had a minor procedure performed, the optimal way to support the service is to have a separate location within the encounter note for the procedure details. Here's an example of how procedure details might be notated within the encounter note.
Date:
Patient Name:
Subjective:
Objective:
Assessment:
Plan:
Procedure: List the name of the procedure under this section header. If multiple procedures are performed list each procedure on its own line.
Details of the Procedure: A description of the procedure should include all required supporting details. Always refer to the CPT code description to ensure what details must be included in the procedure note to support billing the service.
Electronic Signature/Date
Note: Failure to properly sign and authenticate an encounter note can ensure audit failures. According to Medicare, signature requirements include legibility of the provider's name or if illegible, then there must be a printed name and title on the report or a signature log that identifies the signature with a printed name as well. For a best practices guide to provider signatures, click HERE
It can be very surprising to find how many procedures are not reported simply because the encounter note is not formatted in a way that the procedure itself stands out from the rest of the documentation or the details needed to support the procedure performed are missing from the note itself.
For additional information on how to improve documentation for minor procedures, join us for our next webinar, "Webinar Title" scheduled for Thursday, Add Date @ 10:15 AM PT, 11:15 AM MT, 12:15 PM CT, 1:15 PM ET. Click HERE to register for this FREE webinar.
###
Questions, comments?
If you have questions or comments about this article please contact us. Comments that provide additional related information may be added here by our Editors.
Latest articles: (any category)
COVID Vaccine Coding Changes as of November 1, 2023
October 26th, 2023 - Wyn Staheli
COVID vaccine changes due to the end of the PHE as of November 1, 2023 are addressed in this article.
Medicare Guidance Changes for E/M Services
October 11th, 2023 - Wyn Staheli
2023 brought quite a few changes to Evaluation and management (E/M) services. The significant revisions as noted in the CPT codebook were welcome changes to bring other E/M services more in line with the changes that took place with Office or Other Outpatient Services a few years ago. As part of CMS' Medicare Learning Network, the "Evaluation and Management Services Guide" publication was finally updated as of August 2023 to include the changes that took place in 2023. If you take a look at the new publication (see references below),....
Can We Score Interpretation of an EKG Towards E/M Medical Decision Making?
October 10th, 2023 - Aimee Wilcox
When EKGs are performed in the facility setting or even in the physician's office, what are the requirements for reporting the service and who gets credit for scoring data points for Evaluation and Management (E/M) medical decision making (MDM)? Let's take a look at a few coding scenarios related to EKG services to get a better understanding of why this can be problematic.
Accurately Reporting Signs and Symptoms with ICD-10-CM Codes
October 5th, 2023 - Aimee Wilcox
Coders often find themselves unsure of when to report a sign or symptom code documented in the medical record. Some coders find their organization has an EHR that requires a working diagnosis, which is usually a sign or symptom, be entered to order a test or diagnostic study or image. Understanding the guidelines surrounding when signs and symptoms should be reported is the first step in correct coding so let's take a look at some scenarios.
The 2024 ICD-10-CM Updates Include New Codes for Reporting Metabolic Disorders and Insulin Resistance
September 19th, 2023 - Aimee Wilcox
Diabetes is a chronic disease that just seems to consistently be increasing instead of improving resulting in a constant endeavor by medical researchers to identify causal effects and possible treatments. One underlying or precipitating condition that scientists have identified as a precipitating factor in the development of diabetes is insulin resistance, which is a known metabolic disorder. As data becomes available through claims reporting, additional code options become possible with ICD-10-CM.
Documenting and Reporting Postoperative Visits
September 12th, 2023 - Aimee Wilcox
Sometimes we receive questions regarding documentation requirements for specific codes or coding requirements and we respond with information and resources to support our answers. The following question was recently submitted: Are providers required to report postoperative services on claims using 99024, especially if there is no payment for that service? What documentation is required if you are reporting an unrelated Evaluation and Management (E/M) service by the same physician during the postoperative period? 
Understanding Gastroesophageal Reflux Disease and ICD-10-CM Coding
August 22nd, 2023 - Aimee Wilcox
Gastroesophageal reflux disease or GERD for short, is a disease that impacts millions of Americans on a weekly basis. Symptoms are uncomfortable, as are some of the tests used to diagnose it, but understanding the disease, tests, and treatments helps us better understand how to code the disease using ICD-10-CM codes.