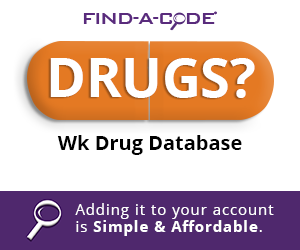 Evaluation & Management (E/M) Webinar Q/A
April 1st, 2021 - Aimee Wilcox CPMA, CCS-P, CST, MA, MT and Wyn Staheli, Director of Content Research
---
The following questions were from attendees of our recent webinar regarding the changes released by the AMA in their March 9, 2021 Errata and Technical Corrections document in relation to Evaluation & Management (E/M). Please note that the webinar may be viewed by FindACode.com subscribers for free here: findacode.com/webinars. There were so many questions that we included some of them here to help provide some additional guidance.
As some providers have begun to see claim denials after a payer has asked for a copy of the patient's encounter notes related to an E/M service provided in 2021, we STRONGLY RECOMMEND you obtain something in writing (e.g., email response, letter, published policy) from contracted payers that states they follow the published CPT 2021 E/M guidelines or that they follow the Medicare E/M guidelines. Having that confirmation will allow you to fight takebacks or audit reviews to the contrary. Also, keep in mind that even though Medicare previously stated that they will follow the CPT E/M 2021 guidelines (with a few minor exceptions like prolonged services), we are still waiting to hear back on whether they will adopt all the information contained in the CPT Errata and Technical Corrections document.
---
Question: If an MD reviews hospital notes from the surgeon, looks at the radiology report, and summarizes their own interpretation, would credit for categories 1 and 2 be given?
Answer: All medical documents that are produced by the same "unique source," as newly defined by the AMA, (e.g., hospital, specialist) are counted as review of one record. If the E/M-rendering provider received medical records from the hospital that included a radiology report, operative report, laboratory results, and the hospital discharge summary, they would be counted together as one "review" because they all come from the hospital. The hospital is considered a "unique source" and therefore, the provider's review of all information from that hospital would be scored as a single item in "Category 1: Review of prior external note from each unique source." If the provider rendering the E/M encounter also reviewed the images taken at the hospital and provided a written interpretation of what was reviewed along with their professional opinion, then credit may also be given under "Category 2: Independent interpretation of a test performed by another physician/QHP (not separately reported)." The provider would then get credit for this work under the MDM Data element and NOT by reporting the imaging procedure code with modifier 26. When a provider reviews imaging from a "unique source" as part of the E/M encounter, it can ONLY be given credit under the MDM Data element. For more information on reviewing imaging, CLICK HERE.
---
Question: I ordered the E/M book and cards a few months ago? Are they still good?
Answer: While much of the information regarding other E/M services remained unchanged, these recently announced changes from the AMA were unexpected and required us to make major revisions to all our E/M products. Even though the AMA included some guidelines which are for ALL E/M services, significant changes happened in relation to Office or Other Outpatient Services (99202-99215). The new Third Edition of the Comprehensive Guide for Evaluation and Management Services really is VERY different from previous editions. This change from the AMA was not something that any of us had anticipated. While you can't get a free updated edition, we are running a sale on April 1st for 25% off ALL innoviHealth products, making this a great time to get that new edition with all the revised information at a nicely discounted price.
---
Question: I had some trouble hearing the webinar, can I watch it again?
Answer: FindACode.com subscribers can watch our webinars at a later date. It takes a few days for us to edit it and post it on our website so check back later and you can watch it when it is convenient for you. Just go to findacode.com/webinars/ and click on the "recent" tab to see the list of previously recorded webinars. To help as many organizations as possible, we are keeping the March 25th webinar open for everyone to view through Wednesday, April 7th. After that it will only be available to subscribers.
---
Question: If I order CXR and a radiologist group is contracted to read, can I bill for order and independent interpretation?
Answer: Many physicians take a very hands-on approach to review of images and may not simply accept the radiologist's opinion/report. In some cases, additional training allows certain specialists to identify problems or anomalies that other radiologists may not as easily locate or be as confident to diagnose. The responsibility of a physician/QHP ordering a test is to determine a diagnosis and patient management plan based on a combination of symptoms, test results, and examination. Some x-rays may return as normal with no abnormal findings and then upon further scrutiny by the ordering and treating physician/QHP, certain anomalies may be identified that were previously missed or only speculated about by the radiologist. Generally speaking, this is not a common occurrence; therefore, it is highly unlikely that a provider needs to perform an independent review of every image produced from an outside source. However, many specialists carefully analyze images even when in agreement with the radiologist's initial findings, simply to determine the extent or breadth of a condition, disease, or injury in order to use that additional information to determine treatment options. To give credit under the MDM Data element for an independent interpretation of a test (performed by another physician/QHP and not separately reported), the physician/QHP who is performing the independent interpretation needs to document that the test was reviewed and also include their findings (interpretation). Coding staff and auditors should be able to easily identify the work of an independent review within the documentation. Do not report the imaging procedure code with modifier 26 for an independent interpretation, overread, or re-read of an image. Instead, give the provider credit under the MDM Data element for doing that work.
---
Question: I thought that 99211 was being discontinued.
Answer: Code 99211 is still active and it also underwent some changes with the revisions to the Office or Other Outpatient Services for 2021. It's code 99201 that was discontinued.
---
Question: As an ortho practice, we order and review x-rays daily. We bill globally for these, do we count these in MDM?
Answer: When your practice bills globally for a test that requires a professional component (interpretation and written report), performed on the same day as an E/M service, they do not get counted under the MDM data element when scoring the E/M service, as they are already paid for in the RVUs for the images being separately reported and paid to the practice.
---
Question: How do you know the risk associated with multiple conditions? Wouldn't the physician need to make a statement?
Answer: The CPT codebook has further defined "risk of the condition" and "risk of patient management" as two different types of "Risk" associated with Medical Decision Making. Provider documentation should clearly address any risk to the patient because of the presenting condition(s) being evaluated and managed during this encounter as well as any risk to the patient associated with the treatment or management options provided to this particular patient. It should be noted that simply documenting the general risks (e.g., risk of bleeding) of a recommended treatment plan, while important to know, will likely not support higher levels of service. Instead, the provider needs to document the specific risk(s) to the individual patient such as age, disability, and/or other specific conditions (e.g., smoker, diabetic, history of stroke). In the current environment of ongoing audits which scrutinize both medical records and billing patterns, providers need to remember that it is the documentation which supports the level of service reported. Higher E/M levels require better details of complications, comorbidities, risk due to age, fragility, etc. Providers must show the work involved in their decision making process in order to justify the work performed and reported.
---
Question: Where do I get the updated AMA guidelines?
Answer: You may click HERE to access the AMA's Errata and Technical Corrections document, but keep in mind that that document does not show all of the 2021 changes. We encourage you to review an article about those changes by clicking HERE.
---
Question: Can a medical assistant be a qualified healthcare professional (QHP)?
Answer: Generally speaking, the answer is no, but it all depends on state-specific scope of practice laws. For a more comprehensive explanation, CLICK HERE.
---
Question: I have a provider that documents "CC: follow-up," does a complete HPI and physical, and then A/P is a "laundry list" of the patient's DX/problems. How should this MDM be calculated?
Answer: With the switch to ICD-10-CM, a lot of EHR templates were created to capture all diagnoses to facilitate specificity in diagnostic code assignment, often resulting in a laundry list of diagnoses codes instead of identifying evaluation and management of each diagnosis that took place during the encounter. Another cause is the increasing prevalence of risk adjustment, which requires an accurate and complete list of conditions to properly assign a level of risk. Creating and using a problem list within the medical record is a great way to ensure that a provider is not forgetting about a patient condition just because it is currently stable or the patient is asymptomatic. However, credit may not be given for a list of diagnoses when the documentation does NOT show that the provider evaluated and managed the condition at the E/M encounter. Many providers are still finding it difficult to put their mental processes on paper, but encouraging them to document the same information that they discuss with their patients is a great place to start. For example, providers tend to explain the risks and benefits of treatment recommendations specific to the individual patient they are talking to and often discuss alternative treatments and services if the first ones fail. Including all of that information within the documentation helps support not only that the diagnosis was evaluated and managed, but also that education specific to the patient was provided along with options recommended but not necessarily employed at that time.
---
Question: Please clarify how a test ordered in one visit and reviewed in a subsequent visit is counted. For example, when a patient is given an order for an x-ray to be done at an imaging center.
Answer: The AMA's March 9, 2021 Errata and Technical Corrections document clarifies changes clarify how scoring for this type of scenario should be handled in their definition of the word, "Analyzed":
"Tests ordered are presumed to be analyzed when the results are reported. Therefore, when they are ordered during an encounter, they are counted in that encounter. Tests that are ordered outside of an encounter may be counted in the encounter in which they are analyzed."
Scenario: During the E/M encounter, the rendering physician/QHP submits a signed order for an x-ray to be performed at an external imaging center. The patient is scheduled for a follow-up E/M encounter in a week for a re-evaluation of her condition and to review the results of the x-rays.
Scoring: The physician/QHP gets credit under the MDM Data element for ordering a test during the initial encounter and because the results are performed at a different location and not provided during the same encounter, at the follow-up E/M service, when the provider reviews the results with the patient, credit may be given for the subsequent encounter under MDM Data element for review of a test result, as noted in the CPT definition of "Analyzed."
###
Questions, comments?
If you have questions or comments about this article please contact us. Comments that provide additional related information may be added here by our Editors.
Latest articles: (any category)
COVID Vaccine Coding Changes as of November 1, 2023
October 26th, 2023 - Wyn Staheli
COVID vaccine changes due to the end of the PHE as of November 1, 2023 are addressed in this article.
Medicare Guidance Changes for E/M Services
October 11th, 2023 - Wyn Staheli
2023 brought quite a few changes to Evaluation and management (E/M) services. The significant revisions as noted in the CPT codebook were welcome changes to bring other E/M services more in line with the changes that took place with Office or Other Outpatient Services a few years ago. As part of CMS' Medicare Learning Network, the "Evaluation and Management Services Guide" publication was finally updated as of August 2023 to include the changes that took place in 2023. If you take a look at the new publication (see references below),....
Can We Score Interpretation of an EKG Towards E/M Medical Decision Making?
October 10th, 2023 - Aimee Wilcox
When EKGs are performed in the facility setting or even in the physician's office, what are the requirements for reporting the service and who gets credit for scoring data points for Evaluation and Management (E/M) medical decision making (MDM)? Let's take a look at a few coding scenarios related to EKG services to get a better understanding of why this can be problematic.
Accurately Reporting Signs and Symptoms with ICD-10-CM Codes
October 5th, 2023 - Aimee Wilcox
Coders often find themselves unsure of when to report a sign or symptom code documented in the medical record. Some coders find their organization has an EHR that requires a working diagnosis, which is usually a sign or symptom, be entered to order a test or diagnostic study or image. Understanding the guidelines surrounding when signs and symptoms should be reported is the first step in correct coding so let's take a look at some scenarios.
The 2024 ICD-10-CM Updates Include New Codes for Reporting Metabolic Disorders and Insulin Resistance
September 19th, 2023 - Aimee Wilcox
Diabetes is a chronic disease that just seems to consistently be increasing instead of improving resulting in a constant endeavor by medical researchers to identify causal effects and possible treatments. One underlying or precipitating condition that scientists have identified as a precipitating factor in the development of diabetes is insulin resistance, which is a known metabolic disorder. As data becomes available through claims reporting, additional code options become possible with ICD-10-CM.
Documenting and Reporting Postoperative Visits
September 12th, 2023 - Aimee Wilcox
Sometimes we receive questions regarding documentation requirements for specific codes or coding requirements and we respond with information and resources to support our answers. The following question was recently submitted: Are providers required to report postoperative services on claims using 99024, especially if there is no payment for that service? What documentation is required if you are reporting an unrelated Evaluation and Management (E/M) service by the same physician during the postoperative period? 
Understanding Gastroesophageal Reflux Disease and ICD-10-CM Coding
August 22nd, 2023 - Aimee Wilcox
Gastroesophageal reflux disease or GERD for short, is a disease that impacts millions of Americans on a weekly basis. Symptoms are uncomfortable, as are some of the tests used to diagnose it, but understanding the disease, tests, and treatments helps us better understand how to code the disease using ICD-10-CM codes.