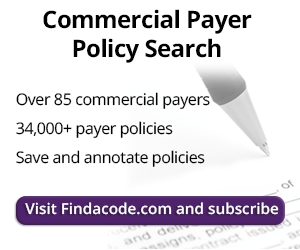 Properly Reporting Imaging Overreads (Including X-Rays)
April 8th, 2021 - Aimee Wilcox CPMA, CCS-P, CST, MA, MT and Wyn Staheli, Director of Content Research
---
A patient's symptoms and physical examination findings often drive a physician's decision to order imaging services such as an x-ray, MRI, or CT. While many provider groups offer some imaging services in their offices, others may rely on external imaging centers. When the provider reviews images performed by an external source (e.g., independent imaging center), that is typically referred to as an overread or a re-read. Properly reporting that work depends on a variety of factors as discussed in this article.
Work Defined by the Code
The first thing to understand is the work requirement for the procedure code itself. CPT and HCPCS code descriptions identify the work (e.g., with interpretation and report, tracing only). The Medicare Physician Fee Schedule (MPFS), as published by CMS, includes 10 indicators that identify whether a test includes one or both the professional and technical component; almost all imaging services contain both. This means a provider may perform the global service (both the technical and professional components) and receive full payment for the service rendered or it may be split with another provider who performs one of the components. When the service is reported this way, each provider is paid a percentage of the global payment depending on the component performed.
Global imaging services are reported with the procedure (CPT/HCPCS) code without modifiers TC or 26. If only the professional component is performed, the procedure code is reported with modifier 26 whereas if only the technical component is performed, the procedure code is reported with modifier TC. This format ensures that each provider is paid appropriately for the portion of the service provided and not the full global fee.
Provider Work AFTER Imaging Service is Reported Separately
When a physician/QHP reviews the actual images produced by an external imaging center or facility, if they document their personal interpretation and findings, they would qualify for points under the Medical Decision Making (MDM) Data element of the E/M service they are reporting. They should not report modifier 26 in this scenario, as the contracted provider or staff radiologist at the imaging center should be paid for performing those services.
Reminder: To report a global imaging service simply report the procedure (CPT/HCPCS) code without modifiers. Do not report the procedure code with modifiers TC and 26 together.
Typically, when images are taken at an external imaging center, a report is generated by a radiologist either on staff or contracted with the imaging center. The results (images and report) are then sent to the ordering provider who reviews the results with the patient. If the review takes place during an E/M encounter, credit is given for review of a test result under the MDM Data element. If, however, the ordering physician/QHP questions or disagrees with the radiologist's interpretation and decides to review the images AND documents their own professional interpretation in the medical record, it is referred to as an "independent interpretation of a test performed by another physician/QHP (not separately reported)" as described the the CPT guidelines for Office or Other Outpatient Services, and they can be credited in the MDM Data element of the E/M service under Category 2.
Note: Do not ALSO give credit under Category 1 for review of a test result when the provider performs and documents independent interpretation of a test, as this would be considered "double dipping."
If the provider does NOT document their own professional interpretation in the medical record, credit cannot be given under the MDM Data element.
Here are several examples of when a physician/QHP may review images taken and interpreted by an external imaging center/radiologist.
A physician who specializes in certain conditions (e.g., pulmonology, cardiology, orthopedics) may look for very specific characteristics of an x-ray which may not be commonly noted by the radiologist on staff who provides the original interpretation. More experienced or specialized physicians, who are not only looking at the images, but who are also dealing directly with the patient through history and physical examinations, may more easily identify anomalies or artifacts on imaging than a less seasoned or generalized radiologist. The external radiologist, who is not the patient's treating physician, may also simply have a less intimate knowledge of the case. It is not unheard of for a physician to call the interpreting radiologist to discuss their findings. This collaboration often leads to improved diagnosis and clarity.


During surgery, radiographs are often taken in the operating room, the results of which are immediately used as part of the surgical procedure (e.g., determine needle or mechanical device placement). While these radiographs are intraoperative, they must still include a professional component and are often sent to the contracting radiology group for that purpose. While the professional component is bundled into the operation and not separately reported, the work must still be completed. These are often referred to as an overread.


A physician may be asked to provide a second opinion of an image alone or of a patient's overall condition. This occurs frequently in liability cases such as injuries sustained at home, at work, or in an automotive accident. This re-reading of an x-ray is often referred to as a re-read.
Some providers have misinterpreted how to bill for an overread, re-read, or independent interpretation of an image taken by an external provider, and when they perform this service, they mistakenly report the imaging (CPT/HCPCS) code and modifier 26.
While physician groups tend to own lower cost imaging equipment (e.g., x-ray, ultrasound), larger groups, hospital facilities, and free-standing imaging centers tend to own the equipment which allows them to perform advanced imaging services (e.g., CT, MRI, PET scan) in-house. They may also have a radiologist staff member who performs the professional component or contract with a radiology group.
When considering the proper coding of an x-ray re-read or overread, it is essential to differentiate the types of x-ray reviews which might take place. Each of the following situations would be coded differently:
Part of an Evaluation & Management visit
A consultation on an x-ray done elsewhere or an extensive record review
An overread on images taken during a facility-based surgical procedure
Evaluation & Management
The medical decision making (MDM) component of an E/M service includes ordering and/or reviewing of data, which includes a review and interpretation of medical records and reports (e.g., x-ray, lab, etc.). Even if the images are taken in another facility, the work involved in reviewing the x-ray itself, along with any reports, is considered bundled into the MDM Data element of the E/M service and is not separately payable. Therefore, payment for a re-read/overread is included in the payment for the appropriate level of E/M service and is not separately payable.
Should you decide to bill an E/M service, remember that medical necessity is the determining factor for a payer, along with the components of the E/M service. Ask yourself:
Is this service really necessary?
Does it meet payer requirements for medical necessity?
Does it meet the official CPT requirements for E/M code selection?
If the patient is returning for a review of imaging performed externally, then the work involved in reviewing the x-ray results with the patient would be scored under the MDM Data element for "Category 1. Review of result(s) from each unique test." But, if the provider actually reviewed the images (e.g., radiographs, digital images) and documented a professional interpretation of them in the medical record, instead of scoring that in Category 1, it would be scored in "Category 2. Independent interpretation of test performed by another physician/QHP (not separately reported)."
Always follow the official rules and regulations when billing an E/M service. Proper documentation is an essential part of establishing that those rules were followed.
Consultation
There are a couple of different consultation coding options, but in order to report ANY of these, the requesting entity cannot be a patient. The consultation request MUST be initiated by another physician or appropriate source as defined by CPT guidelines (e.g., healthcare agency, attorney, insurance company, other healthcare provider).
One consultation option could be code 76140. The following guidelines from CPT Assistant 1997 provide guidance for its use:
Using Code 76140 Consultation on x-ray examination made elsewhere, written report

You would use this code when a physician's opinion or advice regarding a specific film is requested by another physician and upon examination of the film, the consulting physician renders his or her consultation (ie, or his/her opinion or advice) to the requesting physician in the form of a written report.

If a patient presents to an office for a new patient visit and brings to the physician his or her medical records, including x-rays, you should not report code 76140. Although the x-rays may have been taken elsewhere, the physician does not perform a consultation as intended by code 76140. Rather, the review or re-read of the x-rays would be considered part of the face-to-face E/M service provided to the patient. Again, the E/M codes include work done 3 days prior to the E/M encounter, during the encounter, and up to 7 days afterwards. Review of a test not separately reported (which includes x-rays) is considered part of the E/M service work. Remember, 76140 represents a consultation, in which a physician only renders an opinion or gives advice regarding the film in the form of a written report. In general, when reporting 76140, the physician is not concurrently providing an E/M face-to-face service to the patient.
Another consultation situation would be the outpatient E/M consultation codes (99241-99245) and some new interprofessional telephone/internet/electronic health record consultation codes (99446-99452) which could apply if another physician or QHP requests a consultation and the expertise of another provider. However, these codes cannot be used when the only communications are to arrange a transfer of care or other face-to-face service. The individual components and criteria must be met in order to report these codes.
Extensive Record Review
Code 99358 describes prolonged E/M services before and/or after direct patient care; first hour, with very specific documentation criteria which must be met. The work involved in an x-ray re-read alone would be extremely rare and therefore would not qualify for reporting this code. The CPT Assistant, August 2012, states the following about this code:
"These services may consist of, but not limited to, prolonged communication consulting with other health care professionals related to ongoing management of the patient, Evaluation and Management service performed earlier on the patient, or prolonged review of an extensive health record, and diagnostic tests regarding the patient."
The description for modifier 77 is "repeat procedure by another physician or other qualified health care professional," so it might seem that it would be appropriate to bill a re-read of a radiograph with the procedure code (CPT/HCPCS) with modifiers 26 (professional component) and 77, along with a report with the independent interpretation of the image, but that would be inappropriate.
CPT Assistant, August 2011 states the following (emphasis added):
"Modifier 77 is used when the same procedure is repeated on the same day or during the global days (if applicable) by a different physician or other qualified health care professional.
Third-party payers may request that medical necessity be supported (rationale) when a repeated procedure is billed by a different physician or other qualified health care professional."
Those key phrases "on the same day" and "during the global days" clarify the original intent of this modifier. It would be unusual that a standard x-ray alone meets these qualifications. It is best to review any policies by the payer to determine how they view the use of this modifier. For example, the Novitas website includes specific guidelines on this modifier which states that the following are appropriate uses of this modifier:
Add modifier 77 to the professional component of an x-ray or electrocardiogram (EKG) procedure when the patient has two or more tests and/or more than one physician provides the interpretation and report.

We will reimburse a second interpretation of the same EKG or x-ray only under unusual circumstances, such as:

A questionable finding for which the physician performing the initial interpretation believes another physician's expertise is needed, or
A change in diagnosis resulting from a second interpretation
As you can see, there are very limited circumstances in which modifier 77 may be reported along with modifier 26. Therefore, when reporting the procedure code with modifiers 26 and 77, the imaging service would most likely be denied by the payer. Many payers simply do not recognize modifier 77 for this type of service and will deny the claim outright or request a copy of the x-ray report prior to determining payment eligibility. If, however, they paid the claim and it later came under scrutiny in an audit, unless you meet their specific rules and support your claims in your documentation, it would likely fail the audit and the fines and penalties could be disastrous.
###
Questions, comments?
If you have questions or comments about this article please contact us. Comments that provide additional related information may be added here by our Editors.
Latest articles: (any category)
COVID Vaccine Coding Changes as of November 1, 2023
October 26th, 2023 - Wyn Staheli
COVID vaccine changes due to the end of the PHE as of November 1, 2023 are addressed in this article.
Medicare Guidance Changes for E/M Services
October 11th, 2023 - Wyn Staheli
2023 brought quite a few changes to Evaluation and management (E/M) services. The significant revisions as noted in the CPT codebook were welcome changes to bring other E/M services more in line with the changes that took place with Office or Other Outpatient Services a few years ago. As part of CMS' Medicare Learning Network, the "Evaluation and Management Services Guide" publication was finally updated as of August 2023 to include the changes that took place in 2023. If you take a look at the new publication (see references below),....
Can We Score Interpretation of an EKG Towards E/M Medical Decision Making?
October 10th, 2023 - Aimee Wilcox
When EKGs are performed in the facility setting or even in the physician's office, what are the requirements for reporting the service and who gets credit for scoring data points for Evaluation and Management (E/M) medical decision making (MDM)? Let's take a look at a few coding scenarios related to EKG services to get a better understanding of why this can be problematic.
Accurately Reporting Signs and Symptoms with ICD-10-CM Codes
October 5th, 2023 - Aimee Wilcox
Coders often find themselves unsure of when to report a sign or symptom code documented in the medical record. Some coders find their organization has an EHR that requires a working diagnosis, which is usually a sign or symptom, be entered to order a test or diagnostic study or image. Understanding the guidelines surrounding when signs and symptoms should be reported is the first step in correct coding so let's take a look at some scenarios.
The 2024 ICD-10-CM Updates Include New Codes for Reporting Metabolic Disorders and Insulin Resistance
September 19th, 2023 - Aimee Wilcox
Diabetes is a chronic disease that just seems to consistently be increasing instead of improving resulting in a constant endeavor by medical researchers to identify causal effects and possible treatments. One underlying or precipitating condition that scientists have identified as a precipitating factor in the development of diabetes is insulin resistance, which is a known metabolic disorder. As data becomes available through claims reporting, additional code options become possible with ICD-10-CM.
Documenting and Reporting Postoperative Visits
September 12th, 2023 - Aimee Wilcox
Sometimes we receive questions regarding documentation requirements for specific codes or coding requirements and we respond with information and resources to support our answers. The following question was recently submitted: Are providers required to report postoperative services on claims using 99024, especially if there is no payment for that service? What documentation is required if you are reporting an unrelated Evaluation and Management (E/M) service by the same physician during the postoperative period? 
Understanding Gastroesophageal Reflux Disease and ICD-10-CM Coding
August 22nd, 2023 - Aimee Wilcox
Gastroesophageal reflux disease or GERD for short, is a disease that impacts millions of Americans on a weekly basis. Symptoms are uncomfortable, as are some of the tests used to diagnose it, but understanding the disease, tests, and treatments helps us better understand how to code the disease using ICD-10-CM codes.