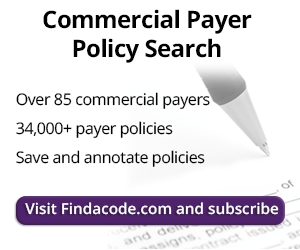 ICD-10-CM 2021 Coding Updates for Chiropractic
September 29th, 2020 - Wyn Staheli, Director of Research
---
October 1st is just around the corner and that means it's time for updates to the ICD-10-CM code set. For 2021, there are 490 new codes, 58 deleted codes and 47 changed codes. Most years there aren't many significant ICD-10-CM code changes which affect chiropractic offices. However, this year there are some interesting changes such as a new headache type, new codes related to TMJ, and several new codes for reporting accidents involving micro-mobility devices (e.g., hoverboard).
New Temporomandibular Joint (TMJ) Codes
The following codes have been added:
Arthritis of temporomandibular joint;
M26.641 right
M26.642 left
M26.643 bilateral
M26.649 unspecified
Arthropathy of temporomandibular joint;
M26.651 right
M26.652 left
M26.653 bilateral
M26.659 unspecified
New Headache Codes
Code R51 was expanded to separate out an orthostatic headache (R51.0) from other headaches. An orthostatic headache, also called a positional headache, is a type of headache a patient experiences while standing (vertical position). It is relieved when the patient lies down (horizontal position) for a period of time (e.g., 20-30 minutes). This symptom code is used when there is not a more clear diagnosis of the cause of the headache (e.g., intracranial hypotension, migraine). If the headache cause remains unclear, use the unspecified code (R51.9)
Code R51 was previously grouped by some MACs as a secondary diagnosis with a short duration and it is anticipated that both expanded codes will also be assigned a short duration. However, it could be argued that an orthostatic headache might require more treatment. We have marked both as short duration in the 2021 ChiroCode DeskBook, but watch for further instructions from payers about this change. As of the date of this article, this change was not addressed in either an LCD or Article.
Accidents Involving Micro-Mobility Devices (e.g., Hoverboards)
Micro-mobility devices are small vehicles which typically travel less than 25 km/h (15 mph). The number of accidents involving micro-mobility devices such as electric bikes, hoverboards, and segways has increased dramatically over the last few years. A request was made to be able to track these kinds of accidents. While many health insurance payers presently do not require the use of External Cause Codes such as these, they might be requested for accident insurance claims. Codes such as V00.841 "Fall from standing electric scooter" might become fairly common in your practice.
There are 123 new codes just to describe these kinds of accidents. The following sub-categories have been added:
| | | | |
| --- | --- | --- | --- |
| Type | Traffic Accident | Nontraffic Accident | Unspecified |
| Pedestrian on standing micro-mobility pedestrian conveyance injured in collision with; | | | |
| | V01.13- | V01.03- | V01.93- |
| two- or three-wheeled motor vehicle | V02.13- | V02.03- | V02.93- |
| | V03.13- | V03.03- | V03.93- |
| heavy transport vehicle or bus | V04.13- | V04.03- | V04.93- |
| railway train or railway vehicle | V05.13- | V05.03- | V05.93- |
| | V06.13- | V06.03- | V06.93- |
Other ICD-10-CM Code Changes to Note
Osteochondrosis, juvenile
Osteochondrosis is a bone growth disorder involving the developing growth plate and one or more of the surrounding ossification centers (epiphyses) which primarily occurs in children and is caused by a variety of factors (i.e., genetics, injury, repetitive trauma/overuse, vascular abnormalities, mechanical factors, hormonal imbalances). It is characterized by degeneration or necrosis followed by revascularization, regeneration, and recalcification. Symptoms include varying levels of discomfort, pain, or even disability.
The following sub-categories were added:
M92.50- Unspecified juvenile osteochondrosis
M92.51- Juvenile osteochondrosis of proximal tibia
M92.52- Juvenile osteochondrosis of tibia tubercle
M92.59- Other juvenile osteochondrosis of tibia and fibula
Other Specified Site/Joint Additions
The option to report an "other specified site" was added to several subcategories which include the following new codes:
Articular cartilage disorders: M24.19
Disorder of ligament: M24.29
Osteoarthritis: M19.09, M19.19, M19.29
Rheumatoid arthritis: M05.7A, M05.8A, M06.0A, M06.8A, M08.0A, M08.2A, M08.4A, M08.9A
The option to report an "other specified joint" was added to several subcategories which include the following new codes:
Ankylosis: M24.69
Contracture: M24.59
Derangement: M24.89
Dislocation: M24.39, M24.49
Other (instability, pain, stiffness): M25.39, M25.59, M25.69
ICD-10-CM Official Guidelines for Coding and Reporting
It should be noted that the ICD-10-CM Official Guidelines for Coding and Reporting include several new instructions, some of which relate to the reporting of COVID-19. These instructions are primarily about the reporting of symptoms and treatment for those symptoms — which doesn't really affect many chiropractic offices. CLICK HERE to review the complete guidelines.
Other Code Set Updates
There are also some updates to CPT and HCPCS, the most significant of which are the changes to Office or Other Outpatient Services. These changes are included in the 2021 ChiroCode DeskBook as well as the new Evaluation and Management Comprehensive Guide publication which are currently shipping.
###
Questions, comments?
If you have questions or comments about this article please contact us. Comments that provide additional related information may be added here by our Editors.
Latest articles: (any category)
COVID Vaccine Coding Changes as of November 1, 2023
October 26th, 2023 - Wyn Staheli
COVID vaccine changes due to the end of the PHE as of November 1, 2023 are addressed in this article.
Medicare Guidance Changes for E/M Services
October 11th, 2023 - Wyn Staheli
2023 brought quite a few changes to Evaluation and management (E/M) services. The significant revisions as noted in the CPT codebook were welcome changes to bring other E/M services more in line with the changes that took place with Office or Other Outpatient Services a few years ago. As part of CMS' Medicare Learning Network, the "Evaluation and Management Services Guide" publication was finally updated as of August 2023 to include the changes that took place in 2023. If you take a look at the new publication (see references below),....
Can We Score Interpretation of an EKG Towards E/M Medical Decision Making?
October 10th, 2023 - Aimee Wilcox
When EKGs are performed in the facility setting or even in the physician's office, what are the requirements for reporting the service and who gets credit for scoring data points for Evaluation and Management (E/M) medical decision making (MDM)? Let's take a look at a few coding scenarios related to EKG services to get a better understanding of why this can be problematic.
Accurately Reporting Signs and Symptoms with ICD-10-CM Codes
October 5th, 2023 - Aimee Wilcox
Coders often find themselves unsure of when to report a sign or symptom code documented in the medical record. Some coders find their organization has an EHR that requires a working diagnosis, which is usually a sign or symptom, be entered to order a test or diagnostic study or image. Understanding the guidelines surrounding when signs and symptoms should be reported is the first step in correct coding so let's take a look at some scenarios.
The 2024 ICD-10-CM Updates Include New Codes for Reporting Metabolic Disorders and Insulin Resistance
September 19th, 2023 - Aimee Wilcox
Diabetes is a chronic disease that just seems to consistently be increasing instead of improving resulting in a constant endeavor by medical researchers to identify causal effects and possible treatments. One underlying or precipitating condition that scientists have identified as a precipitating factor in the development of diabetes is insulin resistance, which is a known metabolic disorder. As data becomes available through claims reporting, additional code options become possible with ICD-10-CM.
Documenting and Reporting Postoperative Visits
September 12th, 2023 - Aimee Wilcox
Sometimes we receive questions regarding documentation requirements for specific codes or coding requirements and we respond with information and resources to support our answers. The following question was recently submitted: Are providers required to report postoperative services on claims using 99024, especially if there is no payment for that service? What documentation is required if you are reporting an unrelated Evaluation and Management (E/M) service by the same physician during the postoperative period? 
Understanding Gastroesophageal Reflux Disease and ICD-10-CM Coding
August 22nd, 2023 - Aimee Wilcox
Gastroesophageal reflux disease or GERD for short, is a disease that impacts millions of Americans on a weekly basis. Symptoms are uncomfortable, as are some of the tests used to diagnose it, but understanding the disease, tests, and treatments helps us better understand how to code the disease using ICD-10-CM codes.