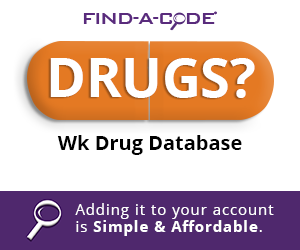 Understanding UCR Inpatient Fees used on DRG's
July 1st, 2020 - Christine Woolstenhulme, QCC, QMCS, CPC, CMRS
0 Votes -

Sign in

to vote or comment.
---
Find-A-Code uses Usual, Customary, and Reasonable (UCR) fees to help determine the amount paid for a medical service based on a certain geographic area. This article will address the information and pricing for Hospital and Inpatient fees based on Diagnosis Related Groups (DRGs). The UCR fees and information come directly from a trusted data source, the Veterans Administration (VA). Understanding UCR fees used by the VA can be a complicated process but we have gathered information to help clarify how these fees are used and where they come from, including some of our customers' questions with answers from the VA.
VA Methodology
The VA Reasonable Charges methodology used by the VA to develop the charges are explained in 38 CFR 17.101(b): https://www.law.cornell.edu/cfr/text/38/17.101
The data sources used to develop the charges are shown in the link below under "Reasonable Charges Data Sources":https://www.va.gov/communitycare/revenue_ops/payer_rates.asp.
FAQ's/Questions asked by Customers to the VA
Are the Ancillary charges in addition to the per diem rates? If the VA is basing the cost off MS-DRGs then are they following the LoS rules?
The VA utilizes Medpar (Medicare Provider Analysis and Review file) and Commercial data sources to establish 3 separate per-diem rates for Room and Board (R&B), ICU R&B, and Ancillary Services. We start with a per admit amount based on our data sources which are then converted to a per diem amount based on the Medpar LoS and Commercial LoS.
DRG 469 has 4.7 Geometric Mean LoS and 6 Arithmetic Mean LoS, so is the per diem based on per day or the DRG LoS 4.7?
We do not use CMS LoS to establish our per-diems. We utilize the LoS associated with our data sources to develop our per diem rate per MS-DRGs.
RE: the ancillary fees, is this only a onetime charge per stay? Based on the LoS (and not daily room and ancillary services)? We are using V3.26 Inpatient.
The Ancillary charge is a per-diem rate that is used on a per-day base, this is not a per admit charge.
Ancillary Services
Ancillary services are support services of other departments for care received while in the hospital, other than room and board, used to diagnose or treat a medical condition.
According to the VA these services include:
Audiology (hearing)
Blind and Vision Rehabilitation
Chiropractic Services
Dental
Diagnostic Laboratory
Nutrition and Food Service
Nuclear Medicine (imaging)
Occupational Therapy
Pharmacy
Physical Therapy
Prosthetics (artificial limbs, equipment, devices)
Radiology (x-rays and imaging)
Radiation Oncology (cancer care)
Recreation and Creative Arts Therapies (music, art, dance and drama)
Respiratory Therapy
Social Work (housing, discharge planning, family support)
Speech/Language Pathology (speech, language, voice, fluency, cognition, and swallowing)
Traumatic Brain Injury
Per-Diem
Per-Diems are a flat rate paid for the hospitalization or time the patient resides in an SNF, made on the basis of prospectively determined rates, and applied on a per discharge basis using DRGs with the exception of ancillary fees with is a daily per diem. DRGs are a fixed amount for a patient stay in a standard room, ICU, SNF, or partial hospitalization.
###
Questions, comments?
If you have questions or comments about this article please contact us. Comments that provide additional related information may be added here by our Editors.
Latest articles: (any category)
To Our Codapedia Friends!
July 30th, 2020 - Christine Woolstenhulme, QCC, QMCS, CPC, CMRS
Codapedia friends, come and join us at Find-A-Code - a core product of innoviHealth! The information found on Codapedia comes from our sister company, Find-A-Code. If you do not already have a subscription with the greatest online coding encyclopedia, call us and get signed up today. We are offering a ...
OIG Report Highlights Need to Understand Guidelines
July 28th, 2020 - Wyn Staheli, Director of Research
A new OIG report once again highlights the necessity for organizations to fully understand requirements for reporting services and having proper documentation. The types of problems addressed in this report are ongoing issues for multiple types of services and specialties and for many different payers.
Office of Inspector General Says Medicare Advantage Organizations are Denying Services Inappropriately
July 21st, 2020 - Aimee Wilcox
We attended the recent virtual RISE National Conference and had the opportunity to listen to presenters share their knowledge about risk adjustment and HCC reporting and data validation. Among the presenters were representatives from the Office of Inspector General (OIG), who presented findings from encounter data from 2012-2016. They began ...
Use the Correct Diagnosis Codes and Revenue Codes to Get Paid for PAD Rehab
July 15th, 2020 - Christine Woolstenhulme, QCC, QMCS, CPC, CMRS
The initial treatment in rehabilitation for patients suffering from Intermittent Claudication (IC) is Supervised Exercise Therapy (SET) for Symptomatic Peripheral Artery Disease (PAD).  Rehabilitation using SET involves the use of intermittent walking exercise, which alternates periods of walking to moderate-to-maximum claudication, with rest.   When reporting 93668 for peripheral arterial disease rehabilitation the following ...
New Name Same Great Product! "HCC Plus"
July 14th, 2020 - Find-A-Code
Hello HCC Customers! We have made a change in name only to our HCC subscription. The new subscription is now called "HCC Plus". Keep in mind there have been no changes to the product. Using your subscription along with the risk adjustment calculator will ensure you stay current with...
Are NCCI Edits Just for Medicare?
July 14th, 2020 - Christine Woolstenhulme, QCC, QMCS, CPC, CMRS
The National Correct Coding Initiative (NCCI) edits were developed by CMS to help promote proper coding and control improper coding that leads to incorrect payments with part B claims. It is important to understand that NCCI edits do not include every possible code combination or every type of un-bundling combination. With that ...
Payment Adjustment Rules for Multiple Procedures and CCI Edits
July 9th, 2020 - Christine Woolstenhulme, QCC, QMCS, CPC, CMRS
Surgical and medical services often include work that is required to be done prior to a procedure and post-procedure. When there are multiple procedures done by the same physician, group, or another qualified healthcare professional on the same day, the pre and post work is only required once. Therefore, CMS ...