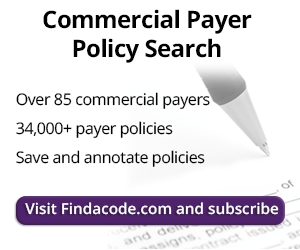 Billing for Telemedicine in Chiropractic
January 14th, 2020 - Evan M. Gwilliam DC MBA BS CPC CCPC QCC CPC-I MCS-P CPMA CMHP
0 Votes -

Sign in

to vote or comment.
---
Twenty percent of Americans live in rural areas, but they are only served by nine percent of health care providers. Telemedicine is a way for these patients to be able interact with providers when it may be difficult or impractical to see them in person. These types of encounters could provide revenue to the provider while also improving patient compliance and reducing their expenses associated with transportation. Many large private payers recognize the potential cost savings and improved health outcomes that telemedicine can help achieve, therefore they are often willing to cover it. While there are several considerations, there could be certain circumstances where telemedicine might apply to chiropractic care.
At the time that this article was written, thirty-seven states had parity laws in place which require payers to cover telemedicine to the same extent as face-to-face services. Fourteen states have special licenses for practicing telemedicine across state lines, but the rules vary from state to state. It appears that all of the states with parity laws require private payer reimbursement for live video encounters, while only some require coverage for asynchronous, or store-and-forward encounters. Note that typically audio-only interaction is not covered. This includes:
A text only email message
A fax transmission
An audio-only telephone consultation
For the most part the parity laws require that the reimbursement for telehealth are mandated to be the same amount as if the service were provided in person. However, some states leave it up to the payers. And, in some cases, small group or work comp plans have the option to opt out. Be sure to check with your state and the health plan before attempting to bill for telemedicine.
Medicare (CMS) has specified that they cover asynchronous, store-and-forward telemedicine in only Alaska and Hawaii as part of a special program. And CMS has required that the patient must travel to a qualified originating site (where the patient is at the time of the encounter) for synchronous, or live video encounters. For Medicare, these sites do not include the patient's residence, which would greatly limit telehealth application in a chiropractic setting.
Fortunately, parity laws in most states remove this cumbersome requirement, but it is still best to check with each health plan. Of course, at the time of publication of this article, CMS only reimburses for chiropractic manipulation anyway, and that cannot be performed via telemedicine. However, some payers may follow the CMS standard, so it is important to be familiar with Medicare policies.
The most likely type of encounter that a chiropractor might bill via telemedicine would be an established patient evaluation and management (E/M) counseling encounter from the codes for 99212 through 99215. This type of encounter requires documentation of a time override rather than the typical E/M encounter which requires documentation of the three key components: history, exam, and medical decision making. "Counseling" is defined in the CPT book as discussion with the patient and/or family concerning one or more of the following areas:
Diagnostic results, impressions, and/or recommended diagnostic studies
Prognosis
Risks and benefits of management options
Instructions for management and follow up
Importance of compliance with chosen management options
Risk factor reduction
Patient and family education
These things would need to be documented in the encounter as well as time. The current time requirements for these E/M codes are as follows:
For a an in office encounter the face-to-face time must equal at least half of the total time. For telemedicine, it seems that it would represent the entire encounter since the provider and patient would be video conferencing.
Additional documentation requirements may vary again by payer or state, but in general they should include:
Date of service (DOS)
Location of provider (distant site)
Location of the patient (originating site)
Names of all participants with individual roles identified
Type of telemedicine service (real time, asynchronous)
Start and end times
The above criteria met for the CPT code reported
Diagnosis or symptoms to support high-specificity ICD-10-CM code selection
When billing for telemedicine the place of service code that goes in Item Number 24b on the 1500 Claim Form should be 02 to indicate telehealth. Typically the 95 modifier should also be attached to the CPT code. (See Appendix P of the CPT code book for AMA's full list of telemedicine-eligible codes.) Medicare has two of their own modifiers, depending on the type of telehealth. Some payers may recognize them, therefore they are included below. The options are:
Modifier GQ: Via an asynchronous telecommunications system (for Medicare)
Modifier GT: Via Interactive Audio and Video Telecommunications systems (for Medicare)
Modifier 95: Synchronous Telemedicine Service Rendered Via a Real-Time Interactive Audio and Video Telecommunications System (reported with codes from CPT Appendix P, including E/M codes 99212-99215)
Though it may seem like it has limited application in a chiropractic setting, patients could be better served, and the provider may be able to generate additional revenue by following the scenario outlined above.
---
Dr. Evan Gwilliam is a chiropractor and certified professional coder and auditor. He is the clinical director for PayDC, a completely integrated EHR software. He can be reached at evan.gwilliam@paydc.com.
###
Questions, comments?
If you have questions or comments about this article please contact us. Comments that provide additional related information may be added here by our Editors.
Latest articles: (any category)
2020 Medicare Part D Coverage Gap (AKA donut hole)
March 26th, 2020 - Chris Woolstenhulme, QCC, CMCS, CPC, CMRS
Not every Medicare drug plan has complete coverage for prescription drugs - most have some sort of coverage gap, known as the "Donut Hole". The coverage gap is a temporary limit on coverage under the drug plan. This coverage gap will not affect everyone and begins after you have used ...
LATEST COVID-19 INFORMATION FOR BILLING NON-FACE-TO-FACE SERVICES
March 26th, 2020 - Namas
Healthcare providers and the population at large are concerned about safe access to care considering the COVID-19 pandemic. As a result, we have received many inquiries this week about how to bill for "telehealth" services. Let's first address that true telehealth services have some pretty stringent requirements from CMS, including that ...
COVID-19: Cybercrime, Telehealth, and Coding
March 25th, 2020 - Wyn Staheli, Director of Research
Your inbox is probably like mine with all sorts of announcements about COVID-19. Here are just a few reminders of things we felt should be passed along. We have heard of several cases of cybercrime related to this outbreak. For example, there was a coronavirus map which loads malware onto your ...
Understand the New Codes for Testing & Reporting the COVID-19 Coronavirus (SARS-CoV-2)
March 21st, 2020 - Aimee Wilcox, CPMA, CCS-P, CST, MA, MT, Director of Content
The current coronavirus pandemic refers to COVID-19, a novel or new type of coronavirus known as severe acute respiratory syndrome coronavirus-2 (SARS-CoV-2). The first victim of the virus was identified in Wuhan, Hubei, China at the end of 2019. There is no immunization available to prevent it from spreading and ...
Implementing Telehealth Visits
March 20th, 2020 - Namas
The following is a step-by-step guide on how to convert office-based encounters to telehealth encounters during the current COVID-19 pandemic. These rules may change post-pandemic, as many changes relaxing existing rules were made on a temporary basis by CMS and commercial payers to facilitate patient access and minimize risk of infection. Step ...
Additional Coronavirus Testing Code Announced
March 17th, 2020 - Wyn Staheli, Director of Research
On March 13, 2020, a new CPT code was announced by the American Medical Association (AMA) who maintains the CPT code set. This early release of a CPT code is rare and is effective immediately.
The difference between Jones and Proximal Diaphyseal Fractures of the Fifth Metatarsal (2018-10-23)
March 5th, 2020 - Chris Woolstenhulme, QCC, CMCS, CPC, CMRS
Distinguishing the difference between Jones and Proximal Diaphyseal Fractures of the Fifth Metatarsal can be complicated, here are some examples from PubMed;  A Jones fracture currently is defined as an acute fracture of the fifth metatarsal at the junction between the proximal diaphysis and metaphysis of the fifth metatarsal without distal extension beyond the fourth to fifth intermetatarsal articulation. Tuberosity avulsion fracture (also known as pseudo-Jones fracture or dancer's fracture) A proximal diaphyseal fifth ...