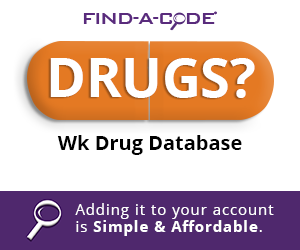 Documentation Tips
November 18th, 2019 - Christine Taxin
---
Documenting Medical Necessity
To receive reimbursement from medical insurers, you need to make a case that proves that dental surgery is necessary for the patient. To make your case, you need to explain your decision process in terms that a medical insurer can understand, using ICD-10 codes and CPT codes. These codes may appear similar to the CDT codes that you're familiar with, but they're more detailed and take time to learn.
To succeed in your medical billing claims, you'll need to document:
• The primary presenting situation
• Any secondary, supporting diagnosis
• The diagnostic code for the treatment you plan
• Surgical pre-authorization
• Medical Necessity, in the form of a letter of medical necessity
• Support from the patient's Primary Care Physician, in the form of a supporting letter of medical necessity
• The procedures performed at each surgery location
This information lets you give the medical insurance company a complete picture of the care you've provided. It makes a compelling case that the issue you treated was a medical issue, not simply a dental one, and that it should be eligible for reimbursement by the patient's medical insurer.

Pre-authorization
You've probably dealt with pre-authorization in your own life, with your own family. It's usually fairly easy to contact the insurer by phone, explain the procedure and the date, and receive pre-authorization for treatment. While some insurers will provide retroactive pre-authorization after the fact, the surgeries you're performing don't happen on a moment's notice. Have your office call for pre-authorization when the surgery is scheduled. Being pro-active on pre-authorization will save you and your patients headaches later on, and can make the difference between the acceptance and rejection of a medical claim for dental surgery.
When you contact the insurer, you should also collect information on what coverage your patient has and how the insurer will reimburse for surgery. It's essential that you get information on co-pays and deductibles upfront, so you can help your patients plan for their part of the cost.

The Letter of Medical Necessity
In the Letter of Medical Necessity (LMN) you have a chance to outline your case for surgery. You must use ICD-10 codes properly in this letter, or the insurer won't accept your reasoning and will not pay for the surgery. In general, you should limit yourself to 4 diagnostic codes in the letter. List the codes in order, from the most important to the procedure to the least important. For instance, you might start with periodontal disease, but also mention the patient's heart disease and Type II diabetes, since these conditions both complicate the surgery and make treatment more urgent.
You can also expand, in writing, on other contributing factors from the patient's medical history. For instance, a root canal may be related to an earlier auto accident, or tooth loss may be complicated because of a past history of cancer.
The process of choosing codes can be confusing, but often it's simply a matter of telling a clear, accurate story. For instance, consider implants. The insurer wants you to answer two main questions about medical necessity. First of all, you have to explain why they lost the tooth. In general, the cause is either going to be an accident or bone loss. Then you need to explain why the tooth must be replaced. Usually, the reason is either that they're suffering a loss of function, or that tooth replacement is covered because of some other medical condition, such as cancer.
In addition to your LMN, it can be helpful to get a supporting letter signed by your patient's PCP. This provides the insurance company with more evidence that your procedure is necessary. Remember, you're trying to build an ironclad case for your treatment plan, so that the insurer understands that treatment is necessary and that your treatment addresses the patient's problems.
Filling Out a Claim Form: Tricks of the Trade
When you reach the Medical Claim form, there's a right way and a wrong way to fill it out, and it's not covered in the form's instructions. Insurers pay claims for procedures at a given surgical site in the order they're listed on the form. The first procedure listed may be paid at 100%, for instance, the second at 75% and additional procedures at 50%. If you list the procedures in the order they occurred, you may lose money.
Instead, list the procedures for each surgical site in order from the most expensive to the least expensive procedure. This will help you maximize your reimbursement from the insurer.
Always double check your codes before submitting a form. Take the time to read over the patient information as well. Typos and other errors can cause the insurer to reject your claim, and delay your reimbursement.
Include supporting documentation with your claim. Lab reports or diagnostic imaging can help prove your case. Send copies of your letter of medical necessity, any medical review results, and pre-authorization. It doesn't matter if the insurer already has these documents somewhere in the system. Submitting them with your claim can speed up processing.

An Art, A Science, and A Learnable Skill
Finally, remember that Medical Billing is both an art and a science. Forms need to be filled out correctly, and you have to carefully follow each insurer's rules and processes. On the other hand, within those rules, you need to learn how to paint a compelling picture of medical necessity.
You and your office staff may benefit from training so that you can get the most from your medical billing efforts. A crash course in anatomy, medical terminology, and surgical modifiers and qualifiers will help your billing department prepare and proofread claims so that insurers accept them and reimburse in a timely manner.
Your patients deserve to receive the treatment they need when they need it. Learning to work with medical insurers can be an important step as you strive to protect their health and improve their lives.
###
Questions, comments?
If you have questions or comments about this article please contact us. Comments that provide additional related information may be added here by our Editors.
Latest articles: (any category)
Reporting Modifiers 76 and 77 with Confidence
April 18th, 2023 - Aimee Wilcox
Modifiers are used to indicate that a procedure has been altered by a specific circumstance, so you can imagine how often modifiers are reported when billing medical services. There are modifiers that should only be applied to Evaluation and Management (E/M) service codes and modifiers used only with procedure codes. Modifiers 76 and 77 are used to identify times when either the same provider or a different provider repeated the same service on the same day and misapplication of these modifiers can result in claim denials.
Five Documentation Habits Providers Can Use Implement to Improve Evaluation & Management (E/M) Scoring
April 11th, 2023 - Aimee Wilcox
Provider education on E/M coding updates is vital to the success of any organization, but how do you whittle down the massive information into bite-sized pieces the providers can learn in just a few minutes? Check out the five steps we have identified to teach providers in just a few minutes that can significantly impact and improve coding outcomes.
Second Quarter 2023 Updates are Different This Year
April 6th, 2023 - Wyn Staheli
The second quarter of 2023 is NOT business as usual so it is important to pay attention to ensure that organizational processes and training take place to avoid mistakes. Not only have ICD-10-CM coding updates been added to the usual code set updates (e.g., CPT, HCPCS, ICD-10-PCS), but the end of the COVID-19 Public Health Emergency will bring about changes that will also take place during the quarter (but not on April 1, 2023.
7 Measures Developed by the HHS Office of Inspector General (OIG) to Identify Potential Telehealth Fraud
March 28th, 2023 - Aimee Wilcox
A recent review of telehealth services reported in Medicare claims data during the pandemic where these seven measures for identifying suspected fraud, waste, and abuse were applied, revealed more than a thousand Medicare providers potentially committed fraud during this period. What are the measures the OIG applied during their review, and how will that impact future telehealth guidelines moving forward?
MUEs and Bilateral Indicators
March 23rd, 2023 - Chris Woolstenhulme
MUEs are used by Medicare to help reduce improper payments for Part B claims. This article will address the use of the National Correct Coding Initiative (NCCI) and Medically Unlikely Edits (MUEs) and how they are used by CMS.
It is True the COVID-19 PHE is Expiring
March 16th, 2023 - Raquel Shumway
The COVID-19 PHE is Expiring, according to HHS. What is changing and what is staying the same? Make sure you understand how it will affect your practice and your patients.
Billing Process Flowchart
March 2nd, 2023 -
The Billing Process Flowchart (see Figure 1.1) helps outline the decision process for maintaining an effective billing process. This is only a suggested work plan and is used for demonstration purposes to illustrate areas which may need more attention in your practice's policies and...