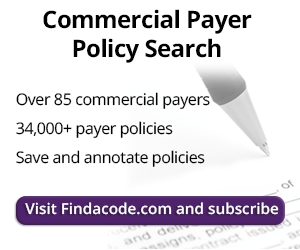 The New ICD-10-CM Code Updates Are Here — Are You Ready?
October 1st, 2019 - Aimee Wilcox, CPMA, CCS-P, CST, MA, MT, Director of Content
---
Today's the day

!

Yes, the annual switching of the diagnosis codes takes place today. Are you aware that there are hundreds of new changes (21 deletions, 30 revisions, and 273 new codes) affecting multiple chapters? Are you prepared? Take time right now and check out what is happening
before

you start getting claim denials. You need to update your coding tools and internal forms, and begin working on clinical documentation improvement processes to ensure providers are all set to take on these changes.
The following is a breakdown, by chapter, of the ICD-10-CM changes

effective today

, October 1, 2019.
---
Chapter 1: Certain Infectious and Parasitic Diseases (A00-B99)
Chapter 2: Diseases of the Blood and Blood-Forming Organs & Certain Disorders Involving the Immune Mechanism (D50-D89)
Added a code for Glucose-6-phosphate dehydrogenase (G6PD)
Chapter 6: Diseases of the Nervous System
Chapter 7: Diseases of the Eye and Adnexa (H00-H59)
Central origin vertigo has been expanded to include laterality (H81.4-)
Find-A-Code offers FREE coding and auditing webinars (sorry, no CEUs), to educate and provide resources for coding and auditing issues. Back by popular demand, our webinar "ICD-10-CM Changes Effective October 1, 2019" is going to be rebroadcast on Thursday, October 3rd at 11:15 a.m. MST.

CLICK HERE to sign up for this FREE webinar!

Take a minute to also check out our UPCOMING WEBINARS.
Chapter 9: Diseases of the Circulatory System (I00-J99)
Two new codes have been added to report subsegmental pulmonary embolisms (PE) without acute cor pulmonale:

I26.93 single subsegmental PE without acute cor pulmonale
I26.94 multiple subsegmental PE without acute cor pulmonale

Do ICD-10 Updates Have Your Heart Beating Irregularly? Check Out the New Atrial Fibrillation Codes by CLICKING HERE. Sub-categories I48.1- and I48.2- are expanded and will require greater documentation details.
Revision of codes I70.238 (right leg) and I70.248 (left leg) changed the end of the description as follows: Athersclerosis of native arteries of

(right or left)

leg with ulceration of other part of lower (right or left) leg.
Codes in categories I80-I82 have been added to report phlebitis, thrombophlebitisas, and acute or chronic embolism and thrombosis affecting two newly specified vessels:

peroneal (fibular)
vein calf muscular vein(s)
CLICK HERE to check out our ICD-10-CM specialty-specific books which have the vital coding information you need for the most commonly reported codes for your specialty.
Chapter 10: Diseases of the Respiratory System (J00-J99)
A simple parenthetical revision to change "acute" to "(acute)" (J44.0)
Chapter 12: Diseases of the Skin and Subcutaneous Tissue (L00-L99)
New pressure ulcer codes were added Pressure Ulcer category (L89) to specify "pressure-induced deep tissue injury (DTI) ulcers." New codes for this type of pressure ulcer are based on anatomic site.
Chapter 13: Diseases of the Musculoskeletal System and Connective Tissue (M00-M99)
Revisions on several code descriptions in this chapter include:
Chapter 14: Diseases of the Genitourinary System (N00-N99)
Code description revision to include N35.814 "Other anterior urethral stricture, male, anterior" to just

male

Category expansion with new codes to identify laterality for an unspecified lump in the right (N63.15) or left (N63.25) breast, overlapping quadrants
A new code to report post endometrial ablation syndrome (N99.85)
Chapter 17: Congenital Malformations, Deformations and Chromosomal Abnormalities (Q00-Q99)
Congenital deformities of the feet (category Q66-) has been greatly expanded to include 24 new codes describing laterality (right, left, unspecified)
Expansion of Q79.6- to provide codes for more specific types of Ehlers-Danlos syndrome
Prader-Willi syndrome was separated out of the new subcategory Q87.1- as follows:
Are you scheduled for hernia repair surgery caused by lifting those heavy ICD-10-CM books? Ease your burdens by ordering a Find-A-Code subscription with access to our comprehensive online resource which also includes all our webinars (past and present). There you'll discover everything you need for the codes you report most, including helpful tools like our NCCI Edits Validator and much more! Avoid that surgery by CLICKING HERE now.
Chapter 18: Symptoms, Signs, and Abnormal Clinical and Laboratory Findings, NEC (R00-R99)
Added codes for pyuria (R82.81) and Other abnormal findings on cytological and histological examination of urine (R82.89)
Revised code R82.993 to fix a spelling error. Hyperurico

scuria

is really hyperurico

suria
Chapter 19: Injury, Poisoning and Certain Other Consequences of External Causes (S00-T88)
A significant number of newly added codes expand orbital fractures by site and laterality (i.e., roof [S02.1-], medial wall [S02.83-], lateral wall [S02.84-], and unspecified side [S02.85X-]
Code description revisions were done to identify types of psychodysleptics [hallucinogens] (T40.906-) and parasympathomimetrics [cholinergics] (T44.1X6-). Remember, [ ] brackets enclose synonyms, alternative wording, or explanatory phrases, so this will help identify those complicated medications associated with underdosing.
A large number of "Poisoning by…" codes have been added (T50.911- through T50.916-) mostly due to adding 7th characters.
New codes for specific types of heatstroke (T67.09X-) have been added (i.e., heatstroke and sunstroke, exertional type, other type)
Chapter 20: External Causes of Morbidity (V00-Y99)
Revision to the wording for Car passenger injuries (V43.13X-)
A serious expansion of category Y35 which includes 74 codes describing various injuries caused by legal interventions. The new codes identify the instrument used in the action causing the injury (e.g., types of firearms, explosives, gases, blunt and sharp objects, manhandling, conducted energy devices)
There are more than code changes. The 2020 Official ICD-10-CM Coding Guideline Changes are also revised! Be sure to review these changes so you are ready for any coding and documentation questions that may arise. CLICK HERE to read about it.
Chapter 21: Factors Influencing Health Status and Contact with Health Services (Z00-Z99)
New codes to report an encounter for examination of the eyes following a failed vision screening with (Z01.020) and without (Z01.021) abnormal findings
An expansion of categories Z20-Z29 "Carrier of Infectious Disease" to add testing for latent tuberculosis infection (Z11.7) or latent tuberculosis (Z22.7)
Care for

neurostimulator

devices in any anatomic site may now be reported with revised code Z45.42. Previously, the code description limited reporting based on anatomic site (i.e., brain, peripheral nerve, spinal cord), but the revised code removed specific sites, making it eligible to report wherever the device is located.
A new code to report the

presence of a neurostimulator

(Z96.82) has been added to the codeset. Don't forget, when the encounter is not related to assessment or management of the device Z96.82 "Presence of neurostimulator" may be reported; however, when the encounter is all about testing, interrogating, or adjusting the device, it should be reported with Z45.42.
A simple revision for consistency was made to Body Mass Index 50.0-59.0, adult (Z68.43) to change 50 to 50.0.
A new code has been added to report an encounter to health counseling related to travel (Z71.84)
"Personal history of" indicates the patient once had the condition or disease but it no longer exists and they do not receive any on-going or periodic treatment for it. New codes have been added to subcategory Z86.00- "Personal history of in-situ neoplasm" (a pre-malignant growth that hasn't spread) for certain anatomic sites (i.e., unspecified genital organs, oral cavity, esophagus, stomach, unspecified digestive organs, middle ear, respiratory system, melanoma in-situ, in-situ neoplasm of skin)
Don't forget, January is just around the corner and that means CPT and HCPCS changes. Our specialty-specific Reimbursement Guides provide important coding information, helpful tips, and resources to assist in your daily coding and auditing tasks. Pre-order your copy today.
###
Questions, comments?
If you have questions or comments about this article please contact us. Comments that provide additional related information may be added here by our Editors.
Latest articles: (any category)
COVID Vaccine Coding Changes as of November 1, 2023
October 26th, 2023 - Wyn Staheli
COVID vaccine changes due to the end of the PHE as of November 1, 2023 are addressed in this article.
Medicare Guidance Changes for E/M Services
October 11th, 2023 - Wyn Staheli
2023 brought quite a few changes to Evaluation and management (E/M) services. The significant revisions as noted in the CPT codebook were welcome changes to bring other E/M services more in line with the changes that took place with Office or Other Outpatient Services a few years ago. As part of CMS' Medicare Learning Network, the "Evaluation and Management Services Guide" publication was finally updated as of August 2023 to include the changes that took place in 2023. If you take a look at the new publication (see references below),....
Can We Score Interpretation of an EKG Towards E/M Medical Decision Making?
October 10th, 2023 - Aimee Wilcox
When EKGs are performed in the facility setting or even in the physician's office, what are the requirements for reporting the service and who gets credit for scoring data points for Evaluation and Management (E/M) medical decision making (MDM)? Let's take a look at a few coding scenarios related to EKG services to get a better understanding of why this can be problematic.
Accurately Reporting Signs and Symptoms with ICD-10-CM Codes
October 5th, 2023 - Aimee Wilcox
Coders often find themselves unsure of when to report a sign or symptom code documented in the medical record. Some coders find their organization has an EHR that requires a working diagnosis, which is usually a sign or symptom, be entered to order a test or diagnostic study or image. Understanding the guidelines surrounding when signs and symptoms should be reported is the first step in correct coding so let's take a look at some scenarios.
The 2024 ICD-10-CM Updates Include New Codes for Reporting Metabolic Disorders and Insulin Resistance
September 19th, 2023 - Aimee Wilcox
Diabetes is a chronic disease that just seems to consistently be increasing instead of improving resulting in a constant endeavor by medical researchers to identify causal effects and possible treatments. One underlying or precipitating condition that scientists have identified as a precipitating factor in the development of diabetes is insulin resistance, which is a known metabolic disorder. As data becomes available through claims reporting, additional code options become possible with ICD-10-CM.
Documenting and Reporting Postoperative Visits
September 12th, 2023 - Aimee Wilcox
Sometimes we receive questions regarding documentation requirements for specific codes or coding requirements and we respond with information and resources to support our answers. The following question was recently submitted: Are providers required to report postoperative services on claims using 99024, especially if there is no payment for that service? What documentation is required if you are reporting an unrelated Evaluation and Management (E/M) service by the same physician during the postoperative period? 
Understanding Gastroesophageal Reflux Disease and ICD-10-CM Coding
August 22nd, 2023 - Aimee Wilcox
Gastroesophageal reflux disease or GERD for short, is a disease that impacts millions of Americans on a weekly basis. Symptoms are uncomfortable, as are some of the tests used to diagnose it, but understanding the disease, tests, and treatments helps us better understand how to code the disease using ICD-10-CM codes.