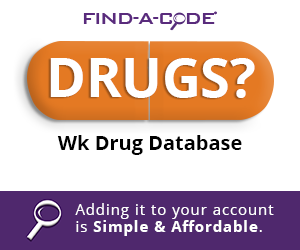 Healthcare Common Procedure Coding System (HCPCS)
August 13th, 2019 - Chris Woolstenhulme, QCC, CMCS, CPC, CMRS
0 Votes -

Sign in

to vote or comment.
---
Level II Coding Procedures called HCPCS or Level II codes.
There are three main code sets and the Healthcare Common Procedure Coding System (HCPCS) is the third most common code set used. They are often called Level II codes and are used to report non-physician products, supplies, and procedures not found in CPT, such as ambulance services, DME, drugs, orthotics, supplies, and temporary codes. HCPCS has its own coding guidelines and is used along with CPT codes. There are often modifiers reported with HCPCS to help identify the area of the body, discontinued procedures, or multiple procedures in the same session.
Dental codes are published and copyrighted by the American Dental Association (ADA) and used for billed dental procedures and supplies. An example of a Dental code is D0120 Periodic oral evaluation - established patient.
Miscellaneous codes are used when a supplier is submitting a bill for an item prior to an existing code being assigned to adequately describe the item or service. They may also be used while a code is being considered. All miscellaneous codes will be manually reviewed and the following must be included when submitting a miscellaneous code:
The item or service must be clearly described
Pricing information
Documentation explaining the reason for the service or item
Items Requiring Coding Verification Reviews
To avoid denials, be sure you verify with your supplier to determine if there is a more specific code that should be used. For coding questions contact the Pricing, Data Analysis, and Coding (PDAC) contractor to CMS. The PDAC is responsible for providing suppliers and manufacturers with assistance in determining which HCPCS code should be used to describe DMEPOS items for the purpose of billing Medicare. The PDAC has a toll-free helpline for this purpose, (877) 735-1326, Fax (803) 264-0648, or email. In addition, the PDAC publishes a product classification list on its website that lists individual items to code categories. More information about the PDAC and the PDAC's product classification list can be found at dmepdac.com.
View the Code Verification Request Application Instructions webpage for application instructions and additional information.
Section C/Product Specific
DMECS
###
Questions, comments?
If you have questions or comments about this article please contact us. Comments that provide additional related information may be added here by our Editors.
Latest articles: (any category)
New ABN Form is Here
July 7th, 2020 - Wyn Staheli, Director of Research
The anticipated changes to the Advanced Beneficiary Notice of Non-coverage (ABN) Form (CMS-R-131) have arrived. This important form is issued to the patient or client by providers, physicians, practitioners, and suppliers in situations where Medicare payment is expected to be denied. You can begin using the new ABN immediately if you so wish. However, it becomes mandatory on August 31, 2020.
Understanding UCR Inpatient Fees used on DRG's
July 1st, 2020 - Christine Woolstenhulme, QCC, QMCS, CPC, CMRS
Find-A-Code uses Usual, Customary, and Reasonable (UCR) fees to help determine the amount paid for a medical service based on a certain geographic area. This article will address the information and pricing for Hospital and Inpatient fees based on Diagnosis Related Groups (DRGs). The UCR fees and...
Additional COVID-19 Testing Codes Announced
June 29th, 2020 - Wyn Staheli, Director of Research
New coronavirus antigen testing codes announced. These are effective immediately.
HCPCS Codes Were NOT all Created for the Same Purpose
June 29th, 2020 - Christine Woolstenhulme, QCC, QMCS, CPC, CMRS
Have you ever wondered why you were unable to find a particular product/code with our DMEPOS search? When looking for HCPCS Level II codes, there are several kinds of codes and not all HCPCS codes were created for the same purpose. If you are searching for a certain HCPCS product ...
Should I Bill Dental or Medical?
June 16th, 2020 - Christine Taxin
While you likely find yourself focusing on fewer patients and more on emergency care, it's a good time to understand how medical billing can allow patients with active infection in the oral cavity to seek the treatment they need. Forms need to be filled out correctly, and you must carefully follow ...
Newest Launch - We Now Have Outpatient Facility Pricing!
June 15th, 2020 - Christine Woolstenhulme, QCC, CMCS, CPC, CMRS
Our newest feature launch offers UCR pricing for Outpatient Facility. We recently released pricing information based on databases of insurance claims from private-sector health care providers.Usual, customary, and reasonable charges (UCR) are medical fees used when there are no contractual pricing agreements and are used by certain healthcare plans and third-party payers to generate ...
Medical Necessity using Soap can prevent a future audit!
June 15th, 2020 - Christine Taxin
Medical Necessity using Soap can prevent a future audit! How Do I Correctly Document all my notes on every patient regardless of the insurance I am billing? Medically necessary care is the reasonable and essential diagnostic, preventive, and treatment services (including supplies, appliances, and devices) and follow-up care as determined by qualified ...