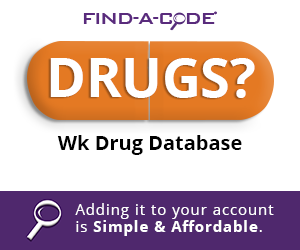 Spinal Cord Stimulator Used for Chronic Pain
April 1st, 2019 - Chris Woolstenhulme, QCC, CMCS, CPC, CMRS
---
Chronic pain is a condition that can be diagnosed on its own or diagnosed as a part of another condition. When coding chronic pain, there is no time frame defining when pain becomes chronic pain; the provider's documentation should be used to guide the use of these codes.
ICD-10-CM Diagnosis Codes for Chronic pain is classified into subcategory G89.2 Chronic Pain Disorders.
Codes from category G89 may be used in conjunction with codes that identify the site of pain (including codes from chapter 18) if the category G89 code provides additional information. For example, if the code describes the site of the pain, but does not fully describe whether the pain is acute or chronic, then both codes should be assigned.
Electrical Nerve Stimulators
Often electrical nerve stimulator's are used to treat patients with chronic pain when medication and physical therapy does not achieve sufficient relief. The implanted neurostimulator pulse generator system is a procedure that includes the use of a generator/transmitter which is placed in a subcutaneous pocket. Electrical leads are then connected from the nerve or area being stimulated to the transmitter.
When using Neurostimulators to relieve chronic pain, electrical nerve stimulators or electrodes are implanted in the epidural space in either the cervical or lumbar region. There are two general classifications of electrical nerve stimulators: peripheral nerve stimulators and central nervous stimulator's.
Peripheral Nerve
An implanted peripheral nerve stimulator involves implanting electrodes around a select peripheral nerve and attaching it to a receiver also implanted under the skin to target peripheral nerves considered to be the origin of pain. This procedure is done in an operating room and may be used to treat conditions such as chronic low back pain.
Central Nervous
Intracranial neurostimulation is used to administer pulses to the central nervous system for conditions such as epilepsy.
Types of Implants used for Chronic Pain Relief
There are two types of implants that are used for the relief of chronic pain: Dorsal Column and Deep brain. this article will address Dorsal Column implants.
Spinal -Dorsal Column (Spinal Cord) is commonly performed to treat chronic back and/or leg pain. In the dorsal column, the surgical implantation of neurostimulator electrodes within the dura mater (endodural) or the percutaneous insertion of electrodes in the epidural space is covered.
Cranial- Deep Brain - The stereotactic implantation of electrodes in the deep brain (e.g., thalamus and periaqueductal gray matter) is covered.
Trial Assessment
For conditions of coverage, there needs to be a demonstration of pain relief from a trial assessment to see if a patient will benefit from the implant. If a trial is done It is included as part of the total diagnostic service, and no additional payment is made.
Locating CPT codes for Spinal Cord Stimulator
CPT Codes for neurostimulators are found in the surgery section, under surgical procedures on the nervous system, then under surgical procedures on the spine and spinal cord and then Neurostimulators. Notice there are procedures for the implants and generator that include removal and revisions 63650-63688. When the procedure is a Laminectomy it is considered an open procedure.
Lead Implants/Electrodes
63650 - Percutaneous, Electrode
63655 - Laminectomy, plate/paddle

Removal or Revision of Electrodes
63661 - Removal, electrode
63662 - Removal, Plate/Paddle
63663 - Revision, including replacement elect
63664 - Revision including replacement - laminotomy or laminectomy Plate/Paddle
Insertion or Replacement of Generator or Receiver
63685 - Insertion or replacement generator or receiver
Revision or Removal Generator or receiver, with or without reprogramming
63688 - Revision or removal generator or receiver
Electronic Analysis - Once the generator or receiver is revised or removed, it is then evaluated and adjustments made as needed to ensure proper functioning.
These codes for Electronic analysis generator neurostimulator pulse generator or receiver, with or without reprogramming as well as configuration and analysis are generally paid through the APC code, and not billed separately, for example, 95970, 95971, 95972 (Paid through the APC payment).
HCPCS Codes for Generator, Leads, and Receivers
HCPCS codes for the supplies are generally included in the procedure and not reimbursed separately, refer to your payer policy, C-codes are billed to Medicare and L-Codes are generally reported for Non-Medicare payers.
For example, the neurostimulator is billed individually, L8680 is for each lead. (Implantable neurostimulator electrode, each). The Neurostimulator is considered durable medical as indicated by the "P", Type of service - P - Lump Sum Purchase of DME, Prosthetics, Orthotics. View the Status indicators on Find-A-Code on the code information page under Additional Code Information (Global Days, MUEs, ect.) L8680 has an APC status indicator of E1- Non covered service.
L8679 Implantable neurostimulator, pulse generator, any type
L8680 Implantable neurostimulator electrode, each
L8682 Implantable neurostimulator radiofrequency receiver
L8685 Implantable neurostimulator pulse generator, single array, rechargeable, includes ext.
L8686 Implantable neurostimulator pulse generator, single array, non-rechargeable, includes ext.
L8687 Implantable neurostimulator pulse generator, dual array, rechargeable, includes ext.
L8688 Implantable neurostimulator pulse generator, dual array, non-rechargeable, includes ext.
L8695 External recharging system for battery (external) for use with implantable neurostimulator, replacement only
NCCI Code Pair Edits
NCCI code pair edits are automated prepayment edits that prevent improper payment. NCCI edits help avoid coding and billing errors and help to avoid using codes that are bundled into another code, this is called unbundling and is also a compliance issue with correct coding and reporting. Find-A-Code offers an NCCI Tool to help simplify these code edits.
Review the NCCI rules
The National Correct Coding Initiative (NCCI) rules for reporting insertion or replacement are important to understand as most payers follow the NCCI rules.
Chapter VIII C.16. Reporting an "insertion or replacement" CPT code necessitates the use of a new neurostimulator pulse generator or receiver. CPT codes 61888 and 63688 describe "revision or removal" of cranial or spinal neurostimulator pulse generators or receivers.
If the same pulse generator is removed and replaced into the same or another skin pocket, the "revision" CPT code is the only CPT code that may be reported.
The "replacement" CPT code which requires the use of a new neurostimulator pulse generator or receiver shall NOT be reported as this manual previously indicated.
If one pulse generator is removed and replaced with a different pulse generator into the same or another skin pocket, the "replacement" CPT code may be reported.
The "removal" CPT code is not separately reportable. The "insertion or replacement" CPT code is separately reportable with a "revision or removal" CPT code only if two separate batteries/generators are changed. For example, if one battery/generator is replaced (e.g., right side) and another is removed (e.g., left side), CPT codes for the "insertion or replacement" and "revision or removal" could be reported together with modifier 59.
Chapter VIII C. 35. CPT code 64561 (Percutaneous implantation of neurostimulator electrode array; sacral nerve...) is priced to include a "percutaneous neuro test stimulation kit". This kit includes a "test stimulation lead". HCPCS code A4290 (sacral nerve stimulation test lead, each) shall not be reported with CPT code 64561.
Two Stages are Involved
According to Local Coverage Determination (LCD) Spinal Cord Stimulation for Chronic Pain (L36035)
"Two stages are involved in SCS implantation. In both stages, a physician, guided by an x-ray, places a lead into the epidural space located within the bony spinal canal. Fluoroscopy may be included and is usually not reported separately.
Trial Stage

The first stage consists of a short trial (e.g., 3-14 days) with temporary percutaneous implantation of neurostimulator electrode(s) and external generator for assessing the patient's suitability for ongoing treatment with a permanent surgically implanted nerve stimulator. During the trial phase, one or two leads are placed via an epidural needle in the appropriate position. If at least 50% pain relief is achieved during the trial phase, the temporary system may be transitioned to a permanent system. Performance and documentation of an effective trial is a prerequisite for permanent nerve stimulation.

The Permanent Implantation Stage
The second system involves the implantation of paddle-type leads into the epidural space after laminectomy and subcutaneous connection to a neurostimulator. The patient comes back in for a permanent neurostimulator, the original needs disconnected and you would bill 63661 for removal. Then bill for the new electrode 63650 and generator 63685. Neurostimulators may be either Implantable Pulse Generators (IPGs), which use either a non-rechargeable or a rechargeable internal battery, or radio frequency devices, which receive energy in the form of radio frequency pulses from an external device powered by a rechargeable battery. The appropriate SCS system with up to 16 contacts/electrodes will depend on the underlying condition, the patient's pain patterns, the area of body affected, and the amount and intensity of stimulation required. Permanent neurostimulators must be placed in an Ambulatory Surgical Center (ASC) or hospital".
Several Components
(1) the lead that delivers the electrical stimulation to the spinal cord;
(2) an extension wire that conducts the electrical stimulation from the power source to the lead; and
(3) a power source that generates the electrical stimulation.
Example of pricing a procedure using UCR National Un-adjusted fees used for pricing for Physician Fees.
Service
Purpose
Frequency
Base Cost
Resource
Annualized Cost
63650
TRIAL Spinal cord stim Implant
1 X
6790.33

VA - UCR Pricing

63661
Removal of elect - Incl Fluoroscopy
1X
2980.80

VA -

UCR

Pricing

65350
Permanent Elect Implant
1 X
6790.33

VA -

UCR

Pricing

63685
Insertion Pulse generator
1X
1725.64

VA -

UCR

Pricing

TOTAL
$18287.1
$18287.1
Examples - Boston Scientific. https://www.bostonscientific.com/content/dam/bostonscientific/Reimbursement/Neuromodulation/2017/NM-45908-AN%202017%20Outpatient%20Quick%20Reference%20Guide%20%20FINAL.pdf
###
Questions, comments?
If you have questions or comments about this article please contact us. Comments that provide additional related information may be added here by our Editors.
Latest articles: (any category)
Reporting Modifiers 76 and 77 with Confidence
April 18th, 2023 - Aimee Wilcox
Modifiers are used to indicate that a procedure has been altered by a specific circumstance, so you can imagine how often modifiers are reported when billing medical services. There are modifiers that should only be applied to Evaluation and Management (E/M) service codes and modifiers used only with procedure codes. Modifiers 76 and 77 are used to identify times when either the same provider or a different provider repeated the same service on the same day and misapplication of these modifiers can result in claim denials.
Five Documentation Habits Providers Can Use Implement to Improve Evaluation & Management (E/M) Scoring
April 11th, 2023 - Aimee Wilcox
Provider education on E/M coding updates is vital to the success of any organization, but how do you whittle down the massive information into bite-sized pieces the providers can learn in just a few minutes? Check out the five steps we have identified to teach providers in just a few minutes that can significantly impact and improve coding outcomes.
Second Quarter 2023 Updates are Different This Year
April 6th, 2023 - Wyn Staheli
The second quarter of 2023 is NOT business as usual so it is important to pay attention to ensure that organizational processes and training take place to avoid mistakes. Not only have ICD-10-CM coding updates been added to the usual code set updates (e.g., CPT, HCPCS, ICD-10-PCS), but the end of the COVID-19 Public Health Emergency will bring about changes that will also take place during the quarter (but not on April 1, 2023.
7 Measures Developed by the HHS Office of Inspector General (OIG) to Identify Potential Telehealth Fraud
March 28th, 2023 - Aimee Wilcox
A recent review of telehealth services reported in Medicare claims data during the pandemic where these seven measures for identifying suspected fraud, waste, and abuse were applied, revealed more than a thousand Medicare providers potentially committed fraud during this period. What are the measures the OIG applied during their review, and how will that impact future telehealth guidelines moving forward?
MUEs and Bilateral Indicators
March 23rd, 2023 - Chris Woolstenhulme
MUEs are used by Medicare to help reduce improper payments for Part B claims. This article will address the use of the National Correct Coding Initiative (NCCI) and Medically Unlikely Edits (MUEs) and how they are used by CMS.
It is True the COVID-19 PHE is Expiring
March 16th, 2023 - Raquel Shumway
The COVID-19 PHE is Expiring, according to HHS. What is changing and what is staying the same? Make sure you understand how it will affect your practice and your patients.
Billing Process Flowchart
March 2nd, 2023 -
The Billing Process Flowchart (see Figure 1.1) helps outline the decision process for maintaining an effective billing process. This is only a suggested work plan and is used for demonstration purposes to illustrate areas which may need more attention in your practice's policies and...