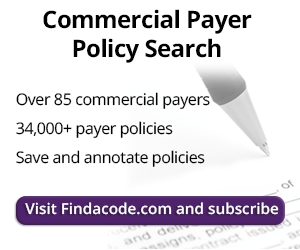 Documentation Time Limits
March 12th, 2009 - Codapedia Editor
0 Votes -

Sign in

to vote or comment.
---
How soon does a clinician need to document the service after performing the service?
If you are asking this question, it is probably because a physician or other clinician in your practice is behind in documenting their encounters.
Here is what CMS says in the Claims Processing: (Publication 100-04, Chapter 12, Section 30.6.1 A
The service should be documented during, or as soon as practicable after it is provided in order to maintain an accurate medical record.
That's it. CMS does not give a time limit of hours or days. There are hospital rules about documenting the physician component of medical records, and Health Information departments keep track of those and remind physicians who fall behind.
What policies are reasonable in a phyisician office, and how should those be enforced? Many groups develop a policy that all documentation must be completed within three days. A week at the longest. After that time, how good is the clinician's memory? Groups that use electronic medical records are able to monitor completion of medical records through the EMR. Enforcement is dictated by the governance stucture. Sometimes, the Board of a private medical practice will have regulations about chart completion. If a hospital employs the physician group, there may be requirements in the Compliance Plan, by-laws, or employment agreement. When a clinician falls behind, the group must address it, using whatever governance structure is available, quickly and definitively.
###
Questions, comments?
If you have questions or comments about this article please contact us. Comments that provide additional related information may be added here by our Editors.
Latest articles: (any category)
How to Search Find-A-Code for Medicare Policies and Guidelines — LCDs, NCDs and Articles —
November 18th, 2020 - Raquel Shumway
Help for Searching Find-A-Code when searching for Medicare Policies and Guidelines — LCDs, NCDs and/or Articles.
Cross-A-Code Instructions in Find-A-Code
November 18th, 2020 - Raquel Shumway
Cross-A-Codeis a toll found in Find-A-Code which helps you to locate codes in other code sets that help you when submitting a claim.
COVID Vaccine Codes Announced
November 11th, 2020 - Wyn Staheli, Director of Research
On November 10, 2020, the American Medical Association (AMA) announced the addition of two new codes which will be used for the new COVID-19 vaccines along with 4 new administration codes to be used when reporting the administration of these vaccines.
Are You Aware of the 2021 Star Rating System Updates?
November 5th, 2020 - Aimee Wilcox, CPMA, CCS-P, CST, MA, MT, Director of Content
Each year the Centers for Medicare & Medicaid Services (CMS) publishes the Star Ratings System Updates for Medicare Advantage (Part C) and Medicare Prescription (Part D). This rating system was developed to help beneficiaries identify and select the health plans that best meet their needs, specifically addressing main issues:  Quality of ...
Special Needs Plans Help Beneficiaries and Risk Adjustment Reporting
October 22nd, 2020 - Aimee Wilcox, CPMA, CCS-P, CST, MA, MT, Director of Content
It is no secret that Medicare and Medicaid are steadily moving towards their goal of value-based health care. Medicare Part C (Medicare Advantage) identifies and rewards payers, and subsequently their providers, for increasing the efficiency and quality of care they provide to Medicare...
CMS Expands Telehealth Again
October 20th, 2020 - Wyn Staheli, Director of Research
On October 14, 2020, CMS announced further changes to expand telehealth coverage. Eleven (11) new codes have been added to their list of covered services bringing the current total to 144 services. The new services include some neurostimulator analysis and programming services as well as some cardiac and pulmonary rehabilitation services.
Significant COVID-19 Code Changes as of October 6
October 8th, 2020 - Wyn Staheli, Director of Research
Significan COVID-19 Code Changes as of October 6