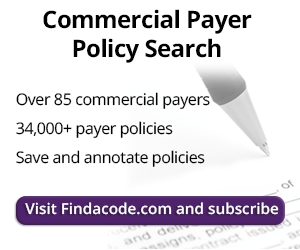 When to Use Modifier 25 and Modifier 57 on Physician Claims
October 1st, 2018 - BC Advantage
0 Votes -

Sign in

to vote or comment.
---
The biggest thing modifiers 25 and 57 have in common is that they both assert that the E/M service should be payable based on documentation within the record showing the procedure should not be bundled into the E/M.
After that, the similarities end, and it is important to know the distinctions between these two modifiers.
Modifier 25 is used to indicate that a significant, separately identifiable E/M service by the same physician or other qualified health care professional was performed on the same day of the procedure or other service. Modifier 57 is defined as decision for surgery.
From those definitions, we know that modifier 57 is intended for the encounter when it is decided that a patient requires surgery.
Specifically, you use modifier 57 when all of the following conditions are present:
During the encounter, the physician or other provider decides that a major surgery needs to be done, and that surgery is done either on the same date of service or the next calendar day.
The surgery is a major surgery, meaning one with a 90-day global period.
Here are some common situations when modifier 57 is misused:
A surgical decision is made, but the physician continues to round with the patient daily until the surgery can be scheduled/completed. The surgeon should not append modifier 57 to the last E/M prior to the surgery as the decision for surgery is not being made - it has been made. In most instances, this same day E/M is bundled into the surgery. If other problems are addressed, modifier 25 may be indicated.
A procedure that has a 0- or 10-day global period.
Procedures with a 0- or 10-day global period can be separately reported by using modifier 25, assuming the E/M service is significant and separately identifiable. When the patient presents with the knowledge that the procedure is going to be done and no other conditions are addressed, the E/M is typically not supported and modifier 25 cannot be used.
---
This Week's Audit Tip Written By:
Scott Kraft, CPC, CPMA
Scott is a Senior Compliance Auditor for our parent organization, DoctorsManagement LLC
###
Questions, comments?
If you have questions or comments about this article please contact us. Comments that provide additional related information may be added here by our Editors.
Latest articles: (any category)
Important Podcast on Dental to Medical Billing
September 21st, 2020 - Christine Woolstenhulme, QCC, QMCS, CPC, CMRS
Be sure and check out this discussion with LaMont Leavitt (CEO of innoviHealth) and Christine Taxin (Adjunct professor at New York University, President of Dental Medical Billing, and Links2Success).  Some of the resources and tools they discuss will help you with your dental coding/billing and education. Do You Have All the Right ...
More COVID-19 Codes Added as of September 8, 2020
September 15th, 2020 - Wyn Staheli, Director of Research
The American Medical Association (AMA) recently announced the addition of two more CPT codes in relation to COVID and the Public Health Emergency (PHE). Codes 99702 and 86413 were posted to the AMA website on Tuesday, September 8, 2020 and new guidelines have been added as well.
Not Following the Rules Costs Chiropractor $5 Million
September 1st, 2020 - Wyn Staheli, Director of Research
Every healthcare office needs to know and understand the rules that apply to billing services and supplies. What lessons can we learn from the mistakes of others? What if we have made the same mistake?
New Value-Based Payment Models for Primary Care (Primary Care First and Direct Contracting)
August 28th, 2020 - Jared Staheli
This article summarizes the new Medicare value-based payment models: Primary Care First and Direct Contracting.
Podcast - Do you have all the right Dental resources needed to succeed in Dental Medical Billing and Coding?
August 27th, 2020 - Innoventrum
Discussion between innoviHealth CEO, LaMont Leavitt and Guest speaker, Christine Taxin who is an Adjunct professor at New York University, and President of Dental Medical Billing and Links2Success about making sure you have all the right Dental resources needed to succeed in Dental Medical Billing and Coding. ...
Is COVID-19 Causing Risk Adjustment "Gotcha's"?
August 27th, 2020 - Wyn Staheli, Director of Research
The COVID-19 public health emergency (PHE) has created some possible problems when it comes to risk adjustment. Be sure your organization has implemented policies and procedures to try and overcome these new hurdles.
New and Exciting Changes in the Dental Industry
August 26th, 2020 - Christine Taxin - Links 2 Success
My colleagues and I are nerds for information on all things billable—or not billable—in the worlds of dental and medical insurance. One of the most puzzling challenges for me over the past 15 years of teaching has been to understand why we on the dental side are segregated out of ...