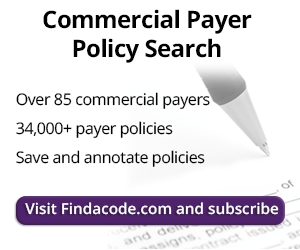 Preventive medicine and office visit, same day
June 1st, 2015 - Codapedia Editor
---
Can I use modifier 25 on an E/M service on the same day as a preventive medicine exam
Let's review what a preventive medicine service is, in order to answer that question. Preventive medicine services are:
• The description given by CPT® for "annual physicals"
• Divided into new and established patient visits
• Categorized by the age of the patient
• Individually listed, with RVUs in chart in appendix
• 99381—99387 for new patient, preventive medicine, delineated by age
• 99391—99397 for established patient, preventive medicine, delineated by age
A preventive medicine service includes:
• Age/gender appropriate comprehensive history and physical exams
• Require anticipatory guidance and risk factor reduction
• Referral for/provision of screening tests and immunizations
• Include treatment of existing problems that "do not require significant extra work"
• Separate payment (per CPT) is allowed for vision, hearing and screening tests, although not all payers pay based on CPT® rules
• Typically, tympanometry is paid separately, but the vision screening (99173) may not be (Although it should be, per CPT
• Many visits have components of both preventive medicine services and "sick" visits
Bill a self pay patient or a commercially insured patient both a preventive medicine and office visit when: (Medicare and Medicaid have their own rules, of course!)
The provider performed significant additional work and documented that work. This could be for a new onset problem or deteriorated existing problems
The History of the Present Illness shows this extra work by describing the patient's symptoms. (He reports that for the last 4 weeks he has had increasing….made worse by….He relates the start to an episode….) Or, document the patient's chronic diseases (Her BP readings at home are not good, although she continues on…. We have checked her machine with ours in the office…. She also reports that her osteoarthritis is not in good control and the medication…. In the morning, especially…..) Show the extra work. "Patient with a history or XYZ is doing well at home" is not extra work.
Assessment and plan shows management of these problems. If the assessment and plan relates entirely to health maintenance (She refuses a colonoscopy but we gave her a flu shot today. She's scheduled for a mammogram and DEXA scan" that does not show the need for an office visit on the same day. "I sent her for STAT labs, xrays…" "I adjusted her hypertension medicine and asked her to come back every week for the next few weeks to have it checked in our office."
Can you get paid for both?
• Varies by insurance company
• A separate note helps you to select the level of service for the non-preventive medicine portion of the service
• A separate note shows the insurance company the significant extra work you performed—although it is not required by CPT
CPT® says: "If an abnormality/ies is encountered or a preexisting problem is addressed in the process of performing this preventive medicine evaluation and management service, and if the problem/abnormality is significant enough to require additional work to perform the key components of a problem-oriented E/M service, then the appropriate Office/Outpatient code 99201-99215 should be reported. Modifier 25 should be added to the Office/Outpatient code to indicate that a significant, separately identifiable E/M service was provided by the same physician on the same day as the preventive medicine service. The appropriate preventive medicine service is additionally reported."
###
Questions, comments?
If you have questions or comments about this article please contact us. Comments that provide additional related information may be added here by our Editors.
Latest articles: (any category)
What's Going on with the COVID Vaccines Now?
May 4th, 2023 - Wyn Staheli
Keeping up with the changes to the COVID vaccines has certainly been a rollercoaster ride and we now have two new twists to this exciting ride. Buckle up and let's look at how this changes things.
Reporting Modifiers 76 and 77 with Confidence
April 18th, 2023 - Aimee Wilcox
Modifiers are used to indicate that a procedure has been altered by a specific circumstance, so you can imagine how often modifiers are reported when billing medical services. There are modifiers that should only be applied to Evaluation and Management (E/M) service codes and modifiers used only with procedure codes. Modifiers 76 and 77 are used to identify times when either the same provider or a different provider repeated the same service on the same day and misapplication of these modifiers can result in claim denials.
Five Documentation Habits Providers Can Use Implement to Improve Evaluation & Management (E/M) Scoring
April 11th, 2023 - Aimee Wilcox
Provider education on E/M coding updates is vital to the success of any organization, but how do you whittle down the massive information into bite-sized pieces the providers can learn in just a few minutes? Check out the five steps we have identified to teach providers in just a few minutes that can significantly impact and improve coding outcomes.
Second Quarter 2023 Updates are Different This Year
April 6th, 2023 - Wyn Staheli
The second quarter of 2023 is NOT business as usual so it is important to pay attention to ensure that organizational processes and training take place to avoid mistakes. Not only have ICD-10-CM coding updates been added to the usual code set updates (e.g., CPT, HCPCS, ICD-10-PCS), but the end of the COVID-19 Public Health Emergency will bring about changes that will also take place during the quarter (but not on April 1, 2023.
7 Measures Developed by the HHS Office of Inspector General (OIG) to Identify Potential Telehealth Fraud
March 28th, 2023 - Aimee Wilcox
A recent review of telehealth services reported in Medicare claims data during the pandemic where these seven measures for identifying suspected fraud, waste, and abuse were applied, revealed more than a thousand Medicare providers potentially committed fraud during this period. What are the measures the OIG applied during their review, and how will that impact future telehealth guidelines moving forward?
MUEs and Bilateral Indicators
March 23rd, 2023 - Chris Woolstenhulme
MUEs are used by Medicare to help reduce improper payments for Part B claims. This article will address the use of the National Correct Coding Initiative (NCCI) and Medically Unlikely Edits (MUEs) and how they are used by CMS.
It is True the COVID-19 PHE is Expiring
March 16th, 2023 - Raquel Shumway
The COVID-19 PHE is Expiring, according to HHS. What is changing and what is staying the same? Make sure you understand how it will affect your practice and your patients.