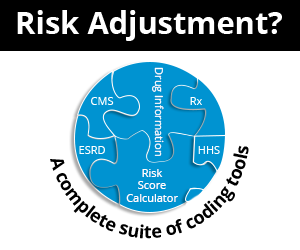 Important CDI and Coding Updates
February 1st, 2018 - Richard Pinson, MD, FACP, CCS, and Cynthia Tang, RHIA, CCS
---
COPD and Pneumonia The requirement for code
J44.0
(chronic obstructive pulmonary disease with acute lower respiratory infection) to be coded first when a patient has pneumonia and COPD has been eliminated as of October 1.

The 2018 version of ICD-10-CM replaced the "use additional code" with "code also." According to OCG Section I.A.17, the Code Also note "does not provide sequencing direction. The sequencing depends on the circumstances of the encounter."

We are now back to where the selection of principal diagnosis between COPD and Pneumonia will be "determined by the circumstances of admission, diagnostic workup and/or therapy provided" pursuant to OCG Section II (Selection of Principal Diagnosis).

Type 2 MI
With the 2018 ICD-10-CM, we finally have codes to identify Type 2 MI (primarily due to supply/demand mismatch) and make the important distinction between it and Type 1 (primarily due to coronary artery disease). In the past, Type 2 was coded as NSTEMI creating many practical problems especially since these two types of MI have completely different causes, pathophysiology, implications, outcomes and management.
Furthermore, this situation improperly labeled patients with supply/demand mismatch (Type 2) as having acute coronary thrombosis primarily due to coronary artery disease causing significant inaccuracy with consequences for patients, clinicians, and the healthcare data base statistics and analysis.
Type 2 MI (whether new initial or subsequent) is assigned to one code (
I21.A1
). The code also includes any description of MI being due to "demand ischemia" or "ischemic imbalance". As an MCC, the diagnosis of Type 2 MI has major severity impact affecting DRG assignment and quality reporting, just like Type 1 MI.

Now that a specific code exists for Type 2 MI, a supply/demand infarction should not be documented as NSTEMI since that term is reserved for MI due to coronary artery disease requiring aggressive intervention directed at thrombosis and occlusion of a coronary artery. Type 2 is managed by treating the underlying cause.
A diagnosis of "demand ischemia" has always been problematic. It is still assigned to code
I24.8
, Other forms of acute ischemic heart disease (a CC). Demand ischemia is supposed to be reserved for supply/demand mismatch causing ischemia without necrosis where biomarkers remain below the 99th percentile of the upper limit of reference
range,
but is often used by clinicians to describe what technically Type 2 MI is with biomarkers above the 99th percentile. A clinically correct distinction between demand ischemia and Type 2 MI is an important diagnostic and coding concern.

Encephalopathy due to Stroke
Coding Clinic Second Quarter 2017 responded to a question regarding whether or encephalopathy would be coded separately or considered inherent to a cerebral infarction when diagnosed with encephalopathy secondary to an acute lacunar infarct.
Coding Clinic instructions were to "Assign code
G93.49
,
other encephalopathy
, for encephalopathy that occurs secondary to an acute cerebrovascular accident/stroke. Although the encephalopathy is associated with an acute lacunar infarct, it is not inherent, and therefore is coded when it occurs.

There are two distinct categories of encephalopathy: acute and chronic. Many sources confuse and confound these categories, lumping them together as one. However, the chronic encephalopathies are characterized by a chronic mental status alteration that, in most cases, is slowly progressive. They result from permanent, usually irreversible, diffuse structural changes in the brain.

The vast majority of encephalopathy cases encountered in the inpatient setting are acute. Acute encephalopathy is characterized by an acute, diffuse, functional alteration of mental status due to underlying systemic factors rather than local intracranial processes. It is reversible when these abnormalities are corrected, with a return to baseline mental status. Acute encephalopathy may be further identified as toxic, metabolic, or toxic-metabolic depending on its systemic cause.

Ordinarily, from a clinical standpoint, a mental status change associated with focal intracranial processes (like CVA) is more an alteration of consciousness and responsiveness in the spectrum of coma, obtundation, and lethargy - objectively measured using the Glasgow Coma Scale (GCS) scoring - and not an encephalopathic process.

The unsettled question remains whether "encephalopathy due to CVA" is a clinically valid diagnosis that can be compliantly coded on claims, since Coding Clinic disclaims any authority to assert or establish clinical diagnostic definitions or standards. Based on the definitions and descriptions above of what encephalopathy is and is not, the diagnosis of encephalopathy due to CVA could be challenged. On the other hand, obtaining a GCS may reveal one of the component scores severe enough to qualify as an MCC.
Functional Quadriplegia
Although the FY 2018 Official Coding Guidelines no longer include a paragraph describing functional quadriplegia, it is still a valid diagnosis and ICD-10-CM code:
R53.2
Functional quadriplegia (MCC)
Complete immobility due to severe physical disability or frailty.
Excludes 1: Frailty (
R54
)
Hysterical paralysis (
F44.4
)
Immobility syndrome (
M62.3
)
Neurologic quadriplegia (G82.5-)
Quadriplegia (
G82.50
)
###
Questions, comments?
If you have questions or comments about this article please contact us. Comments that provide additional related information may be added here by our Editors.
Latest articles: (any category)
COVID Vaccine Coding Changes as of November 1, 2023
October 26th, 2023 - Wyn Staheli
COVID vaccine changes due to the end of the PHE as of November 1, 2023 are addressed in this article.
Medicare Guidance Changes for E/M Services
October 11th, 2023 - Wyn Staheli
2023 brought quite a few changes to Evaluation and management (E/M) services. The significant revisions as noted in the CPT codebook were welcome changes to bring other E/M services more in line with the changes that took place with Office or Other Outpatient Services a few years ago. As part of CMS' Medicare Learning Network, the "Evaluation and Management Services Guide" publication was finally updated as of August 2023 to include the changes that took place in 2023. If you take a look at the new publication (see references below),....
Can We Score Interpretation of an EKG Towards E/M Medical Decision Making?
October 10th, 2023 - Aimee Wilcox
When EKGs are performed in the facility setting or even in the physician's office, what are the requirements for reporting the service and who gets credit for scoring data points for Evaluation and Management (E/M) medical decision making (MDM)? Let's take a look at a few coding scenarios related to EKG services to get a better understanding of why this can be problematic.
Accurately Reporting Signs and Symptoms with ICD-10-CM Codes
October 5th, 2023 - Aimee Wilcox
Coders often find themselves unsure of when to report a sign or symptom code documented in the medical record. Some coders find their organization has an EHR that requires a working diagnosis, which is usually a sign or symptom, be entered to order a test or diagnostic study or image. Understanding the guidelines surrounding when signs and symptoms should be reported is the first step in correct coding so let's take a look at some scenarios.
The 2024 ICD-10-CM Updates Include New Codes for Reporting Metabolic Disorders and Insulin Resistance
September 19th, 2023 - Aimee Wilcox
Diabetes is a chronic disease that just seems to consistently be increasing instead of improving resulting in a constant endeavor by medical researchers to identify causal effects and possible treatments. One underlying or precipitating condition that scientists have identified as a precipitating factor in the development of diabetes is insulin resistance, which is a known metabolic disorder. As data becomes available through claims reporting, additional code options become possible with ICD-10-CM.
Documenting and Reporting Postoperative Visits
September 12th, 2023 - Aimee Wilcox
Sometimes we receive questions regarding documentation requirements for specific codes or coding requirements and we respond with information and resources to support our answers. The following question was recently submitted: Are providers required to report postoperative services on claims using 99024, especially if there is no payment for that service? What documentation is required if you are reporting an unrelated Evaluation and Management (E/M) service by the same physician during the postoperative period? 
Understanding Gastroesophageal Reflux Disease and ICD-10-CM Coding
August 22nd, 2023 - Aimee Wilcox
Gastroesophageal reflux disease or GERD for short, is a disease that impacts millions of Americans on a weekly basis. Symptoms are uncomfortable, as are some of the tests used to diagnose it, but understanding the disease, tests, and treatments helps us better understand how to code the disease using ICD-10-CM codes.