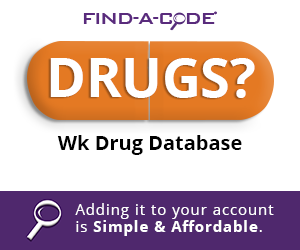 Compliance: What is it and Why is it Important
January 22nd, 2018 - Joan S. Hartman, RHIT
---
Compliance. It is one of the buzz words in healthcare that is heard all the time but what is it really, and why is it so important?
Dictionary.com defines compliance as
1. the act of conforming, acquiescing, or yielding.
2. a tendency to yield readily to others, especially in a weak and subservient way.
3. conformity; accordance: in compliance with orders.
4. cooperation or obedience: Compliance with the law is expected of all.
Quite simply put, it is following the rules. In healthcare, patients are expected to be "in compliance with orders" from their physicians and "compliance with the law is expected of all" healthcare workers and healthcare facilities. There are rules and regulations from insurance companies, government agencies, and regulatory agencies that must be followed. There are numerous regulatory bodies that a healthcare organization and workers must be compliant with: OSHA, FDA, CDC, ODH, TJC, HFAP, CMS, and the list goes on and on. CMS and TJC are regulatory bodies that HIM professionals deal with extensively.
Why is it important that the rules are followed? Reimbursement is a major reason to remain compliant, but staying out of jail and keeping one's job is pretty important too. All too often there is someone or some facility in the headlines for not following the rules.
Just last month the OIG published a report that says $4.4 billion returned plus billions more are anticipated in estimated saving. The report goes on to say for a 6 month time period in FY2017, around $296.4 million would be returned to the Department of Health and Human Services based on OIG program audits. There is not just a monetary impact. According to the OIG report, 3,244 individuals and entities have been excluded from Federal health care programs. Excluded individuals are not just physicians or clinical professionals, but coders, office administrators/managers, and office staff are included.
It is reported in July 2017 the OIG and its law enforcement partners executed the largest health care fraud takedown in history. The takedown covered 41 Federal districts, more than 400 defendants, and about $1.3 billion in false billings to Medicare and Medicaid.
With findings like these, we can only expect to see more investigations, more audits. To find out what's new with the OIG visit https://oig.hhs.gov/newsroom/whats-new/index.asp
As HIM professionals our roles in compliance will only grow. As an individual, it is more important than ever that you are diligent in everything you do. Now might be a good time to refresh yourself on your organization's compliance policy and reporting method. And if you are looking at making a transition to a new role, consider a role in compliance.
About the Author
Joan S. Hartman, RHIT is a Sr. Analyst of Ethics and Compliance at Ohio Health. She also serves on the 2017-18 OHIMA Newsletter Committee.

The Ohio Health Information Management Association (OHIMA) is Ohio's professional healthcare organization of 4000 credentialed specialists in the field of health information management (HIM). OHIMA is a non-profit, component state association affiliated with the American Health Information Management Association (AHIMA) and their 103,000 credentialed health information management professionals nationwide. www.ohima.org
###
Questions, comments?
If you have questions or comments about this article please contact us. Comments that provide additional related information may be added here by our Editors.
Latest articles: (any category)
Reporting Modifiers 76 and 77 with Confidence
April 18th, 2023 - Aimee Wilcox
Modifiers are used to indicate that a procedure has been altered by a specific circumstance, so you can imagine how often modifiers are reported when billing medical services. There are modifiers that should only be applied to Evaluation and Management (E/M) service codes and modifiers used only with procedure codes. Modifiers 76 and 77 are used to identify times when either the same provider or a different provider repeated the same service on the same day and misapplication of these modifiers can result in claim denials.
Five Documentation Habits Providers Can Use Implement to Improve Evaluation & Management (E/M) Scoring
April 11th, 2023 - Aimee Wilcox
Provider education on E/M coding updates is vital to the success of any organization, but how do you whittle down the massive information into bite-sized pieces the providers can learn in just a few minutes? Check out the five steps we have identified to teach providers in just a few minutes that can significantly impact and improve coding outcomes.
Second Quarter 2023 Updates are Different This Year
April 6th, 2023 - Wyn Staheli
The second quarter of 2023 is NOT business as usual so it is important to pay attention to ensure that organizational processes and training take place to avoid mistakes. Not only have ICD-10-CM coding updates been added to the usual code set updates (e.g., CPT, HCPCS, ICD-10-PCS), but the end of the COVID-19 Public Health Emergency will bring about changes that will also take place during the quarter (but not on April 1, 2023.
7 Measures Developed by the HHS Office of Inspector General (OIG) to Identify Potential Telehealth Fraud
March 28th, 2023 - Aimee Wilcox
A recent review of telehealth services reported in Medicare claims data during the pandemic where these seven measures for identifying suspected fraud, waste, and abuse were applied, revealed more than a thousand Medicare providers potentially committed fraud during this period. What are the measures the OIG applied during their review, and how will that impact future telehealth guidelines moving forward?
MUEs and Bilateral Indicators
March 23rd, 2023 - Chris Woolstenhulme
MUEs are used by Medicare to help reduce improper payments for Part B claims. This article will address the use of the National Correct Coding Initiative (NCCI) and Medically Unlikely Edits (MUEs) and how they are used by CMS.
It is True the COVID-19 PHE is Expiring
March 16th, 2023 - Raquel Shumway
The COVID-19 PHE is Expiring, according to HHS. What is changing and what is staying the same? Make sure you understand how it will affect your practice and your patients.
Billing Process Flowchart
March 2nd, 2023 -
The Billing Process Flowchart (see Figure 1.1) helps outline the decision process for maintaining an effective billing process. This is only a suggested work plan and is used for demonstration purposes to illustrate areas which may need more attention in your practice's policies and...