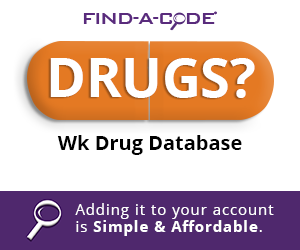 Requirements for Physicians Orders for DME/HCPCS
March 2nd, 2017 - Chris Woolstenhulme, CPC, CMRS
0 Votes -

Sign in

to vote or comment.
---
Effective July 1, 2013, certain DME/HCPCS codes require a valid detailed written order prior to delivery. There are very specific rules and requirements requiring medical necessity and orders/prescriptions. It is also required to keep a copy in the patients chart. If billing CMS and commercial payers payers, the DME prescribed may be denied as non-covered if a proper order is not on file. Without proper physicians orders, reimbursement is not made and by contractual agreement the patient is not liable.
If you are dispensing in your office be sure you are a contracted supplier with a DME number. If you are are the referring or the ordering physician/supplier be sure the following requirements are met:
Physician Orders: The supplier for all Durable Medical Equipment, Prosthetic, and Orthotic Supplies (DMEPOS) is required to keep on file a physician prescription (order). A supplier must have an order from the treating physician before dispensing any DMEPOS item to a beneficiary.
Verbal and Preliminary Written Orders: With some exceptions suppliers may dispense most items of DMEPOS based on a verbal order or preliminary written order from the treating physician.
NOTE: If the supplier does not have an order from the treating physician before dispensing an item, the contractor shall consider the item as noncovered.
Covered orders must include:
description of the item
the beneficiary's name
the physician's name
start date of the order
the DME item ordered
the NPI of the prescribing physician/practitioner
signature of the prescribing physician/practitioner and the date of the order.
**If this information is not included on the written order, the claim will be denied**
Medicare requires that the written order is completed after the face-to-face encounter. If the date of the written order is prior to the date of the face-to-face encounter, the contractor shall deny the claim.
Suppliers must maintain the preliminary written order or written documentation of the verbal order and this documentation must be available to the DME MACs, Zone Program Integrity Contractors (ZPICs) or other CMS review contractor upon request. If the supplier does not have an order from the treating physician before dispensing an item, the contractor shall consider the item as noncovered.For items that are dispensed based on a verbal order or preliminary written order, the supplier must obtain a detailed written order that meets the requirements of section 5.2.3 before submitting the claim.
Detailed Written Orders: Detailed written orders may take the form of a photocopy, facsimile image, electronically maintained, or original "pen-and-ink" document. The written order must be sufficiently detailed, including all options or additional features that will be separately billed or that will require an upgraded code. The description can be either a narrative description (e.g., lightweight wheelchair base) or a brand name/model number. All orders must clearly specify the start date of the order.
If the written order is for supplies that will be provided on a periodic basis, the written order should include appropriate information on the quantity used, frequency of change, d duration of need. For example, an order for surgical dressing might specify one 4 x 4
hydrocolloid dressing that is changed 1-2 times per week for 1 month or until the ulcer heals.
If the supply is a drug, the order must specify the name of the drug, concentration (if applicable), dosage, frequency of administration, and duration of infusion (if applicable).
Face-to-Face Encounter Requirements: For covered items a physician, a physician assistant (PA), a nurse practitioner (NP) or a clinical nurse specialist (CNS) must document that he/she has had a face-to-face encounter with the beneficiary within six (6) months prior to completing the written order. On claims selected for review if there is no documentation of a face-to-face encounter, contractors shall deny the claim when directed by CMS.
If the physician is not billing the E&M code and a PA, NP or CNS performed a face-to-face encounter for covered items consider billing the following G-Code;
G0454 - Physician documentation of face-to-face visit for durable medical equipment determination performed by nurse practitioner, physician assistant or clinical nurse specialist.
Reference:
- Medicare Program Integrity Manual Chapter 5 – Items and Services Having Special DME Review Considerations
###
Questions, comments?
If you have questions or comments about this article please contact us. Comments that provide additional related information may be added here by our Editors.
Latest articles: (any category)
Coding with PCS When There is No Code
August 5th, 2020 - Christine Woolstenhulme, QCC, QMCS, CPC, CMRS
ICD-10-PCS covers ALMOST everything! But not quite! What if a body system does not contain a body part for toes or fingers? What about an elbow? When it does not cover what you are looking for, where do you turn?  To the guidelines, of course! There are ICD-10-PCS guidelines just as ...
To Our Codapedia Friends!
July 30th, 2020 - Christine Woolstenhulme, QCC, QMCS, CPC, CMRS
Codapedia friends, come and join us at Find-A-Code - a core product of innoviHealth! The information found on Codapedia comes from our sister company, Find-A-Code. If you do not already have a subscription with the greatest online coding encyclopedia, call us and get signed up today. We are offering a ...
OIG Report Highlights Need to Understand Guidelines
July 28th, 2020 - Wyn Staheli, Director of Research
A new OIG report once again highlights the necessity for organizations to fully understand requirements for reporting services and having proper documentation. The types of problems addressed in this report are ongoing issues for multiple types of services and specialties and for many different payers.
Office of Inspector General Says Medicare Advantage Organizations are Denying Services Inappropriately
July 21st, 2020 - Aimee Wilcox
We attended the recent virtual RISE National Conference and had the opportunity to listen to presenters share their knowledge about risk adjustment and HCC reporting and data validation. Among the presenters were representatives from the Office of Inspector General (OIG), who presented findings from encounter data from 2012-2016. They began ...
Use the Correct Diagnosis Codes and Revenue Codes to Get Paid for PAD Rehab
July 15th, 2020 - Christine Woolstenhulme, QCC, QMCS, CPC, CMRS
The initial treatment in rehabilitation for patients suffering from Intermittent Claudication (IC) is Supervised Exercise Therapy (SET) for Symptomatic Peripheral Artery Disease (PAD).  Rehabilitation using SET involves the use of intermittent walking exercise, which alternates periods of walking to moderate-to-maximum claudication, with rest.   When reporting 93668 for peripheral arterial disease rehabilitation the following ...
New Name Same Great Product! "HCC Plus"
July 14th, 2020 - Find-A-Code
Hello HCC Customers! We have made a change in name only to our HCC subscription. The new subscription is now called "HCC Plus". Keep in mind there have been no changes to the product. Using your subscription along with the risk adjustment calculator will ensure you stay current with...
Are NCCI Edits Just for Medicare?
July 14th, 2020 - Christine Woolstenhulme, QCC, QMCS, CPC, CMRS
The National Correct Coding Initiative (NCCI) edits were developed by CMS to help promote proper coding and control improper coding that leads to incorrect payments with part B claims. It is important to understand that NCCI edits do not include every possible code combination or every type of un-bundling combination. With that ...