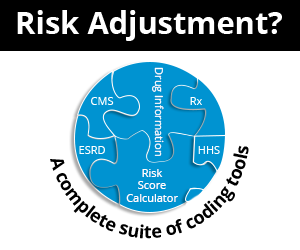 Documentation: Carrying Forward or Ineffective Use of Templates
June 30th, 2017 - Shannon DeConda
0 Votes -

Sign in

to vote or comment.
---
I often receive questions such as the below from our members regarding E&M scoring:
"I have heard that if information is 'cloned' or 'moved forward' from a previous visit, we should not count that info in scoring. However, I have also read that if a provider moves the info forward and also documents that it is the same or unchanged, then we are able to use that information. Can you clarify?"
The problem is that everyone says that CMS says you cannot copy/paste and/or clone documentation, but try to find that in black and white. CMS now has a clarification posted in the Program Integrity Issues in Electronic Health Records: An Overview that defines copy/paste. It does not say it cannot count, but actually gives us a definition of copy/paste. Even this document gives some definition, but unfortunately it does not provide you with concrete guidance on the matter.
What I can say is that I believe documentation is now superseding the actual care of the patient in healthcare, and given that, I think we must use our knowledge and place true relevancy as to what was carried forward. If the PFSH is carried forward- is that truly wrong? Well, considering that Documentation Guidelines (DG) allows a patient themselves to document their own PFSH or ancillary staff to perform the work- as long as the provider has reviewed it- it counts. How can you argue that carrying forward the sit me information, provided it was reviewed by the provider, is any less traumatic?
We know that HPI, Exam, and Medical Decision Making (MDM) must all be specific to the patient encounter and relevant to the patient's presenting problem. Information carried forward may be found in HPI typically occurs when the provider pulls the old HPI from a previous encounter. Provided they then label it as previous HPI and today's HPI for the purposes of good patient care- then it's completely acceptable. Exams are typically not brought forward, but rather a product of "push button finger" within the EMR- so before you consider these as carry forward; consider that the provider may just not be effectively using their templates.
Diagnoses will sometimes carry forward as a problem list for the patient, but again that would not be a problem, because we are only going to count what was relevant to today's encounter. Regarding the data and complexity of what was reviewed, I have seen MANY inpatient EMRs such a Cerner that hold ALL inpatient testing in every note. Again, I'm not going to ping the provider for carrying forward, but rather not count it if he/she doesn't create the relevancy. For example- Patient is IP for 10 days and the chest x-ray from admit day 1 is on my 99231 encounter for day 9 (as well as every day), we must be sensible and understand that unless there is a reasonable cause within the documentation that the provider has needed to re-evaluate that x-ray for 10 days- then we just don't count it.
The plan of care should ALWAYS be patient and encounter specific. I do see more and more that encounters are looking macro populated, but think about what many of these are. For example, Provider told the patient to take vitamins and wash eye lids effectively everyday.... Will that really affect your encounter to a higher level of service? Then let it go!
So, my answer is this: evaluate if the documentation is REALLY carry forward or just an instance of poor template usage. If it is carry forward, is the information carried forward really impacting the care of the patient and pertinent to today's visit?
###
Questions, comments?
If you have questions or comments about this article please contact us. Comments that provide additional related information may be added here by our Editors.
Latest articles: (any category)
HIPAA Penalty Changes
January 11th, 2021 - Wyn Staheli, Director of Research
On January 5, 2021, H.R. 7898 was signed into law by President Trump. This new law modifies the HITECH Act such that when an organization experiences a breach, fines and/or penalties may be reduced if (for at least a year) they have instituted "recognized security practices" as defined within the law.
CDT and CPT - The Same but Different!
December 8th, 2020 - Christine Woolstenhulme, QCC, QMCS, CPC, CMRS
Reporting a CPT code for an evaluation of a patient is based on time and if the patient is a new or established patient. Evaluation and Management codes are different than other codes, it is important to understand how they are used, prior to 2021 they were based on a ...
How to Search Find-A-Code for Medicare Policies and Guidelines — LCDs, NCDs and Articles —
November 18th, 2020 - Raquel Shumway
Help for Searching Find-A-Code when searching for Medicare Policies and Guidelines — LCDs, NCDs and/or Articles.
Cross-A-Code Instructions in Find-A-Code
November 18th, 2020 - Raquel Shumway
Cross-A-Codeis a toll found in Find-A-Code which helps you to locate codes in other code sets that help you when submitting a claim.
COVID Vaccine Codes Announced
November 11th, 2020 - Wyn Staheli, Director of Research
On November 10, 2020, the American Medical Association (AMA) announced the addition of two new codes which will be used for the new COVID-19 vaccines along with 4 new administration codes to be used when reporting the administration of these vaccines.
Are You Aware of the 2021 Star Rating System Updates?
November 5th, 2020 - Aimee Wilcox, CPMA, CCS-P, CST, MA, MT, Director of Content
Each year the Centers for Medicare & Medicaid Services (CMS) publishes the Star Ratings System Updates for Medicare Advantage (Part C) and Medicare Prescription (Part D). This rating system was developed to help beneficiaries identify and select the health plans that best meet their needs, specifically addressing main issues:  Quality of ...
Special Needs Plans Help Beneficiaries and Risk Adjustment Reporting
October 22nd, 2020 - Aimee Wilcox, CPMA, CCS-P, CST, MA, MT, Director of Content
It is no secret that Medicare and Medicaid are steadily moving towards their goal of value-based health care. Medicare Part C (Medicare Advantage) identifies and rewards payers, and subsequently their providers, for increasing the efficiency and quality of care they provide to Medicare...