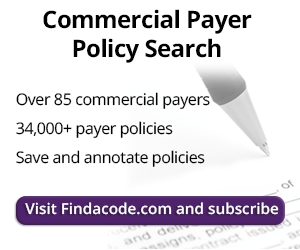 Health Care Fraud - Don't Do It!
July 31st, 2017 - Chris Woolstenhulme, CPC, CMRS
1 Vote -

Sign in

to vote or comment.
---
If you wonder if what you are doing is fraud, DON'T DO IT! The government takes this extremely seriously. I don't need to tell you this.
I have often been apprehensive about making a mistake and I wonder, will it be fraud? Will I spend time in jail for accidentally sending in a duplicate claim? In short, fraud is an intentional deception or misrepresentation.
Let's not panic; there is a distinction between intentional fraud and an error. In regards to the 46 year old Denver woman, it was proved to be intentional. This was not an accidental duplicate claim.
The OIG posted this article on July 27th, 2017.
"Denver Woman Sentenced To 46 Months' Imprisonment for Health Care Fraud"
The US attorney's office reported, "According to United States Attorney Bruce D. Brandler, as a result of prior convictions relating to Medicaid fraud, Sensenig was excluded from providing healthcare to Medicaid beneficiaries. In order to obtain a position as a behavioral health consultant, Sensenig made false representations, including a forged background check, in order to hide her ineligible status. As a result, Medicaid paid approximately $84,500 for her services."
USA Today reported on July 13th, 2017:
"Jeff Sessions: 400 medical professionals charged in largest health care fraud takedown"
"Sessions said the suspects accounted for more than $1.3 billion in fraudulent transactions across more than 20 states, and at least 120 people were charged for their alleged roles in overprescribing and distributing opioids, making it also the largest-ever opioid-related fraud takedown.
Of the 412 charged in the year-long operation, 56 were physicians."
Of course, the OIG has a most wanted fugitive list. If you ever decide you want your name on that list and make a contentious decision that is your goal in life, and you no longer need your license you worked so hard for, you can get on this list. Hint: you never want to be on that list, but just in case you have any questions about how to get on it, here are just a few areas of conduct that will certainly place your name on the OIG's most wanted list.
Bill Medicare for durable medical equipment (DME) and supplies that either were not provided or were medically unnecessary
Conspiracy to defraud the United States
Commit health care fraud
Pay kickbacks
Money laundering
Conspiracy to commit money laundering
Medical treatments that were never provided or were medically unnecessary
Aggravated identity theft
False claims
False statements related to health care matters
Falsification of records
False Medicare claims for durable medical equipment (DME) that was medically unnecessary or was not provided to beneficiaries
Some of the less obvious but common areas of fraud are just as serious, such as:
Waiving patient co-payments and deductibles
Prescribing drugs unnecessarily
Inaccurate reporting of patient diagnoses and procedures
This list could go on-and-on. The other side to this is that it's not only payers and the government that pays for dishonest providers; the affect is far-reaching. Starting with the elderly, Medicare beneficiaries are commonly scammed using benefits that count toward a lifetime or other limited benefit. On an even more personal note, it is estimated that American taxpayers will pay between $50-90 Billion annually for Medicare fraud alone.
Most providers follow good medical practices, are outstanding providers, and take their oath seriously. The National Health Care Anti-Fraud Association (NHCAA) states the majority of healthcare fraud is committed by a very small minority of dishonest healthcare providers."
We can all do our part by keeping an eye out for perpetrators of healthcare fraud. Lowering health care fraud and abuse should potentially begin to lower healthcare costs. This certainly affects all of us personally.
To report Medicare fraud, contact Medicare at 1-800-MEDICARE (1-800-633-4227), 24 hours a day, 7 days a week. If you're a TTY user, call 1-877-486-2048.
###
Questions, comments?
If you have questions or comments about this article please contact us. Comments that provide additional related information may be added here by our Editors.
Latest articles: (any category)
Impact of 2021 Proposed Medicare Fee Schedule on Chiropractic Offices
August 7th, 2020 - Wyn Staheli, Director of Research
On August 3, 2020, the proposed Medicare Physician Fee Schedule for 2021 was released. This 1,355 page document includes some sweeping changes to the Medicare program. There are a few items in particular which should be noted by chiropractic offices.
Coding with PCS When There is No Code
August 5th, 2020 - Christine Woolstenhulme, QCC, QMCS, CPC, CMRS
ICD-10-PCS covers ALMOST everything! But not quite! What if a body system does not contain a body part for toes or fingers? What about an elbow? When it does not cover what you are looking for, where do you turn?  To the guidelines, of course! There are ICD-10-PCS guidelines just as ...
To Our Codapedia Friends!
July 30th, 2020 - Christine Woolstenhulme, QCC, QMCS, CPC, CMRS
Codapedia friends, come and join us at Find-A-Code - a core product of innoviHealth! The information found on Codapedia comes from our sister company, Find-A-Code. If you do not already have a subscription with the greatest online coding encyclopedia, call us and get signed up today. We are offering a ...
OIG Report Highlights Need to Understand Guidelines
July 28th, 2020 - Wyn Staheli, Director of Research
A new OIG report once again highlights the necessity for organizations to fully understand requirements for reporting services and having proper documentation. The types of problems addressed in this report are ongoing issues for multiple types of services and specialties and for many different payers.
Office of Inspector General Says Medicare Advantage Organizations are Denying Services Inappropriately
July 21st, 2020 - Aimee Wilcox
We attended the recent virtual RISE National Conference and had the opportunity to listen to presenters share their knowledge about risk adjustment and HCC reporting and data validation. Among the presenters were representatives from the Office of Inspector General (OIG), who presented findings from encounter data from 2012-2016. They began ...
Use the Correct Diagnosis Codes and Revenue Codes to Get Paid for PAD Rehab
July 15th, 2020 - Christine Woolstenhulme, QCC, QMCS, CPC, CMRS
The initial treatment in rehabilitation for patients suffering from Intermittent Claudication (IC) is Supervised Exercise Therapy (SET) for Symptomatic Peripheral Artery Disease (PAD).  Rehabilitation using SET involves the use of intermittent walking exercise, which alternates periods of walking to moderate-to-maximum claudication, with rest.   When reporting 93668 for peripheral arterial disease rehabilitation the following ...
New Name Same Great Product! "HCC Plus"
July 14th, 2020 - Find-A-Code
Hello HCC Customers! We have made a change in name only to our HCC subscription. The new subscription is now called "HCC Plus". Keep in mind there have been no changes to the product. Using your subscription along with the risk adjustment calculator will ensure you stay current with...