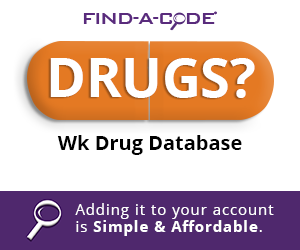 Prolonged Services: A General Discussion
February 18th, 2009 - Codapedia Editor
0 Votes -

Sign in

to vote or comment.
---
Prolonged services are add on codes, used to indicate that the physician or Non-Physician Practitioner spent 30 minutes more than the typical time for that code with the patient.
See the Codapedia articles on prolonged services in the office (face-to-face) and prolonged services in the hospital (face-to-face). That article providers detail on using codes 99354-99358. This article is an overview. See the article about non-face-to-face prolonged services, as well, for more detail about those codes.
There are two sets of CPT® codes which indicate prolonged services. All of these codes are add-on codes. They have + signal in front them in the book, which indicates that they may never be used alone. They must always be used with another code. In the case of prolonged services, there are specific, limited codes on which they can be added. By CPT® rules, prolonged services may not be added to any code in the CPT® book.
There are two sets of codes: those with face-to-face contact and those without face-to-face contact. The non-face-to-face codes (99358-99359) are generally not covered by insurance companies and are never covered by Medicare. Medicare's policy on these is so short, it is reproduced in its entirety below:
30.6.15.2 - Prolonged Services Without Direct Face-to-Face Patient
Contact Service (Codes 99358 - 99359)
(Rev. 1490, Issued: 04-11-08, Effective: 07-01-08, Implementation: 07-07-08)

Contractors may not pay prolonged services codes 99358 and 99359, which do not
require any direct patient face-to-face contact (e.g., telephone calls). Payment for these
services is included in the payment for direct face-to-face services that physicians bill.
The physician cannot bill the patient for these services since they are Medicare covered
services and payment is included in the payment for other billable services.

Although there are RVUs assigned to these codes, they have a status indicator of B, bundled. Medicare will never pay for them, because they believe they already have paid you, as part of another E/M service. There are CPT® and HCPCS codes for Care Plan Oversight and Home Health Agency Certification and recertification. See the articles about these codes in Codapedia.
The prolonged services codes with face-to-face service are further divided into office/outpatient/home services (99354-99355) and inpatient services (99356-99357).
###
Questions, comments?
If you have questions or comments about this article please contact us. Comments that provide additional related information may be added here by our Editors.
Latest articles: (any category)
How to Search Find-A-Code for Medicare Policies and Guidelines — LCDs, NCDs and Articles —
November 18th, 2020 - Raquel Shumway
Help for Searching Find-A-Code when searching for Medicare Policies and Guidelines — LCDs, NCDs and/or Articles.
Cross-A-Code Instructions in Find-A-Code
November 18th, 2020 - Raquel Shumway
Cross-A-Codeis a toll found in Find-A-Code which helps you to locate codes in other code sets that help you when submitting a claim.
COVID Vaccine Codes Announced
November 11th, 2020 - Wyn Staheli, Director of Research
On November 10, 2020, the American Medical Association (AMA) announced the addition of two new codes which will be used for the new COVID-19 vaccines along with 4 new administration codes to be used when reporting the administration of these vaccines.
Are You Aware of the 2021 Star Rating System Updates?
November 5th, 2020 - Aimee Wilcox, CPMA, CCS-P, CST, MA, MT, Director of Content
Each year the Centers for Medicare & Medicaid Services (CMS) publishes the Star Ratings System Updates for Medicare Advantage (Part C) and Medicare Prescription (Part D). This rating system was developed to help beneficiaries identify and select the health plans that best meet their needs, specifically addressing main issues:  Quality of ...
Special Needs Plans Help Beneficiaries and Risk Adjustment Reporting
October 22nd, 2020 - Aimee Wilcox, CPMA, CCS-P, CST, MA, MT, Director of Content
It is no secret that Medicare and Medicaid are steadily moving towards their goal of value-based health care. Medicare Part C (Medicare Advantage) identifies and rewards payers, and subsequently their providers, for increasing the efficiency and quality of care they provide to Medicare...
CMS Expands Telehealth Again
October 20th, 2020 - Wyn Staheli, Director of Research
On October 14, 2020, CMS announced further changes to expand telehealth coverage. Eleven (11) new codes have been added to their list of covered services bringing the current total to 144 services. The new services include some neurostimulator analysis and programming services as well as some cardiac and pulmonary rehabilitation services.
Significant COVID-19 Code Changes as of October 6
October 8th, 2020 - Wyn Staheli, Director of Research
Significan COVID-19 Code Changes as of October 6