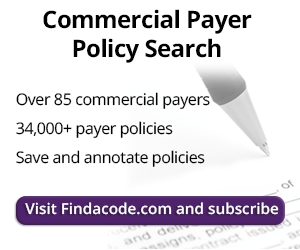 Aging Report
February 15th, 2009 - Codapedia Editor
0 Votes -

Sign in

to vote or comment.
---
Run your aging report every month in summary and in detail by payer class. A good goal is to have less than 20% of your total accounts receivable 120 days or older. Practices with great accounts receivable policies and procedures can have a lower percentage than this.
Remember, young is good in terms of accounts receivable. The Medical Group Management Association (MGMA) tells us that the older the debt is to the physician practice, the less likely it is for the practice to collect it.
There are a few important points to remember when running your aging report. Make sure you are running it without credit balances. If you have credit balances on your system, it makes it look like you have fewer old accounts. Make sure to run the report by date of service, not by date posted or the date the claim was resubmitted. Some practice management program counts the date of the claim submission as the age of the claim for the aging report. When that happens, resubmitting a claim moves that claim to the current account receivable aging category, making it look like your accounts receivable is younger than it is.
Watch your patient due balances. If you find that your patient due balances are increasing, improve your collection efforts.
Watch your payer classes. If you find that one or two payers are stretching out their payments to you, you want to make sure you know the reason why immediately. Is there a problem with claim submitting? A problem at the clearinghouse? Is the payer slowing down their payments? Is the problem in your practice, with either charge capture or claims submission? Your aging report serves as an early warning system for all of these things.
Norms for your specialty can be purchased either from Practice Support Resources or from the Medical Group Management Association (MGMA). Your specialty society may also be able to help with this.
###
Questions, comments?
If you have questions or comments about this article please contact us. Comments that provide additional related information may be added here by our Editors.
Latest articles: (any category)
CMS and HHS Tighten Enrollment Rules and Increase Penalties
October 1st, 2019 - Wyn Staheli, Director of Research
This ruling impacts what providers and suppliers are required to disclose to be considered eligible to participate in Medicare, Medicaid, and Children's Health Insurance Program (CHIP). The original proposed rule came out in 2016 and this final rule will go into effect on November 4, 2019. There have been known problems ...
Federal Workers Compensation Information
October 1st, 2019 - Wyn Staheli, Director of Research
When federal employees sustain work-related injuries, it does not go through state workers compensation insurance. You must be an enrolled provider to provide services or supplies. The following are some recommended links for additional information about this program. Division of Federal Employees' Compensation (DFEC) website Division of Federal Employees' Compensation (DFEC) provider ...
E-Health is a Big Deal in 2020
September 16th, 2019 - Chris Woolstenhulme, QCC, CMCS, CPC, CMRS
The new 2020 CPT codes are on the way! We are going to see 248 new codes, 71 deletions, and 75 revisions. Health monitoring and e-visits are getting attention; 6 new codes play a vital part in patients taking a part in their care from their own home. New patient-initiated ...
Chiropractic 2020 Codes Changes Are Here
September 9th, 2019 - Wyn Staheli, Director of Research
There are some interesting coding changes which chiropractic offices will want to know about. Are codes that you are billing changing?
Q/A: Is the Functional Rating Index by Evidence-Based Chiropractic Valid?
September 9th, 2019 - Wyn Staheli, Director of Research
Question Is the Functional Rating Index, from the Institute of Evidence-Based Chiropractic, valid and acceptable? Or do we have to use Oswestry and NDI? Answer You can use any outcome assessment questionnaire that has been normalized and vetted for the target population and can be scored so you can compare the results from ...
List of Cranial Nerves
September 3rd, 2019 - Find-A-Code
Cranial nerves are involved with some of our senses such as vision, hearing and taste, others control certain muscles in the head and neck. There are twelve pairs of cranial nerves that lead from the brain to the head, neck and trunk. Below is a list of Cranial Nerves and ...
So How Do I Get Paid for This? APC, OPPS, IPPS, DRG?
August 21st, 2019 - Chris Woolstenhulme, QCC, CMCS, CPC, CMRS
You know how to find a procedure code and you may even know how to do the procedure, but where does the reimbursement come from?  It seems to be a mystery to many of us, so let's clear up some common confusion and review some of the main reimbursement systems.  One of the ...