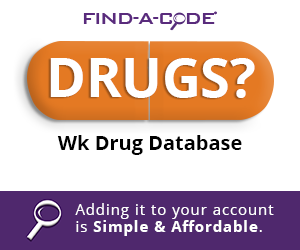 CMS expands coverage for three drug regimen to fight nausea during chemotherapy
September 3rd, 2014 - Scott Kraft
0 Votes -

Sign in

to vote or comment.
---
Physician practices will soon be able to get paid for use of a three-drug antiemetic regimen used to prevent nausea and vomiting by patients receiving chemotherapy for an expanded list of chemotherapy drugs, under a National Coverage Determination recently posted by CMS. The change in coverage is effective retroactive to May 29, 2013, though MACs will have until July 7, 2014, to implement the change.
The three drug regimen – an oral aprepitant (J8501), an oral 5Ht3 antagonist (Q0166, Q0179, Q0180) and oral dexamethasone (J8540) – is already covered for nine chemotherapy agents. The NCD expands coverage to cases when the patient is receiving one of these 11 chemotherapy agents being added to the covered list:
Alemtuzumab (J9010)
Azacitidine (J9025)
Bendamustine (J9033)
Carboplatin (J9045)
Clofarabine (J9027)
Cytarabine (J9098, J9100, J9110)
Daunorubicin (J9150, J9151)
Idarubicin (J9211)
Ifosfamide (J9208)
Irinotecan (J9206)
Oxaliplatin (J9263)
Individual MACs will have the discretion to determine coverage for any other oral three-drug regimens that may reduce nausea or vomiting with either the listed chemotherapy agents or others. Any new FDA-approved drug that meets the criteria for use with this three-drug regimen should be billed with unspecified code Q0181 until a specific code is assigned to the drug.
Any claims with dates of service of on or after May 29, 2013 that were denied may be resubmitted for payment. Use of oral aprepitant code J8501 or the not otherwise classified code Q0181 will be denied for services on or after May 29, 2013, if the diagnosis codes V58.11 or Z51.11 are not on the claim.
The three-drug regimen must be administered either immediately before or within 48 hours after anti-cancer chemotherapy and would replace a covered non self-administered drug.
###
Questions, comments?
If you have questions or comments about this article please contact us. Comments that provide additional related information may be added here by our Editors.
Latest articles: (any category)
How to Search Find-A-Code for Medicare Policies and Guidelines — LCDs, NCDs and Articles —
November 18th, 2020 - Raquel Shumway
Help for Searching Find-A-Code when searching for Medicare Policies and Guidelines — LCDs, NCDs and/or Articles.
Cross-A-Code Instructions in Find-A-Code
November 18th, 2020 - Raquel Shumway
Cross-A-Codeis a toll found in Find-A-Code which helps you to locate codes in other code sets that help you when submitting a claim.
COVID Vaccine Codes Announced
November 11th, 2020 - Wyn Staheli, Director of Research
On November 10, 2020, the American Medical Association (AMA) announced the addition of two new codes which will be used for the new COVID-19 vaccines along with 4 new administration codes to be used when reporting the administration of these vaccines.
Are You Aware of the 2021 Star Rating System Updates?
November 5th, 2020 - Aimee Wilcox, CPMA, CCS-P, CST, MA, MT, Director of Content
Each year the Centers for Medicare & Medicaid Services (CMS) publishes the Star Ratings System Updates for Medicare Advantage (Part C) and Medicare Prescription (Part D). This rating system was developed to help beneficiaries identify and select the health plans that best meet their needs, specifically addressing main issues:  Quality of ...
Special Needs Plans Help Beneficiaries and Risk Adjustment Reporting
October 22nd, 2020 - Aimee Wilcox, CPMA, CCS-P, CST, MA, MT, Director of Content
It is no secret that Medicare and Medicaid are steadily moving towards their goal of value-based health care. Medicare Part C (Medicare Advantage) identifies and rewards payers, and subsequently their providers, for increasing the efficiency and quality of care they provide to Medicare...
CMS Expands Telehealth Again
October 20th, 2020 - Wyn Staheli, Director of Research
On October 14, 2020, CMS announced further changes to expand telehealth coverage. Eleven (11) new codes have been added to their list of covered services bringing the current total to 144 services. The new services include some neurostimulator analysis and programming services as well as some cardiac and pulmonary rehabilitation services.
Significant COVID-19 Code Changes as of October 6
October 8th, 2020 - Wyn Staheli, Director of Research
Significan COVID-19 Code Changes as of October 6