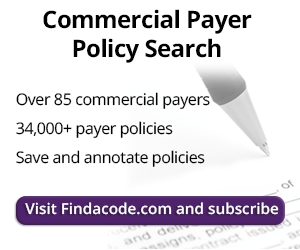 When patient doesn't pay health exchange premium, you may be left holding the bag
September 3rd, 2014 - Scott Kraft
---
One of the issues surrounding implementation of the Affordable Care Act (ACA) that impacts physician billing and payment and hasn't gotten a lot of attention is what happens when a patient buys an insurance plan under the exchange, but then stops paying the premium.
The answer may end up leaving more than a few physician practices fuming over providing free care with little or no recourse.
First, patients have a 90-day grace period to get caught up on their premiums when they are receiving advance tax credits to help pay the premiums. A large number of exchange enrollees will be getting at least some premium assistance.
As a result, patients in this grace period will appear to still have coverage, because they will still have coverage. The final rule published in the Federal Register by CMS on March 27, 2012, establishing the rules and regulations governing the exchanges interprets the ACA to provide the grace period.
During the first 30 days of the grace period, the patient's chosen insurance company is on the hook for paying any claims incurred by the patient. For the next 60 days, it is the service provider who will either have those payments suspended until the patient gets caught up, or have those payments recouped once the patient's policy is canceled for the 90-day delinquency.
The objection from health providers is the same one you're probably having – the lack of information about the patient's insurance status could result in your practice providing costly services during the 60-day grace period and ultimately not being paid for the work.
The best way for you to figure out if a patient is in the grace period and at risk of having his or her policy canceled is to pay close attention to the claims remittance advice you get for unpaid claims during 2014, though in doing so at least one service will be potentially unpaid.
Insurers are allowed – but not required – to pend payments during the second and third months of the grace period to avoid the liability for patients whose policies are ultimately canceled.
Look for Claim Adjustment Reason Code 257, created on Nov. 1, 2013. The code descriptor is "The disposition of the claim/service is pending during the premium payment grace period, per Health Insurance Exchange requirements."
Seeing that code is a sure sign that you're at risk of losing money for that patient, and should consider seeing that patient only on an emergency basis until the premium is caught up or the policy is canceled.
It wouldn't be advisable to tell the patient you know that he or she is delinquent on premium payments, but you can ask the patient to check with the insurance company to verify the status of his or her coverage prior to being seen.
It's a small measure, but it's the best one you may have to guard against providing a large volume of care and getting stuck with the bill. You are allowed to back bill the patients directly when policies are canceled for non-payment, though your chances of getting paid are probably remote.
###
Questions, comments?
If you have questions or comments about this article please contact us. Comments that provide additional related information may be added here by our Editors.
Latest articles: (any category)
COVID Vaccine Coding Changes as of November 1, 2023
October 26th, 2023 - Wyn Staheli
COVID vaccine changes due to the end of the PHE as of November 1, 2023 are addressed in this article.
Medicare Guidance Changes for E/M Services
October 11th, 2023 - Wyn Staheli
2023 brought quite a few changes to Evaluation and management (E/M) services. The significant revisions as noted in the CPT codebook were welcome changes to bring other E/M services more in line with the changes that took place with Office or Other Outpatient Services a few years ago. As part of CMS' Medicare Learning Network, the "Evaluation and Management Services Guide" publication was finally updated as of August 2023 to include the changes that took place in 2023. If you take a look at the new publication (see references below),....
Can We Score Interpretation of an EKG Towards E/M Medical Decision Making?
October 10th, 2023 - Aimee Wilcox
When EKGs are performed in the facility setting or even in the physician's office, what are the requirements for reporting the service and who gets credit for scoring data points for Evaluation and Management (E/M) medical decision making (MDM)? Let's take a look at a few coding scenarios related to EKG services to get a better understanding of why this can be problematic.
Accurately Reporting Signs and Symptoms with ICD-10-CM Codes
October 5th, 2023 - Aimee Wilcox
Coders often find themselves unsure of when to report a sign or symptom code documented in the medical record. Some coders find their organization has an EHR that requires a working diagnosis, which is usually a sign or symptom, be entered to order a test or diagnostic study or image. Understanding the guidelines surrounding when signs and symptoms should be reported is the first step in correct coding so let's take a look at some scenarios.
The 2024 ICD-10-CM Updates Include New Codes for Reporting Metabolic Disorders and Insulin Resistance
September 19th, 2023 - Aimee Wilcox
Diabetes is a chronic disease that just seems to consistently be increasing instead of improving resulting in a constant endeavor by medical researchers to identify causal effects and possible treatments. One underlying or precipitating condition that scientists have identified as a precipitating factor in the development of diabetes is insulin resistance, which is a known metabolic disorder. As data becomes available through claims reporting, additional code options become possible with ICD-10-CM.
Documenting and Reporting Postoperative Visits
September 12th, 2023 - Aimee Wilcox
Sometimes we receive questions regarding documentation requirements for specific codes or coding requirements and we respond with information and resources to support our answers. The following question was recently submitted: Are providers required to report postoperative services on claims using 99024, especially if there is no payment for that service? What documentation is required if you are reporting an unrelated Evaluation and Management (E/M) service by the same physician during the postoperative period? 
Understanding Gastroesophageal Reflux Disease and ICD-10-CM Coding
August 22nd, 2023 - Aimee Wilcox
Gastroesophageal reflux disease or GERD for short, is a disease that impacts millions of Americans on a weekly basis. Symptoms are uncomfortable, as are some of the tests used to diagnose it, but understanding the disease, tests, and treatments helps us better understand how to code the disease using ICD-10-CM codes.