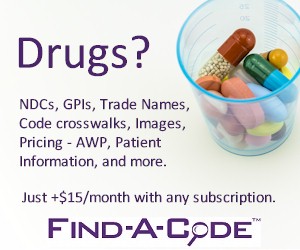 Which Drugs Require Intensive Monitoring for Toxicity?
March 22nd, 2013 - Seth Canterbury, CPC, ACS-E/M
0 Votes -

Sign in

to vote or comment.
---
Question:
When coding E/M services, what drugs qualify as those requiring "intensive monitoring for toxicity" on the MDM Risk table?
Answer:
Therapeutic drug monitoring is required for a variety of reasons, one of which is a drug's high potential for toxicity.
Intensive monitoring for toxicity is normally associated with drugs having what's called a "narrow therapeutic range" or "narrow therapeutic index" (NTI). This means that there is a very small range between the minimum concentration of the drug needed to produce the desired therapeutic effect and the maximum concentration beyond which toxicity or death can result. The concentrations of these drugs must be intensively monitored to ensure that they are in this "sweet spot."
There is no official US Food and Drug Administration (FDA) or government agency list of narrow therapeutic index (NTI) drugs. However, the Board of Pharmacy of some states maintain a list of what they consider to be NTI drugs, a list used to enforce policies which restrict pharmacists from substituting generic equivalents for these drugs without specific consent from the practitioner and/or patient.
Also, some payers publish lists of drugs they deem to be NTI drugs, such as Wellmark BC/BS as seen at this link: www.wellmark.com/Products/pharmacy/nti.aspx
 
As stated on Wellmark's site:
Some drugs are identified as having a narrow therapeutic index (NTI) by the Food & Drug Administration (FDA). With NTI drugs, small changes in the dosage could cause toxic results.
Patients taking NTI drugs require constant monitoring so that the level of medication can be adjusted to assure uniform and safe results. Members will not be required to pay the difference in cost between brand and generic for drugs that are classified as NTI medications.
NTI drugs are identified in the Wellmark Drug List.
For coders, I recommend using an NTI drug list from a state pharmacy board or specific payer if possible, as a starting point for determining which drugs fall into the "drugs that require intensive monitoring for toxicity" category, and add any other drugs that physicians inform you also need this intensive monitoring along with the reason these physicians feel this drug qualifies for this status.
###
Questions, comments?
If you have questions or comments about this article please contact us. Comments that provide additional related information may be added here by our Editors.
Latest articles: (any category)
Should ROM Testing be Reported with Evaluation and Management Services?
January 9th, 2018 - Aimee Wilcox, CPMA, CCS-P, CST, MA, MT
Reporting the performance of range of motion testing (95851-95852) at the same encounter of an Evaluation and Management (EM) service, produces an NCCI edit resulting in payment for the EM service and denial of the ROM testing. Read the article to learn what other codes ROM testing is considered incidental to.
OIG Advisory Opinion Recinded - Lessons Learned
December 21st, 2017 - Wyn Staheli
In the compliance world, it is important to know when the OIG makes an advisory opinion on a subject. For example, the advisory on Time of Service or Prompt Pay Discounts helps to ensure that providers are creating policies and procedures which will meet the standards of the OIG in the case ...
Specialty Exceptions — 2018 PE RVU Changes
December 13th, 2017 - Raquel
Some specialties are not included in the new PPIS PE/HR RVU changes
Escharotomy Procedural Cross-Walking CPT to ICD-10-PCS
November 10th, 2017 - Brandon Dee Leavitt CPC, QCC
An Escharotomy is used for "local treatment of burned surface" per the AMA Guidelines, when incisions are performed on the burn site. Notice, when cross-walking 16035 or 16036 to inpatient codes, Find-A-Code crosswalks lead to Body System H, Operation 8 - Division of the skin, and Operation N -...
Four Final Rules Affecting CMS Payments for 2018
November 7th, 2017 - Wyn Staheli
It's a season for changes. CMS just finalized four rules which directly impact the following payment systems: Physician Fee Schedule Final Policy, Payment, and Quality Provisions for CY 2018 Hospital OPPS and ASC Payment System and Quality Reporting Programs Changes for 2018 HHAs: Payment Changes for 2018 Quality Payment Program Rule for Year 2 This ...
CMS Proposes to Revise Evaluation & Management Guidelines
October 26th, 2017 - BC Advantage
According to the recently released 2018 Physician Fee Schedule Proposed Rule, published in the Federal Register, dated July 21, 2017, the Centers for Medicare & Medicaid Services (CMS) acknowledges that the current Evaluation and Management (E/M) documentation guidelines create an administrative burden and increased audit risk for providers. In response, ...
Summary of OIG Reports for Chiropractic
October 23rd, 2017 - Evan M. Gwilliam DC MBA BS CPC CCPC QCC CPC-I MCS-P CPMA CMHP
The Office of the Inspector General was created to protect the integrity of the U.S. Department of Health and Human Services. They investigate fraud, waste, and abuse in HHS programs and make recommendations to various enforcement agencies. Every few years they investigate chiropractic services. Here is a summary of the reports the ...