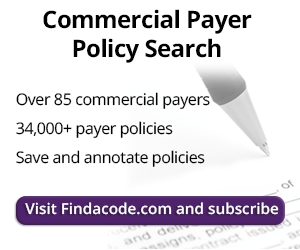 Doing--and coding--for minor procedures in primary care
December 29th, 2015 - Codapedia Editor
0 Votes -

Sign in

to vote or comment.
---
I asked a Family Physician recently if he did minor procedures in his practice. He said, "I send them all to my partner. Tim loves doing minor procedures, and he's fast. I don't bother with them myself." His partner, by inclination or design, was the designated provider of minor procedures in their group. Doing them can be a source of revenue to the practice and RVUs to the physician if you do three simple things. Have a good set up, burn your encounter form and review the coding.
One: Have a set up that doesn't slow the physician down. If a procedure is scheduled and the procedure room is occupied by another patient, or the instruments aren't at their fingertips, or the clinician has to leave the room to get the biopsy slip and fill it out himself or the staff member doesn't know how to assist with the procedure: well, those RVUs will be slipping away. If there are clinicians in your practice who do these procedures, make it easy for them. Set up and stock the room for maximum efficiency and train staff members to assist.
Two: Burn your encounter form. Well, throw away your encounter form if it does not include full descriptions of the minor procedures. The most consistent source of coding errors I find for minor procedures are the direct result of abbreviations and incorrect descriptions on super-bills. Develop a charge slip with full descriptions of the minor procedures performed. Look in the CPT® book if a different procedure is done.
Three: Review the codes and documentation needed for the most common procedures. Take a look at your CPT® book as you review these services.
Let's start with lesion destruction 17000-17111
Lesion destruction is selected by the type of lesion, not by the method of destruction. 17000 is for the destruction of a premalignant lesion, an actinic keratosis. Use 17000 for the first lesion, and 17003 for each additional lesion, up to 14. Do not use 17000 and 17003 for wart destruction or seborrheic keratoses. For warts and SK's, use code 17110. The units are different for these codes: use 17110, one unit, for up to 14 lesions destroyed.
Look in the CPT® book for more specific codes for destruction of lesions on the eyelids, mouth, penis and vulva. At the start of the section in the CPT® book on lesion destruction (prior to code 17000) there is a comment, "For destruction of lesion(s) in specific anatomic sites, see …." Those codes are: 40820 vestibule of mouth; 46900—46917, 46924 anus; 54050-54057, 54065 penis; 56501, 56515 vulva; 57061, 57065 vagina; 67850 lid margin; 68135 conjunctiva. If destroying a lesion from any of those sites, read the complete CPT® description of the code, and use if it describes the service performed.
The word lipoma doesn't make an appearance in the CPT® book. Search for lipoma removal under Tumor in the index, and then location. These are founding the musculoskeletal section of the CPT® book, not the skin section.
Codes 10120 and 10121 are for incision and removal of a FB. Foreign body removal alone does not have a separate code. Use these codes only if an incision is performed. If no incision is required, then the service is part of the E/M code. Removal of a foreign body, intranasal; office type procedure is reported using code 30300. Removal of foreign body from the external auditory canal without general anesthesia is coded with 69200.
Codes 10060 and 10061 are for incision and drainage of an abscess, cyst, carbuncle or paronychia.
In 2011, the CPT® book deleted two wound debridement codes. For debridement, select the code based on depth and size. For dermis and epidermis, see codes 97597 and 97598. For deeper debridement, see codes 11042—11047. Document depth and sq cm. Notice that the add on codes are out of sequence in the CPT® book, that is, not in numerical order.
Codes 11200 and 11201 for skin tag removal are typically denied by the payers as cosmetic. Inform the patient before performing the service of their financial responsibility.
Now let's talk about biopsies.
Bill for a punch biopsy with codes 11100 and 11101. Do not bill this in addition to an excisional biopsy on the same lesion.
Shave biopsies are billed based on the size and location of the lesion. These are performed to remove epidermal and dermal lesions, without a full thickness removal. See codes 11300—11313.
Let's end with excision of benign and malignant lesions, codes 11400—11646. The codes for these procedures are separated into excision of benign or malignant lesions, so the practice needs to wait for the pathology report before submitting it. Physicians say that it takes the same work to do the procedure, and wonder why they are paid more for a malignant lesion. Remember that the post op care for ten days is included in the payment. The follow up for a malignant lesion will be more work than for a benign. Document the size of the excision: the longest clinical diameter of the lesion plus the margin required for a complete excision. The benign lesions are in the series of codes 11400—11471 and the malignant in the series of codes 11600—11646.
Performing these procedures in your office is a benefit to the patient and the practice. Set up your office and staff so that they can be done efficiently and code for them correctly. And, remember what I said about those encounter forms with incomplete descriptions and abbreviations: burn 'em.
###
Questions, comments?
If you have questions or comments about this article please contact us. Comments that provide additional related information may be added here by our Editors.
Latest articles: (any category)
​​Polysomnography Services Under OIG Scrutiny
September 2nd, 2021 - Raquel Shumway
The OIG conducted a study dated June 2019 wherein they indicated that there were approximately $269 million in overpayments for polysomnography services for the period of 2014 through 2015. According to the OIG "These errors occurred because the CMS oversight of polysomnography services was insufficient to ensure that providers complied with Medicare requirements and to prevent payment of claims that didn't meet those requirements." So what are those requirements?
Medicare Advantage - The Fastest Growing Government-Funded Program Undergoing Multiple Fraud Investigations
August 16th, 2021 - Aimee Wilcox, CPMA, CCS-P, CST, MA, MT, Director of Content
Medicare Advantage is the fastest growing form of government-funded healthcare and the rate of fraud within this segment has come under increased scrutiny. Funding is determined by the health status of each beneficiary; therefore, accurate coding based on detailed documentation makes the medical record vital to the process because some ...
Billing Dental Implants under Medical Coverage
August 12th, 2021 - Christine Woolstenhulme, QCC, QMCS, CPC, CMRS
Implants can be costly to the patient and the provider, and it is crucial to understand how to bill a patient's medical insurance to ensure there is adequate coverage for the best treatment. Implants are commonly billed in a dental office under a patient's medical benefits.    Implants could be considered ...
New Codes for COVID Booster Vaccine & Monoclonal Antibody Products
August 10th, 2021 - Wyn Staheli, Director of Research
New codes have been announced for the COVID-19 booster vaccine, Novavax vaccine, and monoclonal antibody treatment.
Medicare's ABN Booklet Revised
July 29th, 2021 - Wyn Staheli, Director of Research
The "Medicare Advance Written Notices of Non-coverage" booklet, published by CMS's Medicare Learning Network, was updated. This article discusses the changes to this booklet regarding the use of the ABN.
Chronic Pain Coding Today & in the Future
July 19th, 2021 - Wyn Staheli, Director of Research
Properly documenting and coding chronic pain can be challenging. As is commonly the case with many conditions, over the years, there has been a shift in the identification of different types of pain, including chronic pain. Understanding where we are now and where we are going will help your organization prepare for the future by changing documentation patterns now.
How Does Global and Professional Direct Contracting (GPDC) Affect Risk Adjustment?
July 15th, 2021 - Aimee Wilcox, CPMA, CCS-P, CST, MA, MT, Director of Content
CMS recently announced the 53 Direct Contracting Entities (DCEs) that will be participating in the April 1, 2021 through December 31, 2021 Global and Professional Direct Contracting (GPDC) Model. Among those participating is Clover Health Partners, who runs an in-home primary care program that has the potential to help Medicare ...