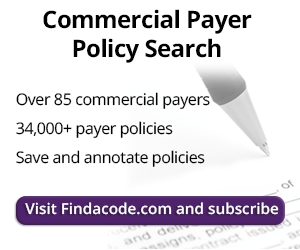 Anesthesia and E/M services
June 1st, 2015 - Codapedia Editor
---
Anesthesia services are billed using CPT® codes 00100-01999. These CPT® codes are cross-walked to surgical codes. The crosswalk is available from the American Society of Anesthesiologists at www.asahq.org.
Each anesthesia code has a base unit assigned to it. The anesthetist also bills the number of time units, with a single unit defined as 15 minutes. The base units plus the time units multiplied by the anesthesia conversion factor equals the fee. Medicare has a separate conversion factor for anesthesia services. Anesthesia codes do not have Relative Value Units. The value of the base code includes the preoperative medical evaluation performed by the Anesthesiologist, and is not separately reportable.
Can an Anesthesiologist bill for an E/M service prior to the actual anesthesia service?
Anesthesia codes and E/M codes are bundled per the NCCI edits, and may not be reported together with any modifier. That is: the preoperative E/M evaluation is part of the payment to the Anesthesiologist for the anesthesia service, and is included in the base code payment.
Could a hospital employ an NPP to do an E/M service prior to the anesthesia for high risk patients?
A hospital, which employed Non-Physician Practitioners to run a pre-operative anesthesia clinic would be collecting money for services that should have been provided without additional charge by the Anesthesiologist. (Had the Anesthesiologist employed the NPPs and used a pre-operative diagnosis code for the service, all claims would be denied as part of the Anesthesia payment.) The claims might be paid because the payer's claims processing system does not associate them with the Anesthesia group, but it would be money the hospital wasn't entitled to collect. In addition to collecting money to which it is not entitled, the hospital also runs the risk of appearing to support a for-profit physician group, by providing services for free which should be the expense of the group.
Citations:
Preoperative assessment is included in the payment for the anesthesia services, per the National Correct Coding Initiative (NCCI) Manual, Chapter 2. http://www.cms.hhs.gov/NationalCorrectCodInitEd/
From that manual:
HCPCS/CPT® codes include all services usually performed as part of the procedure as a standard of medical/surgical practice. A physician should not separately report these services simply because HCPCS/CPT® codes exist for them.
The anesthesia care package consists of preoperative evaluation, standard preparation and monitoring services, administration of anesthesia, and post- anesthesia recovery care.
Preoperative evaluation includes a sufficient history and physical examination so that the risk of adverse reactions can be minimized, alternative approaches to anesthesia planned, and all questions answered.
Anesthesia services include, but are not limited to, preoperative evaluation of the patient, administration of anesthetic, other medications, blood, and fluids, monitoring of physiological parameters, and other supportive services.
3. It is standard medical practice for an anesthesia practitioner to perform a patient examination and evaluation prior to surgery. This is considered part of the anesthesia service and is included in the base unit of the anesthesia code.
The evaluation and examination are not reported in the anesthesia time. If surgery is canceled, subsequent to the preoperative evaluation, payment may be allowed to the anesthesiologist for an evaluation and management service and the appropriate E&M code (usually a consultation code) may be reported. (A non-medically directed CRNA may also report an E&M code under these circumstances if permitted by state law.)
CPT® codes describing services that are integral to an anesthesia service include but are not limited to, the following:
• 99201-99499 (Evaluation and management)
The CPT® book, in its Anesthesia Guidelines, at the start of the Anesthesia section, states, "These services include the usual preoperative and postoperative visits…."
In a copy of a lecture presented by Dr. James Arens, posted on the ASA website, he discusses the fact that these pre-operative visits are not payable.
"For many years the preoperative visit was considered to be part of the global fee for anesthesia services based upon base units plus time. With the advent of preoperative anesthesia(assessment) clinics, the scope of this service has undergone drastic change. The history and past records review has become much more extensive. The evaluation of the patient and the explanation of the risk and options have also become much more detailed. I have heard surgeons state that they are no longer "capable" of assessing patients to undergo anesthesia. Yet the ability to bill for such services is very limited. The values of a well run preoperative clinic are self-evident. However, the inability to collect for these services rendered has caused several clinics to be closed. The codes (99201-99205) for evaluation and management services are quite simple. However, reimbursement for this valuable service remains problematic."
Summary:
It would be improper for any group to bill for preoperative anesthesia assessments. The payment for that service is included in the payment for the anesthesia payment itself. Any money collected for these services in the would have to be returned to the payers. In addition, any hospital providing this service would need to review with its attorney the issue of providing financial support to a for-profit entity.
###
Questions, comments?
If you have questions or comments about this article please contact us. Comments that provide additional related information may be added here by our Editors.
Latest articles: (any category)
COVID Vaccine Coding Changes as of November 1, 2023
October 26th, 2023 - Wyn Staheli
COVID vaccine changes due to the end of the PHE as of November 1, 2023 are addressed in this article.
Medicare Guidance Changes for E/M Services
October 11th, 2023 - Wyn Staheli
2023 brought quite a few changes to Evaluation and management (E/M) services. The significant revisions as noted in the CPT codebook were welcome changes to bring other E/M services more in line with the changes that took place with Office or Other Outpatient Services a few years ago. As part of CMS' Medicare Learning Network, the "Evaluation and Management Services Guide" publication was finally updated as of August 2023 to include the changes that took place in 2023. If you take a look at the new publication (see references below),....
Can We Score Interpretation of an EKG Towards E/M Medical Decision Making?
October 10th, 2023 - Aimee Wilcox
When EKGs are performed in the facility setting or even in the physician's office, what are the requirements for reporting the service and who gets credit for scoring data points for Evaluation and Management (E/M) medical decision making (MDM)? Let's take a look at a few coding scenarios related to EKG services to get a better understanding of why this can be problematic.
Accurately Reporting Signs and Symptoms with ICD-10-CM Codes
October 5th, 2023 - Aimee Wilcox
Coders often find themselves unsure of when to report a sign or symptom code documented in the medical record. Some coders find their organization has an EHR that requires a working diagnosis, which is usually a sign or symptom, be entered to order a test or diagnostic study or image. Understanding the guidelines surrounding when signs and symptoms should be reported is the first step in correct coding so let's take a look at some scenarios.
The 2024 ICD-10-CM Updates Include New Codes for Reporting Metabolic Disorders and Insulin Resistance
September 19th, 2023 - Aimee Wilcox
Diabetes is a chronic disease that just seems to consistently be increasing instead of improving resulting in a constant endeavor by medical researchers to identify causal effects and possible treatments. One underlying or precipitating condition that scientists have identified as a precipitating factor in the development of diabetes is insulin resistance, which is a known metabolic disorder. As data becomes available through claims reporting, additional code options become possible with ICD-10-CM.
Documenting and Reporting Postoperative Visits
September 12th, 2023 - Aimee Wilcox
Sometimes we receive questions regarding documentation requirements for specific codes or coding requirements and we respond with information and resources to support our answers. The following question was recently submitted: Are providers required to report postoperative services on claims using 99024, especially if there is no payment for that service? What documentation is required if you are reporting an unrelated Evaluation and Management (E/M) service by the same physician during the postoperative period? 
Understanding Gastroesophageal Reflux Disease and ICD-10-CM Coding
August 22nd, 2023 - Aimee Wilcox
Gastroesophageal reflux disease or GERD for short, is a disease that impacts millions of Americans on a weekly basis. Symptoms are uncomfortable, as are some of the tests used to diagnose it, but understanding the disease, tests, and treatments helps us better understand how to code the disease using ICD-10-CM codes.