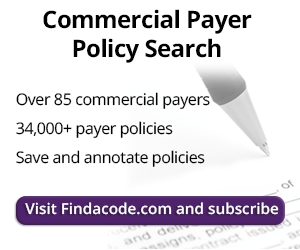 Anesthesia and E/M services
June 1st, 2015 - Codapedia Editor
0 Votes -

Sign in

to vote or comment.
---
Anesthesia services are billed using CPT® codes 00100-01999. These CPT® codes are cross-walked to surgical codes. The crosswalk is available from the American Society of Anesthesiologists at www.asahq.org.
Each anesthesia code has a base unit assigned to it. The anesthetist also bills the number of time units, with a single unit defined as 15 minutes. The base units plus the time units multiplied by the anesthesia conversion factor equals the fee. Medicare has a separate conversion factor for anesthesia services. Anesthesia codes do not have Relative Value Units. The value of the base code includes the preoperative medical evaluation performed by the Anesthesiologist, and is not separately reportable.
Can an Anesthesiologist bill for an E/M service prior to the actual anesthesia service?
Anesthesia codes and E/M codes are bundled per the NCCI edits, and may not be reported together with any modifier. That is: the preoperative E/M evaluation is part of the payment to the Anesthesiologist for the anesthesia service, and is included in the base code payment.
Could a hospital employ an NPP to do an E/M service prior to the anesthesia for high risk patients?
A hospital, which employed Non-Physician Practitioners to run a pre-operative anesthesia clinic would be collecting money for services that should have been provided without additional charge by the Anesthesiologist. (Had the Anesthesiologist employed the NPPs and used a pre-operative diagnosis code for the service, all claims would be denied as part of the Anesthesia payment.) The claims might be paid because the payer's claims processing system does not associate them with the Anesthesia group, but it would be money the hospital wasn't entitled to collect. In addition to collecting money to which it is not entitled, the hospital also runs the risk of appearing to support a for-profit physician group, by providing services for free which should be the expense of the group.
Citations:
Preoperative assessment is included in the payment for the anesthesia services, per the National Correct Coding Initiative (NCCI) Manual, Chapter 2. http://www.cms.hhs.gov/NationalCorrectCodInitEd/
From that manual:
HCPCS/CPT® codes include all services usually performed as part of the procedure as a standard of medical/surgical practice. A physician should not separately report these services simply because HCPCS/CPT® codes exist for them.
The anesthesia care package consists of preoperative evaluation, standard preparation and monitoring services, administration of anesthesia, and post- anesthesia recovery care.
Preoperative evaluation includes a sufficient history and physical examination so that the risk of adverse reactions can be minimized, alternative approaches to anesthesia planned, and all questions answered.
Anesthesia services include, but are not limited to, preoperative evaluation of the patient, administration of anesthetic, other medications, blood, and fluids, monitoring of physiological parameters, and other supportive services.
3. It is standard medical practice for an anesthesia practitioner to perform a patient examination and evaluation prior to surgery. This is considered part of the anesthesia service and is included in the base unit of the anesthesia code.
The evaluation and examination are not reported in the anesthesia time. If surgery is canceled, subsequent to the preoperative evaluation, payment may be allowed to the anesthesiologist for an evaluation and management service and the appropriate E&M code (usually a consultation code) may be reported. (A non-medically directed CRNA may also report an E&M code under these circumstances if permitted by state law.)
CPT® codes describing services that are integral to an anesthesia service include but are not limited to, the following:
• 99201-99499 (Evaluation and management)
The CPT® book, in its Anesthesia Guidelines, at the start of the Anesthesia section, states, "These services include the usual preoperative and postoperative visits…."
In a copy of a lecture presented by Dr. James Arens, posted on the ASA website, he discusses the fact that these pre-operative visits are not payable.
"For many years the preoperative visit was considered to be part of the global fee for anesthesia services based upon base units plus time. With the advent of preoperative anesthesia(assessment) clinics, the scope of this service has undergone drastic change. The history and past records review has become much more extensive. The evaluation of the patient and the explanation of the risk and options have also become much more detailed. I have heard surgeons state that they are no longer "capable" of assessing patients to undergo anesthesia. Yet the ability to bill for such services is very limited. The values of a well run preoperative clinic are self-evident. However, the inability to collect for these services rendered has caused several clinics to be closed. The codes (99201-99205) for evaluation and management services are quite simple. However, reimbursement for this valuable service remains problematic."
Summary:
It would be improper for any group to bill for preoperative anesthesia assessments. The payment for that service is included in the payment for the anesthesia payment itself. Any money collected for these services in the would have to be returned to the payers. In addition, any hospital providing this service would need to review with its attorney the issue of providing financial support to a for-profit entity.
###
Questions, comments?
If you have questions or comments about this article please contact us. Comments that provide additional related information may be added here by our Editors.
Latest articles: (any category)
Important Podcast on Dental to Medical Billing
September 21st, 2020 - Christine Woolstenhulme, QCC, QMCS, CPC, CMRS
Be sure and check out this discussion with LaMont Leavitt (CEO of innoviHealth) and Christine Taxin (Adjunct professor at New York University, President of Dental Medical Billing, and Links2Success).  Some of the resources and tools they discuss will help you with your dental coding/billing and education. Do You Have All the Right ...
More COVID-19 Codes Added as of September 8, 2020
September 15th, 2020 - Wyn Staheli, Director of Research
The American Medical Association (AMA) recently announced the addition of two more CPT codes in relation to COVID and the Public Health Emergency (PHE). Codes 99702 and 86413 were posted to the AMA website on Tuesday, September 8, 2020 and new guidelines have been added as well.
Not Following the Rules Costs Chiropractor $5 Million
September 1st, 2020 - Wyn Staheli, Director of Research
Every healthcare office needs to know and understand the rules that apply to billing services and supplies. What lessons can we learn from the mistakes of others? What if we have made the same mistake?
New Value-Based Payment Models for Primary Care (Primary Care First and Direct Contracting)
August 28th, 2020 - Jared Staheli
This article summarizes the new Medicare value-based payment models: Primary Care First and Direct Contracting.
Podcast - Do you have all the right Dental resources needed to succeed in Dental Medical Billing and Coding?
August 27th, 2020 - Innoventrum
Discussion between innoviHealth CEO, LaMont Leavitt and Guest speaker, Christine Taxin who is an Adjunct professor at New York University, and President of Dental Medical Billing and Links2Success about making sure you have all the right Dental resources needed to succeed in Dental Medical Billing and Coding. ...
Is COVID-19 Causing Risk Adjustment "Gotcha's"?
August 27th, 2020 - Wyn Staheli, Director of Research
The COVID-19 public health emergency (PHE) has created some possible problems when it comes to risk adjustment. Be sure your organization has implemented policies and procedures to try and overcome these new hurdles.
New and Exciting Changes in the Dental Industry
August 26th, 2020 - Christine Taxin - Links 2 Success
My colleagues and I are nerds for information on all things billable—or not billable—in the worlds of dental and medical insurance. One of the most puzzling challenges for me over the past 15 years of teaching has been to understand why we on the dental side are segregated out of ...