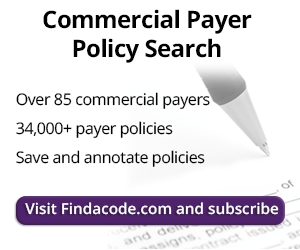 Maggot Therapy Coding & Reimbursement
May 24th, 2012 - Ronald Sherman
0 Votes -

Sign in

to vote or comment.
---
PURPOSE:
This article provides practical information for those interested in maggot therapy coding and reimbursement. It attempts to make available the most current and comprehensive information on the topic, continuing to evolve as maggot therapy coding itself grows and evolves.
BACKGROUND & HISTORY:
Maggot therapy is the intentional and therapeutic application of medicinal fly larvae to a wound for the purpose of debridement, disinfection and/or wound healing. In the U.S., at least one brand of medicinal maggots is cleared for marketing for the following indications: "For debriding non-healing necrotic skin and soft tissue wounds, including pressure ulcers, venous stasis ulcers, neuropathic foot ulcers and non-healing traumatic or post surgical wounds."
Maggot therapy may have been practiced in the U.S. for more than 80 years, and it may have, by now, an impressive body of literature to support its safety and efficacy, but coding and reimbursement remain archaic. Even worse, few people really know how best to work within the current system. Thus, there is a great need for a working and malleable reference such as this one.
Since 2004, the not-for-profit BioTherapuetics, Education & Research Foundation has been working actively towards creating simple coding and equitable reimbursement for maggot therapy. This is envisioned as a specific CPT® code, or a general CPT® code and a set of HCPCS supply codes that would adequately describe the treatment rendered. The Biotherapeutics, Education & Research (BTER) Foundation believes specific coding is appropriate because 1) the costs of materials (medical grade maggots and maggot dressings) far exceeds the typical level of reimbursement for the application procedure itself; 2) there is great variety of materials and methods in applying maggot therapy (most dressings are custom made by the therapist from a variety of materials), such that no single code can accurately or adequately represent the time, effort or materials used by the majority of therapists providing that treatment.
After numerous discussions with the American Medical Association (AMA) Committee for CPT® Coding and the Centers for Medicare and Medicaid (CMS), our understanding of their position is as follows:
1) Both AMA and CMS recognize the validity of the treatment and the right of therapists to be compensated
2)AMA believes the best route towards coding is the use of already existing procedure codes for debridement, combined with specific product codes (HCPCS codes to be issued by CMS) to denote the medical grade maggots and maggot dressings that would not be covered by the procedure code alone.
3) CMS believes that the best route towards coding is the development of procedures codes (to be issued by AMA) that denote maggot debridement therapy (MDT) specifically, and include maggot-related products so that no new HCPCS codes would be necessary.
The BTER Foundation believes that a combination of CPT® and HCPCS codes would be ideal to most accurately describe the procedure of maggot debridement therapy and the rapidly growing number of products (of varying costs) specifically used in maggot therapy treatments.
CURRENT STATUS OF CODING AND REIMBURSEMENT:
A few sources for recommendations are listed below. It is acknowledged that they differ in some of their recommendations, due to changes over time and differing perspectives. The fact that there are not specific maggot therapy CPT® or HCPCS codes makes coding for MDT an issue of judgment and experience.
SPECIFIC CODING RECOMMENDATIONS:
My current coding recommendations are listed below. Of course, they are only guidelines, based on best opinions. They may change over time, as codes and precedents develop. Those seeking reimbursement must make their own determinations.

Within the CPT/HCPCS systems -
Procedure (CPT) Code: 97602 ("Non-excisional debridement")
Supply code: CPT® supply code 99070 ("Supplies and materials provided by the physician over and above those usually included with the office visit or other services rendered"). Then list each and every specific product used.

Within the ABC Coding System (alternative coding for non-physicians) -
Procedure Code: NAAFT ("Maggot therapy application, each site. Applying medicinal maggots and bandaging a patient's body part or region to clean non-healing wound[s]") and NAAFU ("Maggot therapy removal, each site. Removing medicinal maggots from a patient's body part or region and re-bandaging his or her wound[s]").
Supply code: EAACT ("Medicinal disinfected maggots").
For any other dressing items, use their specific ABC or HCPCS codes.
ADDITIONAL COMMENTS & DISCUSSION:
The BTER Foundation has initiated a Reimbursement Appeal Assistance Program to assist therapists and patients in appealing denied claims for reimbursement of maggot therapy (and other biotherapies). Be sure to contact the BTER Foundation immediately if a claim was denied, in order to best assemble a successful appeal.
For those patients who do not have medical insurance coverage, or whose insurance provider still refuses to pay for the maggots, contact the BTER Foundation for information and applications for Patient Assistance Grants that cover medicinal maggots and other biotherapy supplies (www.BTERFoundation.orb/indexfiles/pt_assist.htm)
REFERENCES REGARDING MAGGOT THERAPY CODING:
The American Medical Association (AMA) Committee on CPT® Coding: CPT® Assistant, V8 N9 (September, 2008).
BioTherapeutics, Education & Research (BTER) Foundation guidance Documents (http://www.bterfoundation.org/guidelines)
REFERENCES FOR MAGGOT THERAPY (will be helpful in appealing a denied claim):
Armstrong DG, Salas P, Short B, Martin BR, Kimbriel HR, Nixon BP, Boulton AJ. Maggot therapy in "lower-extremity hospice" wound care: fewer amputations and more antibiotic-free days. J Am Podiatr Med Assoc. 2005 May-Jun;95(3):254-7.
Attinger CE, Janis JE, Steinberg J, Schwartz J, Al-Attar A, Couch K. Clinical approach to wounds: debridement and wound bed preparation including the use of dressings and wound-healing adjuvants. Plast Reconstr Surg. 2006 Jun;117(7 Suppl):72S-109S.
Bonn D. Maggot therapy: an alternative for wound infection. Lancet. 2000 Sep 30;356(9236):1174.
Bowling FL, Salgami EV, Boulton AJ. Larval therapy: a novel treatment in eliminating methicillin-resistant Staphylococcus aureus from diabetic foot ulcers. Diabetes Care. 2007 Feb;30(2):370-1.
Fitzpatrick M. Tiny "surgeons" prove surprisingly effective. JAMA. 2000 Nov 8;284(18):2306-7.
Jukema GN, Menon AG, Bernards AT, Steenvoorde P, Taheri Rastegar A, van Dissel JT. Amputation-sparing treatment by nature: "surgical" maggots revisited. Clin Infect Dis. 2002 Dec 15;35(12):1566-71. Epub 2002 Dec 2.
Mumcuoglu KY, Ingber A, Gilead L, Stessman J, Friedmann R, Schulman H, Bichucher H, Ioffe-Uspensky I, Miller J, Galun R, Raz I. Maggot therapy for the treatment of diabetic foot ulcers. Diabetes Care. 1998 Nov;21(11):2030-1.
Namias N, Varela JE, Varas RP, Quintana O, Ward CG Biodebridement: a case report of maggot therapy for limb salvage after fourth-degree burns.J Burn Care Rehabil. 2000 May-Jun;21(3):254-7.
Sherman R. Age-old therapy gets new approval. Adv Skin Wound Care. 2005 Jan-Feb;18(1):12-5.
Sherman RA. Maggot therapy for foot and leg wounds. Int J Low Extrem Wounds. 2002;1:135-42.
Sherman RA. Maggot versus conservative debridement therapy for the treatment of pressure ulcers. Wound Repair Regen. 2002 Jul-Aug;10(4):208-14.
Sherman RA. Maggot therapy for treating diabetic foot ulcers unresponsive to conventional therapy. Diabetes Care. 2003 Feb;26(2):446-51. http://care.diabetesjournals.org/cgi/content/full/26/2/446
Sherman RA, Shapiro CE, Yang RM. Maggot Therapy for Problematic Wounds: Uncommon and Off-label Applications. Adv Skin Wound Care. 2007 Nov;20(11):602-610.
Sherman RA, Sherman J, Gilead L, Lipo M, Mumcuoglu KY. Maggot debridement therapy in outpatients. Arch Phys Med Rehabil. 2001 Sep;82(9):1226-9.
Sherman RA, Shimoda KJ. Presurgical maggot debridement of soft tissue wounds is associated with decreased rates of postoperative infection. Clin Infect Dis. 2004 Oct 1;39(7):1067-70. Epub 2004 Sep 1.
Sherman RA, Wyle F, Vulpe M. Maggot therapy for treating pressure ulcers in spinal cord injury patients.J Spinal Cord Med. 1995 Apr;18(2):71-4.
Steenvoorde P, van Doorn LP, Jacobi CE, Oskam J. Maggot debridement therapy in the palliative setting. Am J Hosp Palliat Care. 2007 Aug-Sep;24(4):308-10.
Steenvoorde P, Jacobi CE, Oskam J. Letter to the editor: Maggot therapy in "lower-extremity hospice" wound care. J Am Podiatr Med Assoc. 2006 Jan-Feb;96(1):82-3; author reply 83.
Tantawi TI, Gohar YM, Kotb MM, Beshara FM, El-Naggar MM. Clinical and microbiological efficacy of MDT in the treatment of diabetic foot ulcers. J Wound Care. 2007 Oct;16(9):379-83.
Thomas S. Cost of managing chronic wounds in the U.K., with particular emphasis on maggot debridement therapy. J Wound Care. 2006 Nov;15(10):465-9. Review.
Thomas S, Andrews A, Jones M, Church J. Maggots are useful in treating infected or necrotic wounds. BMJ. 1999 Mar 20;318(7186):807-8.
Townley WA, Jain A, Healy C. Maggot debridement therapy to avoid prosthesis removal in an infected total knee arthroplasty. J Wound Care. 2006 Feb;15(2):78-9.
van der Plas M, Jukema GN, Wai S-W, Dogterom-Ballering HCM, Lagendijk EL, van Gulpen C, van Dissel JT, Bloemberg GV, Nibbering PH: Maggot excretions/secretions are differentially effective against biofilms of Staphylococcus aureus and Pseudomonas aeruginosa. Journal of Antimicrobial Chemotherapy. 2008; 61: 117–122.
Vistnes LM, Lee R, Ksander GA. Proteolytic activity of blowfly larvae secretions in experimental burns. Surgery. 1981 Nov;90(5):835-41.
Wayman J, Nirojogi V, Walker A, Sowinski A, Walker MA. The cost effectiveness of larval therapy in venous ulcers. J Tissue Viability. 2000 Jul;10(3):91-4. Erratum in: J Tissue Viability 2001 Jan;11(1):51.
###
Questions, comments?
If you have questions or comments about this article please contact us. Comments that provide additional related information may be added here by our Editors.
Latest articles: (any category)
Chronic Pain Coding Today & in the Future
July 19th, 2021 - Wyn Staheli, Director of Research
Properly documenting and coding chronic pain can be challenging. As is commonly the case with many conditions, over the years, there has been a shift in the identification of different types of pain, including chronic pain. Understanding where we are now and where we are going will help your organization prepare for the future by changing documentation patterns now.
How Does Global and Professional Direct Contracting (GPDC) Affect Risk Adjustment?
July 15th, 2021 - Aimee Wilcox, CPMA, CCS-P, CST, MA, MT, Director of Content
CMS recently announced the 53 Direct Contracting Entities (DCEs) that will be participating in the April 1, 2021 through December 31, 2021 Global and Professional Direct Contracting (GPDC) Model. Among those participating is Clover Health Partners, who runs an in-home primary care program that has the potential to help Medicare ...
How to Properly Assign ICD-10-CM Codes for Pain
July 14th, 2021 - Aimee Wilcox, CPMA, CCS-P, CST, MA, MT, Director of Content
Pain is a common diagnosis among all specialties so it should not be surprising to find there are 162 ICD-10-CM codes for reporting it and over 80 mentions in the ICD-10-CM Official Guidelines for Coding and Reporting which describe when certain types of pain should be reported and how the codes should be sequenced.
Will CMS Allow Medicare Advantage Organizations to Risk Adjust from Audio-Only Encounters? 
July 13th, 2021 - Aimee Wilcox, CPMA, CCS-P, CST, MA, MT, Director of Content
While audio-only telehealth services became a covered benefit during the PHE, CMS put limitations on using the data from those encounters for risk adjustment scoring. Medicare Advantage (MA) plans cannot use the information from these encounters to be scored for risk adjustment; however, it can be used for risk adjustment scoring of ACA plans.
Compliance in the Dental Office or Small Practice
June 29th, 2021 - Christine Woolstenhulme, QCC, QMCS, CPC, CMRS
If your practice does not already have a compliance program in place, you will want to get started after reading this article. We have uncovered some important findings with the Office of Inspector General (OIG) in dental practices you need to be aware of. A compliance program offers standard procedures to follow, ...
Important Changes to Shared/Split Services
June 16th, 2021 - Aimee Wilcox CPMA, CCS-P, CST, MA, MT and Wyn Staheli, Director of Content Research
Reporting of split (or shared) services has always been wrought with the potential for incorrect reporting when the fundamental principles of the service are not understood. A recent CMS publication about these services further complicates the matter.
Understanding Non-face-to-face Prolonged Services (99358-99359) in 2021
June 3rd, 2021 - Aimee Wilcox CPMA, CCS-P, CST, MA, MT and Wyn Staheli, Director of Content Research
Due to the extensive changes in office or other outpatient services (99202-99215), there are many questions which still need to be answered, one of which is related to the prolonged services without face-to-face contact. This article explores the question regarding the appropriate use of codes 99358/99359 and how to report it.