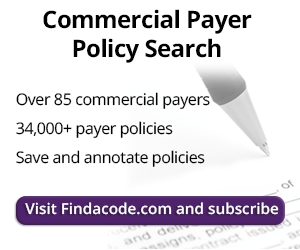 Advancements in Coding Hospital Observation Care Services in 2023
July 4th, 2023 - Aimee Wilcox
---
In recent years, healthcare regulations have undergone significant changes to enhance transparency, quality of care, and reimbursement accuracy. These changes have directly influenced coding practices for emergency department, observation care, and inpatient hospital services. In 2023 coding guidelines have become more specific ensuring accurate documentation and appropriate billing for these services and, in some cases, have also simplified them.
Updated Evaluation and Management (E/M) Guidelines
In 2023 substantial updates to the Evaluation and Management (E/M) guidelines were made to the remaining E/M services, mainly inpatient services. The revisions have focused on reducing administrative burden, improving documentation efficiency, and better reflecting the complexity of patient encounters. These changes have provided a more comprehensive framework for accurately coding observation care services, such as:
While the guidelines instruct us to report these codes, which are inclusive of inpatient E/M services, observation care services are still considered outpatient services, requiring the correct, outpatient place of service code (POS 22).
The coding manual instructs coders to report codes 99251-99255 (inpatient consultation codes) for patients who receive a consultation while in observation care status; however, if the patient's insurance does not reimburse for consultations (e.g., Medicare, United Healthcare), then since this is still an outpatient service, codes 99202-99215 should be reported by the consulting provider.
Only the admitting physician or other qualified healthcare practitioner (QHP) can report the 99221-99223 and 99231-99233 (the new observation care services) codes for the patient who is under observation but should be sure to apply any payer-specific guidelines, such as the two midnight rule. Of note, any Medicare patient who is placed under observation will have their Medicare Part B benefits applied, which means they will have an applicable deductible and coinsurance to be concerned with for that stay. If they are hospitalized, the inpatient or Medicare part A benefits will apply, which means significantly less out-of-pocket expenses for them. As such Medicare has a rule that requires the patient, prior to being transferred from the emergency department to observation care status or from the observation care status to a nursing facility to be notified in writing that they are receiving outpatient services, which means their Medicare Part B deductible and coinsurance will apply and may not cover the nursing facility services.
Advanced Electronic Health Record (EHR) Systems
With the widespread adoption of advanced Electronic Health Record (EHR) systems, the coding process for hospital observation care services has been significantly streamlined and most EHR systems now offer built-in coding tools and templates that guide healthcare providers in documenting the key components of observation care, such as medical history, physical examination, decision-making, and time spent on patient care. These features ensure that coding accurately reflects the services provided. Emergency room providers
Real-Time Clinical Documentation Improvement (CDI)
Real-time Clinical Documentation Improvement (CDI) technologies have emerged as valuable tools for coding hospital observation care services. CDI technologies use artificial intelligence (AI) and natural language processing (NLP) algorithms to analyze clinical documentation in real time, identifying any potential coding discrepancies and providing instant feedback to healthcare providers. CDI technologies enhance coding accuracy and compliance, and reduce the risk of claim denials and unwanted audits.
Enhanced Coding Education and Training
Because of the ever evolving coding landscape, hospitals have begun to focus on improved and detailed education and training for their coding and billing staff. Continuing education courses and workshops on the latest coding guidelines, documentation requirements, and technological advancements have been instrumental tools for improving coding accuracy and ensuring compliance. Well-trained coding professionals are more equipped to navigate the complexities of coding E/M services, like observation care, in 2023.
Artificial Intelligence (AI) Solutions
Artificial Intelligence (AI) solutions are transforming some aspects of healthcare, especially coding hospital services. AI-powered coding software can analyze patient records, extract relevant information, and with an incredible degree of accuracy, assign the correct codes. While this type of solution can streamline the coding process, it can also reduce errors and free coding staff to work on more difficult coding tasks.
In 2023, coding looks much different than it has in previous decades, and it appears it will continue to change moving forward. Annual coding changes, ever-changing EHR systems and templates, ongoing CDI improvements, and new and improved AI solutions that require continuing coder education will march on as the way of the future. By leveraging these technological and regulatory advancements, healthcare providers can ensure seamless care delivery, proper reimbursement, and better patient outcomes in whatever setting.
###
Questions, comments?
If you have questions or comments about this article please contact us. Comments that provide additional related information may be added here by our Editors.
Latest articles: (any category)
Reporting Drug Wastage with Modifier JW and NEW Modifier JZ
August 15th, 2023 - Aimee Wilcox
Modifier JW has been around since 2003 with changes in Medicare policies to ensure standard utilization in 2017; however, because of a continued lack of reporting consistency, Medicare has created and implemented policy related to reporting a new modifier, JZ. How does this impact Medicare reimbursement and why is this modifier so important?
Finding Patterns of Complexity in the Medical Decision Making (MDM) Table
August 8th, 2023 - Aimee Wilcox
Changes to the Medical Decision Making (MDM) Table in 2023 reflect the work performed in the facility setting in addition to the work involved in Evaluation and Management (E/M) scoring in other places of service. Taking the time to really look closely at the MDM Table and identify patterns in wording and scoring helps coders to understand scoring in an easier way.
Seven Reasons to Standardize Medical Records
July 18th, 2023 - Aimee Wilcox
The standardization of medical records offers numerous benefits for healthcare systems, providers, and patients. By ensuring interoperability, improved workflows, better patient safety, supporting research endeavors, and optimizing resource allocation, standardized records contribute to improved efficiency, quality of care and especially patient outcomes. Here are seven reasons to standardize medical records.
Advancements in Coding Hospital Observation Care Services in 2023
July 4th, 2023 - Aimee Wilcox
Hospitals are increasingly adopting innovative solutions to improve patient care and optimize processes and many of these solutions follow immediately the recent CPT and Medicare coding changes.  In 2023 coding of hospital observation care services underwent significant changes enabling healthcare providers to accurately document and bill for the sick or injured patient that requires a higher level of medical services between the emergency room care and hospital admission. This article explores the key changes in coding hospital observation care services and their impact on healthcare delivery.
Be Aware — Emergency Department Visits Under OIG Scrutiny
June 20th, 2023 - Wyn Staheli
Every year the Department of Health & Human Services Office of Inspector General (OIG) creates an official work plan giving everyone a heads up as to what they are going to be reviewing. The 2022 Work Plan stated that they would be reviewing claims for Evaluation & Management services provided in an emergency department (ED) setting.
OIG Audit Reveals Diagnosis Reporting Problems Affecting Risk Adjustment Scoring
June 15th, 2023 - Wyn Staheli
The Office of the Inspector General (OIG) recently published their Spring 2023 Semiannual Report to Congress. This report contained some diagnoses reporting issues that all providers need to be aware of. They focused on several groups of diagnoses that they considered "High-Risk" for being miscoded. Several states were included in the report and the types of errors for all can be generally grouped into several categories.
Documenting for Suture and Staple Removal E/M Add-On Codes
May 30th, 2023 - Aimee Wilcox
Historically, the 10-day and 90-day global periods would include the patient's follow-up Evaluation and Management (E/M) services and any dressing changes or staple/suture removal related to the surgery; however, following a closer analysis of these and other surgery codes, the decision was made to make significant revisions to these codes to ensure proper reporting.