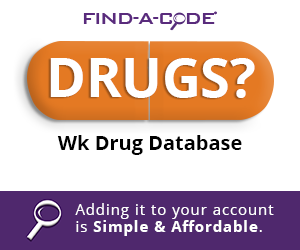 Second Quarter 2023 Updates are Different This Year
April 6th, 2023 - Wyn Staheli
---
The second quarter of 2023 is NOT business as usual so it is important to pay attention to ensure that organizational processes and training take place to avoid mistakes. Not only have ICD-10-CM coding updates been added to the usual code set updates (e.g., CPT, HCPCS, ICD-10-PCS), but the end of the COVID-19 Public Health Emergency will bring about changes that will also take place during the quarter (but not on April 1, 2023).
ICD-10-CM Changes for April 1, 2023
For us coding old-timers, ICD-10-CM changes only took place on October 1st of each year. Then, COVID hit and the CDC announced that effective March 18, 2020, an "emergency use" category (U07) was created which included codes U07.0 "Vaping-related disorder" and U07.1 "COVID-19". This was soon followed with special mid-year COVID coding guidance. Although the new Post-COVID sequela (PASC or long-COVID) code U09.9 was added in October 2021, it was later revised as of April 2022 along with
Yes, it's been a bit of a roller coaster ride and it is still going on. CMS stated the following (emphasis added):
In an effort to better enable the collection of health-related social needs (HRSNs), defined as individual-level, adverse social conditions that negatively impact a person's health or healthcare, are significant risk factors associated with worse health outcomes as well as increased healthcare utilization, the Centers for Disease Control and Prevention's (CDC) National Center for Health Statistics (NCHS) is implementing 42 new diagnosis codes into the International Classification of Diseases, Tenth Revision, Clinical Modification (ICD-10-CM), for reporting effective April 1, 2023.
This April, the following changes took place for ICD-10-CM coding:
Subcategory Y07.0- "Spouse or partner, perpetrator of maltreatment and neglect" has been expanded to differentiate between current and former spouse/partner and added "Non-binary" partner.
Social Determinants of Health (SDoH) codes were significantly revised and expanded along with changes to the Official Guidelines for Coding and Reportingabout their use.
Tip: Click hereto see the official April 2023 update document.
Not all payers require the use of SDoH codes, but it appears that CMS is getting serious about collecting this information. Watch for further announcements about the required use of these codes.
COVID Coding Changes
When the COVID-19 PHE officially ends on May 11, 2023, there are many changes that will take place. Two things or particular to note are:
Click here to read more about changes to laboratory reporting at the end of the PHE including changes to Stark Law flexibilities.
Click here to read more about other changes (e.g., test coverage, end of 1135 waiver, telehealth flexibilities) taking place when the COVID-19 PHE ends.
In case you missed it, on March 17, 2023, it was announced that there were some changes to the CPT codes for reporting Pfizer bivalent vaccines which became retroactively effective on March 14, 2023. Code 0173A for the 3rd dose was revised and code 0174A for a booster was added.
Note: FindACode.com subscribers have access to our Coronavirus page which is updated frequently.

Alert: The Official Guidelines for Coding and Reporting will be changing effective October 1, 2023 in regards to the reporting of encounters for COVID screening (Z11.52). Even though the PHE ends on May 11, officially the guideline will not change until October so watch for further information.
Other Coding Changes
As a reminder, there are changes in other coding sets for April 1st which include:
CPT® Proprietary Laboratory Analyses (PLA) Codes: 23 new (0364U–0386U), 2 changed (0022U, 0095U), 2 deleted (0324U, 0325U)
HCPCS: 43 new, 8 changed, 5 deleted
ICD-10-PCS: 34 new, no changed or deleted
Reminder: Payer policies can also change because of quarterly updates to code sets. Be sure to recheck policies of payers that are frequently billed by your organization to see if anything has changed which may require you to update your internal policies.
###
Questions, comments?
If you have questions or comments about this article please contact us. Comments that provide additional related information may be added here by our Editors.
Latest articles: (any category)
Reporting Drug Wastage with Modifier JW and NEW Modifier JZ
August 15th, 2023 - Aimee Wilcox
Modifier JW has been around since 2003 with changes in Medicare policies to ensure standard utilization in 2017; however, because of a continued lack of reporting consistency, Medicare has created and implemented policy related to reporting a new modifier, JZ. How does this impact Medicare reimbursement and why is this modifier so important?
Finding Patterns of Complexity in the Medical Decision Making (MDM) Table
August 8th, 2023 - Aimee Wilcox
Changes to the Medical Decision Making (MDM) Table in 2023 reflect the work performed in the facility setting in addition to the work involved in Evaluation and Management (E/M) scoring in other places of service. Taking the time to really look closely at the MDM Table and identify patterns in wording and scoring helps coders to understand scoring in an easier way.
Seven Reasons to Standardize Medical Records
July 18th, 2023 - Aimee Wilcox
The standardization of medical records offers numerous benefits for healthcare systems, providers, and patients. By ensuring interoperability, improved workflows, better patient safety, supporting research endeavors, and optimizing resource allocation, standardized records contribute to improved efficiency, quality of care and especially patient outcomes. Here are seven reasons to standardize medical records.
Advancements in Coding Hospital Observation Care Services in 2023
July 4th, 2023 - Aimee Wilcox
Hospitals are increasingly adopting innovative solutions to improve patient care and optimize processes and many of these solutions follow immediately the recent CPT and Medicare coding changes.  In 2023 coding of hospital observation care services underwent significant changes enabling healthcare providers to accurately document and bill for the sick or injured patient that requires a higher level of medical services between the emergency room care and hospital admission. This article explores the key changes in coding hospital observation care services and their impact on healthcare delivery.
Be Aware — Emergency Department Visits Under OIG Scrutiny
June 20th, 2023 - Wyn Staheli
Every year the Department of Health & Human Services Office of Inspector General (OIG) creates an official work plan giving everyone a heads up as to what they are going to be reviewing. The 2022 Work Plan stated that they would be reviewing claims for Evaluation & Management services provided in an emergency department (ED) setting.
OIG Audit Reveals Diagnosis Reporting Problems Affecting Risk Adjustment Scoring
June 15th, 2023 - Wyn Staheli
The Office of the Inspector General (OIG) recently published their Spring 2023 Semiannual Report to Congress. This report contained some diagnoses reporting issues that all providers need to be aware of. They focused on several groups of diagnoses that they considered "High-Risk" for being miscoded. Several states were included in the report and the types of errors for all can be generally grouped into several categories.
Documenting for Suture and Staple Removal E/M Add-On Codes
May 30th, 2023 - Aimee Wilcox
Historically, the 10-day and 90-day global periods would include the patient's follow-up Evaluation and Management (E/M) services and any dressing changes or staple/suture removal related to the surgery; however, following a closer analysis of these and other surgery codes, the decision was made to make significant revisions to these codes to ensure proper reporting.