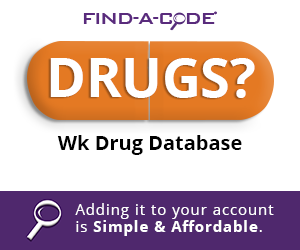 How Automation Could Impact the Future of Medical Coding
December 15th, 2022 - Find-A-Code
---
Automation is a fact of life in the modern world. As digital systems expand and mature, the creators of those systems are bringing more automation to more industries. Medical coding isn't the exception. As you are reading this article, there are companies working hard to automate medical coding for improved accuracy and efficiency.
Any thoughts of automating make medical coders understandably nervous. Like so many other industries that have been affected by automation and robotics, workers in the medical coding industry fear that the future could mean fewer jobs. If you are worried, this article will hopefully put your mind at ease.
What Automation Can Do
Automation brings a lot to the table. There is no arguing that. In medical coding, automation can turn the information provided by clinicians into electronic records without any human intervention. It can assign codes almost instantly. And provided the information from clinicians is accurate, automation can produce equally accurate records.
When automation is combined with artificial intelligence (AI) and predictive analytics, things get even more exciting. AI and predictive analytics can make up for a certain level of incorrect information furnished by clinicians. They cannot fix every mistake, but they can fix some of them.
What Automation Can't Do
Based on what you've read thus far, it might seem like automated medical coding systems are poised to put manual coders out of work. That's not the case. As fantastic as automation, AI, and predictive analytics are, they are still computer systems. And the one thing computers cannot do is think.
Automation has its limits because computers can only do what they are programmed to do. They are not sentient. They do not know their own limits, nor do they know how to go out and find information they don't currently know. Looked at from this perspective, it is easy to see why the human brain is so much more remarkable than a computer.
So what does the future hold for medical coding and billing? According to a recent seminar MedCity News reported on, those in the know say that medical coders will eventually be tasked with auditing automated systems. They will leave behind manual code entry in favor of auditing the results automated systems produce.
Auditing Will Always Be a Necessity
Right now, looking up medical codes is a largely manual process. Comparing those codes against clinician information is also done manually. But automating the two processes, while it might streamline code look-up and entry, still will not eliminate the need for human participation. In short, auditing will always be a necessity.
It all boils down to the fact that clinicians are ultimately responsible for indicating the type of care they provide, the tests they order, the devices they recommend, etc. Wherever you have humans, you have different perspectives and viewpoints. That means there's also room for differences in describing medical procedures and services.
Automated systems can only deal with the information they are provided. They cannot interpret what a clinician might have been thinking while recording services and procedures. Audits will be necessary to guarantee that clinician intent matches the codes chosen by automated systems.
Changing But Not Disappearing
Medical coding is in a state of flux right now. It is definitely changing as technology becomes more sophisticated. But rest assured that medical coding is not disappearing. It's not going away any time soon.
What will medical coding look like in the future? Though we can only speculate right now, it looks like coders will eventually become auditors rather than data entry specialists. Automated systems will do all the heavy lifting coders do right now.
###
Questions, comments?
If you have questions or comments about this article please contact us. Comments that provide additional related information may be added here by our Editors.
Latest articles: (any category)
COVID Vaccine Coding Changes as of November 1, 2023
October 26th, 2023 - Wyn Staheli
COVID vaccine changes due to the end of the PHE as of November 1, 2023 are addressed in this article.
Medicare Guidance Changes for E/M Services
October 11th, 2023 - Wyn Staheli
2023 brought quite a few changes to Evaluation and management (E/M) services. The significant revisions as noted in the CPT codebook were welcome changes to bring other E/M services more in line with the changes that took place with Office or Other Outpatient Services a few years ago. As part of CMS' Medicare Learning Network, the "Evaluation and Management Services Guide" publication was finally updated as of August 2023 to include the changes that took place in 2023. If you take a look at the new publication (see references below),....
Can We Score Interpretation of an EKG Towards E/M Medical Decision Making?
October 10th, 2023 - Aimee Wilcox
When EKGs are performed in the facility setting or even in the physician's office, what are the requirements for reporting the service and who gets credit for scoring data points for Evaluation and Management (E/M) medical decision making (MDM)? Let's take a look at a few coding scenarios related to EKG services to get a better understanding of why this can be problematic.
Accurately Reporting Signs and Symptoms with ICD-10-CM Codes
October 5th, 2023 - Aimee Wilcox
Coders often find themselves unsure of when to report a sign or symptom code documented in the medical record. Some coders find their organization has an EHR that requires a working diagnosis, which is usually a sign or symptom, be entered to order a test or diagnostic study or image. Understanding the guidelines surrounding when signs and symptoms should be reported is the first step in correct coding so let's take a look at some scenarios.
The 2024 ICD-10-CM Updates Include New Codes for Reporting Metabolic Disorders and Insulin Resistance
September 19th, 2023 - Aimee Wilcox
Diabetes is a chronic disease that just seems to consistently be increasing instead of improving resulting in a constant endeavor by medical researchers to identify causal effects and possible treatments. One underlying or precipitating condition that scientists have identified as a precipitating factor in the development of diabetes is insulin resistance, which is a known metabolic disorder. As data becomes available through claims reporting, additional code options become possible with ICD-10-CM.
Documenting and Reporting Postoperative Visits
September 12th, 2023 - Aimee Wilcox
Sometimes we receive questions regarding documentation requirements for specific codes or coding requirements and we respond with information and resources to support our answers. The following question was recently submitted: Are providers required to report postoperative services on claims using 99024, especially if there is no payment for that service? What documentation is required if you are reporting an unrelated Evaluation and Management (E/M) service by the same physician during the postoperative period? 
Understanding Gastroesophageal Reflux Disease and ICD-10-CM Coding
August 22nd, 2023 - Aimee Wilcox
Gastroesophageal reflux disease or GERD for short, is a disease that impacts millions of Americans on a weekly basis. Symptoms are uncomfortable, as are some of the tests used to diagnose it, but understanding the disease, tests, and treatments helps us better understand how to code the disease using ICD-10-CM codes.