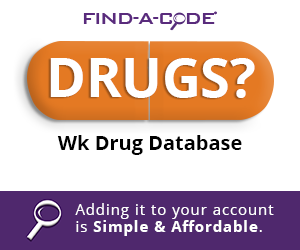 Fatten Up Your BMI Coding Skills
November 22nd, 2022 - Aimee Wilcox
---
During a Find-A-Code webinar a few months back, we discussed the guidelines surrounding reporting Z68.- Body Mass Index (BMI). We reviewed the following guideline, as noted in the ICD-10-CM Official Coding Guidelines,
"Section I.C.21.c.3: BMI codes should only be assigned when there is an associated, reportable diagnosis (such as obesity). Do not assign BMI codes during pregnancy."
The primary focus in returning to this discussion is to review the various reasons for reporting or not reporting the patient's BMI, as documented during an encounter, and how to know when it is or isn't appropriate to code it.
Section I.B.14 also addresses the ability of clinicians, other than the patient's provider, who are authorized to document the patient's BMI in the medical record for reporting purposes. It serves to clarify that this would be considered a secondary diagnosis when reported together with a medical diagnosis documented by the patient's provider.
Documenting & Reporting Associated Diagnoses with the BMI
The following codes have an instructional notation of "Use additional code to identify body mass index (BMI), if known (Z68.-)":
The guidelines noted above indicate that the BMI may be documented by nonprovider personnel and reported on the claim form according to the guidelines. When a provider documents the patient has one of the E66.- codes listed above as a diagnosis, the coder should also report the BMI with the appropriate Z68.- code.
MIPS Clinical Quality Measures
Currently there are payers who will reimburse up to ten dollars per claim for provider organizations who will collect, document, and report a patient's BMI, for patients who are 18 or older. This falls under the Quality Measure ID# 128: Preventive Care and Screening: Body Mass Index (BMI) Screening and Follow-up Plan for Community/Population Health and requires the coders to report the patient's BMI (Z68.-) with CPT Category II code, 3008F. These organizations should be aware that while this appears to be a simple task, additional requirements are noted such as when a patient who is 18+ has a documented BMI that is outside the normal range of 18.5-25, a treatment plan should be documented as well. To review, the following requirements must be met to ensure proper collection of this additional payment for this MIPS measure.
The BMI must be obtained and documented in the medical record
The category code for the MIPS measure must be reported and linked to the associated BMI code (Z68.-)
Documentation of a treatment plan to correct an abnormal BMI (normal BMI for age 18 and older is 18.5 - 25). Patients with a normal BMI do not require documentation of a treatment plan.
When to Report Morbid Obesity
There has been some confusion in identifying when it is appropriate to report morbid obesity and the guidelines for doing so. According to the ICD-10-CM Coding guidelines, morbid obesity does not have a designated BMI associated with the code; although many experts will say that a BMI of 40+ is considered morbid obesity.
It is important to point out that there are a few documents that may shed additional light on what circumstances must be documented to support a diagnosis of morbid obesity. The FY 2023 ICD-10-CM Official Coding Guidelines update, Section 1.A.19 states,
"The assignment of a diagnosis code is based on the provider's diagnostic statement that the condition exists. The provider's statement that the patient has a particular condition is sufficient. Code assignment is not based on clinical criteria used by the provider to establishe the diagnosis. If there is a conflicting medical record documentation, query the provider."
In other words, a provider may state the patient is morbidly obese while the BMI is less than 40 (the general consensus for morbidly obese). A Humana document shed additional light on this topic, with clinical definitions from Centers for Disease Control and Prevention (CDC), MedlinePlus (a service of the U.S. National Library of Medicine and the National Institutes of Health, or NIH), and the NIH definition of morbid obesity, which is:
Being 100 pounds or more above ideal body weight, or
Having a BMI of 40 or greater, or
Having a BMI of 35 or greater and one or more co-morbid conditions
In other words, if a provider deems a patient, with a BMI of 35 and one or more chronic conditions is morbidly obese, even though the BMI of 40 is not met, it qualifies for reporting morbidly obese due to the physician's documented statement of such.
Reported Codes Should Fully Describe the Documented Condition
When reporting these codes, ensure the documentation supports a code from E66.-, as documented by the provider, and sequence it before the Z68.- code for reporting the BMI. If your organization is actively reporting 3008F, be sure to link the Z68.- code to it for reporting purposes. Remember, if a provider documents morbid obesity and the BMI is 35+, check the documentation to verify there is at a minimum, one chronic condition documented to support reporting the morbid obesity code.
---
Disclaimer:
The above article is the opinion of the author(s) and should not be interpreted by providers/payers as official guidance. For any questions about the content of this article, please contact the author(s).
About the Author: Aimee Wilcox is a medical coding, billing, and auditing consultant, author, and educator with more than 30 years of clinical and administrative experience in healthcare, coding, billing, and auditing. Medicine, including coding and billing, is a constantly changing field full of challenges and learning and she loves both. She believes there are talented medical professionals who, with proper training and excellent information, can continue to practice the art of healing while feeling secure in their billing and reimbursement for such care.
###
Questions, comments?
If you have questions or comments about this article please contact us. Comments that provide additional related information may be added here by our Editors.
Latest articles: (any category)
Finding Patterns of Complexity in the Medical Decision Making (MDM) Table
August 8th, 2023 - Aimee Wilcox
Changes to the Medical Decision Making (MDM) Table in 2023 reflect the work performed in the facility setting in addition to the work involved in Evaluation and Management (E/M) scoring in other places of service. Taking the time to really look closely at the MDM Table and identify patterns in wording and scoring helps coders to understand scoring in an easier way.
Seven Reasons to Standardize Medical Records
July 18th, 2023 - Aimee Wilcox
The standardization of medical records offers numerous benefits for healthcare systems, providers, and patients. By ensuring interoperability, improved workflows, better patient safety, supporting research endeavors, and optimizing resource allocation, standardized records contribute to improved efficiency, quality of care and especially patient outcomes. Here are seven reasons to standardize medical records.
Advancements in Coding Hospital Observation Care Services in 2023
July 4th, 2023 - Aimee Wilcox
Hospitals are increasingly adopting innovative solutions to improve patient care and optimize processes and many of these solutions follow immediately the recent CPT and Medicare coding changes.  In 2023 coding of hospital observation care services underwent significant changes enabling healthcare providers to accurately document and bill for the sick or injured patient that requires a higher level of medical services between the emergency room care and hospital admission. This article explores the key changes in coding hospital observation care services and their impact on healthcare delivery.
Be Aware — Emergency Department Visits Under OIG Scrutiny
June 20th, 2023 - Wyn Staheli
Every year the Department of Health & Human Services Office of Inspector General (OIG) creates an official work plan giving everyone a heads up as to what they are going to be reviewing. The 2022 Work Plan stated that they would be reviewing claims for Evaluation & Management services provided in an emergency department (ED) setting.
OIG Audit Reveals Diagnosis Reporting Problems Affecting Risk Adjustment Scoring
June 15th, 2023 - Wyn Staheli
The Office of the Inspector General (OIG) recently published their Spring 2023 Semiannual Report to Congress. This report contained some diagnoses reporting issues that all providers need to be aware of. They focused on several groups of diagnoses that they considered "High-Risk" for being miscoded. Several states were included in the report and the types of errors for all can be generally grouped into several categories.
Documenting for Suture and Staple Removal E/M Add-On Codes
May 30th, 2023 - Aimee Wilcox
Historically, the 10-day and 90-day global periods would include the patient's follow-up Evaluation and Management (E/M) services and any dressing changes or staple/suture removal related to the surgery; however, following a closer analysis of these and other surgery codes, the decision was made to make significant revisions to these codes to ensure proper reporting.
Are you Properly Reporting Radiology Services?
May 23rd, 2023 - Wyn Staheli
It's probably not surprising that the most commonly billed imaging services are radiologic examinations of the humerus, spine, fingers, and abdomen (codes 72070, 73140, 73060, 74019). However, there are currently 653 CPT codes in the main imaging section (70000-79999). Therefore, it's worth it to take a few moments to review some important information about these services to ensure that proper coding (including the correct use of modifiers) takes place. This can help your organization ensure correct coding and reimbursement and thus minimize the chances for claim denials and payer take-backs (post-payment denials).