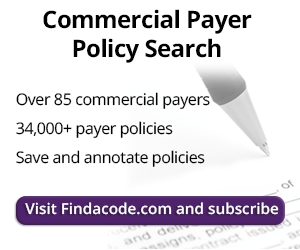 Fatten Up Your BMI Coding Skills
November 22nd, 2022 - Aimee Wilcox
---
During a Find-A-Code webinar a few months back, we discussed the guidelines surrounding reporting Z68.- Body Mass Index (BMI). We reviewed the following guideline, as noted in the ICD-10-CM Official Coding Guidelines,
"Section I.C.21.c.3: BMI codes should only be assigned when there is an associated, reportable diagnosis (such as obesity). Do not assign BMI codes during pregnancy."
The primary focus in returning to this discussion is to review the various reasons for reporting or not reporting the patient's BMI, as documented during an encounter, and how to know when it is or isn't appropriate to code it.
Section I.B.14 also addresses the ability of clinicians, other than the patient's provider, who are authorized to document the patient's BMI in the medical record for reporting purposes. It serves to clarify that this would be considered a secondary diagnosis when reported together with a medical diagnosis documented by the patient's provider.
Documenting & Reporting Associated Diagnoses with the BMI
The following codes have an instructional notation of "Use additional code to identify body mass index (BMI), if known (Z68.-)":
The guidelines noted above indicate that the BMI may be documented by nonprovider personnel and reported on the claim form according to the guidelines. When a provider documents the patient has one of the E66.- codes listed above as a diagnosis, the coder should also report the BMI with the appropriate Z68.- code.
MIPS Clinical Quality Measures
Currently there are payers who will reimburse up to ten dollars per claim for provider organizations who will collect, document, and report a patient's BMI, for patients who are 18 or older. This falls under the Quality Measure ID# 128: Preventive Care and Screening: Body Mass Index (BMI) Screening and Follow-up Plan for Community/Population Health and requires the coders to report the patient's BMI (Z68.-) with CPT Category II code, 3008F. These organizations should be aware that while this appears to be a simple task, additional requirements are noted such as when a patient who is 18+ has a documented BMI that is outside the normal range of 18.5-25, a treatment plan should be documented as well. To review, the following requirements must be met to ensure proper collection of this additional payment for this MIPS measure.
The BMI must be obtained and documented in the medical record
The category code for the MIPS measure must be reported and linked to the associated BMI code (Z68.-)
Documentation of a treatment plan to correct an abnormal BMI (normal BMI for age 18 and older is 18.5 - 25). Patients with a normal BMI do not require documentation of a treatment plan.
When to Report Morbid Obesity
There has been some confusion in identifying when it is appropriate to report morbid obesity and the guidelines for doing so. According to the ICD-10-CM Coding guidelines, morbid obesity does not have a designated BMI associated with the code; although many experts will say that a BMI of 40+ is considered morbid obesity.
It is important to point out that there are a few documents that may shed additional light on what circumstances must be documented to support a diagnosis of morbid obesity. The FY 2023 ICD-10-CM Official Coding Guidelines update, Section 1.A.19 states,
"The assignment of a diagnosis code is based on the provider's diagnostic statement that the condition exists. The provider's statement that the patient has a particular condition is sufficient. Code assignment is not based on clinical criteria used by the provider to establishe the diagnosis. If there is a conflicting medical record documentation, query the provider."
In other words, a provider may state the patient is morbidly obese while the BMI is less than 40 (the general consensus for morbidly obese). A Humana document shed additional light on this topic, with clinical definitions from Centers for Disease Control and Prevention (CDC), MedlinePlus (a service of the U.S. National Library of Medicine and the National Institutes of Health, or NIH), and the NIH definition of morbid obesity, which is:
Being 100 pounds or more above ideal body weight, or
Having a BMI of 40 or greater, or
Having a BMI of 35 or greater and one or more co-morbid conditions
In other words, if a provider deems a patient, with a BMI of 35 and one or more chronic conditions is morbidly obese, even though the BMI of 40 is not met, it qualifies for reporting morbidly obese due to the physician's documented statement of such.
Reported Codes Should Fully Describe the Documented Condition
When reporting these codes, ensure the documentation supports a code from E66.-, as documented by the provider, and sequence it before the Z68.- code for reporting the BMI. If your organization is actively reporting 3008F, be sure to link the Z68.- code to it for reporting purposes. Remember, if a provider documents morbid obesity and the BMI is 35+, check the documentation to verify there is at a minimum, one chronic condition documented to support reporting the morbid obesity code.
---
Disclaimer:
The above article is the opinion of the author(s) and should not be interpreted by providers/payers as official guidance. For any questions about the content of this article, please contact the author(s).
About the Author: Aimee Wilcox is a medical coding, billing, and auditing consultant, author, and educator with more than 30 years of clinical and administrative experience in healthcare, coding, billing, and auditing. Medicine, including coding and billing, is a constantly changing field full of challenges and learning and she loves both. She believes there are talented medical professionals who, with proper training and excellent information, can continue to practice the art of healing while feeling secure in their billing and reimbursement for such care.
###
Questions, comments?
If you have questions or comments about this article please contact us. Comments that provide additional related information may be added here by our Editors.
Latest articles: (any category)
Compliance Billing: Power Mobility Devices
December 27th, 2022 - Chris Woolstenhulme
In May of 2022, the OIG conducted a nationwide audit of Power Mobility Device (PMD) repairs for Medicare beneficiaries. The findings were not favorable; the audit revealed CMS paid 20% of durable medical suppliers incorrectly during the audit period of October 01, 2018- September 30, 2019. This was a total of $8 million in device repairs out of $40 million paid by CMS. We gathered information in this article to assist providers and suppliers in keeping the payments received, protecting beneficiaries, and assisting you in ensuring compliance.
Leveraging Hierarchical Condition Category (HCC) Coding to Improve Overall Healthcare
December 27th, 2022 - Kem Tolliver
Diagnosis code usage is a major component of optimizing HCCs to improve overall healthcare. Readers will gain insight into how accurate diagnosis code usage and selection impacts reimbursement and overall healthcare.
Accurately Reporting Diabetic Medication Use in 2023
December 20th, 2022 - Aimee Wilcox
Along with the ICD-10-CM coding updates, effective as of October 1st, the guidelines were also updated to provide additional information on reporting diabetic medications in both the general diabetic population and pregnant diabetics. Accurate reporting is vital to ensure not only maximum funding for risk adjusted health plans, but also to ensure medical necessity for the services provided to this patient population.
REMINDER: CMS Discontinuing the use of CMNs and DIFs- Eff Jan 2023 Claims will be DENIED!
December 19th, 2022 - Chris Woolstenhulme
Updated Article - REMINDER! This is important news for durable medical suppliers! Effective January 1, 2023, CMS is discontinuing the use of Certificates of Medical Necessity (CMNs) and DME information forms (DIFs). We knew this was coming as the MLN sent out an article on May 23, 2022, but it is time to make sure your staff knows about these changes.
How Automation Could Impact the Future of Medical Coding
December 15th, 2022 - Find-A-Code
Automation is a fact of life in the modern world. As digital systems expand and mature, the creators of those systems are bringing more automation to more industries. Medical coding isn't the exception.
CPT Codes and Medicare's Relative Value Unit
December 13th, 2022 - Find-A-Code
A recently published study looking to explain income differences between male and female plastic surgeons suggests that billing and coding practices may be part of the equation. The study focused primarily on Medicare's relative value units (RVU) as applied to surgeon pay. But what exactly is an RVU?
Identifying the MEAT to Support Reporting Chronic Conditions in the Computer-Assisted-Coding (CAC) World
December 13th, 2022 - Aimee Wilcox
The benefits of computer-assisted-coding (CAC) are great and understanding how to engage with the engine to ensure maximum coding efficiency is vital to the program's success for your organization. But how do you know when to accept an autosuggested code and when to ignore it, especially when it has to do with historical patient data?