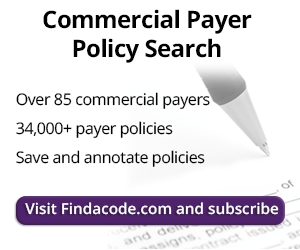 ICD-10-CM 2023 Code Changes for Chiropractic
October 6th, 2022 - Wyn Staheli
---
There were several changes to the ICD-10-CM codeset for fiscal year 2023 which went into effect October 1, 2022 and could impact chiropractic. At the time of publication, it was unknown how payers would respond to these changes. This article only discusses some of the changes to the ICD-10-CM codes. Changes to procedure codes such as "Prolonged Services" for office E/M visits are included in the 2023 ChiroCode DeskBook which is currently shipping.
Limb Girdle Muscular Dystrophies (LGMDs) (G71.03-)
LGMD is a genetically inherited condition characterized by progressive weakness and wasting (atrophy) in limb musculature of the hip and shoulder area (girdle) which can spread to other muscles. Symptoms vary in severity from mild to severe as does age of onset (childhood to adulthood). There are many different variants but they are not linked to the x chromosome (gender). Genetic testing is typically required to identify the mutation.
Code selection depends on the cause of the LGMD: autosomal dominant, autosomal recessive from calpain-3 dysfunction, dysferlin dysfunction, sarcoglycan (e.g., beta, alpha, unspecified, other), anoctamin-5 dysfunction, other, or unspecified.
Note: Codes in subcategory G71.03- for limb girdle muscular dystrophies can be found in FindACode.com as well as the ICD-10-CM Coding for Chiropractic book (available in the online store). Although not a common code for a chiropractic office, it is good to be aware of this change.
Lumbar and Lumbosacral Intervertebral Annular Fibrosis Defects (M51.A-)
The annulus fibrosus is the tough (fibrocartilaginous) tissue which surrounds and protects the softer portion of the intervertebral disc (nucleus pulposus) and helps to keep it from rupturing or herniating. Defects of this tissue often result in disc herniation.
New subcategory M51.A- was created to describe "Other lumbar and lumbosacral annulus fibrosus disc defects". The requestor stated the following:
"New codes to identify the size of the annular defect would help the clinical community, and support compliance with treatment guidelines (e.g., see ISASS Policy Guidelines). In addition, detailed coding describing both large and small annular defects will allow researchers and clinicians to track and further assess patient outcomes following lumbar/lumbosacral discectomy as well as outcomes associated with the treatment of large annular defects."
It is critical to note that all of these new codes are NOT primary codes because they each have an instructional note to "code first" any disc herniation. For example, code M51.A3 "Intervertebral annulus fibrosus defect, lumbosacral region, unspecified size" states to "Code first, if applicable, lumbosacral disc herniation (M51.17, M51.27)"
Although these codes were requested for the purpose of tracking surgical outcomes, it is possible that a patient presenting at a chiropractic office would have the imaging available to know that they have such a defect. However, it would NOT be reported as a primary diagnosis.
Muscle Wasting and Atrophy Expanded (M62.5-)
The new subcategory for "Muscle wasting and atrophy, not elsewhere classified, back" includes specific codes for each level; cervical, thoracic, lumbosacral, and unspecified. Keep in mind that these are not elsewhere classified so they will be less likely to be used on a regular basis.
They have been included in the ICD-10-CM Coding for Chiropractic book available in the online store and may also be viewed with a FindACode.com subscription.
Changes to "Slipped Upper Femoral Epiphysis (Nontraumatic)" (M93.0-)
There were actually several changes to this subcategory. Be sure to review this category carefully for all the changes. The following are just some of those changes:
New sub-terms (inclusion terms were added (e.g., Slipped capital femoral epiphysis (SCFE))

"Stable" added to M93.01-, M93.02-, M93,03-

"Unstable", "Acute", and "Acute on chronic" sub-categories added
Chronic Fatigue Changes
Chronic Fatigue syndrome has been removed from code R53.82 because of the changes in relation to COVID postviral fatigue syndrome (G93.3-). Although this is not necessarily a common condition in a chiropractic setting, it should be noted that this condition is now an inclusion term for new code G93.32 "Myalgic encephalomyelitis/chronic fatigue syndrome."
The following instructional information was also added to G93.3-:
Use Additional code, if applicable, for post COVID-19 condition, unspecified (U09.9)
Excludes1: neurasthenia (F48.8)
Concussion (S06.0X-)
Subcategory S06.0- "Concussion" describes situations where the brain has been jolted or shaken (common among football and soccer athletes, as well as mild car accidents). There were several changes to all of category S06 "Concussion". Of particular interest to chiropractic offices are those found in subcategory S06.0X-. New inclusion terms and the new subcategory S06.0XA- were added. In the list that follows, new information is highlighted and deleted terms are in strikeout text:
S06.0X1- Concussion with loss of consciousness of 30 minutes or less
Concussion with brief loss of consciousness
S06.0XA- Concussion with loss of consciousness status unknown
Concussion NOS
S06.0X9- Concussion with loss of consciousness of unspecified duration
Concussion NOS
If you have been using S06.0X9- for "concussion NOS", you will need to use the new S06.0XA- subcategory as of October 1, 2022.
e-Bike Injuries (V20-V29)
Electric bicycles (e-bikes), also known as electric assisted bicycles, are similar to conventional bicycles in that they have two or three wheels but they are different in that they are propelled partially or entirely by electric power and equipped with a battery. They used to be classified with motorcycles, but they are different in that they can operate off-road (e.g, on sidewalks,) travel at different speeds, and don't require helmets. As such, e-bike accidents have different types of injuries than motorcycles and so they are now reported separately within ICD-10-CM. Most codes were expanded with new 5th character options as shown in the following example (new information is highlighted):
V20.2- Unspecified motorcycle rider injured in collision with pedestrian or animal in nontraffic accident
V20.21- Unspecified electric (assisted) bicycle rider injured in collision with pedestrian or animal in nontraffic accident
V20.29- Unspecified rider of other motorcycle injured in collision with pedestrian or animal in nontraffic accident
Coding Note: e-bicycles are classified differently than the micro-mobility pedestrian vehicles in which the rider stands (e.g., hoverboard, segway) and are reported with codes found in category V00- "Pedestrian conveyance accident."

###
Questions, comments?
If you have questions or comments about this article please contact us. Comments that provide additional related information may be added here by our Editors.
Latest articles: (any category)
COVID Vaccine Coding Changes as of November 1, 2023
October 26th, 2023 - Wyn Staheli
COVID vaccine changes due to the end of the PHE as of November 1, 2023 are addressed in this article.
Medicare Guidance Changes for E/M Services
October 11th, 2023 - Wyn Staheli
2023 brought quite a few changes to Evaluation and management (E/M) services. The significant revisions as noted in the CPT codebook were welcome changes to bring other E/M services more in line with the changes that took place with Office or Other Outpatient Services a few years ago. As part of CMS' Medicare Learning Network, the "Evaluation and Management Services Guide" publication was finally updated as of August 2023 to include the changes that took place in 2023. If you take a look at the new publication (see references below),....
Can We Score Interpretation of an EKG Towards E/M Medical Decision Making?
October 10th, 2023 - Aimee Wilcox
When EKGs are performed in the facility setting or even in the physician's office, what are the requirements for reporting the service and who gets credit for scoring data points for Evaluation and Management (E/M) medical decision making (MDM)? Let's take a look at a few coding scenarios related to EKG services to get a better understanding of why this can be problematic.
Accurately Reporting Signs and Symptoms with ICD-10-CM Codes
October 5th, 2023 - Aimee Wilcox
Coders often find themselves unsure of when to report a sign or symptom code documented in the medical record. Some coders find their organization has an EHR that requires a working diagnosis, which is usually a sign or symptom, be entered to order a test or diagnostic study or image. Understanding the guidelines surrounding when signs and symptoms should be reported is the first step in correct coding so let's take a look at some scenarios.
The 2024 ICD-10-CM Updates Include New Codes for Reporting Metabolic Disorders and Insulin Resistance
September 19th, 2023 - Aimee Wilcox
Diabetes is a chronic disease that just seems to consistently be increasing instead of improving resulting in a constant endeavor by medical researchers to identify causal effects and possible treatments. One underlying or precipitating condition that scientists have identified as a precipitating factor in the development of diabetes is insulin resistance, which is a known metabolic disorder. As data becomes available through claims reporting, additional code options become possible with ICD-10-CM.
Documenting and Reporting Postoperative Visits
September 12th, 2023 - Aimee Wilcox
Sometimes we receive questions regarding documentation requirements for specific codes or coding requirements and we respond with information and resources to support our answers. The following question was recently submitted: Are providers required to report postoperative services on claims using 99024, especially if there is no payment for that service? What documentation is required if you are reporting an unrelated Evaluation and Management (E/M) service by the same physician during the postoperative period? 
Understanding Gastroesophageal Reflux Disease and ICD-10-CM Coding
August 22nd, 2023 - Aimee Wilcox
Gastroesophageal reflux disease or GERD for short, is a disease that impacts millions of Americans on a weekly basis. Symptoms are uncomfortable, as are some of the tests used to diagnose it, but understanding the disease, tests, and treatments helps us better understand how to code the disease using ICD-10-CM codes.