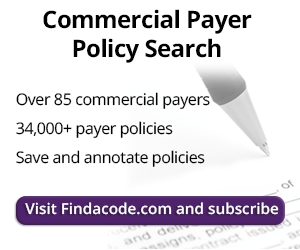 Billing for Incontinence and Urinary Products
October 20th, 2022 - Chris Woolstenhulme
---
We all understand anything covered under health insurance must be medically necessary. In other words, it must be essential in treating and managing a patient's condition or to evaluate, diagnose, or treat an illness, injury, disease, or its symptoms. In this article, we will address catheters, urological supplies, and disposable incontinence supplies, such as adult diapers and incontinence liners, according to some payer requirements.

End-Stage Renal Disease
For patients with End-Stage Renal Disease (ESRD), supply coverage has different rules and benefits. ESRD is a covered condition, and certain supplies, such as catheters and dressings, are essential to treating and managing ESRD. For more information, CMS posted a master list of DMEPOS HCPCS codes and certain requirements under the Final Rule.

Some of the requirements under the Federal rule are potentially subject to the following:
Face-to-face encounter
Written order prior to delivery
Prior authorization requirements
What Contacting the Payer can Tell You
Understanding payer policies are essential for anyone doing coding/billing and auditing. There are different types of codes used to bill for urinary incontinence; for example, State Medicaid Agency requires codes such as T4521-T4545 when reporting incontinence supplies, and other payers may use HCPCS procedure and supply codes. Be sure to verify which codes the payer uses.

Examples:
Medicaid code: T4543 Adult-sized disposable incontinence product, protective brief/diaper
HCPCS Supply Code: A4520 - Incontinence garment, any type, (e.g., brief, diaper)

Let's take a look at some different payer's policies to see how different they are and what they tell us about billing urological supplies.

Note: these are just examples; each policy must be read in its entirety.
According to Blue Cross ND, urinary catheters and external urinary collection devices may be considered medically necessary for an individual who meets ANY ONE (1) of the following indications:
Permanent urinary incontinence; or
Permanent urinary retention (defined as retention that is not expected to be medically or
surgically corrected in that individual within three (3) months).
Blue Cross ND- Q/A's on Indwelling Catheters and other Supplies
Q. How many catheters are considered medically necessary?
A. No more than one (1) catheter per month may be considered medically necessary for routine catheter maintenance.

Q. What if the patient pulls out the catheter?
A. Non-routine catheter changes may be considered medically necessary in exceptional circumstances, including but not limited to:
Catheter is accidentally removed (e.g., pulled out by individual); or
Malfunction of catheter (e.g., balloon does not stay inflated, hole in catheter); or
Catheter is obstructed by encrustation, mucous plug, or blood clot; or
History of recurrent obstruction or urinary tract infection (UTI) for which it has been established that an acute event is prevented by a scheduled change frequency of more than once per month.
Procedure Codes for Indwelling Catheters under this Policy- Blue Cross ND
A4311 A4312 A4313 A4314 A4315
A4316 A4338 A4340 A4344 A4346
For criteria and documentation on this policy and a list of covered diagnosis codes to procedure, see the example of BCBCND policy ID:0-27-012. (Image 1.)

Image 1. BC Sample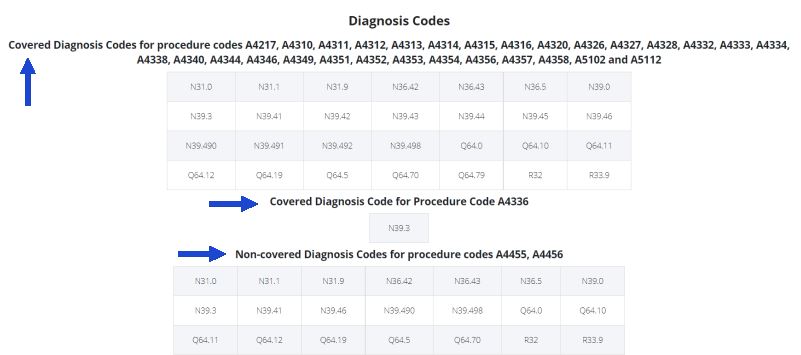 For the quantity of supplies Usual Maximum allowed by Blue Cross ND, See the table here.

Payer-Specific Policies- Vital to your Revenue Cycle
The information above and much more can be accessed on Find-A-Code under Commercial Payer Policies. With this type of extensive information at your fingertips, shouldn't this be included in your office procedures? Yes, of course, it should be included in your processes! It will save time and money! With all of the different payer rules, reviewing payer policies and guidelines is imperative. It is one of the most vital parts of your revenue cycle and workflow; ensure sure your staff understands how important this is and make a habit of discovering what can go wrong before it does.

I have coded this a hundred times; what could be wrong? I am getting paid!
Reviewing your payer policies will tell you if you are missing important information. Codes, modifiers, clinical notes, medically necessary conditions, or supervision rules? Once you start researching, you may notice you are missing important information for compliant claims processing. Once your research is done, it is time to make procedures for your staff to avoid further issues. Just because you are reimbursed for your claims does not always mean they were processed correctly; insurance companies can make payment errors. You could find yourself in a very uncomfortable position, not only paying back the payer but having every claim audited prior to payment.

Taking the time to review a policy can make all the difference.
Using Find-A-Codes Commercial Payer Policies makes it easy; select your payer(s), then type a description or a code in the search bar to view several or just one payer policy.

TIP: Once you have researched a subject, save your work. This is another part of the revenue cycle most don't think about; this will save you time and money. There are several ways of doing this, bookmark the policy for your staff, save it under keywords, or make a note on the code information page; call or CHAT to learn new ways to protect your work.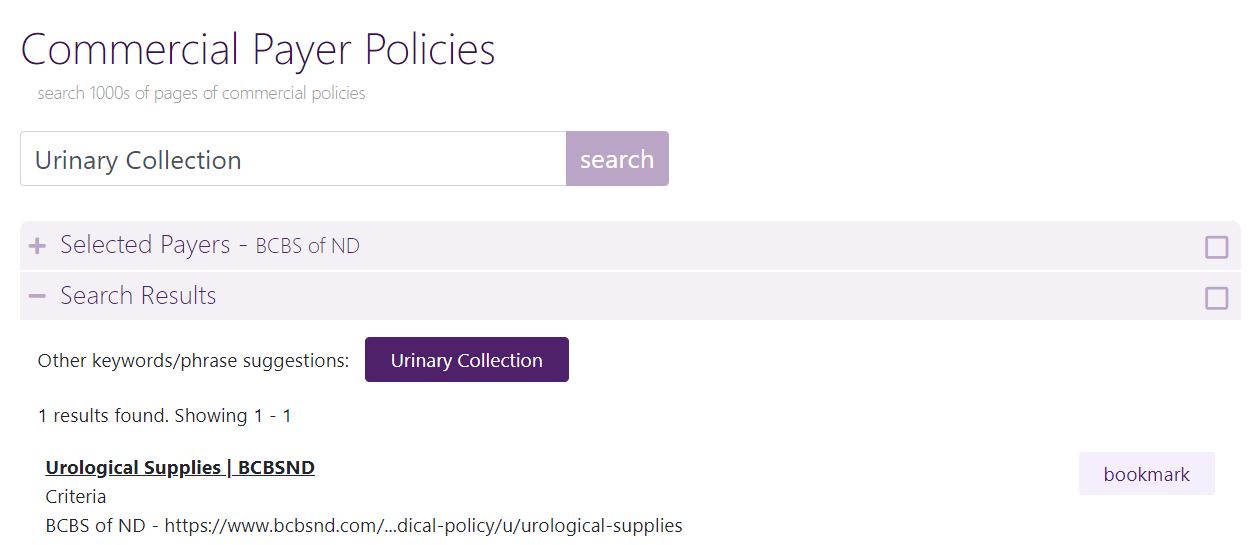 Coverage for Disposable Supplies
You may find a Medicaid plan with coverage for disposable incontinence supplies; however, since Medicaid is state-specific, all states may not offer the same coverage. Medicare does not provide coverage for disposable supplies such as bandages, gauze, and adult diapers; however, some Medicare Advantage plans offer enhanced benefits and may provide coverage if the patient has a specific medical condition.
Important factors considered for coverage:
Verify payer and state requirements for age.
Most states do not cover incontinence supplies for children under the age of 3.
Verify Policy limitations; monthly supplies vary by diagnosis.
Take a look at other payer policies
Here is an example of coverage for disposable incontinence supplies provided by Medicare Plus Blue Group PPOSM See specific payment conditions for adult diapers and incontinence liners for the following HCPCS codes.
A4520 -

Incontinence garment, any type, (e.g., brief, diaper), each

A4554 -

Disposable underpads, all sizes
Conditions for payment
Eligible provider: DME P/O Medical supplier
Payable location: No restrictions
Frequency: No restrictions
CPT/HCPCS codes: A4520, A4554
Diagnosis restrictions: No restrictions
Age restrictions: No restrictions
Priority Health - Incontinence Supplies for Medicaid Members Policy No. 91502-R4
For members 3-20 years old with the presence of a medical condition causing bowel/bladder incontinence.
Pull-on briefs are considered a short-term transitional product that requires a reassessment every six months.
Pull-on briefs are covered for members ages 21 and over when there is the
presence of a medical condition causing bowel/bladder incontinence, and the
member is able to care for his/her toileting needs independently or with minimal
assistance from a caregiver and one of the following applies:
a. For short-term use: The member has a temporary medical condition
(including recent discharge from a nursing home or hospital) causing
bowel/bladder incontinence; or
b. For long-term use: The member has a permanent medical condition (such
as Muscular Dystrophy, Spina Bifida, etc.) that will prevent the beneficiary
from ever achieving bowel and bladder continence.
Generally, eligibility is determined by the diagnosis code, while monthly quantities are based on the diagnosis and are state specific according to the payer. Please don't leave your patients stuck with uncovered supplies; determine the monthly allowable before the provider writes the order so the patient does not get a surprise bill when their insurance does not cover the supply.

For example, Aetna's - Urological Supplies policy Number 0533
Table: Usual Maximum Medically Necessary Quantity of Supplies

| Description | Number per month | Number per 3 months |
| --- | --- | --- |
| Insertion tray with drainage bag with indwelling catheter, Foley-type, 2-way, latex with coating | 1 | |
| Insertion tray with drainage bag with indwelling catheter, Foley-type, 2-way, all silicone | 1 | |
| Insertion tray with drainage bag with indwelling catheter, Foley-type, 3-way, for continuous irrigation | 1 | |
| Insertion tray with drainage bag but without catheter | 1 | |
| Bedside drainage bag, day or night, with or without anti-reflux device, with or without tube, each | 2 | |
| Urinary leg bag; vinyl, with or without tube, each | 2 | |
| Bedside drainage bottle with or without tubing, rigid or expandable, each | | 1 |
| Urinary leg bag; latex | 1 | |
Atena also lists notes for supplies considered Non-Covered Supplies and codes covered under specific criteria or not covered. For example, the following is not covered for indications covered under this clinical policy (other than for home care suppliers).

According to Atena's policy on Urological supplies, "supplies used in the management of incontinence are not covered, other than for home care suppliers who bill for the supplies as part of the home health care visit."
Common Incontinence Conditions
| | | | |
| --- | --- | --- | --- |
| N39.3 | Stress incontinence (female) (male) | N39.492 | Postural (urinary) incontinence |
| N39.41 | Urge incontinence | N39.498 | Other specified urinary incontinence |
| N39.42 | Incontinence without sensory awareness | R15.2 | Fecal urgency |
| N39.43 | Post-void dribbling | R15.9 | Full incontinence of feces |
| N39.44 | Nocturnal enuresis | R30.1 | Vesical tenesmus |
| N39.45 | Continuous leakage | R39.2 | Extrarenal uremia |
| N39.46 | Mixed incontinence | R39.81 | Functional urinary incontinence |
| N39.490 | Overflow incontinence | R39.89 | Other symptoms and signs involving the genitourinary system |
| N39.491 | Coital incontinence | R39.9 | Unspecified symptoms and signs involving the genitourinary system |
NOTE: The information presented here is not all-inclusive of any payer policy (these are examples only); each policy should be read in its entirety for more accurate information.
###
Questions, comments?
If you have questions or comments about this article please contact us. Comments that provide additional related information may be added here by our Editors.
Latest articles: (any category)
COVID Vaccine Coding Changes as of November 1, 2023
October 26th, 2023 - Wyn Staheli
COVID vaccine changes due to the end of the PHE as of November 1, 2023 are addressed in this article.
Medicare Guidance Changes for E/M Services
October 11th, 2023 - Wyn Staheli
2023 brought quite a few changes to Evaluation and management (E/M) services. The significant revisions as noted in the CPT codebook were welcome changes to bring other E/M services more in line with the changes that took place with Office or Other Outpatient Services a few years ago. As part of CMS' Medicare Learning Network, the "Evaluation and Management Services Guide" publication was finally updated as of August 2023 to include the changes that took place in 2023. If you take a look at the new publication (see references below),....
Can We Score Interpretation of an EKG Towards E/M Medical Decision Making?
October 10th, 2023 - Aimee Wilcox
When EKGs are performed in the facility setting or even in the physician's office, what are the requirements for reporting the service and who gets credit for scoring data points for Evaluation and Management (E/M) medical decision making (MDM)? Let's take a look at a few coding scenarios related to EKG services to get a better understanding of why this can be problematic.
Accurately Reporting Signs and Symptoms with ICD-10-CM Codes
October 5th, 2023 - Aimee Wilcox
Coders often find themselves unsure of when to report a sign or symptom code documented in the medical record. Some coders find their organization has an EHR that requires a working diagnosis, which is usually a sign or symptom, be entered to order a test or diagnostic study or image. Understanding the guidelines surrounding when signs and symptoms should be reported is the first step in correct coding so let's take a look at some scenarios.
The 2024 ICD-10-CM Updates Include New Codes for Reporting Metabolic Disorders and Insulin Resistance
September 19th, 2023 - Aimee Wilcox
Diabetes is a chronic disease that just seems to consistently be increasing instead of improving resulting in a constant endeavor by medical researchers to identify causal effects and possible treatments. One underlying or precipitating condition that scientists have identified as a precipitating factor in the development of diabetes is insulin resistance, which is a known metabolic disorder. As data becomes available through claims reporting, additional code options become possible with ICD-10-CM.
Documenting and Reporting Postoperative Visits
September 12th, 2023 - Aimee Wilcox
Sometimes we receive questions regarding documentation requirements for specific codes or coding requirements and we respond with information and resources to support our answers. The following question was recently submitted: Are providers required to report postoperative services on claims using 99024, especially if there is no payment for that service? What documentation is required if you are reporting an unrelated Evaluation and Management (E/M) service by the same physician during the postoperative period? 
Understanding Gastroesophageal Reflux Disease and ICD-10-CM Coding
August 22nd, 2023 - Aimee Wilcox
Gastroesophageal reflux disease or GERD for short, is a disease that impacts millions of Americans on a weekly basis. Symptoms are uncomfortable, as are some of the tests used to diagnose it, but understanding the disease, tests, and treatments helps us better understand how to code the disease using ICD-10-CM codes.