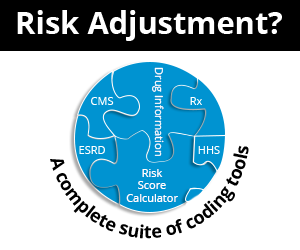 OIG Investigates SCAN Health for Risk Adjustment Overpayments With Surprising Results
July 26th, 2022 - Aimee L. Wilcox, CPMA, CCS-P, CST, MA, MT
---
Risk adjustment plans are widespread but most often thought of in terms of the Medicare Advantage (MA) programs offered through CMS and managed by private insurance payers. CMS contracts with these MA organizations that provide benefits to Medicare beneficiaries and also provide payment to the MA organizations, are a combination of a base Medicare payment per beneficiary and an additional payment based on the individual risk score of each beneficiary. Depending on the costs of healthcare services accessed during the year, the payer may either incur losses or realize profits from the program. As the base Medicare beneficiary payment is set annually, the only variable that can increase payment per beneficiary is the individual beneficiary's health risk score.
The health risk score is calculated based on the enrollee's demographics (e.g., gender, age) and health status. The enrollee's health status is determined by the various diagnoses assigned to them by acceptable healthcare provider types who have rendered healthcare services to them during the year. MA organizations collect these diagnosis codes from provider billing and identify associated medical records within the specified timeframe that support the documented diagnoses reported. CMS is obligated to perform risk adjustment data validation audits to ensure the right types of providers have performed approved services and documented the diseases the payers have reported to CMS. In essence, they are validating the codes reported that are actually supported by the beneficiary's medical record. Risk adjustable ICD-10-CM codes are assigned to a Hierarchical Condition Categories (HCCs) code, which in turn has an assigned risk value. The combination of all valid HCCs added together along with the demographic information equals the patient's overall risk score, which is then calculated to determine a risk score payment that is paid to the MA organization, along with the base Medicare beneficiary payment. The sum of these two components is used to pay for the medical expenses based on enrollee benefits for the year. SCAN, an MA organization headquartered in Long Beach, California, provides coverage to approximately 179,000 Medicare beneficiaries to the tune of approximately $1.9 billion in CMS payments. The Office of Inspector General (OIG) recently audited SCAN Health for potential Risk Adjustment overpayments related to 200 enrollees for which they received payment during the 2015 payment year.
As is typical, the OIG used an independent medical review contractor to perform the risk adjustment data validation (RADV) audit and published the results of their findings. The audit included a review of 1,577 HCC codes for 200 enrollees. Of these HCCs, the OIG validated 1,413, and identified 41 additional HCCs of lesser value that SCAN Health had failed to report, but gave them credit for making the total validated 1,454 out of 1,577, resulting in an overpayment of $54,318.154.
As always, it is a great exercise for MA organizations to review the details of RADV audits to identify and learn from the RADV auditor's approach to certain ICD-10 codes and HCC supporting documentation. It is also very important that any MA organization being audited also perform an audit of the RADV auditor's findings to ensure accuracy and, if possible, identify evidence to support the reporting of each HCC code.
###
Questions, comments?
If you have questions or comments about this article please contact us. Comments that provide additional related information may be added here by our Editors.
Latest articles: (any category)
What's Going on with the COVID Vaccines Now?
May 4th, 2023 - Wyn Staheli
Keeping up with the changes to the COVID vaccines has certainly been a rollercoaster ride and we now have two new twists to this exciting ride. Buckle up and let's look at how this changes things.
Reporting Modifiers 76 and 77 with Confidence
April 18th, 2023 - Aimee Wilcox
Modifiers are used to indicate that a procedure has been altered by a specific circumstance, so you can imagine how often modifiers are reported when billing medical services. There are modifiers that should only be applied to Evaluation and Management (E/M) service codes and modifiers used only with procedure codes. Modifiers 76 and 77 are used to identify times when either the same provider or a different provider repeated the same service on the same day and misapplication of these modifiers can result in claim denials.
Five Documentation Habits Providers Can Use Implement to Improve Evaluation & Management (E/M) Scoring
April 11th, 2023 - Aimee Wilcox
Provider education on E/M coding updates is vital to the success of any organization, but how do you whittle down the massive information into bite-sized pieces the providers can learn in just a few minutes? Check out the five steps we have identified to teach providers in just a few minutes that can significantly impact and improve coding outcomes.
Second Quarter 2023 Updates are Different This Year
April 6th, 2023 - Wyn Staheli
The second quarter of 2023 is NOT business as usual so it is important to pay attention to ensure that organizational processes and training take place to avoid mistakes. Not only have ICD-10-CM coding updates been added to the usual code set updates (e.g., CPT, HCPCS, ICD-10-PCS), but the end of the COVID-19 Public Health Emergency will bring about changes that will also take place during the quarter (but not on April 1, 2023.
7 Measures Developed by the HHS Office of Inspector General (OIG) to Identify Potential Telehealth Fraud
March 28th, 2023 - Aimee Wilcox
A recent review of telehealth services reported in Medicare claims data during the pandemic where these seven measures for identifying suspected fraud, waste, and abuse were applied, revealed more than a thousand Medicare providers potentially committed fraud during this period. What are the measures the OIG applied during their review, and how will that impact future telehealth guidelines moving forward?
MUEs and Bilateral Indicators
March 23rd, 2023 - Chris Woolstenhulme
MUEs are used by Medicare to help reduce improper payments for Part B claims. This article will address the use of the National Correct Coding Initiative (NCCI) and Medically Unlikely Edits (MUEs) and how they are used by CMS.
It is True the COVID-19 PHE is Expiring
March 16th, 2023 - Raquel Shumway
The COVID-19 PHE is Expiring, according to HHS. What is changing and what is staying the same? Make sure you understand how it will affect your practice and your patients.