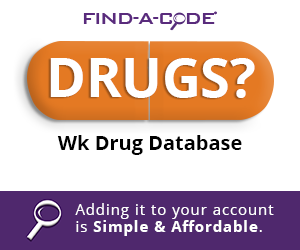 Müller Muscle Conjunctival Resection Versus External Levator Advancement
December 7th, 2021 - Christine Woolstenhulme, QCC, QMCS, CPC, CMRS
---
A droopy eyelid can significantly affect your vision; if your vision is compromised ptosis surgery may be required. Ptosis may be acquired when the levator muscle separates or is stretched away from the eyelid or may be caused by other conditions such as mechanical, myogenic, neurogenic, or traumatic injury.
We were recently asked about two common surgical interventions that are very different treatments for ptosis surgery; we will show you the differences here in this article. The techniques are both providing eyelid elevation with different interventions. One procedure is done with an external approach repairing the levator tendon, while the other technique is an internal repair of the müllers muscle, tarus, conjunctive, or levator tendon. We are going to look at both methods; one is called Müller's Muscle Conjunctival Resection (MMCR) and a Levator Advancement (LA).
Prior to any procedure being done, the patient is tested for levator function. According to Opthalmology Web, "On clinical evaluation, it is important to measure palpebral fissure height, levator function, and marginal reflex distance. If the patient has good levator function, a CMMR or LA may be appropriate. Many will test the patient in a clinic by putting one to two drops of phenylephrine underneath the ptotic lid to check whether Muller's muscle responds and the lid elevates. If the lid responds, the patient is likely a good candidate for a CMMR. If the lid does not respond, some will proceed with a CMMR regardless, but many will resort to a LA."
Internal/transconjunctival repair of the Müller's muscle, tarsus, conjunctiva, or levator complex
A Mullerectomy 67908 is surgical resection, removing the muscle procedure in which the Müller's muscle and underlying conjunctiva are resected to treat a mild case of ptosis. A Mullerectomy is most commonly done where ptosis is less than 3 mm, and the patient has good levator function and spares the tarsus. The AMA description for the procedure is; "Repair of blepharoptosis; conjunctivo-tarso-Muller's muscle-levator resection."
The classical levator resection (LR) technique for correcting ptosis involves separating the levator palpebrae superioris muscle (LPS) completely, with the intention of the muscle collapsing. I have also seen this procedure called CMMR Conjunctival Müller's Muscle Resection.
Internal Repair

ptosis

is less than 3 mm

the patient has good levator function
External/transcutaneous repair of the levator complex
67904 Repair of blepharoptosis; (tarso) levator resection or advancement, external approach
In cases of more severe blepharoptosis that is greater than 3 mm, an external levator advancement is recommended and often done with the removal of excess skin and fat.
External approach

Severe blepharoptosis that is greater than 3 mm

Shortens the levator tendon until the lid is at the proper level.
To read more about these procedures, see the following resources.
###
Questions, comments?
If you have questions or comments about this article please contact us. Comments that provide additional related information may be added here by our Editors.
Latest articles: (any category)
COVID Vaccine Coding Changes as of November 1, 2023
October 26th, 2023 - Wyn Staheli
COVID vaccine changes due to the end of the PHE as of November 1, 2023 are addressed in this article.
Medicare Guidance Changes for E/M Services
October 11th, 2023 - Wyn Staheli
2023 brought quite a few changes to Evaluation and management (E/M) services. The significant revisions as noted in the CPT codebook were welcome changes to bring other E/M services more in line with the changes that took place with Office or Other Outpatient Services a few years ago. As part of CMS' Medicare Learning Network, the "Evaluation and Management Services Guide" publication was finally updated as of August 2023 to include the changes that took place in 2023. If you take a look at the new publication (see references below),....
Can We Score Interpretation of an EKG Towards E/M Medical Decision Making?
October 10th, 2023 - Aimee Wilcox
When EKGs are performed in the facility setting or even in the physician's office, what are the requirements for reporting the service and who gets credit for scoring data points for Evaluation and Management (E/M) medical decision making (MDM)? Let's take a look at a few coding scenarios related to EKG services to get a better understanding of why this can be problematic.
Accurately Reporting Signs and Symptoms with ICD-10-CM Codes
October 5th, 2023 - Aimee Wilcox
Coders often find themselves unsure of when to report a sign or symptom code documented in the medical record. Some coders find their organization has an EHR that requires a working diagnosis, which is usually a sign or symptom, be entered to order a test or diagnostic study or image. Understanding the guidelines surrounding when signs and symptoms should be reported is the first step in correct coding so let's take a look at some scenarios.
The 2024 ICD-10-CM Updates Include New Codes for Reporting Metabolic Disorders and Insulin Resistance
September 19th, 2023 - Aimee Wilcox
Diabetes is a chronic disease that just seems to consistently be increasing instead of improving resulting in a constant endeavor by medical researchers to identify causal effects and possible treatments. One underlying or precipitating condition that scientists have identified as a precipitating factor in the development of diabetes is insulin resistance, which is a known metabolic disorder. As data becomes available through claims reporting, additional code options become possible with ICD-10-CM.
Documenting and Reporting Postoperative Visits
September 12th, 2023 - Aimee Wilcox
Sometimes we receive questions regarding documentation requirements for specific codes or coding requirements and we respond with information and resources to support our answers. The following question was recently submitted: Are providers required to report postoperative services on claims using 99024, especially if there is no payment for that service? What documentation is required if you are reporting an unrelated Evaluation and Management (E/M) service by the same physician during the postoperative period? 
Understanding Gastroesophageal Reflux Disease and ICD-10-CM Coding
August 22nd, 2023 - Aimee Wilcox
Gastroesophageal reflux disease or GERD for short, is a disease that impacts millions of Americans on a weekly basis. Symptoms are uncomfortable, as are some of the tests used to diagnose it, but understanding the disease, tests, and treatments helps us better understand how to code the disease using ICD-10-CM codes.