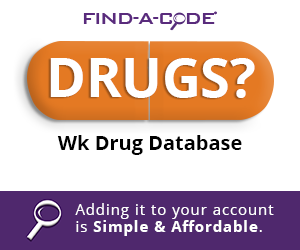 Medicare Advantage - The Fastest Growing Government-Funded Program Undergoing Multiple Fraud Investigations
August 16th, 2021 - Aimee Wilcox, CPMA, CCS-P, CST, MA, MT, Director of Content
0 Votes -

Sign in

to vote or comment.
---
Medicare Advantage is the fastest growing form of government-funded healthcare and the rate of fraud within this segment has come under increased scrutiny. Funding is determined by the health status of each beneficiary; therefore, accurate coding based on detailed documentation makes the medical record vital to the process because some diagnoses are classified as higher risk and thus result in greater funding. Once patient encounters have been properly documented and the diagnosis codes assigned and submitted, Medicare Advantage payers have the obligation of ensuring proper code assignment has taken place. Part of this process consists of reviewing the medical record to determine if all conditions that were monitored, evaluated, assessed and treated or that influenced medical decision making were properly documented to the highest specificity for reporting purposes and that all applicable diagnoses, based on the reporting guidelines for ICD-10-CM and risk adjustment, have been reported.
When the medical record is vague or missing details that would allow for a higher level of specificity and code selection, as opposed to an unspecified code or symptom code, a query may be submitted to the provider of record requesting clarification of the documentation details. Coders are not allowed to influence the provider's documentation but can, instead, indicate the need for clarification of a diagnosis to allow proper code assignment.
Just as providers are obligated to perform internal pre- and post-payment reviews, payers are also obligated to ensure proper reporting of ICD-10-CM codes based on medical record documentation. When coding discrepancies are identified, corrections must be made, unsupported payments returned to the Medicare program, and changes made to the process to prevent future overpayments (or underpayments). Trouble often brews when the required corrective actions are ignored or dismissed by management and compliance policies are not adhered to.
The Department of Justice (DOJ) recently announced plans to intervene in two qui tam (whistleblower) lawsuits. The first was filed by James M. Taylor, M.D. against Kaiser Permanente, where he was the medical director of revenue cycle/claims and physician director of coding. Not only was Dr. Taylor a physician, but he was also a certified medical coder/trainer and 2015 recipient of the RISE Health Dr. Martin L. Block Award, which is "presented to an individual who has made a significant impact in the lives of America's seniors through clinical leadership, policy vision and through superior example of the RISE mission to promote continuous improvement in the health care system." Dr. Taylor has been joined by the DOJ in alleging that Kaiser Health Plan and affiliates submitted claim information with inaccurate diagnosis codes unsupported by the medical record in order to obtain a higher level of government funding but Kaiser says they did no wrong and intend to strongly defend against any lawsuits that allege differently.
The second qui tam/whistleblower lawsuit was brought against UnitedHealth Group by Benjamin Poehling, the former finance director at UnitedHealth Group. Joined by the DOJ in this lawsuit, Poehling alleges UnitedHealth and 14 other companies were involved in Medicare Advantage fraud by creating internal projects designed to cheat the government by making patients appear sicker than they actually were based on ICD-10-CM code reporting in order to obtain a higher level of funding for Medicare Advantage plans to cover those costs.
In addition to these two major lawsuits, the DOJ is also investigating four other Medicare Advantage insurers: Aetna, Humana, Health Net and Cigna's Bravo Health.
These lawsuits help us better understand the 2021 Office of Inspector General's Work Plan which notes,
"In general, MA organizations receive higher payments for sicker patients. CMS estimates that 9.5 percent of payments to MA organizations are improper, mainly due to unsupported diagnoses submitted by MA organizations. Prior OIG reviews have shown that some diagnoses are more at risk than others to be unsupported by medical record documentation. We will perform a targeted review of these diagnoses and will review the medical record documentation to ensure that it supports the diagnoses that MA organizations submitted to CMS for use in CMS's risk score calculations and determine whether the diagnoses submitted complied with Federal requirements."
In addition to reviewing medical records to ensure they support the codes submitted, the OIG appears to be looking at intent to defraud as well, which could bring into play the FCA financial penalties of $11,665-$23,331.00 per incident (31 U.S.C §§ 3729).
Reporting insufficiently documented diagnoses at a higher specificity, reporting resolved diagnoses as current, or reporting differential diagnoses as if they were confirmed speaks to a lack of coding education as well as internal quality assurance processes which can be corrected through additional education and training. However, when those put in charge of compliance programs identify and report systemic issues and are ignored, the organization can no longer claim simple administrative or process error; but can be considered as intending to defraud, which is likely to increase penalties and future scrutiny from auditors. The resolutions to these cases should be enlightening to all involved in risk adjustment reporting and compliance officers everywhere,and hopefully positive lessons will be learned.
###
Questions, comments?
If you have questions or comments about this article please contact us. Comments that provide additional related information may be added here by our Editors.
Latest articles: (any category)
Delving Into the 360 Assessment Fraud Complaint
November 17th, 2021 - Jessica Hocker, CPC, CPB
The Department of Justice is pursuing claims of healthcare fraud against Cigna Health-Spring Medicare Advantage plan based on how they used data from their 360 Program in 2012. A review of the allegations may help other payers avoid similar accusations.
Lessons Learned from a RADV Audit Report
November 16th, 2021 - Aimee Wilcox, CPMA, CCS-P, CST, MA, MT, Director of Content
If given an opportunity to know ahead of time the questions that would be asked of you in an upcoming interview or quiz, it is likely the outcome would be significantly better than if you were surprised by the questions. This same concept may be applied to audits of risk ...
Changes in RPM for 2021! Now, Wait for it... New RTM Codes for 2022
November 11th, 2021 - Christine Woolstenhulme, QCC, QMCS, CPC, CMRS
Remote physiologic monitoring and clinical data monitoring is a relatively new concept thriving and growing as an essential component for telehealth services. According to global consumer trends, a company called Dynata reported, "Among the 39% of people who consulted a healthcare professional, two-thirds used telemedicine, many of them for the first time ...
Reporting and Auditing Drug Testing Services
November 9th, 2021 - Aimee Wilcox CPMA, CCS-P, CST, MA, MT
Drug testing is a common medical service used to manage prescription medications, verify someone is not taking illegal substances or too much of a prescribed substance, and monitor for toxicity and therapeutic dosing. It is customary for patients in treatment programs for chronic pain management or substance use disorders (SUD) to undergo random urine drug testing (UDT) or urine drug screening (UDS) as part of their individual treatment plan. Drug testing is regulated by federal and state laws (e.g., OSHA, CLIA), which must be carefully adhered to.
Understanding ASCs and APCs: Indicators and Place of Service
October 28th, 2021 - Christine Woolstenhulme, QCC, QMCS, CPC, CMRS
The decision regarding the most appropriate care setting for a given surgical procedure is determined by the physician based on the patient's individual clinical needs and preferences. Of course, there is a difference in reimbursement, and the billing depends on where the procedure took place, such as an office setting, inpatient ...
Are You Keeping up with the Official ICD-10-CM Guideline Changes for COVID-19?
October 25th, 2021 - Wyn Staheli, Director of Research
The COVID-19 public health emergency (PHE) has made it interesting and challenging for organizations to keep an eye on the evolving changes to the ICD-10-CM Official Guidelines for Coding and Reporting. Have you been keeping up with these changes?
Is Your Organization Ready to Deal with Provider Relief Fund (PRF) Audit Contractors?
October 15th, 2021 - Aimee Wilcox, CPMA, CCS-P, CST, MA, MT, Director of Content
Audits are currently underway to verify the monies distributed through the CARES Act were warranted and properly used by those organizations that received them. The federal government has contracted with financial institutions such as KPMG and PricewaterhouseCoopers, among others, to perform these audits referred to as Provider Relief Fund (PRF) audit contractors, funded with monies from the very same program. There were four phases of funding disbursements with phase 1 audits beginning in September. How ready are you to be audited?