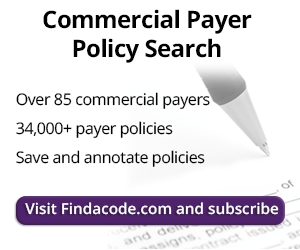 Chronic Pain Coding Today & in the Future
July 19th, 2021 - Wyn Staheli, Director of Research
---
Properly documenting and coding chronic pain can be challenging. As is commonly the case with many conditions, over the years, there has been a shift in the identification of different types of pain, including chronic pain. Understanding where we are now and where we are going will help your organization prepare for the future by changing documentation patterns now.
Tip: This article provides a brief summary of chronic pain coding using ICD-10-CM as well as looking forward to ICD-11. For additional information on coding pain (including chronic pain), CLICK HERE for another article.
Chronic Pain Coding in ICD-10-CM
To begin, let's look at the ICD-10-CM Official Guidelines for Coding and Reporting, Section I.C.6.B.4 which states that "Chronic pain is classified to subcategory G89.2. There is no time frame defining when pain becomes chronic pain. The provider's documentation should be used to guide use of these codes." Two things to note in this statement are:
ICD-10-CM is limited to a small subcategory (G89.2-) with a handful of codes, outside of a few other codes which include chronicity and pain together (e.g., R39.82).
There is no time frame defined as to when pain meets the criteria of being considered chronic. However, this does not match other guidelines (e.g., the International Association for the Study of Pain (IASP) guidelines.
Currently, to resolve the problem of the limited number of codes, more than one code needs to be reported as noted in the following guideline from the ICD-10-CM Official Guidelines for Coding and Reporting, Section 1;C.6.b which states (emphasis added),
"Codes from category G89 may be used in conjunction with codes that identify the site of pain (including codes from chapter 18) if the category G89 code provides additional information. For example, if the code describes the site of the pain, but does not fully describe whether the pain is acute or chronic then both codes should be assigned."
The lack of an associated time frame within the ICD-10-CM guidelines is another ongoing problem. This leaves it up to individual payers to develop their own standards which can vary from condition to condition as well as payer to payer.
Low back pain (LBP) is a good example of where one payer has their own set of guidelines which drives treatment options as well as coverage. For example, Medicare's Acupuncture for Chronic Lower Back Pain (cLBP) National Coverage Determination (NCD 30.3.3) addresses cLBP which they describe as:
Lasting 12 weeks or longer;
nonspecific, in that it has no identifiable systemic cause (i.e., not associated with metastatic, inflammatory, infectious, etc.disease);
not associated with surgery; and,
not associated with pregnancy
Other payer policies might only describe chronic as lasting a minimum of 12 weeks. So pay close attention to payer-specific policies to know their definitions. It should also be noted that in July 2020, the International Association for the Study of Pain (IASP) revised pain classifications to not only differentiate between chronic pain and acute pain, but also to include biopsychosocial factors as well (see "The Biopsychosocial Approach to Pain Management" below).
Another good definition can be found in the Journal of Alternative and Complementary Medicine (JACM) "Best Practices for Chiropractic Management of Patients with Chronic Musculoskeletal Pain: A Clinical Practice Guideline," which defines chronic pain as "persistent or recurrent pain lasting longer than 3 months (which is the ICD-11 definition) or pain present on at least half the days during the past 6 months (National Pain Strategy definition)." This definition includes the new ICD-11 definition with which we all need to become familiar (see "Chronic Pain in ICD-11" below).
Note: Based on recently released information, including ICD-11, chronic pain may be generally defined as pain that lasts or recurs for more than three months, varies from person to person and is influenced by biological, psychological, and social factors. As we continue to battle the opioid crisis, it becomes more important to clearly separate chronic pain from acute pain when considering treatment options.
The Biopsychosocial Approach to Pain Management
Over the years, it has become clear that biological, psychological, and social factors play a significant role in the management of chronic pain. An article in Practical Pain Management states the following (emphasis added):
Although pain research has traditionally focused on the sensory modalities and the neurological transmissions identified solely on a biological level, more recent theories (integrating the body, mind, and society) have been developed. The most heuristic perspective is known as the biopsychosocial model, with pain viewed as a dynamic interaction among and within the biological, psychological, and social factors unique to each individual.
— Volume 8, Issue 4
While payers may not be requiring the reporting of this particular information as a code itself, addressing biological, psychological, and social factors may already be a part of your pain assessment process. Many providers may not be documenting this particular information although there has been a recent push to more accurately identify social determinants of health (SDoH). Even if this information is not required by payers, documenting it will help to establish the medical necessity of the services provided and enhance current risk adjustment processes.
Chronic Pain in ICD-11
As previously mentioned, ICD-11 includes new definitions of pain. Although not officially being implemented in the United States right now, ICD-11 technically becomes effective for mortality reporting on January 1, 2022. As such, it is a good idea to learn about the new pain classifications and begin making appropriate changes in your organization. Let's begin by reviewing the new definition for MG30 "Chronic pain" which specifically excludes acute pain (MG31):
Pain is an unpleasant sensory and emotional experience associated with, or resembling that associated with, actual or potential tissue damage. Chronic pain is pain that persists or recurs for longer than 3 months. Chronic pain is multifactorial: biological, psychological and social factors contribute to the pain syndrome.
Some key items to note are the following (which also align with the current IASP definition):
Tissue damage does not have to be present
Time frame is over 3 months
Biopsychosocial components
Begin documenting these key pieces of information now in order to meet current standards established by IASP with the added benefit of also establishing early ICD-11 training.
Also of particular note is that not only does ICD-11 differentiate between acute and chronic pain, it also further classifies chronic pain into primary and secondary as indicated in the following table:
| | |
| --- | --- |
| Primary | Secondary |
| Chronic primary pain | Chronic cancer-related pain |
| Chronic widespread pain | Chronic postsurgical or posttraumatic pain |
| Chronic primary visceral pain | Chronic secondary visceral pain |
| Chronic primary headache or orofacial pain | Chronic secondary headache or orofacial pain |
| Complex regional pain syndrome | Chronic neuropathic pain |
| Chronic primary musculoskeletal pain | Chronic secondary musculoskeletal pain |
We encourage providers to become familiar with these terms and begin using them, where appropriate, within your clinical documentation.
###
Questions, comments?
If you have questions or comments about this article please contact us. Comments that provide additional related information may be added here by our Editors.
Latest articles: (any category)
COVID Vaccine Coding Changes as of November 1, 2023
October 26th, 2023 - Wyn Staheli
COVID vaccine changes due to the end of the PHE as of November 1, 2023 are addressed in this article.
Medicare Guidance Changes for E/M Services
October 11th, 2023 - Wyn Staheli
2023 brought quite a few changes to Evaluation and management (E/M) services. The significant revisions as noted in the CPT codebook were welcome changes to bring other E/M services more in line with the changes that took place with Office or Other Outpatient Services a few years ago. As part of CMS' Medicare Learning Network, the "Evaluation and Management Services Guide" publication was finally updated as of August 2023 to include the changes that took place in 2023. If you take a look at the new publication (see references below),....
Can We Score Interpretation of an EKG Towards E/M Medical Decision Making?
October 10th, 2023 - Aimee Wilcox
When EKGs are performed in the facility setting or even in the physician's office, what are the requirements for reporting the service and who gets credit for scoring data points for Evaluation and Management (E/M) medical decision making (MDM)? Let's take a look at a few coding scenarios related to EKG services to get a better understanding of why this can be problematic.
Accurately Reporting Signs and Symptoms with ICD-10-CM Codes
October 5th, 2023 - Aimee Wilcox
Coders often find themselves unsure of when to report a sign or symptom code documented in the medical record. Some coders find their organization has an EHR that requires a working diagnosis, which is usually a sign or symptom, be entered to order a test or diagnostic study or image. Understanding the guidelines surrounding when signs and symptoms should be reported is the first step in correct coding so let's take a look at some scenarios.
The 2024 ICD-10-CM Updates Include New Codes for Reporting Metabolic Disorders and Insulin Resistance
September 19th, 2023 - Aimee Wilcox
Diabetes is a chronic disease that just seems to consistently be increasing instead of improving resulting in a constant endeavor by medical researchers to identify causal effects and possible treatments. One underlying or precipitating condition that scientists have identified as a precipitating factor in the development of diabetes is insulin resistance, which is a known metabolic disorder. As data becomes available through claims reporting, additional code options become possible with ICD-10-CM.
Documenting and Reporting Postoperative Visits
September 12th, 2023 - Aimee Wilcox
Sometimes we receive questions regarding documentation requirements for specific codes or coding requirements and we respond with information and resources to support our answers. The following question was recently submitted: Are providers required to report postoperative services on claims using 99024, especially if there is no payment for that service? What documentation is required if you are reporting an unrelated Evaluation and Management (E/M) service by the same physician during the postoperative period? 
Understanding Gastroesophageal Reflux Disease and ICD-10-CM Coding
August 22nd, 2023 - Aimee Wilcox
Gastroesophageal reflux disease or GERD for short, is a disease that impacts millions of Americans on a weekly basis. Symptoms are uncomfortable, as are some of the tests used to diagnose it, but understanding the disease, tests, and treatments helps us better understand how to code the disease using ICD-10-CM codes.