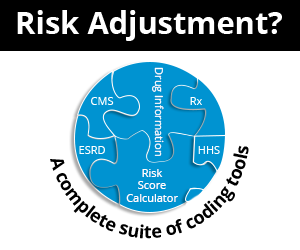 Chronic Pain Coding Today & in the Future
July 19th, 2021 - Wyn Staheli, Director of Research
0 Votes -

Sign in

to vote or comment.
---
Properly documenting and coding chronic pain can be challenging. As is commonly the case with many conditions, over the years, there has been a shift in the identification of different types of pain, including chronic pain. Understanding where we are now and where we are going will help your organization prepare for the future by changing documentation patterns now.
Tip: This article provides a brief summary of chronic pain coding using ICD-10-CM as well as looking forward to ICD-11. For additional information on coding pain (including chronic pain), CLICK HERE for another article.
Chronic Pain Coding in ICD-10-CM
To begin, let's look at the ICD-10-CM Official Guidelines for Coding and Reporting, Section I.C.6.B.4 which states that "Chronic pain is classified to subcategory G89.2. There is no time frame defining when pain becomes chronic pain. The provider's documentation should be used to guide use of these codes." Two things to note in this statement are:
ICD-10-CM is limited to a small subcategory (G89.2-) with a handful of codes, outside of a few other codes which include chronicity and pain together (e.g., R39.82).
There is no time frame defined as to when pain meets the criteria of being considered chronic. However, this does not match other guidelines (e.g., the International Association for the Study of Pain (IASP) guidelines.
Currently, to resolve the problem of the limited number of codes, more than one code needs to be reported as noted in the following guideline from the ICD-10-CM Official Guidelines for Coding and Reporting, Section 1;C.6.b which states (emphasis added),
"Codes from category G89 may be used in conjunction with codes that identify the site of pain (including codes from chapter 18) if the category G89 code provides additional information. For example, if the code describes the site of the pain, but does not fully describe whether the pain is acute or chronic then both codes should be assigned."
The lack of an associated time frame within the ICD-10-CM guidelines is another ongoing problem. This leaves it up to individual payers to develop their own standards which can vary from condition to condition as well as payer to payer.
Low back pain (LBP) is a good example of where one payer has their own set of guidelines which drives treatment options as well as coverage. For example, Medicare's Acupuncture for Chronic Lower Back Pain (cLBP) National Coverage Determination (NCD 30.3.3) addresses cLBP which they describe as:
Lasting 12 weeks or longer;
nonspecific, in that it has no identifiable systemic cause (i.e., not associated with metastatic, inflammatory, infectious, etc.disease);
not associated with surgery; and,
not associated with pregnancy
Other payer policies might only describe chronic as lasting a minimum of 12 weeks. So pay close attention to payer-specific policies to know their definitions. It should also be noted that in July 2020, the International Association for the Study of Pain (IASP) revised pain classifications to not only differentiate between chronic pain and acute pain, but also to include biopsychosocial factors as well (see "The Biopsychosocial Approach to Pain Management" below).
Another good definition can be found in the Journal of Alternative and Complementary Medicine (JACM) "Best Practices for Chiropractic Management of Patients with Chronic Musculoskeletal Pain: A Clinical Practice Guideline," which defines chronic pain as "persistent or recurrent pain lasting longer than 3 months (which is the ICD-11 definition) or pain present on at least half the days during the past 6 months (National Pain Strategy definition)." This definition includes the new ICD-11 definition with which we all need to become familiar (see "Chronic Pain in ICD-11" below).
Note: Based on recently released information, including ICD-11, chronic pain may be generally defined as pain that lasts or recurs for more than three months, varies from person to person and is influenced by biological, psychological, and social factors. As we continue to battle the opioid crisis, it becomes more important to clearly separate chronic pain from acute pain when considering treatment options.
The Biopsychosocial Approach to Pain Management
Over the years, it has become clear that biological, psychological, and social factors play a significant role in the management of chronic pain. An article in Practical Pain Management states the following (emphasis added):
Although pain research has traditionally focused on the sensory modalities and the neurological transmissions identified solely on a biological level, more recent theories (integrating the body, mind, and society) have been developed. The most heuristic perspective is known as the biopsychosocial model, with pain viewed as a dynamic interaction among and within the biological, psychological, and social factors unique to each individual.
— Volume 8, Issue 4
While payers may not be requiring the reporting of this particular information as a code itself, addressing biological, psychological, and social factors may already be a part of your pain assessment process. Many providers may not be documenting this particular information although there has been a recent push to more accurately identify social determinants of health (SDoH). Even if this information is not required by payers, documenting it will help to establish the medical necessity of the services provided and enhance current risk adjustment processes.
Chronic Pain in ICD-11
As previously mentioned, ICD-11 includes new definitions of pain. Although not officially being implemented in the United States right now, ICD-11 technically becomes effective for mortality reporting on January 1, 2022. As such, it is a good idea to learn about the new pain classifications and begin making appropriate changes in your organization. Let's begin by reviewing the new definition for MG30 "Chronic pain" which specifically excludes acute pain (MG31):
Pain is an unpleasant sensory and emotional experience associated with, or resembling that associated with, actual or potential tissue damage. Chronic pain is pain that persists or recurs for longer than 3 months. Chronic pain is multifactorial: biological, psychological and social factors contribute to the pain syndrome.
Some key items to note are the following (which also align with the current IASP definition):
Tissue damage does not have to be present
Time frame is over 3 months
Biopsychosocial components
Begin documenting these key pieces of information now in order to meet current standards established by IASP with the added benefit of also establishing early ICD-11 training.
Also of particular note is that not only does ICD-11 differentiate between acute and chronic pain, it also further classifies chronic pain into primary and secondary as indicated in the following table:
| | |
| --- | --- |
| Primary | Secondary |
| Chronic primary pain | Chronic cancer-related pain |
| Chronic widespread pain | Chronic postsurgical or posttraumatic pain |
| Chronic primary visceral pain | Chronic secondary visceral pain |
| Chronic primary headache or orofacial pain | Chronic secondary headache or orofacial pain |
| Complex regional pain syndrome | Chronic neuropathic pain |
| Chronic primary musculoskeletal pain | Chronic secondary musculoskeletal pain |
We encourage providers to become familiar with these terms and begin using them, where appropriate, within your clinical documentation.
###
Questions, comments?
If you have questions or comments about this article please contact us. Comments that provide additional related information may be added here by our Editors.
Latest articles: (any category)
Billing and Documenting for Therapeutic Exercises versus Therapeutic Activities
July 13th, 2022 - Dr. Evan M. Gwilliam, DC, MBA, QCC, CPC, CCPC, CPMA, CPCO, AAPC Fellow, Clinical Director
Chiropractors treat, among other things, issues with the musculoskeletal system. Active therapeutic procedures are accepted as effective ways to treat many common conditions and therefore can be billed and generate revenue for a clinic. Two common CPT codes that might be used in a chiropractic setting include:
Medicare Advantage (MA) Benchmarking Policies Are Headed for Change
July 12th, 2022 - Aimee L. Wilcox, CPMA, CCS-P, CST, MA, MT
More than 43% of Medicare beneficiaries are not enrolled in Medicare Advantage plans, which were established to control costs and improve quality. However, as noted in the March MedPac Report Executive Summary of 2021, these plans average an estimated 104% of Medicare Fee-For-Service (FFS) spending. How does CMS plan to manage Medicare Advantage plans now?
How Extensions to the COVID-19 Public Health Emergency Affect Healthcare Reimbursement
June 28th, 2022 - Aimee L. Wilcox, CPMA, CCS-P, CST, MA, MT
Providers need to begin preparations for how to handle a return to pre-COVID-19 public health emergency (PHE) policies. As the saying goes, "you can't put the rabbit back in the hat." Some COVID-19 PHE policies are so well liked it will be very difficult for the government to return to pre-COVID-19 policies. For now, we have at least the promise of a 60-day notice to all governors precipitating the end of the PHE.
Why You Should Be Using The Two-Midnight Rule
June 23rd, 2022 - David M. Glaser, Esq.
Are you using something other than two-midnight? Here's why you shouldn't be. Is there the possibility that your utilization management team and physician advisors are applying InterQual, MCG, or any other utilization tool other than the two-midnight rule to your Medicare admissions? Over the last few months, it has...
Q/A: Service Period for 99490
June 6th, 2022 - Chris Woolstenhulme
Question: If CCM hours/work is to be billed monthly, and CCM tasks are done daily throughout the month, should it be saved until the end of the month to bill, and should each date be billed as DOS in one claim? Answer: According to CMS, "The service period for CPT 99490 ...
Reporting CCM and TCM Codes with E/M Codes
June 1st, 2022 - Chris Woolstenhulme
When reporting CCM or TCM codes, you will only get reimbursed for what is allowed. The E/M office visits can be coded in addition but are not interchangeable with CCM codes. You can bill an E/M visit during the time a patient is under Care Management, however, you can't count time ...
Q/A: Billing Over the Allowed Amount
June 1st, 2022 - Chris Woolstenhulme
Question: Is there a financial penalty for billing over the allowed amount? Answer: Yes, if you are submitting claims to a contracted provider, you cannot bill over the contracted amount of your fee schedule. This is called balanced billing. There is also the no-surprise rule that protects insured and non-insured or ...