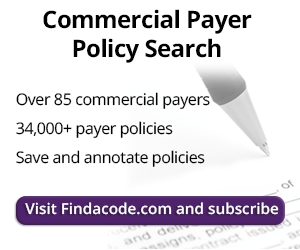 Chronic Care Management Services
June 1st, 2021 - Wyn Staheli, Director of Research
0 Votes -

Sign in

to vote or comment.
---
There are many different Chronic Care Management (CCM) Services found in both the CPT and HCPCS code sets. CCM is not the same as Case Management Services in that case management has to do with "coordinating, managing access to, initiating, and/or supervising'' patient healthcare services whereas CCM services also require the patient to have a condition(s) which is expected to last at least a year or until their death. These services can be broadly grouped as follows:
Category

Description

Codes

Chronic Care Management Services (CCM)

Patients have two or more chronic conditions that place the patient at significant risk of death, acute exacerbation/decompensation, or functional decline

Complex Chronic Care Management Services (CCM)

Patients meeting criteria of chronic care management who ALSO have medical, functional, and/or psychosocial problems requiring medical decision making of moderate or high complexity

Principle Care Management Services (PCM)

Patients who have a single high-risk disease of sufficient severity to place the patient at risk of hospitalization or have been the cause of recent hospitalization

Psychiatric Collaborative Care Management Services (CoCM)

Patients who have behavioral health signs and/or symptoms or a newly diagnosed behavioral health condition

Notes:

PCM services have a shorter time frame than other categories. The condition is expected to last between 3 months and 1 year or until death of the patient.
This article primarily covers the last of these — Psychiatric Collaborative Care Management Services.
Tips:
CLICK HERE to review CCM information by CMS. However, this MLN booklet was created in 2019 so it does not have all the new codes recently added such as G2064 or 99439.

Only one provider may be paid CCM services in any given calendar month and it can only be either complex (99487, 99489) or non-complex (99490, 99439, 99491). Typically CCM is billed by the primary care provider, but there are some other specialties which might provide this service. Potentially this may be a problem as you may not necessarily know if they are receiving these other services. You may wish to create a questionnaire to ask if they are receiving services from another provider/specialty, however, be aware that the patient may not know the answer to that question.
Psychiatric Collaborative Care Management Services
The Psychiatric Collaborative Care Model (CoCM) is an approach to behavioral health integration (BHI) that enhances primary care services by adding care management support and regular psychiatric inter-specialty consultation for patients with a behavioral health or substance use disorder. These services are provided by a behavioral health care manager (in consultation with a psychiatric consultant and directed by the treating physician or other qualified healthcare professional) and include the required elements as listed in the table that follows. Note that one requirement applies to both so it spans both columns.
Initial

Subsequent

Tracking patient follow-up and progress using the registry, with appropriate documentation

Patients have two or more chronic conditions that place the patient at significant risk of death, acute exacerbation/decompensation, or functional decline

Outreach to and engagement in treatment of patient by physician/QHP

Ongoing collaboration with and coordination of the patient's mental health care with the treating physician/QHP and other treating mental health practitioners

Initial assessment including administration of validated rating scales and development of individualized treatment plan

Monitoring of patient outcomes using validated rating scales

Psychiatric consultant reviews the plan and makes modifications as necessary

Psychiatric consultant reviews progress and makes recommendations for changes in treatment, as indicated, including medications

Providing brief interventions via evidence-based techniques (e.g., motivational interviewing)

Participation in weekly caseload consultation with the psychiatric consultant.

Relapse prevention planning with patients as they achieve remission of symptoms and/or achieve other treatment goals and are prepared for discharge from active treatment
Codes 99492-99494 may be used when billing these services in a variety of settings, depending on payer-specific policies. Code G2214, which became effective on January 1, 2021, is similar to codes 99492-99494, but may be used (if allowed by the payer) to report a shorter time period (first 30 minutes). Remember that when reporting time, be sure to find out if the payer follows CPT guidelines or Medicare guidelines regarding the reporting of time.
Tips:
CLICK HERE to review CMS information regarding these services. It includes more comprehensive information including definitions.
While CPT guidelines allow for the reporting of these services in addition to certain other chronic care management services (e.g., 99490, 99487), you still need to pay close attention to the NCCI edits as there are several services which may not be reported at the same time as these services, such as ESRD monthly services (90951-90970) or therapeutic radiology (e.g., 77261-77263).
Tip: FindACode.com subscribers can check the NCCI edits for a code by clicking the [NCCI Edits] bar on the code's main information page and selecting either [Facility] or [Non-Facility].
###
Questions, comments?
If you have questions or comments about this article please contact us. Comments that provide additional related information may be added here by our Editors.
Latest articles: (any category)
​​Polysomnography Services Under OIG Scrutiny
September 2nd, 2021 - Raquel Shumway
The OIG conducted a study dated June 2019 wherein they indicated that there were approximately $269 million in overpayments for polysomnography services for the period of 2014 through 2015. According to the OIG "These errors occurred because the CMS oversight of polysomnography services was insufficient to ensure that providers complied with Medicare requirements and to prevent payment of claims that didn't meet those requirements." So what are those requirements?
Medicare Advantage - The Fastest Growing Government-Funded Program Undergoing Multiple Fraud Investigations
August 16th, 2021 - Aimee Wilcox, CPMA, CCS-P, CST, MA, MT, Director of Content
Medicare Advantage is the fastest growing form of government-funded healthcare and the rate of fraud within this segment has come under increased scrutiny. Funding is determined by the health status of each beneficiary; therefore, accurate coding based on detailed documentation makes the medical record vital to the process because some ...
Billing Dental Implants under Medical Coverage
August 12th, 2021 - Christine Woolstenhulme, QCC, QMCS, CPC, CMRS
Implants can be costly to the patient and the provider, and it is crucial to understand how to bill a patient's medical insurance to ensure there is adequate coverage for the best treatment. Implants are commonly billed in a dental office under a patient's medical benefits.    Implants could be considered ...
New Codes for COVID Booster Vaccine & Monoclonal Antibody Products
August 10th, 2021 - Wyn Staheli, Director of Research
New codes have been announced for the COVID-19 booster vaccine, Novavax vaccine, and monoclonal antibody treatment.
Medicare's ABN Booklet Revised
July 29th, 2021 - Wyn Staheli, Director of Research
The "Medicare Advance Written Notices of Non-coverage" booklet, published by CMS's Medicare Learning Network, was updated. This article discusses the changes to this booklet regarding the use of the ABN.
Chronic Pain Coding Today & in the Future
July 19th, 2021 - Wyn Staheli, Director of Research
Properly documenting and coding chronic pain can be challenging. As is commonly the case with many conditions, over the years, there has been a shift in the identification of different types of pain, including chronic pain. Understanding where we are now and where we are going will help your organization prepare for the future by changing documentation patterns now.
How Does Global and Professional Direct Contracting (GPDC) Affect Risk Adjustment?
July 15th, 2021 - Aimee Wilcox, CPMA, CCS-P, CST, MA, MT, Director of Content
CMS recently announced the 53 Direct Contracting Entities (DCEs) that will be participating in the April 1, 2021 through December 31, 2021 Global and Professional Direct Contracting (GPDC) Model. Among those participating is Clover Health Partners, who runs an in-home primary care program that has the potential to help Medicare ...