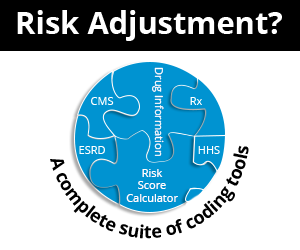 Chronic Care Management Services
June 1st, 2021 - Wyn Staheli, Director of Research
---
There are many different Chronic Care Management (CCM) Services found in both the CPT and HCPCS code sets. CCM is not the same as Case Management Services in that case management has to do with "coordinating, managing access to, initiating, and/or supervising'' patient healthcare services whereas CCM services also require the patient to have a condition(s) which is expected to last at least a year or until their death. These services can be broadly grouped as follows:
Category

Description

Codes

Chronic Care Management Services (CCM)

Patients have two or more chronic conditions that place the patient at significant risk of death, acute exacerbation/decompensation, or functional decline

Complex Chronic Care Management Services (CCM)

Patients meeting criteria of chronic care management who ALSO have medical, functional, and/or psychosocial problems requiring medical decision making of moderate or high complexity

Principle Care Management Services (PCM)

Patients who have a single high-risk disease of sufficient severity to place the patient at risk of hospitalization or have been the cause of recent hospitalization

Psychiatric Collaborative Care Management Services (CoCM)

Patients who have behavioral health signs and/or symptoms or a newly diagnosed behavioral health condition

Notes:

PCM services have a shorter time frame than other categories. The condition is expected to last between 3 months and 1 year or until death of the patient.
This article primarily covers the last of these — Psychiatric Collaborative Care Management Services.
Tips:
CLICK HERE to review CCM information by CMS. However, this MLN booklet was created in 2019 so it does not have all the new codes recently added such as G2064 or 99439.

Only one provider may be paid CCM services in any given calendar month and it can only be either complex (99487, 99489) or non-complex (99490, 99439, 99491). Typically CCM is billed by the primary care provider, but there are some other specialties which might provide this service. Potentially this may be a problem as you may not necessarily know if they are receiving these other services. You may wish to create a questionnaire to ask if they are receiving services from another provider/specialty, however, be aware that the patient may not know the answer to that question.
Psychiatric Collaborative Care Management Services
The Psychiatric Collaborative Care Model (CoCM) is an approach to behavioral health integration (BHI) that enhances primary care services by adding care management support and regular psychiatric inter-specialty consultation for patients with a behavioral health or substance use disorder. These services are provided by a behavioral health care manager (in consultation with a psychiatric consultant and directed by the treating physician or other qualified healthcare professional) and include the required elements as listed in the table that follows. Note that one requirement applies to both so it spans both columns.
Initial

Subsequent

Tracking patient follow-up and progress using the registry, with appropriate documentation

Patients have two or more chronic conditions that place the patient at significant risk of death, acute exacerbation/decompensation, or functional decline

Outreach to and engagement in treatment of patient by physician/QHP

Ongoing collaboration with and coordination of the patient's mental health care with the treating physician/QHP and other treating mental health practitioners

Initial assessment including administration of validated rating scales and development of individualized treatment plan

Monitoring of patient outcomes using validated rating scales

Psychiatric consultant reviews the plan and makes modifications as necessary

Psychiatric consultant reviews progress and makes recommendations for changes in treatment, as indicated, including medications

Providing brief interventions via evidence-based techniques (e.g., motivational interviewing)

Participation in weekly caseload consultation with the psychiatric consultant.

Relapse prevention planning with patients as they achieve remission of symptoms and/or achieve other treatment goals and are prepared for discharge from active treatment
Codes 99492-99494 may be used when billing these services in a variety of settings, depending on payer-specific policies. Code G2214, which became effective on January 1, 2021, is similar to codes 99492-99494, but may be used (if allowed by the payer) to report a shorter time period (first 30 minutes). Remember that when reporting time, be sure to find out if the payer follows CPT guidelines or Medicare guidelines regarding the reporting of time.
Tips:
CLICK HERE to review CMS information regarding these services. It includes more comprehensive information including definitions.
While CPT guidelines allow for the reporting of these services in addition to certain other chronic care management services (e.g., 99490, 99487), you still need to pay close attention to the NCCI edits as there are several services which may not be reported at the same time as these services, such as ESRD monthly services (90951-90970) or therapeutic radiology (e.g., 77261-77263).
Tip: FindACode.com subscribers can check the NCCI edits for a code by clicking the [NCCI Edits] bar on the code's main information page and selecting either [Facility] or [Non-Facility].
###
Questions, comments?
If you have questions or comments about this article please contact us. Comments that provide additional related information may be added here by our Editors.
Latest articles: (any category)
COVID Vaccine Coding Changes as of November 1, 2023
October 26th, 2023 - Wyn Staheli
COVID vaccine changes due to the end of the PHE as of November 1, 2023 are addressed in this article.
Medicare Guidance Changes for E/M Services
October 11th, 2023 - Wyn Staheli
2023 brought quite a few changes to Evaluation and management (E/M) services. The significant revisions as noted in the CPT codebook were welcome changes to bring other E/M services more in line with the changes that took place with Office or Other Outpatient Services a few years ago. As part of CMS' Medicare Learning Network, the "Evaluation and Management Services Guide" publication was finally updated as of August 2023 to include the changes that took place in 2023. If you take a look at the new publication (see references below),....
Can We Score Interpretation of an EKG Towards E/M Medical Decision Making?
October 10th, 2023 - Aimee Wilcox
When EKGs are performed in the facility setting or even in the physician's office, what are the requirements for reporting the service and who gets credit for scoring data points for Evaluation and Management (E/M) medical decision making (MDM)? Let's take a look at a few coding scenarios related to EKG services to get a better understanding of why this can be problematic.
Accurately Reporting Signs and Symptoms with ICD-10-CM Codes
October 5th, 2023 - Aimee Wilcox
Coders often find themselves unsure of when to report a sign or symptom code documented in the medical record. Some coders find their organization has an EHR that requires a working diagnosis, which is usually a sign or symptom, be entered to order a test or diagnostic study or image. Understanding the guidelines surrounding when signs and symptoms should be reported is the first step in correct coding so let's take a look at some scenarios.
The 2024 ICD-10-CM Updates Include New Codes for Reporting Metabolic Disorders and Insulin Resistance
September 19th, 2023 - Aimee Wilcox
Diabetes is a chronic disease that just seems to consistently be increasing instead of improving resulting in a constant endeavor by medical researchers to identify causal effects and possible treatments. One underlying or precipitating condition that scientists have identified as a precipitating factor in the development of diabetes is insulin resistance, which is a known metabolic disorder. As data becomes available through claims reporting, additional code options become possible with ICD-10-CM.
Documenting and Reporting Postoperative Visits
September 12th, 2023 - Aimee Wilcox
Sometimes we receive questions regarding documentation requirements for specific codes or coding requirements and we respond with information and resources to support our answers. The following question was recently submitted: Are providers required to report postoperative services on claims using 99024, especially if there is no payment for that service? What documentation is required if you are reporting an unrelated Evaluation and Management (E/M) service by the same physician during the postoperative period? 
Understanding Gastroesophageal Reflux Disease and ICD-10-CM Coding
August 22nd, 2023 - Aimee Wilcox
Gastroesophageal reflux disease or GERD for short, is a disease that impacts millions of Americans on a weekly basis. Symptoms are uncomfortable, as are some of the tests used to diagnose it, but understanding the disease, tests, and treatments helps us better understand how to code the disease using ICD-10-CM codes.