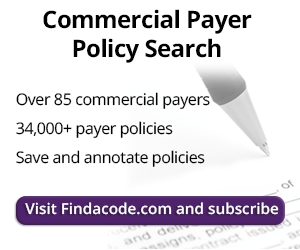 COVID Vaccine Codes Announced
November 11th, 2020 - Wyn Staheli, Director of Research
0 Votes -

Sign in

to vote or comment.
---
On November 10, 2020, the American Medical Association (AMA) announced the addition of two new codes which will be used for the new COVID-19 vaccines along with 4 new administration codes to be used when reporting the administration of these vaccines. Please keep in mind that, at this time, these vaccines are currently in the trial phase. In preparation for their approval, a new coding structure has been created. According to a special edition of the AMA's CPT Assistant,
This new structure differs substantially from that used for extant vaccines. This is due in part to the rapid development of these vaccines, the request to track the administration of each individual vaccine and the need for a long-term viable solution that will enable the Panel to add codes as new vaccines become available without affecting other subsections of the code set. Instead, instructional parenthetical notes will be added throughout the code set, directing users to the appropriate subsection for COVID-19 vaccine codes.
The new vaccines must be administered in two doses, so the new administration codes (0001A-0012A) specify which dose is being administered and include risk/benefit counseling when performed. Having two separate codes for dosage administration will help to identify patients who may still need to get a second dose as well as WHEN they received the second dose.
The new vaccine codes are:
Severe acute respiratory syndrome coronavirus 2 (SARS-CoV-2) (Coronavirus disease [COVID-19]) vaccine, mRNA-LNP, spike protein, preservative free;
91300 30 mcg/0.3mL dosage, diluent reconstituted, for intramuscular use
91301 100 mcg/0.5mL dosage, for intramuscular use
In addition to these codes, a new Appendix (Appendix Q) has been added to be part of the CPT codebook. This appendix includes the manufacturer, vaccine name, NDC product ID, and dosing interval information. This information is essential to ensure that you are reporting the correct codes for the vaccine being administered.
Alert: Although these codes have been released, they are not effective until they have been granted either Emergency Use Authorization or approval from the Food and Drug Administration.
These codes and their guidelines have been added to FindACode.com and can be viewed immediately. However, do not use them until they are officially effective.
###
Questions, comments?
If you have questions or comments about this article please contact us. Comments that provide additional related information may be added here by our Editors.
Latest articles: (any category)
​​Polysomnography Services Under OIG Scrutiny
September 2nd, 2021 - Raquel Shumway
The OIG conducted a study dated June 2019 wherein they indicated that there were approximately $269 million in overpayments for polysomnography services for the period of 2014 through 2015. According to the OIG "These errors occurred because the CMS oversight of polysomnography services was insufficient to ensure that providers complied with Medicare requirements and to prevent payment of claims that didn't meet those requirements." So what are those requirements?
Medicare Advantage - The Fastest Growing Government-Funded Program Undergoing Multiple Fraud Investigations
August 16th, 2021 - Aimee Wilcox, CPMA, CCS-P, CST, MA, MT, Director of Content
Medicare Advantage is the fastest growing form of government-funded healthcare and the rate of fraud within this segment has come under increased scrutiny. Funding is determined by the health status of each beneficiary; therefore, accurate coding based on detailed documentation makes the medical record vital to the process because some ...
Billing Dental Implants under Medical Coverage
August 12th, 2021 - Christine Woolstenhulme, QCC, QMCS, CPC, CMRS
Implants can be costly to the patient and the provider, and it is crucial to understand how to bill a patient's medical insurance to ensure there is adequate coverage for the best treatment. Implants are commonly billed in a dental office under a patient's medical benefits.    Implants could be considered ...
New Codes for COVID Booster Vaccine & Monoclonal Antibody Products
August 10th, 2021 - Wyn Staheli, Director of Research
New codes have been announced for the COVID-19 booster vaccine, Novavax vaccine, and monoclonal antibody treatment.
Medicare's ABN Booklet Revised
July 29th, 2021 - Wyn Staheli, Director of Research
The "Medicare Advance Written Notices of Non-coverage" booklet, published by CMS's Medicare Learning Network, was updated. This article discusses the changes to this booklet regarding the use of the ABN.
Chronic Pain Coding Today & in the Future
July 19th, 2021 - Wyn Staheli, Director of Research
Properly documenting and coding chronic pain can be challenging. As is commonly the case with many conditions, over the years, there has been a shift in the identification of different types of pain, including chronic pain. Understanding where we are now and where we are going will help your organization prepare for the future by changing documentation patterns now.
How Does Global and Professional Direct Contracting (GPDC) Affect Risk Adjustment?
July 15th, 2021 - Aimee Wilcox, CPMA, CCS-P, CST, MA, MT, Director of Content
CMS recently announced the 53 Direct Contracting Entities (DCEs) that will be participating in the April 1, 2021 through December 31, 2021 Global and Professional Direct Contracting (GPDC) Model. Among those participating is Clover Health Partners, who runs an in-home primary care program that has the potential to help Medicare ...