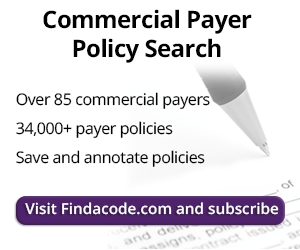 Understanding Payment Indicators
August 19th, 2019 - Chris Woolstenhulme, QCC, CMCS, CPC, CMRS
---
Understanding how payment works with Medicare payment indicators and the impact a modifier has on payment is vital to pricing. Even if you are not billing Medicare, most carriers follow Medicare's policies for participating and non-participating rules. Here is an article from Regence on their policy statement, describing the rules they follow. These are the same rules CMS has in place as well as most other payers. If you are using Find-A-Code, the status indicators are located on each code information page under "Additional Information". Not every modifier has an indicator or status, but some of the modifiers that impact payment will be listed, for example:
Multiple Procedures (51):
The Multiple procedures indicator allows for the use of Modifier 51 stating this modifier is allowed and can be used with the code if this indicator is present. Modifier 51 is defined as multiple surgeries/procedures.
CPT Modifier 51 may be used for
additional procedure/same session
same procedure/multiple times
same procedure/different site
One example of how payment rules apply is the use of Modifier 51 indicator #2
2- Standard payment adjustment rules for multiple procedures apply. If a procedure is reported on the same day as another procedure with an indicator of 1, 2, or 3, rank the procedures by fee schedule amount and apply the appropriate reduction to this code (100%, 50%, 50%, 50%, 50% and by report). Base the payment on the lower of:
(a) the actual charge, or
(b) the fee schedule amount reduced by the appropriate percentage.
NOTE: Certain codes, including all add-on codes, are Modifier 51 exempt.
Bilateral Surgery (50)
CPT Modifier 50 is defined as a modifier used to report procedures that are performed during the same operative session, on the same day, on both sides of the body.
NOTE: Ambulatory Surgery Centers (ASCs) are an exception and cannot submit CPT Modifier 50 and will continue to use the unit's field to reflect bilateral services.
Indicator 0 – Do not submit these procedures with CPT Modifier 50. The concept of "bilateral" does not apply. These do not meet the bilateral criteria.
150% payment adjustment for bilateral procedures does not apply. If a procedure is reported with Modifier -50 or with modifiers RT and LT, base the payment for the two sides on the lower of:
(a) the total actual charge for both sides or
(b) 100% of the fee schedule amount for a single code. Example: The fee schedule amount for code XXXXX is $125. The physician reports code XXXXX-LT with an actual charge of $100 and XXXXX-RT with an actual charge of $100. Payment should be based on the fee schedule amount ($125) since it is lower than the total actual charges for the left and right sides ($200).
The bilateral adjustment is inappropriate for certain codes:
(a) because of physiology or anatomy, or
(b) because the code description specifically states that it is a unilateral procedure and there is an existing code for the bilateral procedure.
C) the procedure is not commonly performed as a bilateral procedure.
27369 does not meet the criteria for a bilateral procedure (see the Indicator -0-) on the additional code information page on Find-A-Code. Therefore, you need to bill 1 line item with 2 units or two separate line items, one line with a RT and one line with a LT modifier, this may depend on what your payer requires.
Indicator 1 – Submit the procedure on a single detail line with CPT Modifier 50 and a quantity of 1.
Valid for bilateral billing - bilateral claim submission criteria apply. Payment is adjusted for bilateral procedures if codes are submitted with CPT Modifier 50. Payment is based on the lower of the billed amount or 150% of the Medicare fee schedule allowed amount.
Examples: CPT codes 66984, 27447
Indicator 2 - Do not submit these procedures with CPT Modifier 50. These codes are already established as being performed bilaterally.
Examples: CPT code/HCPCS modifier 76519-TC, global procedure CPT code 76519, CPT code 93970
Indicator 3 - Submit the procedure on a single detail line with CPT Modifier 50 and a quantity of 1.
Radiological Procedures valid for bilateral criteria are radiology/diagnostic tests that are not subject to the special payment rules for other bilateral surgeries, and payment for each side is based on 100% of the fee schedule amount.
Example: CPT code/modifier 76519-26
Indicator 9 - Do not submit these procedures with CPT Modifier 50; bilateral concept does not apply.
Global Days
Global Days are postoperative care for either zero (0), ten (10), or ninety (90) days.
APC Status indicator
Example Q2- T-Packaged Codes
OPPS Payment Status:
Paid under OPPS; Addendum B displays APC assignments when services are separately payable.
Packaged APC payment if billed on the same date of service as a HCPCS code assigned status indicator "T."
In all other circumstances, payment is made through a separate APC payment.
Indicator N - Items and Services Packaged into APC Rates
Reference & Resources
Regence Policy Statement - Non-Participating Providers: https://www.regence.com/web/regence_provider/reimbursement-methodology-for-non-participating-providers
CMS Medicare Claims Processing Manual (Pub.100-04), Chapter 23, in the "Addendum – MPFSB Record Layout" (see Field 22):http://www.cms.gov/Regulations-and-Guidance/Guidance/Manuals/Downloads/clm104c23.pdf
Payment for Multiple Procedures to ASCs: CMS Medicare Claims Processing Manual (Pub. 100-04), chapter 14, section 40.5: https://www.cms.gov/Regulations-and-Guidance/Guidance/Manuals/Downloads/clm104c14.pdf
CGS – Bilateral Surgeries: https://www.cgsmedicare.com/pdf/bilateral_job_aid.pdf
###
Questions, comments?
If you have questions or comments about this article please contact us. Comments that provide additional related information may be added here by our Editors.
Latest articles: (any category)
What's Going on with the COVID Vaccines Now?
May 4th, 2023 - Wyn Staheli
Keeping up with the changes to the COVID vaccines has certainly been a rollercoaster ride and we now have two new twists to this exciting ride. Buckle up and let's look at how this changes things.
Reporting Modifiers 76 and 77 with Confidence
April 18th, 2023 - Aimee Wilcox
Modifiers are used to indicate that a procedure has been altered by a specific circumstance, so you can imagine how often modifiers are reported when billing medical services. There are modifiers that should only be applied to Evaluation and Management (E/M) service codes and modifiers used only with procedure codes. Modifiers 76 and 77 are used to identify times when either the same provider or a different provider repeated the same service on the same day and misapplication of these modifiers can result in claim denials.
Five Documentation Habits Providers Can Use Implement to Improve Evaluation & Management (E/M) Scoring
April 11th, 2023 - Aimee Wilcox
Provider education on E/M coding updates is vital to the success of any organization, but how do you whittle down the massive information into bite-sized pieces the providers can learn in just a few minutes? Check out the five steps we have identified to teach providers in just a few minutes that can significantly impact and improve coding outcomes.
Second Quarter 2023 Updates are Different This Year
April 6th, 2023 - Wyn Staheli
The second quarter of 2023 is NOT business as usual so it is important to pay attention to ensure that organizational processes and training take place to avoid mistakes. Not only have ICD-10-CM coding updates been added to the usual code set updates (e.g., CPT, HCPCS, ICD-10-PCS), but the end of the COVID-19 Public Health Emergency will bring about changes that will also take place during the quarter (but not on April 1, 2023.
7 Measures Developed by the HHS Office of Inspector General (OIG) to Identify Potential Telehealth Fraud
March 28th, 2023 - Aimee Wilcox
A recent review of telehealth services reported in Medicare claims data during the pandemic where these seven measures for identifying suspected fraud, waste, and abuse were applied, revealed more than a thousand Medicare providers potentially committed fraud during this period. What are the measures the OIG applied during their review, and how will that impact future telehealth guidelines moving forward?
MUEs and Bilateral Indicators
March 23rd, 2023 - Chris Woolstenhulme
MUEs are used by Medicare to help reduce improper payments for Part B claims. This article will address the use of the National Correct Coding Initiative (NCCI) and Medically Unlikely Edits (MUEs) and how they are used by CMS.
It is True the COVID-19 PHE is Expiring
March 16th, 2023 - Raquel Shumway
The COVID-19 PHE is Expiring, according to HHS. What is changing and what is staying the same? Make sure you understand how it will affect your practice and your patients.