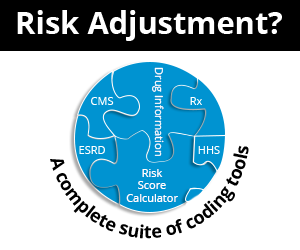 Understanding Payment Indicators
August 19th, 2019 - Chris Woolstenhulme, QCC, CMCS, CPC, CMRS
0 Votes -

Sign in

to vote or comment.
---
Understanding how payment works with Medicare payment indicators and the impact a modifier has on payment is vital to pricing. Even if you are not billing Medicare, most carriers follow Medicare's policies for participating and non-participating rules. Here is an article from Regence on their policy statement, describing the rules they follow. These are the same rules CMS has in place as well as most other payers. If you are using Find-A-Code, the status indicators are located on each code information page under "Additional Information". Not every modifier has an indicator or status, but some of the modifiers that impact payment will be listed, for example:
Multiple Procedures (51):
The Multiple procedures indicator allows for the use of Modifier 51 stating this modifier is allowed and can be used with the code if this indicator is present. Modifier 51 is defined as multiple surgeries/procedures.
CPT Modifier 51 may be used for
additional procedure/same session
same procedure/multiple times
same procedure/different site
One example of how payment rules apply is the use of Modifier 51 indicator #2
2- Standard payment adjustment rules for multiple procedures apply. If a procedure is reported on the same day as another procedure with an indicator of 1, 2, or 3, rank the procedures by fee schedule amount and apply the appropriate reduction to this code (100%, 50%, 50%, 50%, 50% and by report). Base the payment on the lower of:
(a) the actual charge, or
(b) the fee schedule amount reduced by the appropriate percentage.
NOTE: Certain codes, including all add-on codes, are Modifier 51 exempt.
Bilateral Surgery (50)
CPT Modifier 50 is defined as a modifier used to report procedures that are performed during the same operative session, on the same day, on both sides of the body.
NOTE: Ambulatory Surgery Centers (ASCs) are an exception and cannot submit CPT Modifier 50 and will continue to use the unit's field to reflect bilateral services.
Indicator 0 – Do not submit these procedures with CPT Modifier 50. The concept of "bilateral" does not apply. These do not meet the bilateral criteria.
150% payment adjustment for bilateral procedures does not apply. If a procedure is reported with Modifier -50 or with modifiers RT and LT, base the payment for the two sides on the lower of:
(a) the total actual charge for both sides or
(b) 100% of the fee schedule amount for a single code. Example: The fee schedule amount for code XXXXX is $125. The physician reports code XXXXX-LT with an actual charge of $100 and XXXXX-RT with an actual charge of $100. Payment should be based on the fee schedule amount ($125) since it is lower than the total actual charges for the left and right sides ($200).
The bilateral adjustment is inappropriate for certain codes:
(a) because of physiology or anatomy, or
(b) because the code description specifically states that it is a unilateral procedure and there is an existing code for the bilateral procedure.
C) the procedure is not commonly performed as a bilateral procedure.
27369 does not meet the criteria for a bilateral procedure (see the Indicator -0-) on the additional code information page on Find-A-Code. Therefore, you need to bill 1 line item with 2 units or two separate line items, one line with a RT and one line with a LT modifier, this may depend on what your payer requires.
Indicator 1 – Submit the procedure on a single detail line with CPT Modifier 50 and a quantity of 1.
Valid for bilateral billing - bilateral claim submission criteria apply. Payment is adjusted for bilateral procedures if codes are submitted with CPT Modifier 50. Payment is based on the lower of the billed amount or 150% of the Medicare fee schedule allowed amount.
Examples: CPT codes 66984, 27447
Indicator 2 - Do not submit these procedures with CPT Modifier 50. These codes are already established as being performed bilaterally.
Examples: CPT code/HCPCS modifier 76519-TC, global procedure CPT code 76519, CPT code 93970
Indicator 3 - Submit the procedure on a single detail line with CPT Modifier 50 and a quantity of 1.
Radiological Procedures valid for bilateral criteria are radiology/diagnostic tests that are not subject to the special payment rules for other bilateral surgeries, and payment for each side is based on 100% of the fee schedule amount.
Example: CPT code/modifier 76519-26
Indicator 9 - Do not submit these procedures with CPT Modifier 50; bilateral concept does not apply.
Global Days
Global Days are postoperative care for either zero (0), ten (10), or ninety (90) days.
APC Status indicator
Example Q2- T-Packaged Codes
OPPS Payment Status:
Paid under OPPS; Addendum B displays APC assignments when services are separately payable.
Packaged APC payment if billed on the same date of service as a HCPCS code assigned status indicator "T."
In all other circumstances, payment is made through a separate APC payment.
Indicator N - Items and Services Packaged into APC Rates
Reference & Resources
Regence Policy Statement - Non-Participating Providers: https://www.regence.com/web/regence_provider/reimbursement-methodology-for-non-participating-providers
CMS Medicare Claims Processing Manual (Pub.100-04), Chapter 23, in the "Addendum – MPFSB Record Layout" (see Field 22):http://www.cms.gov/Regulations-and-Guidance/Guidance/Manuals/Downloads/clm104c23.pdf
Payment for Multiple Procedures to ASCs: CMS Medicare Claims Processing Manual (Pub. 100-04), chapter 14, section 40.5: https://www.cms.gov/Regulations-and-Guidance/Guidance/Manuals/Downloads/clm104c14.pdf
CGS – Bilateral Surgeries: https://www.cgsmedicare.com/pdf/bilateral_job_aid.pdf
###
Questions, comments?
If you have questions or comments about this article please contact us. Comments that provide additional related information may be added here by our Editors.
Latest articles: (any category)
2023 ICD-10-CM Code Changes
October 6th, 2022 - Christine Woolstenhulme, CPC, CMRS, QCC, QMCS
In 2022 there were 159 new codes; the 2023 ICD-10-CM code update includes 1,176 new, 28 revised, and 287 deleted codes, a substantial change from last year. The 2023 ICD-10-CM codes are to be used for discharges from October 1, 2022 through September 30, 2023, and for patient encounters from ...
Emergency Department - APC Reimbursement Method
September 15th, 2022 - Christine Woolstenhulme, CPC, CMRS, QCC, QMCS
CMS pays emergency department visits through a payment method using Ambulatory Payment Classifications (APCs). Most payers also use the APC reimbursement system; however, there may be some differences in payer policies (always review your specific payer policy). APCs are the primary type of payment made under the OPPS, comprising groupings ...
Why Medical Coding and Billing Software Desperately Needs AI
September 7th, 2022 - Find-A-Code
It has been said that the healthcare industry is notoriously slow in terms of technology adoption. One need only look at how convoluted medical coding and billing are to know that it needs a technology injection. Specifically, medical coding and billing software desperately needs artificial intelligence (AI).
CMS says Less Paperwork for DME Suppliers after Jan 2023!
August 18th, 2022 - Christine Woolstenhulme, QCC, QMCS, CPC, CMRS
Attention providers, suppliers, billers, and vendors who bill Durable Medical Equipment (DME) to Medicare!  Currently, a supplier receives a signed Certificate of Medical Necessity (CMN) from the treating physician or creates and signs a DME Information Form (DIFs); these are required to be sent with the claim. However, this is about ...
Things to Consider Before Upgrading Medical Billing Software
August 11th, 2022 - Find-A-Code
Your practice has utilized the same medical billing software for years. The medical billing staff says it is time for a change. You don't necessarily disagree, but you also don't know where to begin your search for new software. There are so many vendors offering so many products that making sense of it all can be challenging.
Calendar Year 2023 Medicare Advantage and Part C & D Payment Policies
August 9th, 2022 - Aimee L. Wilcox, CPMA, CCS-P, CST, MA, MT
Each year CMS publishes an Advance Notice of the upcoming years Medicare Advantage (MA) Capitation Rates and Part C and Part D Payment Policies and asks for comments related to it. Each of the comments are carefully reviewed and responded to and often are impactful to changes seen between the Advance Notice and final publication referred to as the Rate Announcement. With health equity as a primary focus for 2023, CMS announced some policy changes that may impact your organization.
How CMS Determines Which Telehealth Services are Risk Adjustable
August 9th, 2022 - Aimee L. Wilcox, CPMA, CCS-P, CST, MA, MT
Medicare Advantage Organizations (MAOs) have gone back and forth on whether or not to use data collected from telehealth, virtual Care, and telephone (audio-only) encounters with Medicare beneficiaries for risk adjustment reporting, but the following published documents from CMS cleared that up once and for all by providing an answer to a question specifically related to this question.